Executive summary
A successful apartment marketing plan enhances leasing activity by guiding prospective renters to your communities and instilling confidence that your apartments meet their expectations. Learn the foundation behind an occupancy-driving marketing strategy that works whether you are marketing an existing community, or are building, buying, rebranding, or renovating a community.
Who this is for:

Regionals (overseeing marketing functions)
VPs & Directors of Operation/Leasing
What we'll cover:

Establishing an apartment community's identity.
Tips for developing an apartment brand that renters cannot ignore (and its impact on marketing).
Building a lead-generating marketing funnel specifically for your renters.
The relationship between marketing and revenue management.
Specific marketing expertise for lease-ups, property management transitions, and community renovations.
An introduction to multifamily marketing
When managing multiple apartment communities, the last thing you want to deal with is unnecessary complications with your marketing plan.
You just want a functional plan that gets leases.
A plan you trust and can apply to every property—whether it's stabilized, in a lease-up, going through a management change, or being renovated/rebranded.
We'll help you build the framework of a solid multifamily marketing plan in this resource, focusing on three areas:
Your community's identity and brand. Establishing an appealing, cohesive brand that delights renters with your chosen community name, logo, color scheme, and aesthetic is a critical part of initiating marketing success. Stacey Feeney from Zipcode Creative will share tips for branding your apartments.
Your lead-generation channels. We'll help you identify which marketing sources you'll need in your arsenal so that your communities are front and center at every stage of someone's apartment search.
Revenue management. The relationship between marketing and revenue management (aka setting rent prices) is extremely important because when they are out of sync, community performance suffers.
Ready? Let's go! 🚀

This section is guest written by Stacey Feeney, founder of Zipcode Creative, which specializes in apartment branding and marketing design. She's a must-follow on LinkedIn, sharing tips and tricks about how to create an appealing and smart brand for your apartment communities. We asked her to share her insight about establishing your new community's brand and identity, as well as how to successfully rebrand your existing community.
Creating a brand for your apartment community
If your goal is to stand-out, lease-up, and retain occupancy – don't skip or skimp on any of these components of developing a brand that we are about to cover.
"You get out what you put in…"
...and it will show in your branding, especially in this world where residents are more perceptive than ever and can sniff out inauthenticity from a mile away.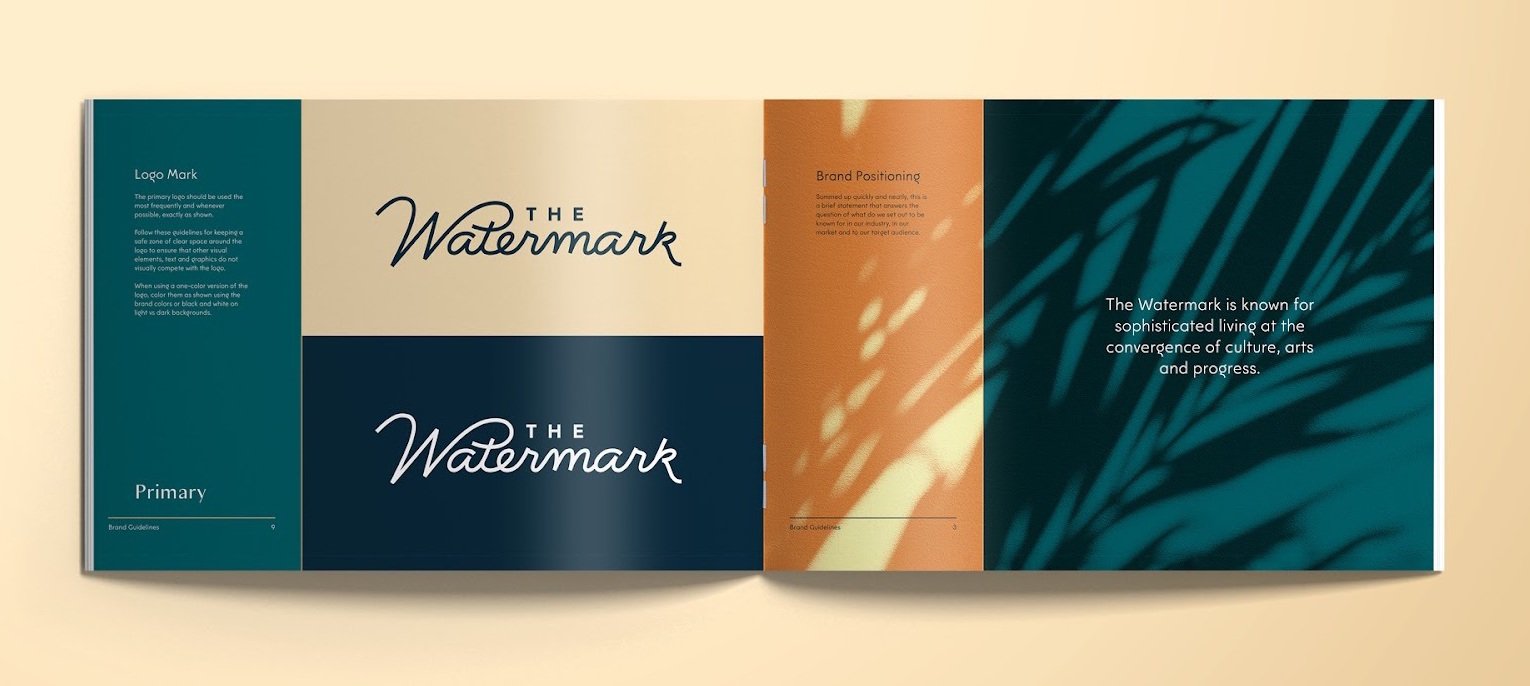 Every good brand starts with a dive into research and discovery
The research and discovery phase of an apartment brand is absolutely crucial for a successful launch. Just as you wouldn't buy a house without conducting an inspection, launching a brand requires going through the essential steps of research and discovery. This phase lays a solid foundation for the subsequent actions involving the name, logo, and messaging of the brand.
Ideal Resident Profile: Identifying your ideal renter persona is vital for developing a stand-out brand. Understanding the audience you aim to reach significantly influences the verbal and visual identity components of your brand. More on knowing who you're targeting in a bit.
Location: An undeniably crucial factor in the success of any real estate venture – assessing the location of your building to evaluate the surrounding area such as local hotspots, conveniences, attractions, and the overall perception of the neighborhood.
Competition: Analyzing your competition is essential for determining what sets your brand apart. By identifying your competitors' strengths and weaknesses, you can position your community uniquely in the market. Ensuring you don't miss out on their advantageous features helps you tailor your messaging effectively and fully highlight your offerings.
Your Community: Consider the architectural design, interior style, and amenities to inspire branding that seamlessly integrates with the essence of your community and all it has to offer.
Branding is so much more than a logo design
In the realm of brand development, it's crucial to establish a deep connection between your target audience and your brand. It's not merely about promoting a couple of floor plans; rather, it's about selling an immersive experience and a captivating lifestyle. By investing effort into shaping your brand, you enable your residents to envision themselves saying, "If I choose to live here, I'll be X or feel Y." This process of differentiation becomes paramount, even if your offerings and prices align with those of your competitors. Your brand acts as your distinct calling card, profoundly influencing how your residents perceive your business.
When contemplating your brand's appearance and voice, it's essential to bring forth its unique personality. Develop a logo, a catchy tagline, brand colors, fonts, and a design style that embody this persona. Strive to make your brand visually striking while remaining approachable and comprehensible. Your visual and verbal identities must eloquently convey the story of who you are and why you exist. Sometimes, words may not even be necessary, as your choice of colors alone can speak volumes. This outward-facing facet of your brand serves as a magnet, drawing people in. Remember, aesthetics and eloquence matter—make it look and sound exceptional.
Brand messaging should never be overlooked
In the competitive world of apartments, establishing a strong brand voice is the key to crafting a cohesive and interconnected experience across various channels. This elusive element brings your multifamily brand to life through the art of language, forming an integral part of your comprehensive verbal identity.
Brand Statements: Gain insight into the heart of your brand by uncovering its purpose and unique qualities.

Brand statements

articulate what sets you apart from the competition, communicating your mission with clarity.
Brand Voice: Think of

brand voice

as the auditory manifestation of your brand. It encapsulates how others perceive you through the written word. Discover the power of crafting a distinctive voice that resonates with your target audience.
Brand Tone: Just as different situations call for varying tones of voice, so does your brand. Explore the importance of adapting your messaging to suit different occasions and engage diverse audiences effectively.
Brand Story: Peel back the curtain and invite your audience into your world. Your brand story humanizes your multifamily brand, establishing an authentic connection and fostering genuine relationships with residents.
Brand Vocabulary: Beyond grammar and punctuation, your brand vocabulary shapes the uniqueness of your communication. Discover how incorporating proprietary or made-up words, along with specific word usage rules, reinforces your brand's distinct identity.
By harnessing the power of brand voice and perfecting each component of your verbal identity, you'll establish a captivating presence within the multifamily industry and forge lasting connections with your valued residents.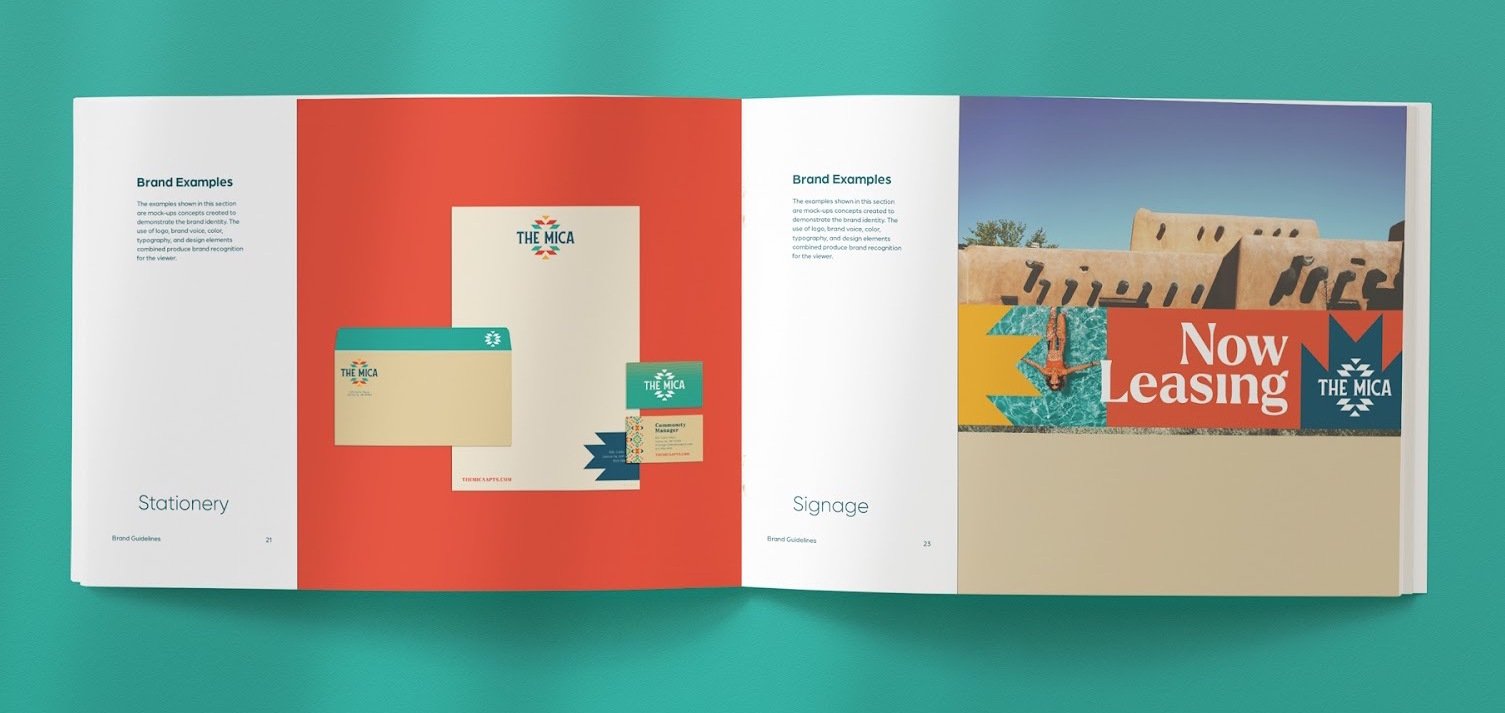 When is it time to rebrand an older asset?
New developments are the obvious candidates for new, custom branding since nothing yet exists for these lease-ups – you are literally making a name for them. But when is it time to consider rebranding an existing community and refreshing the current brand (or lack thereof)?
New Company Takeover: Is your property management company assuming control over an existing community? Take this opportunity to embark on a fresh start and proclaim a "new management" approach through all aspects of your branding. Bid farewell to the past and usher in the new, leaving behind every trace of the previous brand and establishing a new identity for the community alongside new ownership or management.
Renovating: If you have invested substantial time and resources in renovating your apartments, it presents an ideal moment to reposition your brand and showcase all your assets. Reassess your mission. Give your marketing materials a complete overhaul. Seek a way to synchronize the rebranding efforts with the remodeling project—a comprehensive revitalization, with a prominent focus on the upgraded units.
A Shifting Target: Has the target resident or the profile of your current residents undergone a change? If so, it is crucial to reevaluate how you cater to their needs and offer a solution. Have your company's objectives shifted? Are you striving to enhance the quality of leads (and residents)? If you find yourself nodding in agreement, it might be time to embrace a different approach to attain altered outcomes.
Have Competitors Rebranded: Is our logo appearing outdated? Are our methods disconnected from today's (or our target) resident audience? Do we possess an effective means to stay prominently positioned or at the forefront of the minds of those we need to engage? There are numerous approaches to ponder this question. However, the ultimate outcome must reveal whether you are content with the status quo or if evolving is necessary to maintain relevance.
Does The Brand Effectively Convey Your Story: Maybe your brand has a longstanding presence. Does it still convey the same

narrative

it has always conveyed? Are your residents fatigued by that story or craving a story to connect with if there isn't one?
These multi-million dollar multifamily assets deserve proper designation and representation – of which the cost for professional branding development is pennies in the grand scheme of things.
How to establish an apartment brand that delights your ideal renters and initiates marketing success
Determine who 'your' ideal resident profile
A truth that many marketers in the industry need to be reminded of consistently: your apartment communities are not for everyone.
And if you are trying to establish a marketing plan or brand for your apartments with the idea that anyone looking to rent is your target audience, it'll ultimately be an expensive, fruitless endeavor.
You'll spend too much on your marketing sources, your brand positioning will be off-base, and you'll constantly deal with leads less likely to rent your apartments.
Knowing who your renters are can help you establish a marketing strategy that builds their confidence in your communities because you're addressing their needs.
You need to take a step back and understand whom your apartments are for. This is why to establish a great brand and marketing strategy, you must first determine your ideal resident profile.
Ideal resident profiles are a semi-fictional representation of your apartments' customers, accounting for their demographics, goals, motivators, and challenges. Ask yourself these 7 questions to set your apartment community's ideal resident profile.
Knowing who your renters are can help you establish a marketing strategy that builds their confidence in your communities because you're addressing their needs.
Choosing your apartment community's name
Your name is how your prospective residents recognize your community, so for that reason, you have to balance being unique and creative with choosing a name that is also easy to spell and remember.
Why? Unique, memorable, and easy-to-spell names give your community proper distinction amongst future renters and search engines—which critically impacts your marketing and branding.
A unique apartment name will help your online search rankings and visibility
Take the name 'Lakeside Apartments' as an example. A quick Google search confirms that there are already communities with that name in Lisle, Illinois; San Leandro, California; Tulsa, Oklahoma; Gothenburg, Nebraska; Princeton, New Jersey; Rockwall, Texas; Tomah and Whitewater, Wisconsin; Sterling, Michigan; Charlottesville, Virginia; and Everett, Washington. Many others share Lakeside in their name, too.
The point is clear: choosing a name shared by others will make it difficult for you to stand out in search engine results. Unique apartment community names rise up search engine rankings faster (delivering more of that free website traffic)
Avoid unusual spellings in your community name
There's a point where being too creative for unique distinctions can be problematic. Remember, most individuals will default to regular spellings of words when typing something in Google, so if you use unusual spellings like 'Parc' instead of 'Park' or 'Pointe' instead of 'Point,' it could create unnecessary confusion. Worse, you may lose out on potential leads because search engines couldn't match your keywords to your community because of an unusual spelling.
It's also good practice to be consistent when using numbers as well. Take the name 'The View on 32nd'; make sure you use those terms exactly across the board. Don't do something odd and use verbiage, like 'The View on Thirty Second.'
Uniqueness is the goal, but don't go over the top and select a name so unique that no one can spell it.
Less is more; make the name of your apartments easy to remember
Short and sweet is always a good method for choosing a name. A longer name with many different words asks too much of your prospects to remember. If they need to remember even one part or mislabel your name because it's so long, you unintentionally make it harder for them to recognize or find your apartments in an online search.
Need help to select a unique, memorable, and easy-to-spell name for your apartments? New tools like ChatGPT makes it easier than ever before to determine your community's name. You can prompt the AI to establish a name for your community that no other property shares but still represents your property's unique features and location, is short enough to be easy to remember, and uses words everyone can easily spell.
Buying a domain name for your apartment's website
A domain name is the unique name used to identify a website, and it is critically important that your domain and community name connect. Why?
Search engines (and future renters) need to be able to identify that a website is for an individual apartment community, and any differences between the two will create unnecessary confusion (and affect how people perceive your community's brand).
There are four basic rules to make sure your community's name and website URL align:
Use your apartment community's name in the domain of the URL. The name of your community must also be included in the domain. Sounds obvious, yet many communities exclude it.
Keep the domain short. Shorter domains rank better in Google and are easier to remember.
Include the word apartments or 'apts' in the domain. Search engines and visitors can see the URL is for a community's website. If 'apartments' or 'apts' doesn't fit, use alternatives like 'live' or 'live at.'
Always use a '.com' domain. It's the only option that makes sense, and more importantly, '.com' domains do better in search results.


How do I buy a domain name for my apartment website?
Domain registrars like GoDaddy or Namecheap are where we recommend purchasing a domain name for your new apartment community's website. If you've chosen a unique, memorable, and easy-to-spell name for your new community, finding a URL using the above tips should be easy.
After purchasing a domain name, you must work with your website provider to configure its settings. Usually, they'll just have to update DNS (Domain Name System) records.
How do I transfer domain names in a property management takeover?
You must ensure that the other community's website provider initiates a transfer request of the registered domain to the registrar you or your website provider uses. Then DNS records and other steps can be taken for you to own the domain.
What must I do if I own a domain but am rebranding my apartments and website?
If you're rebranding your apartment community and need a new domain to replace the one you currently own, the buying process remains the same, except you'll need to inform your website provider to apply a 301 redirect from the old domain to the new one once the rebrand is complete.
How to market your apartment communities so they're front and center at every stage of your renter's leasing journey
The leasing funnel
Who your ideal resident is impacts how their typical apartment search process takes place. Prospective renters are making a life-changing, financially-implicating decision, so they need personal (and sometimes social) affirmation that their choice in their future apartment home is right—and how they come to that conclusion is unpredictable.
Leasing journeys are non-linear, even for your communities' audience. They're more like squiggly lines (as the image below that Jacob Carter from Nurture Boss shared on LinkedIn brilliantly illustrates).
But here's the good news for your multifamily marketing strategy: there is a common behavioral pattern by which prospective renters begin their search and decide where to lease. That decision-making process is the leasing funnel.
All future renters go through these stages when choosing an apartment: Awareness, Consideration, and Decision.
Awareness (Top of the funnel): A prospect realizes they need a new apartment and begins research on which communities are available to them that fit their predetermined needs (location, floorplans, affordability, amenity selection, etc.)
Consideration (Middle of the funnel): Prospects have identified communities that best fit their needs but still need further research to narrow their list.
Decision (Bottom of the funnel): Prospects are highly interested in one or two specific communities and are confident enough to tour and/or apply for a lease.
If you want your marketing strategy to bear fruit and enhance leasing performance, you need to formulate it using the framework of the leasing funnel, as that will put your apartments front and center throughout the 'squiggly-ness' of an individual's unpredictable leasing journey.
If you want your marketing strategy to bear fruit and enhance leasing performance, you need to formulate it using the framework of the leasing funnel, as that will put your apartments front and center throughout the 'squiggly-ness' of an individual's unpredictable leasing journey.
When studying the best method for marketing apartments, we looked at more than 70,000 leases and attributed the marketing source each renter converted from a prospect to a lead using call tracking software, we found an obvious relationship between sources and decision stages in the leasing funnel—giving us even more confidence that a marketing framework exists for you to follow as you establish your communities' lead-generating strategies.
In the next few sections, we'll provide a breakdown, by decision stage, of the marketing channels you should implement.
Bottom of funnel
Community websites
Maybe this goes without saying, but in case you need a reminder: Your community website is the best lead-conversion source.
For your apartment website to be effective as the ending point of your prospects' leasing journeys, it must address essential renter needs.
We believe there are four essential elements for optimizing your apartment's website to fulfill its primary role as your most fruitful lead (and lease) generator: floorplan-specific pages, high quality media, conversion points, and user experience.
Floorplan-specific pages: Before prospective renters begin their apartment search, they know how many bedrooms or bathrooms they need and will look for a community with floorplans matching those expectations. You can enrich their search by presenting a website focusing on floorplan-specific content.
The best method for highlighting the benefits and differentiators of each of your communities' floorplans is through website pages dedicated to each one instead of a generic page featuring all floorplans. Floorplan-specific pages give prospective renters the most comprehensive overview of the floorplan they're looking for in a community like yours, which is crucial for conversions.
You can detail relevant information such as up-to-date rents and availability (two objections that could prohibit some prospects from pursuing a lease with you), amenities, square footage, and more. Last, and certainly, not least, you can feature floorplan-specific photo galleries and videos. More on that next.
High-Quality Media: Your website's conversion ability hinges on the use and appearance of your photos, videos and online tours. If you're a homeowner or former renter, you know this intuitively. You never would've toured a house without seeing images or videos of the inside first.
If that's true, then why not give your prospective renters the same opportunity to see the inside of units in each floorplan with specific photo galleries and video tours?
Think about this: we make decisions using the same parts of our brains responsible for seeing. It's not just about having photos and videos; they must also be compelling. Prospects are smart and can notice when photos or videos are taken with an iPhone, or with a digital camera a decade ago. When your photos or videos look amateur, it potentially disqualifies your community's contention for their lease even if it fulfills some of the prerequisites they're looking for in their next apartment.
If you prioritize the appearance of your community's photos and videos, and treat them as the essence of your community's brand, they can be the most powerful persuasion tool for attracting prospective renters.
We urgently recommend organizing and showing photos and videos on your websites by floorplan instead of just utilizing a standard photo gallery page. Doing so gains an incredible differentiator over your competition because floorplan-specific visual content gives prospects the clearest depiction of your apartments.
With compelling and floorplan-specific photos and videos, your website becomes a 24/7/365 leasing tool. Prospects can take "virtual tours" and see the inside of your units and amenities without driving to your community—making both your and their life easier while also meeting an emerging trend of renters who prefer a no-contact leasing experience.
There is an abundance of options for capturing high-quality media. We recommend searching for a trusted local contractor with a real estate photography/videography background. Several regional and nationwide media providers can take the guesswork out of finding a local contractor for every metro area you operate within, too.
Conversion points: Content on your website aside, you need to be thoughtful with how you prompt visitors to pursue the next steps in their leasing journey.
Along the leasing funnel, it's safe to assume that prospects viewing your website could be close to the decision phase, which means that you need to be advantageous and capture leads on your website with well-placed conversion points.
What is a conversion point? They're features on your websites that enable users to declare themselves as customers. They could be anything from an 'Apply Now' button on every page (or a similar call-to-action, like 'Schedule a Tour'). A conversion point could be a click-to-call button that dials the phone number of one of your leasing offices or an address that someone can click on to get directions to your community.
The main point is that you need mechanisms on your apartment website by which prospects convert and give you a reason to interact with them and close the deal.
At this point, the larger question is, what do you want the primary conversion to be? If your office is staffed with many leasing agents ready and willing to tour, you'll want a conversion that gets potential renters on-site or, at the very least, on the phone. If you're looking to centralize leasing and are pushing self-guided tours, obviously, you'll want to make the self-guided touring pathway on your website as seamless as possible.
Whatever your strategy, choose a website layout that compliments on-site leasing activity.
User experience: It would be best if your websites were designed with user experience top of mind, including

mobile responsiveness

(where most prospective renters perform their apartment search), easy-to-use navigation, and built-in

website accessibility features

. A website with excellent user experience boosts SEO performance and creates a positive, credible impression to future renters.
Think of it like this: if your marketing strategy puts renters' experiences first and makes research and leasing seamless, then they'll feel even more confident that the living experiences in your communities will be just as exceptional. It's all about building trust.
How should I approach a community website during a company takeover?
It would be best to build a new website and make it ready to launch the day your company officially takes over management of the property. Refreshing that property's online presence with a new website is great for pushing your company's overall brand, credibility, and status, making current and future renters feel like the community is in better hands with new management.
While a new website is ideal, you may need to rely on the property's current website temporarily, especially if this acquisition occurs during a busier leasing season or if it's impossible to have your website ready for launch on day one. If that's the case, here are a few important things you'll need to do:
Ensure you own the rights to the website when acquiring the property—especially if it's a custom-built one.
Study the terms of the purchase agreement to know whether or not you'd be locked into a long-term contract with a website service. Not knowing what you've agreed to could create unnecessary future issues.
If you like the current website, figure out what it would take to sign a new agreement with the current provider moving forward. This ensures that not only will the site stay live but that you'd own all of the visual content on it as well.
Know if you will own the rights to the website's domain name.
How do I get the photos and videos from the community my company is buying?
Does the purchase agreement state that you will own the rights to all the photos and videos and any other associated marketing assets for those apartments?
Like the website, you may need to use them in the interim as you transition.
And if you're satisfied with the look of the visual content, you must ensure you're legally allowed to display that content on your new version of that community's website or in your new digital advertisements.
How should I approach establishing a website for a community lease-up?
A critical task in a lease-up is to put up a 'Coming Soon' website early in the process.
You won't have all the elements for a full website yet, but that's okay. You can get by featuring your community's name, logo, and expected opening date. Visual content would be a bonus but not necessarily pivotal early on (more on that below).
A 'Coming Soon' site aims to establish authority with search engines like Google and to build excitement about your new apartments to prospective residents.
How do I get photos and videos on my website when my apartments are still under construction?
It's really important to leverage photos and videos for new communities so prospects can get the best glimpse of what it'll look like when completed.
Check and see if your architect can share with you both interior and exterior renderings of the property. There are companies like uForis that specialize in creating realistic photos and videos of your new apartments using those renderings.
If you're unable to get this type of media early on in your lease-up, you could utilize imagery from other similar properties in your portfolio and feature it on your 'Coming Soon' website.
Google Business Profile (& navigational apps)
A Google Business Profile features a link to your community's website, physical address, directions, phone number, leasing office hours, photos, and reviews on (arguably) one of the most visible pieces of online real estate.
Claiming and verifying a business listing profile for your apartments guarantees that when prospects enter a search term with keywords matching your community, it'll be prominently featured on the right side of the search engine results page (or SERP), otherwise known as the Local Business Listing section (see screenshot below).
Besides the SERP, your Google Business Profile ties directly into navigational apps where prospective renters are either trying to get directions to your community (indicating they're at the bottom of the funnel) or performing a discovery search of apartments in specific geographic locations (a top of funnel activity that further proves the necessity of getting a profile listing for your apartments).
Pro Tip: Add Apple Business Connect for your apartments, too.
Apple Business Connect is a free marketing tool introduced in 2023 "that allows businesses of all sizes to claim their location place cards and customize the way key information appears…across Apple Maps, Messages, Wallet, Siri, and other apps." Follow this step-by-step for adding Apple Business Connect to your apartment marketing plan.
How do I claim a Google Business Profile for my new apartment community?
Go to

business.google.com

and create a new account.
Enter your apartment community's name, and it would be best to include the word 'apartments', even if it isn't a part of your community's name.
Select business type, which would include 'apartment complex', 'apartment building', and 'apartment rental agency'.
Enter your physical address, which you must verify to officially claim later. (More on that below).
Add what your leasing office hours will be. Since you're creating a new listing, you also have the option to declare when your community is officially opening.
Write a 750-word business description. (It would be best to identify your community's ideal resident profile before writing this marketing message.)
Add visual content such as blueprint photos, renderings, logos, etc.
What does the Google Business Profile verification process entail for apartment communities?
Defensive digital advertising campaigns (Google)
A great apartment website is nothing without traffic, which is why you need digital advertising.
With digital ads, you can drive prospective renters to your apartment's website by targeting them with text, display, and video ads on highly-visible platforms like Google (which includes its search page, millions of websites through its display network, and YouTube) and Meta (Facebook, Instagram, WhatsApp).
At the bottom of the funnel, you need defensive campaigns. Defensive campaigns do as their name suggests—protect and defend your apartment community's identity online.
When prospective renters search for your apartments by name in Google, for example, they expect to see your website as the top link on the SERP. A defensive digital ad campaign produces that outcome by matching the exact keywords of your apartment community.
Knowing that someone who searches for one of your communities directly is a signal of high lease intent, you must ensure that you have defensive campaigns so that no other property swoops in and steals your top prospects.
Middle of funnel
Remarketing digital ads (& paid social)
Remarketing campaigns target ads to individuals on search engines and social media who have visited your apartment's website but still need to visit it a few more times to feel confident to convert.
Remarketing ads are most potent in the middle of the leasing funnel because apartment searches are competitive, and they help keep your communities ahead of the other properties competing for a prospective renter's attention.
The more exposure they get to your apartments' visual content and brand from remarketing ads, the more trust they build in your community.
Prospect nurturing
Ensuring renters have a positive impression of your apartments—from the moment they discover your community to, hopefully, their move-out date—is essential. And as they move through the leasing funnel, there's an opportunity to nurture prospects by positioning your apartments favorably as they grow closer to their decision.
One avenue to look into is utilizing automated tools within most property management software or a third-party CRM to send automated emails to prospects. Say a prospect schedules a tour online. You can send an automatic email thanking them for their interest and including details about the upcoming tour. And afterward, you can send follow-up emails with more information about the unit(s), pricing, video tours, availability, and more. If they don't end up leasing, keeping them in a drip email campaign may get them back into the funnel should they need a place to lease in the future.
You don't have to rely on AI to follow up—human-to-human interactions are also valuable. The goal is to make the leasing experience with your communities customer-centric, a philosophy that can truly separate your apartments from others because it makes it easy for prospects to see your community as one that would also provide an excellent living experience, too.
Social media (organic posts)
Expect prospective renters to glance at your community's social media channels when deciding between communities. They want to know you, your brand, and assess the resident experience.
Simply having an active social media presence will help within the consideration phase more than you may think. You can only imagine a prospect's negative impression if they peek at your social channels and see the last post was from 2018.
Organic posts on your community's Facebook, Tik-Tok, or Instagram feeds most likely won't produce conversions, and that's okay. But they're an avenue to show off your property, highlight resident perks or events, and other updates that prove your community has a vibrant living experience that prospects cannot ignore.
Simply having an active social media presence will help within the consideration phase more than you may think. You can only imagine a prospect's negative impression if they peek at your social channels and see the last post was from 2018.
Reputation management
Prioritizing an active social media presence is just one aspect under the umbrella that is reputation management.
Reputation management influences how your community is perceived and presented online, and it's consequential in every aspect of your apartment's operation.
What others say about your apartments and the impression people have on them based upon your online presence directly impacts your ability to attract future renters and retain current residents.
What others say about your apartments and the impression people have on them based upon your online presence directly impacts your ability to attract future renters and retain current residents.
Reviews of your community, in particular, will be viewed by prospective renters, especially when they're in the middle of the leasing funnel. So be thoughtful about managing your apartment community's online reputation because it affects every step of the leasing funnel.
Managing your portfolio's reputation on your own can be a time-consuming activity. You will need to answer the question of who within your organization will be responsible for reputation management and how you'll hold them accountable for it. If that seems like a tall order, there are plenty of helpful third-party vendors like widewail or Opiniion who can help.
Top of Funnel
Internet Listing Services
ILSs have long held a grip on the multifamily industry. They are familiar to prospective residents as a popular marketing source for promoting apartment communities.
ILSs should be a part of your marketing strategy, but be realistic about their performance. As standalone sources, they will cost a lot of money to get the number of qualified leads you'd want.
Yet as popular as ILSs may be, data clarifies that lead-to-lease conversions happen elsewhere. As a marketing source, ILSs have the most influence at the top of the leasing funnel—the awareness stage—when prospective renters know they need an apartment but don't know yet what options are available.
ILSs feature hundreds of communities in direct comparison to yours, so expecting prospective renters to make a leasing decision from such a platform is overly optimistic.
ILSs should be a part of your marketing strategy, but be realistic about their performance. As standalone sources, they will cost a lot of money to get the number of qualified leads you'd want. But used as sources within the framework of the leasing funnel, you can verify that they're worth investing in because they can put your apartments in front of prospective renters at the earliest stage of their search.
Are Internet Listing Services a reliable marketing channel for lease-up communities?
Yes. As stated earlier, you need to be prepared to make a significant investment into marketing during a lease-up because you need to generate a lot of demand to fill your units. ILSs, at the top of the leasing funnel, are pivotal in lease-ups because that is where more future renters can first become aware of your new community. Investing in multiple ILSs until your lease-up is over would be wise.
Offensive/targeting digital ads
Offensive campaigns aim to capture more prospective renters in the earliest phases of their apartment search. You can run an offensive campaign targeting competitor's branded keywords or specific keywords related to you and communities like yours in Google.
For example, you could include keywords that specify varying features of your apartment community, like 'pet-friendly' or 'outdoor pool.' Or you can play more to your community's location and include keywords associated with it, like 'near University of Nebraska.' The possibilities are truly endless.
Establishing a digital advertising strategy is a considerable process. Our complete digital ad guide for multifamily marketing is the best resource for getting all those details about varying ad and campaign types, optimization, success metrics, and budgeting.
How to create an apartment marketing plan that maximizes NOI
Marketing impacts community revenue
For many multifamily marketers, it's common to get stuck in the weeds of measuring website conversion rates, traffic, ad impressions, and the catalog of other "highly important" marketing metrics. But the truth is, marketers become valued in an organization when they contribute to increasing revenue and decreasing expenses. In multifamily speak, get intimate with the NOI for your communities, and make it your goal to improve it.
The first step is understanding the relationship between a community's occupancy and marketing spending and ensuring your marketing strategy is as or more dynamic than your communities' occupancy.
Dynamic marketing isn't some buzzword we use—it's just an approach marketers in all industries use intuitively. It goes like this: When supply levels are high for a given commodity, your job is to generate demand to move inventory. When supply is low, you can dial back advertising to save money. (Alternatively, you can raise your price, which we'll discuss in the next section.)
Digital ads work perfectly for multifamily marketing because you control how much you spend on them, changing that amount anytime. You can increase spending to drive up demand when you have more vacancies, then turn off ads and reduce spending when your occupancy is stable.
The same should be true for multifamily marketing—when occupancy is high, advertising spend should come down, and/or prices should rise. Conversely, advertising spending should increase when occupancy is low, and/or prices should come down. But, the industry has been held hostage by termed contracts on static advertising platforms that force you to spend the same amount year-round.
To contribute to NOI as a marketer, you need to adopt dynamic marketing budgets and channels that increase revenue while saving money. We provide the tools to help move to a dynamic marketing strategy and cover this topic at length in this blog post: How To Adopt A Dynamic Marketing Budget For Your Apartments In 2023.
It's important to note: No other marketing channel enables this dynamic approach more than digital advertising. Digital ads work perfectly for multifamily marketing because you control how much you spend on them, changing that amount anytime. You can increase spending to drive up demand when you have more vacancies, then turn off ads and reduce spending when your occupancy is stable.
How should I spend on digital ads for a community in a lease-up?
Spending more on digital advertisements and all marketing channels in the leasing funnel is vital during your lease-up. Marketing spending impacts leasing velocity, and when you're starting at 0% occupancy, you will need to get leases fast. But the benefit is that the return on your investment in a lease-up is also greater than at any other time in your community's existence.
How should I approach digital ads and spending when my company is buying an existing community?
An element of the acquisition process that you should pay attention to is seeing a financial review of the property for sale. Specifically, see how much the previous management company spent on digital advertising.
Knowing their ad spending habits can help you assess whether or not the amount of money they had been paying on digital ads results in the online visibility they'd hoped to earn.
For example, whether or not you know that community's ad spend, you can do a quick Google search of it by name and review all of the links on the first few pages of the search results.
Do you need help finding the correct website for those apartments? Was the apartment community's website prominently featured, or were there many Internet Listing Services or competitor property links above their link? Was the paid ad link at the top of the search engine results page to a different website? If any of those answers is yes, you can assume their digital ad approach and spending need improvement.
The other value of reviewing a community's ad spend is to get a breakdown of the various marketing channels they're funding. One specific thing to check is whether they're paying for one or more ILSs. That's because the more they spend on ILSs, the harder it is to see a great return on investment, as they're top-of-funnel sources that produce fewer lease conversions. They're also a staple of static spending. Reallocate spend on sources matching the leasing funnel framework so that your marketing generates leads who convert to leases.
Marketers: Get control of revenue management
Rent prices are a function of multifamily marketing. This has been true for as long as "marketing" has existed. Remember the "Four P's" of marketing?
Product
Place
Promotion and…
PRICE
In multifamily marketing, most of the time, your product (units) and place (community location) have largely been decided and are out of your control. The two things you can and should control as a marketer are your product's and place's promotion (advertising) and price (rent). Somewhere along the way, property management companies siloed rent prices and marketing, losing a critical connection that hinders their communities' performance.
The reality is that pricing and promotion work in tandem to accommodate for variance in supply (vacancy) and demand. Understanding this four-variable equation is challenging. So when marketing your apartments, focus on the things you can control and aim to understand those you don't.

Understanding supply is relatively simple. If you're responsible for marketing a community, you need to have a pulse on at least occupancy, but ideally, future occupancy.

Understanding demand is more complex. At RentVision, we use website data to predict demand down to a floorplan level. Once we have a complete picture of upcoming vacancies and demand, we can increase demand through marketing tools (like Predictive Advertising) or use a revenue management tool (like our own Revenue Management solution) to adjust prices accordingly.

When these two solutions work in tandem, communities can maximize NOI by:
reducing marketing expenses
optimizing rent prices and;
stabilizing occupancy.
Bottom line: If you're responsible for marketing a community, you must also have influence on rent prices. Otherwise, you'll be fighting with one hand tied behind your back.
Understanding your communities' revenue management system
Whether you plan to use a revenue management software or manually set rent prices, you need to have a thorough understanding of how rent prices get set.
Start by answering these questions:
How does this community set prices? If using a revenue management software, how does the software set prices?
When and how often do price changes occur?
When prices change, to what degree can they change? $10 per month? $100 per month?

Does the software integrate into your property website and marketing sources?

Pro tip:

Invest in

marketing syndication tools

so that you're always displaying up-to-date rents online.
If you're not using revenue management software…
Then you need to have a seat at the table where pricing decisions are made because of their direct impact on your marketing strategy. And your value is that you possess the marketing data for diagnosing and solving leasing-related issues—specifically if pricing is ultimately the problem preventing leads from converting. Here are just some reasons why pricing may be hurting occupancy.
How should I market rent prices on my community website?
Price is one of the most critical questions you must answer for prospective renters on your website. How you display pricing, however, can either enhance or hurt leasing. Here are three keys for showing rent on your website:
Show accurate pricing—always.
To best serve prospective renters (and preserve community reputation), you must always show accurate pricing on your community website. Ensure that your revenue management software automatically pushes prices to your website (and other marketing sources, too.). If your company sets prices,, ensure you're updating prices immediately online.
Show one price.
Avoid showing a range of rent prices on your website, if possible. You may understand that prices change on a unit basis based on lease terms and other factors. But renters don't, so it would be best to show one price for a standard 12-month lease. The broader apart those numbers are, the more confusion it creates. Worse, renters assume they'd pay the higher price on the broad range—a big turn-off.
Show specials by floorplan.
Showing specials by floorplan is best because it's more straightforward for prospective renters and enables you to drive more traffic and visibility to the floorplan with the most vacancy. Here are some more tips for implementing and marketing rent specials.

Conclusion
Here are five key takeaways from this article for you to consider as you develop your multifamily marketing plan:
Establishing community brand: Build a cohesive brand identity that appeals to your apartment communities' ideal renter personas, focusing on a well-designed website with floorplan-specific pages, high-quality media, and user-friendly features.

Embrace the 'Leasing Funnel': Tailoring marketing strategies for each stage (Awareness, Consideration, Decision) to maximize lead generation and leasing success.

Use digital ads to nurture prospective renters: Combine defensive digital advertising to protect your community's online identity with remarketing and social media organic posts to nurture prospects throughout the leasing process.

Don't rely solely on ILSs: Utilize Internet Listing Services to increase awareness, but balance their impact with offensive digital ads targeting relevant keywords and competitor names to capture prospects early on.

Align marketing with revenue:

Maximize Net Operating Income (NOI) through dynamic marketing strategies, aligning marketing efforts with revenue management while ensuring accurate pricing and showcasing specials effectively on the community website.