How To Set A Dynamic Budget For Multifamily Digital Advertising
Here is the power of digital advertising for multifamily marketers:
They increase awareness about your apartment communities.
You're able to target a specific audience.
They generate traffic to your website. Once there, visitors begin engaging with your property by watching online video tours, learning about the different floorplan options, checking out your amenities, scheduling an appointment, or completing an online application.
And you can adjust how much you're spending on them anytime you want.
That last point is the crux of this section. The amount of money you allocate toward your digital ads determines just how powerful you want their impact to be. Or, putting it another way—if digital ads drive needed traffic to your website, your ad budget is the gas pedal.
Let's say you currently have six units sitting vacant. The rental price of those units is $1,250, so each month those units are empty, you're losing $7,500 in revenue.
What is one way you could combat this problem? While this is a rudimentary multifamily economics scenario, when you're facing a higher number of vacancies, spending more on your digital ads would make sense because you need more traffic to fill those units.
Or, say your occupancy is strong, and you only have one or two units available. Why would you spend the same amount on digital ads as when you had six units available? It's better to decrease your spending and save money when you do not need additional traffic.
Your digital ad budget should be dynamic rather than static. Spend less when occupancy is high, and spend more when occupancy is low. Here are the critical steps to setting a dynamic budget:
Step 1: How many units are in your apartment community?

The number of units in your apartment community is essential when determining a maximum and minimum budget for your ads. The more units you have across the property, the more you need to be willing to spend on digital ads because you will naturally need more web traffic to maintain a healthy occupancy.
Let's say you have 200 units at your property, and your turnover rate is 50%. Your goal is to rent 100 units annually to achieve maximum occupancy (obviously unrealistic, but the point remains). Suppose renting one of those units takes 100 visits to your website. In that case, you must attain 10,000 visits annually to your website to accomplish your goal.
Or if you have 400 units and need to rent 200 per year, that requires 20,000 visits to your website.
When you put it in such stark terms, the case for needing a mechanism in your marketing for pushing traffic to your website, like digital ads, becomes self-explanatory. They are your lifeline when things look bleak.
Step 2: What is your property class?
Different communities have different supply and demand, budgets, and renters, and you can easily see those differences when comparing by property class.
C-class properties don't need an astronomical digital advertising budget to reach their desired leads, but luxury, A-class communities must maintain higher ad budgets.
The table below shows the influence of unit count and property class on ad spending. It is a snapshot of our clients' daily combined budgets for Google and Facebook ads in July 2023—or smack dab in the middle of the busy leasing season when most communities require more marketing investment to combat higher turnover.
Daily High/Low Budgets For Google & Facebook Ads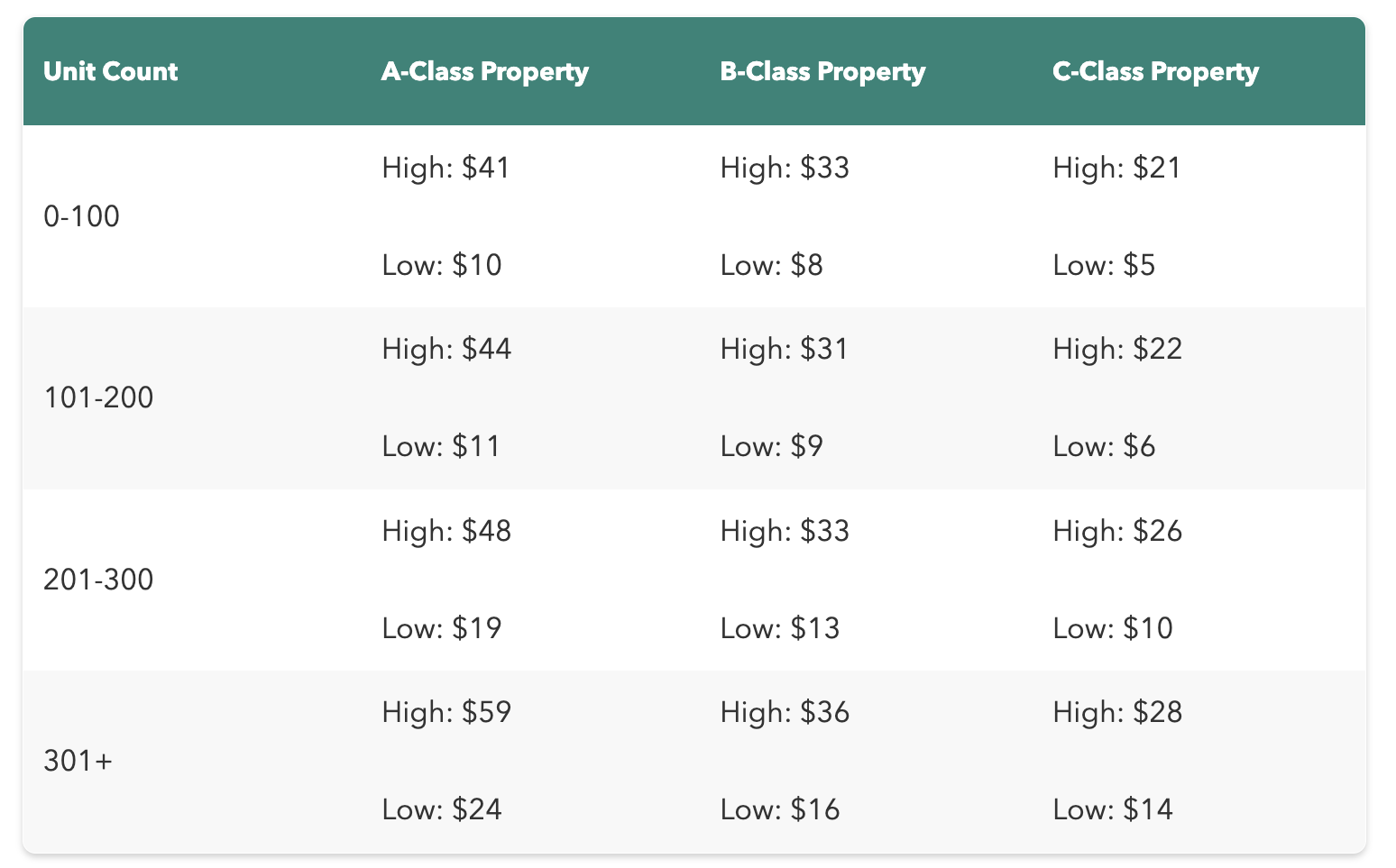 You can see that the minimum threshold for those combined ad budgets incrementally increases the more units you have, regardless of class. You can also see a clear distinction between budgets for A-class and C-class communities.
A-class properties spend between $300 and $1,770 per month on average, B-class properties spend between $240 and $1,080 monthly, and C-class properties spend between $150 and $420 monthly.
These are benchmarks to help you see what an appropriate digital ad budget may be for your community according to unit count and property class.
Step 3: What is your community's seasonality?
Every apartment community experiences changes in demand at different times throughout the year, commonly called seasonality.
For most apartment communities, the summer is the busiest time of year because people want to move when the weather is good. The slow season usually occurs in winter, when fewer people want to move due to weather, as well as it being in the middle of a school year.
The quickest way to see your seasonality is by reviewing the last 12-month period of organic traffic to your community's website in Google Analytics. (Here's how to set up an Analytics account.) In doing so, you will see visual evidence that clarifies months when demand is high vs. months when it isn't, helping you differentiate between your busy and slow seasons.
(Note: Seasonality patterns changed significantly over the last few years due to the COVID-19 pandemic. The previous 12 months of your community's data may drastically differ from a standard seasonality period. So, you could look at years pre-pandemic to get a more accurate assessment of the historical timing of changes in demand your community typically experienced.)
Why is knowing your seasonality helpful? It helps you define what you want to spend ahead of time during slow or busy months. This, again, is one of the most critical elements of digital advertising in general: you control your budget, and you can strategically change spending anytime.
Spending year-round for defensive and remarketing ad campaigns is feasible for most community's marketing budgets. However, when you need more traffic, you'll utilize more expensive campaigns like specific/offensive, requiring a higher budget.
So, you can be dynamic and set a maximum and minimum monthly budget for your ads. In months when you'll need more traffic to your website, you can spend more towards your maximum amount. Then in months when you don't need to drive as much traffic, you can shift down to your minimum spend (essentially just defensive and remarketing ads) and save money.
Step 4: What is your average rent?

When deciding your ad budget, your average rent works similarly to your unit count. If you have a higher average rent, you'll need to be able to spend more on your ads.
Generally, communities with a high average rent are of the luxury class and reside in larger metro areas. Affording that lifestyle is costly and attractive to specific renter personas. As a result, we have noticed that prospective residents for these communities usually begin looking weeks ahead of making their decision. They are more thorough in their apartment search, completing multiple visits to a community's website before converting to a lead.
When the average time somebody needs to look at your website or build trust in your apartments is longer, you will have to spend more on your digital ads to keep your community relevant throughout that search. In this case, you'll also compete with properties with bigger marketing budgets.
Regardless of average rent, every community wants a great return on investment regarding digital ads. If you make it a priority to rent units faster, then you'll see a better ROI on ad spending.
Step 5: Where are you spending your money currently?
We know you've got a competitive market and a limited amount to dedicate to spending on ads and that it's hard to stop doing what you've been doing for years. But dynamic apartment marketers know that a more visionary approach is to stop paying for sources that don't work toward generating leases and distribute that additional source of spending toward digital advertising instead.
To do this, you need to know where your marketing dollars are going and whether or not you're getting your desired ROI from them. It would help if you looked specifically at your resident acquisition costs and applied the Cost Per Minute metric for each marketing channel.
You can also track the lead-to-lease conversion rates of each one of your marketing sources. That should help you instantly know if a source isn't producing the desired results when either of those metrics is too high. The goal is to ensure you're spending your marketing budget resourcefully, using only the sources that generate the best results for leasing activity.
Marketing sources like Internet Listing Services are great at the top of the leasing funnel mentioned earlier; they make prospective residents aware of your community. But after studying 70,000 leases to discover the best places to advertise your apartments online, there was clear evidence that even the most popular ILSs struggled to generate conversions.
Meanwhile, there was attributable evidence that Google Ads were effective during every stage of an individual prospect's search. Utilizing specific/offensive campaigns at the top, remarketing in the middle, and defensive at the bottom is the best set-up for moving prospective residents through the leasing process faster.
So if you're putting most of your marketing budget only towards sources at the top of the funnel, like ILSs, you will spend more to generate conversions.
ILSs have an impact, but a solid digital ads strategy will make you feel more comfortable downgrading some of your ILS packages or eliminating them.
After tracking both sources, one multifamily company went exclusively to Google to highlight its diverse profile of apartment communities and away from the ILS model.
To recap, here are the things you should consider when establishing a dynamic digital advertising budget for your apartments:
What is your unit count? The more units in your property, the more web traffic you'll need to lease them consistently. That means you'll have to spend more on digital ads.
What class is your property? Property classes have vast differences in supply, demand, renters, and budgets.
What is your seasonality? Every apartment community, regardless of class, experiences unique changes in demand. You can identify when those changes typically occur in your community and set monthly budgets accordingly.
What is your average rent? Like unit count or property class, your average rent also determines how much you spend on digital ads. A-class communities with higher rents always need to be willing to pay more because their renters typically go through a more prolonged apartment search.
Where are you spending your money currently? An essential part of developing a dynamic budget is being willing to cut underperforming sources from your current marketing strategy. That frees up more of your budget for your best sources instead.
Download Our Free Budgeting Tool For Apartment Digital Advertising
Need more help establishing your apartment's dynamic marketing budget? Download our free digital ad budgeting allocation tool below.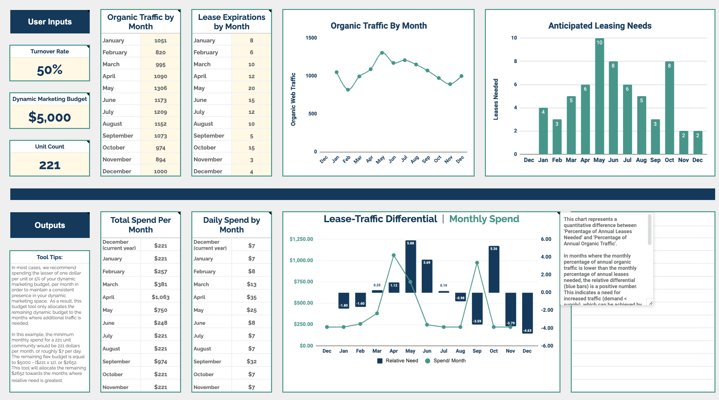 Download Google Sheet (make a copy)

Download Excel file
Enter your community's yearly turnover rate, dynamic budget*, unit count, organic traffic by month from the previous year, and your expected monthly lease expirations for the upcoming year.
The budget allocation tool will automatically calculate your data to give you recommendations on total monthly marketing spend and combined daily spending for Google and Facebook ads.
(*Only input the amount of money in your marketing budget that can be dynamic. For example, you may have to pay a provider to host your community's website and other static marketing expenses that can't be changed or removed from your year-to-year costs. The number you enter into the 'Dynamic Marketing Budget' field in the tool should only be the amount of money you've freed up in your total marketing budget after eliminating underperforming sources.)
What if you could do something other than think about budgeting for digital ads?
We know you don't want to be determining ad budgets while simultaneously dealing with the stresses of peak leasing season or all the other details in your role. Wouldn't it be easier to remove the day-to-day guesswork and let your digital ads do the work themselves?
With RentVision's predictive digital advertising solution, that's possible.


Video: RentVision's Predictive Digital Ads for Apartments
Conclusion
Here's everything we know about how to be a great digital advertiser for apartment communities:
There are multiple types of digital ads—each with a specific purpose. There are also different types of ad campaigns. Defensive and remarketing digital ad campaigns are the easiest for apartment marketers to implement because they're relevant to users and affordable to deploy.
A common mistake apartment marketers make is using their digital ads the same way as a major brand. To generate more qualified leads, strategically target those interested in your apartments.
You need to be able to measure the effectiveness of your ad campaigns to know whether or not they're working. One metric that helps you easily measure this is Cost Per Minute—the lower this number, the better your ads perform.
Internet users will ignore poorly-designed, unhelpful digital ads. For your ads to drive results, they must feature engaging content and a clear Call-to-Action.
Static ad budgets ignore the fact that your community has busy and slow seasons. To become a dynamic apartment marketer who utilizes digital ads, you must set maximum and minimum spending budgets based on your unit count, property type, seasonality, and average rent.
Everything we've explained is the same approach we use with our clients. We hope you can take something from our process and apply it to your apartment community's digital ads.
If you want to deploy digital ads that generate the right amount of traffic and leads you need, and if you want to do all of this within a framework that maximizes your budget, let's talk. We're always here to help.