Initially published in 2018. Updated in 2023.


Would you happen to know your apartment's online reputation?
Are you actively managing it?
Reputation management influences "how your community is perceived and presented online," which is consequential in every area of your apartment's operation, most notably your ability to attract prospective residents.
In this blog, we're going to discuss three areas of online reputation and how to manage them:
Online Reviews: What others say about your apartments online does impact your leasing, so you need a strategy for responding to negative reviews and improving your community's reputation.
Online Impression: An easily discoverable, accessible, and accurate web presence is vital for creating a positive impression for your apartments.
Online Presentation: When you show that you care about the needs of your current and prospective residents, you can create a web presence that better reflects what your community offers and help overcome any negative reviews online.
Online Reviews
Online reviews are the first thing people usually think of when they hear "reputation management." So let's start there; here are the significant impacts of online reviews:
Given this data, you can assume prospective residents interested in your apartments will inevitably check your online reviews at some point during their search.
Signing a lease is a risk with financial and life implications. Online reviews offer the social proof we all need to feel confident about doing something risky.
So it should come as no surprise that your prospects want to see what your current (or former) residents have to say about their living experience in your community.
Actively monitoring and responding to online reviews is necessary. Recent data from the multifamily industry's leading experts in online reputation, J. Turner Research, further confirms this need.
They analyzed 1.4 million apartment reviews and found a substantial rise in negatively motivated reviews coinciding with a reduction in positively motivated reviews. Since 2019, they report, resident satisfaction has trended down 13%, with the prevailing sentiment being that they feel on-site staff does not care about them or their living experience.
Complaints, according to J. Turner, have risen substantially in the following categories:
Condition/availability of the amenities and common areas
Maintenance service, general cleanliness
Security
Maintenance timelines

Now, monitoring online reviews shouldn't just be about maintaining a positive online presence; it also helps you see what's right, what's wrong, and what could be better about you, your community, and your management and to use that information to make proactive changes that improve the living experience of your residents. And that's a good thing.
But in terms of sentiment—how others perceive your apartments online—well, there's an unquestionable impact on leasing.
If you've been on the receiving end of a negative review, you know how quickly it changes things. You know about the damage someone's words can have on your community as every prospect sees it on your highly-visible Google Business Profile, which can change their opinion of your apartments.
How to handle negative reviews of your apartments
The best approach to handling a negative review is to respond to it. Customers expect businesses to respond to their reviews quickly, and 97% of individuals looking at online reviews will read that business' response. (Oberlo)
Before responding to a review, please share it with other teammates or upper management so that those in authority can help you craft the right tone in your response. After all, knowing the weight it has for both the reviewer and prospects, you cannot afford to respond poorly to a bad review. It only makes things worse.
Here are five basic principles for responding to negative reviews of your apartments:
Don't invalidate their complaints. Someone's negative review may seem silly, but that doesn't mean you should respond by making them feel their experience isn't worthy of your attention. Show that you care and resolve the conflict.
Don't be rude. Snark or mean-spiritedness in your response with the intent of trying to win the 'comment contest' never works.
Don't be accusatory. Avoid becoming defensive in your response. Yeah, negative reviews feel like a personal attack. But before immediately going on the defensive and lashing out back at the reviewer, take a few minutes and remember the outcome if you respond in that manner.
Do be empathetic. In your response, make the reviewer feel heard and show that you care about their problem. That rebuilds their trust and your prospects' trust in your ability to handle and resolve conflicts.
Do be helpful. Showing empathy is crucial, but you should also be specific in your response about how you will help resolve the problem.

Responding to reviews is one specific application ChatGPT can provide for multifamily marketers and operators. Check out this excellent LinkedIn post from John Gonzalez, VP of Marketing at the ITEX group, on how to utilize AI to form empathetic and helpful responses to multifamily-specific issues:


(For better viewing, click 'Accessibility mode' in the image)

What can you do to earn good online reviews?


Earning more positive online reviews is a deep-rooted task. It takes more than just simply responding to and resolving negative comments. You must be excellent in every facet of your apartment's management, marketing, maintenance, and customer service so that current and future residents can say they had a positive living experience in your community.
The more this is true, the easier it'll be to accumulate reviews that create a reputable and appealing sentiment for your community online.
That said, you must be careful with asking for reviews.
Google's guidelines lay clear what you can and cannot do when asking for reviews, specifically:
Don't discourage or prohibit negative reviews or selectively solicit positive customer reviews.
Don't include promotional or commercial content.
Don't offer or accept money in exchange for reviews.
Don't solicit reviews from customers in bulk.

Google also bans things like reviewing your own business or posting a review of a competitor to manipulate rankings.
Simply put, you cannot pay residents for reviews, send out mass messages asking for reviews, or put together a list of residents you know are exclusively happy to solicit via email.
However, there are processes you can adopt that better enable you to capture positive tenant sentiment, which may produce more positive online reviews.
When residents move out, you can make it part of your move-out routine to invite them to leave an online review of your community.
You could, similarly, make that part of the routine with maintenance calls—have your maintenance team leave a card inviting them to review your community online.
You could put together a short handout explaining how to leave a review. (Here's what Google recommends.)

One other exciting avenue to look into is RealPage's Community Rewards software platform. It gives you tools to help you better engage with current residents and use that correspondence toward improving your apartment's online reputation.
Online Impression

You've heard the old line about first impressions, right? The first impression is the first crack at building your reputation with potential residents.
In online marketing, you make a first impression when someone searches for your community by name on Google. It would be best that they see this: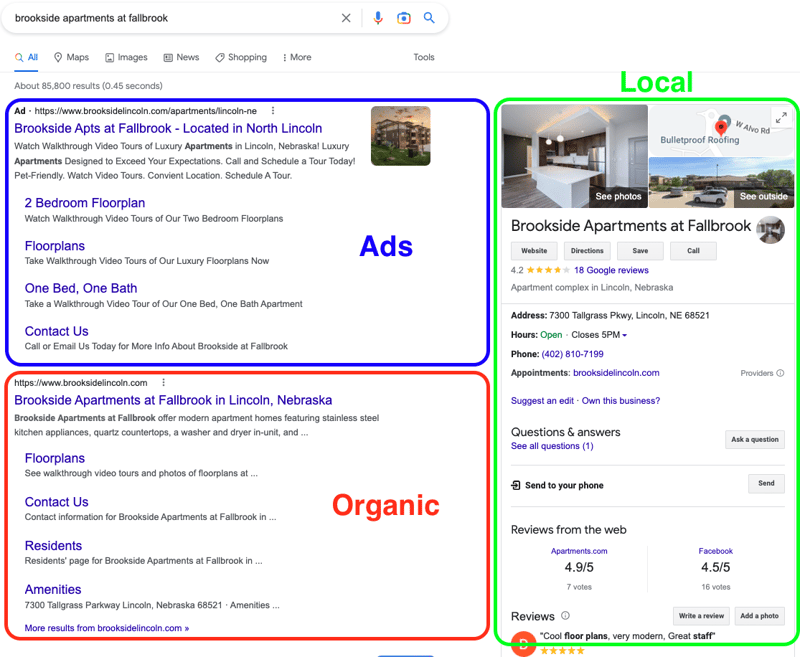 Accessible information specific to your apartment community is highly visible, including:
The local section of the search engine [outlined in green] results page (SERP) displays your Google Business Profile, including your correct address, phone number, website link, and professional photos.
The top paid search result at the top of the page [outlined in blue] is an ad for your apartments, which is possible with a Google Ads strategy for multifamily.
Below the paid search section, your community also claims the top organic search result [outlined in red].

All three are what someone searching for your apartments directly online—your most qualified lead!—expects to see. It creates the general impression that you're a community that has its stuff together and knows what it's doing. You want your prospects to feel this way.
While we'll dive more into your marketing presentation shortly, let's just say that making your apartments easily discoverable online makes a valuable impression.
When they're not, that creates immediate frustration. Instead, the first experience someone has with your apartment's brand is being frustrated because they wanted to do something, but your web presence kept them from doing that—or made it unnecessarily more challenging for them to do that.
In seconds, your apartments went from being a contender in their search to being behind the pack. If you ever need more proof that the digital landscape for apartments is as tightly competitive as the average prospective resident's modern-day short search, think again.
Your impression is more important now than ever. So making sure it is easy to discover and find information about your apartments is essential. It also helps prospects have a smooth experience and avoid frustration during their first interaction with your community.
Online Marketing Presentation
Finally, let's talk about your apartment's overall online marketing presentation.
How you present your community online—particularly on your website, on mobile, and in photos and video—will tell prospects how serious you are about your community and, by extension, how much they can trust you to provide the ideal living experience they expect for the duration of their lease.
We mentioned the risk of signing an apartment lease for the prospective resident earlier. Marketers, operators, and vendors need to remember just how life-changing it is for someone to rent an apartment. It's one of the most significant decisions they'll make.
So the purpose of your online presence is to build trust and empathy with your prospects, so they feel safe about selecting to live in your community. And when you establish this mindset from the beginning of someone's interaction with your apartments, you're developing a positive reputation that can, ultimately, carry through to gaining great online reviews and overall sentiment.
Every individual resident has four basic questions you must answer with your apartment's online presentation:
Where is your community?
Do you have a floorplan that matches their needs (and can they see photos and videos of it)?
What are your current rent prices?
Is there an available unit?

Answering those basic questions in your apartments' online presence creates a positive sentiment of your community to prospective residents.
A professional website with floorplan-specific pages, photography, and video tours that also look awesome and translates seamlessly on mobile tells prospects how competent you are and how much you care about their needs.
An excellent presentation that meets what renters want will make your apartments the place more people can see themselves calling "home."
Given that you can help people in this way, why wouldn't you?
An excellent presentation can trump bad reviews
Here's another thing to remember: Not all bad reviews hit a customer in the same way. It's all about context. Suppose you know nothing about the business or the people running it. In that case, a bad review can be fatal.
On the other hand, if you know the business owner well, bad reviews are less likely to faze you.
Realistically, most apartment shoppers will not know someone on staff at your property.
However, if you can meet them somewhere in the middle of the spectrum rather than "stone cold knows nothing about you," that is preferable.
How do you do that? You provide lots of data points for them: You give them great photos and videos. You make it easy to find relevant information. You respond to online reviews and answer questions. You build a great website.
When you do all those things, you're doing more than just establishing an excellent online marketing platform for your apartments; you're also communicating in a dozen different ways that you are responsible, you care, you're conscientious, and you're trustworthy.
And all those things, whether the prospect fully realizes it or not, will color how the odd bad online review strikes them.
We're not saying you want bad online reviews or don't need to worry about them if you have a good website. Read all that we said above about reviews. You want to avoid bad reviews. But, of course, everyone has bad days. Maybe a maintenance person called in sick, and you should have gotten to a request sooner. Perhaps a new property manager mishandled something because they were still learning the ropes. These things happen.
The important thing is that the rest of your online platform makes prospects think something along those lines, "Well, they had a bad day," rather than "Wow, I don't want to go anywhere near this place."
Conclusion: Your apartment's online reputation matters
You must carefully and actively monitor three areas of reputation management: online reviews, prospect impressions, and marketing presentations.
While online reputation has always been important, recent trends show that more renters are dissatisfied with their leasing experience and often voice those claims online.
Solving their problems and avoiding the negative reputation of your apartments is a big task. Still, you can control how you respond to criticism and ensure current and future residents feel positive about their experience with your apartments.
And it starts with the moment they first seek out your apartments online.
Continued reading