How active are your apartment communities' social media pages?
Prospective residents today are more willing to utilize multiple tools to find their next apartment, including checking out a community's social media presence—reprioritizing those pages as extremely valuable to multifamily marketers.
Posting frequently on your apartments' social media pages:
Builds up prospective residents' trust in your communities.
Improves your communities' online brand and reputation.
Gives another unique and more authentic representation of your apartments' offerings and lifestyle beyond just what is featured on your website or online listings.
Let's look at six social media marketing examples from apartment communities on Instagram, Facebook, TikTok, and LinkedIn that you could try to attract future renters.
1. Updating the construction progress of a new apartment complex on LinkedIn.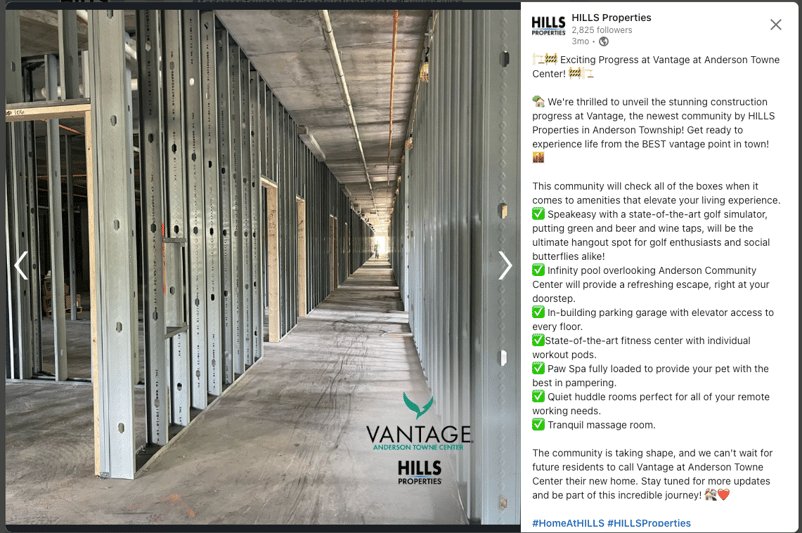 HILLS properties showing progress on the construction of Vantage at Anderson Towne Center is an excellent lease-up marketing technique for generating excitement about their new apartment community to prospective residents. They also include pretty enticing and unignorable information about the luxury communities' amenities in the post.
2. Using TikTok to highlight the inside of a unit.
TikTok is becoming an essential apartment marketing tool. Though advertising on TikTok comes at a costly daily minimum of $50/day, it's still an effective place to build your apartment communities' online brand organically.
Parian Luxury Apartments uses TikTok to highlight their on-site staff, views around the community, and, in the example above, the inside of a furnished unit in a short, 15-second video set to a cheerful soundtrack. This post was simple to make, and it's a highly effective resource featuring compelling visuals that'll stand out to prospective residents.

Plus, they strategically use the hashtag #floridaapartments to ensure their video appears in a relevant TikTok search.
3. Running a 'Testimonial Tuesday' campaign on Facebook.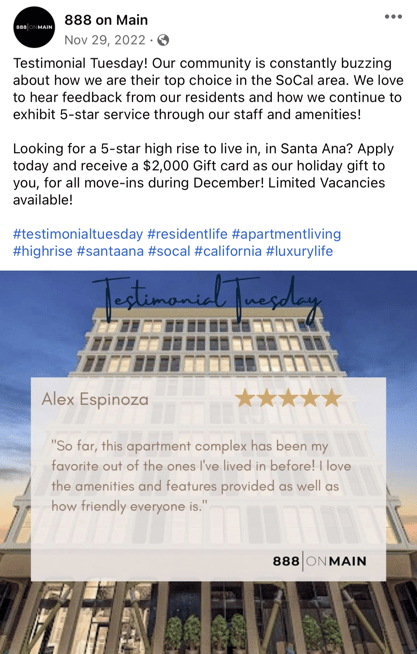 An excellent way to build the value of your community's social media channels is utilizing organic campaigns like 888 on Main Apartments' 'Testimonial Tuesday.'
Often, prospective residents solicit a community's Facebook page in the middle phase of the leasing funnel or when they've narrowed their focus on two or more finalist communities.
They'll want to assess the activity and content on those communities' social media pages for the most complete comparison. And if, at that moment of their search, they come across a post like the positive testimonial above, it powerfully sways their decision in that community's favor—especially for younger renters who want to hear what tenants have to say about their living experience.
4. Giving a POV tour of the community on TikTok.
The Evalee Apartments give another creative example of using TikTok to give a point-of-view tour of their community.
From walking into the leasing office, seeing the gym and pool, moving to the inside of a unit itself, and finally, out to its on-site dog park, the video gives viewers a powerful sense of what this community offers and the people responsible for establishing its living experience behind the scenes. There's so much information packed into a 50-second clip!
At the end, they also call out a move-in special with contact information. It's like an ad, but free—and well done, too.
5. Using the perfect Instagram meme to highlight the neighborhood.
Highlighting your apartment community's local neighborhood is a great marketing tactic, and the post from Grand KC Apartments in Kansas City does so in a uniquely funny and timely way—with a Taylor Swift-Travis Kelce meme, of course!
Whether you love it or not, the courtship of the world's most famous superstar and the Chiefs' great tight end is all anyone talks about. The marketing team at Grand KC does a creative job of blending a funny meme of a trending topic (that's especially relevant to their city) with an image of the view outside their community. Posts like these can create a unique voice for your apartment community that future renters can resonate with and enjoy.
6. Utilizing your Instagram account as an extension of your community website.
The other notable social media strategy the Grand KC Apartments and many others share is utilizing Instagram as an extension of their website.
The first similarity with websites is that a visitor to their Instagram profile can message or call someone on the leasing staff with just the click of a button.
The other is through Instagram's Highlights feature, which Grand KC's marketing team created for testimonials, views, virtual tours, and, as seen in the example above, cute tenant-submitted photos of their 'Grand Pets.'
Much of the content in these Highlights is similar to what a prospective resident sees on a community website, which is a resourceful way of turning a social media channel into a lead-generating tool.
Final Takeaway
Use a variety of social media platforms like LinkedIn, TikTok, Facebook, and Instagram to engage and attract prospective renters because each offers unique ways to showcase your apartment communities' amenities, inside views, and local neighborhood characteristics. Plus they're excellent for establishing a positive impression of your brand and voice.