Executive Summary
To generate qualified leads and leases, your marketing needs to keep attention, engaging people long enough to interact fully with your community. This is where your apartment video tours come in. They allow prospective residents to see the inside of your units and floorplans from the comfort of their couches, turning your website into a 24/7/365 leasing machine. And when you consider that more renters prefer frictionless leasing, video tours of your apartments online are more vital than ever.
This resource will:
Analyze the most recent trends in video marketing.

Explain why video marketing is so crucial for apartment communities.

Navigate the benefits and drawbacks of different kinds of apartment videos.

Map out a strategy for using video marketing to qualify leads before they contact your community.

Teach apartment communities how to leverage apartment video tours before, during, and after a showing in order to close more leases, faster.




Introduction:

The Rise of Video Marketing
Videos Have Become the Expectation, Not the Exception
By 2022, online video content will make up more than 82% of all consumer internet traffic, which is 15x higher than in 2017.
Videos Increase the Value of Your Website
Web pages with video content drive 157% more organic traffic, and visitors spend 2x as long on the site.
Videos Convert Website Visitors to Leads
Real estate listings that include video generate 4x more inquiries than those that don't.
Videos Increase Purchase Likelihood
Customers who view a product video are 64-85% more likely to buy it.
Why Your Apartment Communities Can't Wait Any Longer to Have Video Tours
When Prospective Residents Find You, What Will They See?
Modern renters are researching more than ever to find their next apartment home. One study suggests the average consumer consults more than 10 sources of information before purchasing a product. The explanation is simple: they are about to make an expensive, life-changing decision.
Apartment hunters demand more sources of visual content and information before they will contact your community in any way. In the past, an Internet Listing Service page or a community website with only a few photos were adequate enough sources for prospective residents to decide to sign a lease. The rise of video marketing permanently changes that.
So, either you will publish enough content on your website to earn prospective residents' interest and trust, or they will find out about you elsewhere. If your website doesn't provide enough content, prospects might turn to internet listing sites (where you are surrounded by all of your competition) or apartment review websites (where primarily angry people post reviews).
Or, they might head over to your competitors to see if their websites provide good content, like video tours that help them see the inside of your units and amenities. To put it bluntly: lacking essential video content on your website will quickly disqualify your apartment community during a search.
Marketing is more about keeping people's attention than simply getting it.
Because consumers demand so much high-quality content before contacting you, your ability to engage prospective renters is crucial.
The critical mistake many apartment marketers make is focusing all their marketing efforts and resources on simply getting attention—increasing the traffic to their community's website. Getting attention is important, but all the traffic in the world does no good if that traffic bounces away from your website immediately.
To generate qualified leads and leases, your marketing needs to keep attention, engaging people long enough to interact fully with your community.
This is where your apartment video tours make a big difference.
Videos work because they engage people. Videos have an unparalleled ability to keep attention.
And keeping attention has never been more critical.
Video tours engage prospective renters in three critical ways:
1. Video Tours Qualify Leads.
Walkthrough video tours increase the interest level of the people looking for exactly what you have to offer. If a prospective resident contacts you after viewing a video tour of one of your units, they're more ready to rent than the average lead.
2. Video Tours Disqualify Leads.
At the end of the day, you don't really care about leads. You care about leases. Why would you want to waste time on even a single unqualified lead? One of the most undervalued functions of video tours is that they keep many people who will never lease your apartment from wasting any of your time. Fewer unqualified leads mean that your staff can spend more time closing and less time selling.
3. Video Tours Close Leases.
Video tours can function as 24/7 virtual leasing agents. They can be helpful before, during, and after an in-person showing. Leveraged correctly, video tours significantly impact a prospective resident's decision to sign a lease.
How to Choose the Right Video Tour For Your Apartment Communities
Apartment Video Tours and Buying Stages
Rather than trying to create a viral video, a better (and more realistic) goal is to produce video tours that extend and enhance your leasing staff's capabilities at every Buying Stage.
The apartment leasing cycle has three Buying Stages: awareness, research, and selection. Here's how those look:
Awareness
Apartment shoppers not only become aware that they need an apartment but also begin to become aware of the various apartment communities available to them.
Research
Apartment shoppers begin to compare factors relevant to them to narrow down their choices. They research location, price, space, convenience, look/feel, security, and more. After narrowing down their choices to a few good options, they schedule on-site showings.
Selection
After gathering the final information from their tours, apartment shoppers again narrow their choices until they can select a single apartment.
Different kinds of videos appeal to prospects at various Buying Stages. We compare the strengths and weaknesses of various types of video tours in the table below.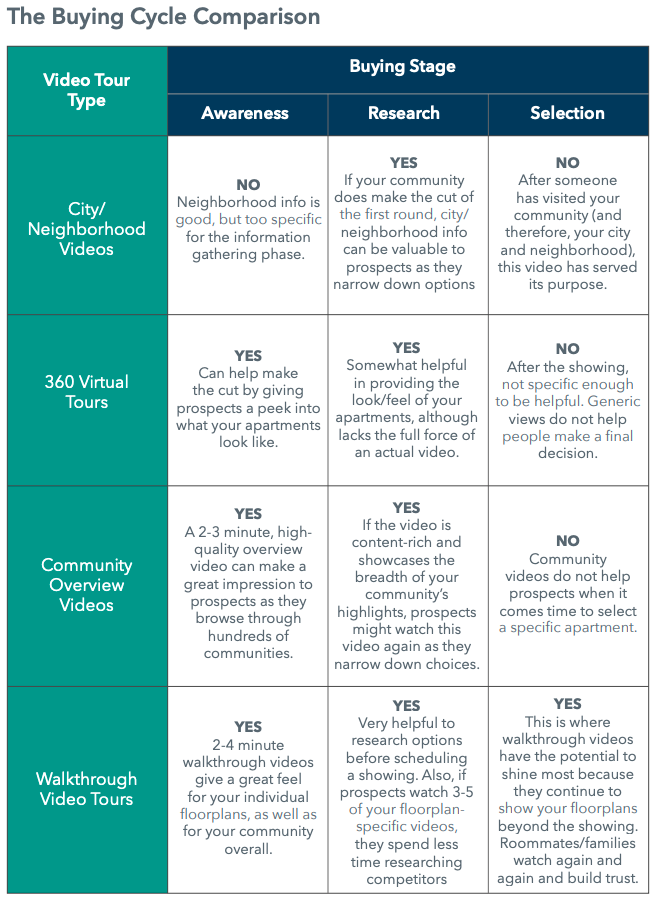 Why Walkthrough Video Tours Outperform Other Types of Video For Multifamily Marketers
Saying that walkthrough videos are the best option for apartment communities isn't just some bold claim. In February 2021, we ran a study of our client's data to see just how effective these videos are, and this is what we found:
Apartment website pages with walkthrough video tours had 2.5x as many views as pages without them.
We compared the traffic on floorplan pages with video tours and floorplan pages without video. During a 30-day period, pages with walkthrough videos had an average of 345 visits. Pages without a walkthrough video tour had an average of 134 visits during that same time. (See the Data on Video Views)
Walkthrough video tours keep a prospect's attention longer.
Pages with walkthrough videos gain more views and keep prospects engaged for a more extended period. The average length of a RentVision walkthrough video tour is 2 minutes, 25 seconds. The average time on page for pages with walkthrough videos was 2:22—meaning the average time on page equaled 98% of the average video length. Floorplan pages without walkthrough videos had an average time on page of 1:15. Prospects are watching these videos. (See the Data on Video Engagement)
One apartment community leased 66% more units during a single month (compared year-over-year) without increasing leasing hours using walkthrough video tours.
Walkthrough videos make things easier for both prospective residents and your leasing staff. Why? Prospects would much rather watch a 2-3 minute video than have to set aside potentially hours of their time to drive to your community and see it in person. If the prospect watches a walkthrough video and decides your community isn't the right fit for them, that helps your leasing staff. Your team will operate more efficiently when it reduces the quantity of leads and improves their quality. This was how one client of ours saw their leasing success improve without having to work longer hours.
How to Leverage Apartment Video Tours to Consistently Close Leases
Placing walkthrough videos on your website is just the first step. The second is to avoid letting those videos gather dust—to generate more leases, you need to utilize them before, during, and after a showing. Here's how.
Before a Showing
There's a strengthening trend within the multifamily industry of inbound rental searches from IP addresses outside an apartment community's area. The city of Denver, for example, saw 48% of its searches for available apartments in 2019 originate from seekers who reside elsewhere.
That pattern suggests there's a strong possibility many of your potential residents may not be able to conduct an in-person showing until their move-in day. Their only access before deciding to rent could come via a walkthrough video tour, which is why they're so essential to have on your community's website.
If a prospective resident calls to learn more about your apartments, instruct your leasing agents to direct them to a walkthrough video tour on your website while on the phone. This will allow your agent to answer any questions immediately, almost entirely replicating the same experience as an in-person showing. This is worth doing even if the caller can come to see the apartments for themselves that same day.
Another emerging trend is frictionless leasing; renters can now complete their apartment search online without taking tours or interacting with leasing staff (unless necessary). In 2022, 1 out of every 4 renters leased an apartment without touring it in person. Without walkthrough video tours in your communities' marketing strategies. COVID accelerated the rise of video marketing for apartments; the latest data should ring alarm bells.
The walkthrough video tours can also be considered a failsafe for when a potential resident asks you to stay late and conduct a tour when that doesn't work with your schedule.
During a Showing
There are times when not all decision-makers are present during the time of an in-person showing. The side effect in this scenario is that the person touring the unit may only be equipped to decide to sign a lease once others have seen it, which ultimately hinders your closing rate.
This is where online tours can be meaningful, even during an in-person showing. Consider allowing the absent stakeholder to get on the phone before the showing ends and have them watch a walkthrough video of the floorplan you just showed. That could let the present stakeholder to stay and immediately begin the leasing process, thus leading to a better conversion rate.
We also know that there are times when the in-person showing just isn't going as well as expected—and that's okay. Use those moments to show a walkthrough video from another one of your properties nearby with features better matching that prospective resident's needs. They may agree that the other apartment community is more suited to them, resulting in a win for them and your company.
After a Showing
One could assume that, after both a virtual and in-person showing, walkthrough video tours don't carry as much weight as they do earlier in someone's apartment search. However, we believe there are a couple of practical ways to still utilize the videos after the showing.
First, get into the habit of sending follow-up emails to prospective residents with a link to the walkthrough video of the floorplan you showed them. Since most apartment searches are short and competitive, this practice will help keep your community top of mind.
Secondly, encourage prospective residents to share your walkthrough videos with non-stakeholders, such as family members or friends. Even though they're not planning to live in the apartment, they, too, want to make sure the potential residents will be happy and comfortable in the place they plan to live.
Conclusion: Ready to close more leases with walkthrough
video tours?
Your communities can't wait any longer to add walkthrough video tours. Video marketing has become the standard and, without them, your apartments will fail to engage with prospects during critical moments of their search.
If you want to learn more about how RentVision's walkthrough videos can help you close more leases with fewer staff hours, click this link to schedule a demo.