By now, we are all fully aware of the control that mobile phones have on our everyday lives. It shouldn't come as a surprise that Americans spend five to six hours per day staring at their phones. Nor should the fact that nearly 70% of all web traffic originates from a mobile device.
This amount of mobile consumption has significantly affected our behaviors when it comes to shopping, including how prospective residents search for and engage with apartment communities. There are many different mobile channels—Google My Business listings, navigational applications like Google or Apple Maps, advertisements, and social media—that direct prospects to your apartment community's mobile website.
But simply getting visitors there is not a guarantee of leasing success, as data has recently emerged that clearly depicts what users expect of a mobile website.
Apartment shoppers expect a seamless mobile browsing experience where they can learn everything they need to know to confidently reach out to your leasing office.
Strong, lease-generating apartment websites let potential residents see the inside of units as this is ultimately the reason they are searching in the first place. Having floorplan-specific content and walkthrough video tours makes this possible, and the content shown must be both consumable and accessible on any device.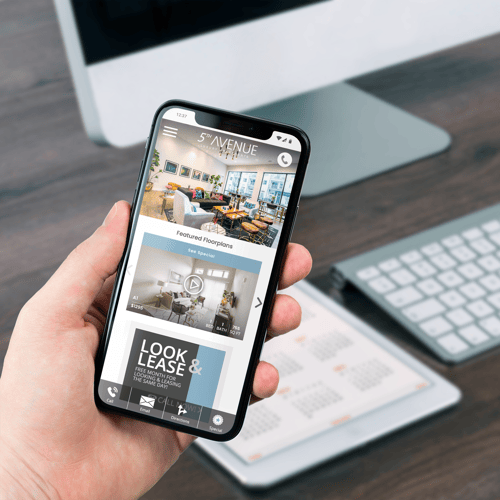 Considering that 91% of potential residents say they will use their mobile device while conducting an apartment search, apartment marketers should ask themselves this question: Is it possible for someone to initiate the leasing process entirely from their phone?
Unfortunately, many still rely on pre-built, templated mobile websites that were provided by their property management software company. The desktop version of the website may meet their desired expectations, but the mobile version is merely an afterthought.
It is critical as apartment marketers to avoid thinking in this way as:

61% of mobile users will not return to a website if it doesn't adapt well to a mobile view.
If your apartment community's website isn't optimized for mobile viewing, accessing media on a small screen becomes increasingly more difficult. It will also create frustration for users to have to sort through your various floorplan and amenity pages, too. If prospective residents have a difficult time learning more about your apartments while navigating your mobile site, they'll move on quickly and you'll lose out on a great lead all because your mobile site wasn't adaptive.
In fact, a one-second delay of page responsiveness can reduce conversion likelihood by 7%. When you think about the amount of content on an apartment's mobile website, as well as the number of forms prospective residents may have to fill out to apply or schedule a tour, it's critical that everything loads quickly and is easy to use. Otherwise, the chances of a potential resident leaving your site increase every single second.
Google will rank your apartment community website lower in search results because it's not
mobile-friendly.
In June 2021, Google changed its search ranking algorithm to heavily emphasize page experience. Mobile-friendliness is one of the signals that the search engine looks at to measure user experience. If it sees that users are having a poor time using your apartment community's mobile website, that could potentially hinder your chances of gaining needed visibility from an online search.
A mobile apartment website must meet user expectations, while also facilitating faster lead generation and effectively converting more of them into leases.
Though every potential resident's leasing journey is unique in terms of timing, searchers using a mobile device typically have a more urgent need. Data shows that 70% of mobile searches result in an action in less than an hour, meaning an apartment community with a mobile-friendly website can generate more leads faster.
Is Your Apartment Community Website Mobile-Friendly?
We've developed a free tool for apartment marketers called Community SiteScore that measures the mobile performance of your apartment community's website. Click here to get a complete report with the answer to your inbox in just minutes.