Owning and maintaining a verified Google Business Profile is essential for your apartment's marketing strategy as it's undoubtedly one of the most visible (and authoritative) sources available.
A Google Business Profile is a listing page where you manage your business' appearance in Google search and Maps.
When a prospective resident searches for your apartments directly, your Google Business Profile will show prominently on the right side of the search engine results page. It includes vital information such as your leasing office hours, phone number, website, location, customer reviews, and photos. (The example below highlights an apartment community's Google Business Profile in blue.)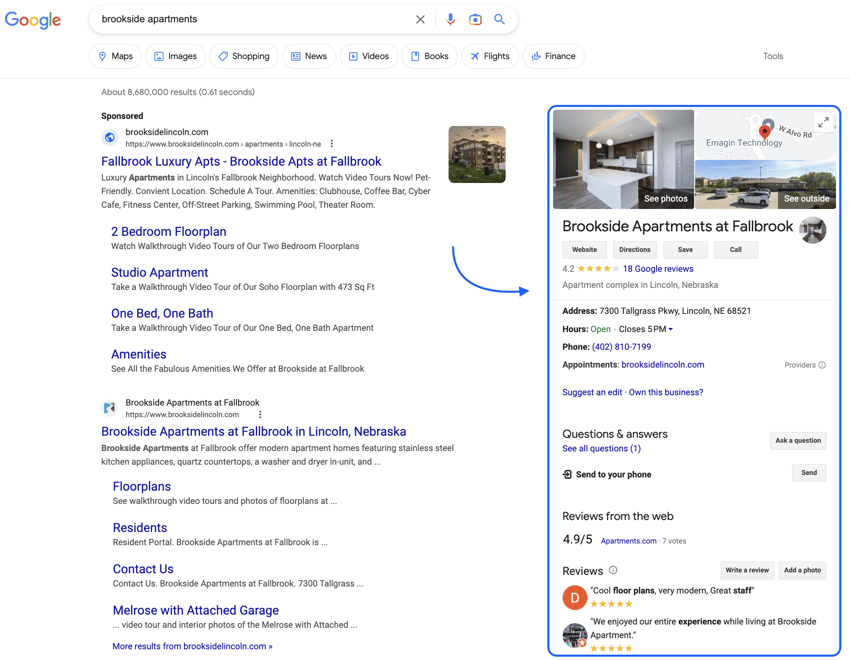 Recently, Google has updated its Business Profile verification process to ensure its users receive accurate and reliable information. Though this process is understandably necessary, it can be tricky, especially if you're opening a new apartment community (read on).
In this blog, we'll:
Step back and explain why verification is necessary for your Google Business Profile.
Go over Google's updated verification process in 2023, highlight its challenges, and show strategies for new apartments to verify their profile.
Discuss RentVision's response to these changes for our clients and their apartment communities.
Why is it necessary to verify your apartment's Google Business Profile?
Let's begin by first stepping back and explaining why verification is necessary for setting up and maintaining a Google Business Profile.
As stated earlier, Google prioritizes the accuracy of the information shown in search results. The company's revenue model relies on constantly providing accurate and relevant search results to its users. After all, failing to do this would ultimately result in fewer users on Google, which would prompt marketers to advertise and highlight their products elsewhere.
Fortunately, Google does an excellent job of maintaining its user experience. There are 8.5 billion searches daily on Google, indicating the dominance of the search engine's reputation amongst a global audience. And there are more than 200 million Google Business Profiles.
Unsurprisingly, a small percentage of online scammers use Google's massive platform to defraud users by posing as real companies with highly-visible Google Business Profiles.
Google has been dealing with these fraudsters for years. But anytime they attempt to remove false or misleading Google Business Profiles, these bad actors find ways to go around them and make new listings for fake companies.
So verification is necessary to protect users from fake businesses. And Google is again updating the verification process to make it much more comprehensive to further crack down on fraudulent listings.
What's new in the verification process, and how is it affecting apartment communities?

Here is Google's business verification process:
Add (or claim) your Business Profile.

Verify your Business Profile through variable verification methods, including phone calls, texts, emails, video recordings, live video chat, postcards, and more.

Google determines which verification method is required for your business. (Unfortunately, apartments are usually forced to choose only among the most difficult verification methods.)

Google reviews verifications, which can take up to 7 days.

You can submit a ticket to use a different, Google-approved, verification method if it cannot verify your profile initially. (Unfortunately, getting approval to verify using an alternative method is very unlikely.)
Once verified, users can see your Google Business Profile in search and Maps.
Traditionally, Google has asked the apartment communities we partner with to verify via mail. Part of the reason was that listing a business in the apartment category required confirmation of geographic location (obviously, users expect to see an apartment complex at the mailing address you provided to Google).
Google sends our clients a postcard with a unique 5-digit verification key (which takes about 14 days to arrive), which they submit to complete the online verification of their Google Business Profile account.
This verification process has been tedious but successful for existing communities under new management. However, apartments in development or a lease-up have had a more challenging time with postcard verification because, in most cases, they still needed an actual mailing address, which was often still under construction. (We detailed the challenges of the business verification process for new communities in our other resource, How To Execute A Successful Apartment Lease-Up.)
The codes on the postcards expired every 30 days, and Google would send a new one in the mail each time one passed. After a few resends, Google would stop the verification process entirely. Hence, it was vital to find ways for developing properties to get a postcard and verify as quickly as possible so that the community could establish digital authority through visibility in Google, a necessary component in generating awareness and interest in the apartments ahead of their official opening.
We advised newer communities to take measures like holding mail at the local post office (especially when there were no roads on the property yet and no access for a delivery driver) or putting up a temporary, physical mailbox on the property.
Those verification methods for new and existing communities had been the 'standard' until a recent uptick in Google seeking to verify our partners' communities through a required "business video." We tried opting for phone verification on behalf of our clients, but even after that process, the apartments' Google Business Profiles remained unverified until after completing video verification.
The items Google requires apartments to share in a live video with a Google representative include: paper documentation of the apartments, community signage on the property, nearby street signs, proof of occupation, equipment used at the apartments, working employees, and, sometimes, a vacant unit.
According to on-site teams, business video and live video chat verification could have been more straightforward and user-friendly. Some clients lacked the right tech equipment to go on a video chat, had unfinished properties, or had no access to proper paper documentation. Google's verification via video operated on a queue basis, and reports indicate that it took up to 4 hours of waiting on the video call before getting to engage with a representative.
What is RentVision's response to changes in verifying an apartment's Google Business Profile?
Ultimately, Google controls the verification process for business profile pages. Yes, the process can sometimes be more frustrating or difficult than expected to verify as, or on behalf of, an apartment community. But thanks to RentVision's status as a Google Premier Partner with an agency account for managing multiple clients' Google Business Profile pages, we've handled the challenges of the verification process and provided excellent service.
With that in mind, it's best for multifamily management companies to partner with a marketing team that has agency status with Google to get the most out of their apartment's Google Business Profile pages. For example, we can handle issues such as unsolicited requests for access from unknown actors to a Google Business Profile (keeping the profile secure).

We also help with ongoing maintenance and optimization to ensure that a community's Business profile is up-to-date with accurate information and links location extensions to its Google Ads campaigns.
Conclusion: Need help establishing and verifying your apartment's Google Business Profile?
Knowing that the typical prospective resident performs their search for an apartment on Google, it's your responsibility to provide them with accurate and accessible information about your apartments via a Google Business Profile page.
Not only is a Google Business Profile immensely impactful in validating your community's location, but it's also one of your most visible marketing sources. And when you have one with links to your website, address, phone number, and engaging photos of your community, you develop a prominent online presence for prospective residents, who searched for your apartments by name in Google, to see.
As stated, Google wants to protect your community's listing by requiring verification, but that process can take some work. That's where RentVision can help; managing your Google Business Profile is one of our many services for communities utilizing our digital apartment marketing system. Schedule a demo to learn more.
Continued reading