Ideally, apartment communities heading into the winter months have already achieved their desired occupancy rate. Their supply is low enough that leasing agents can relax some knowing that they're not having to pray for excess demand.
But that's not the case for every community (regardless of property class) as the seasonal slowdown period begins, especially in 2020, as typical multifamily seasonality curves have been affected by a pandemic.
This is a stressful moment for those communities in need of demand during a time period when renters historically don't make their moves. But this is also a moment when apartment marketers can shine.
Here's what you can do now to gain demand in the winter:
1. Be intentional with your ad spending.
Digital advertisements have the most influence in demand generation during the winter, but only if they're properly utilized.
There seems to be this misleading philosophy with Google Ads that suggests by simply 'flipping the switch' and increasing the amount of money you're spending on an ad, you're automatically creating more interest.
Fundamentally, that's true. By that logic, though, you might as well spend thousands on a roadside billboard. Sure, you'll gain a lot of impressions but you'll have no idea whether they'll actually result in leads, and you're also eliminating a substantial part of your audience.
There's a difference between just demand and the right demand. This is where being intentional with your ad spending is crucial.
First, you need a strategic targeted approach. The image above is the methodology and targeted digital ad strategy we use when working with our clients as we develop and deploy their digital ads. The center of the bullseye represents the target audience, and we reach those individuals by making sure a community owns its identity in an online search. When a prospective resident searches for the community by name, the digital ads we have in place would showcase the community in the paid, organic, and local sections at top of the search engine results page (SERP).
Digital ads have more leverage once this prerequisite is established. With it, you could run any number of display ads or sponsored posts highlighting your floorplans, pricing, availability, etc. (More on that later). You can tweak your pricing on remarketing or offensive campaigns to reach a larger audience. If you still don't have the right amount of traffic to fulfill your excess supply of units in the winter, you could go further and buy a series of Facebook campaigns.
Second, you need to make sure you're getting the most out of your budget. Did you know you can get a lot of impact by only slightly increasing your ad spend? Most marketers still believe that if they spend $50/month on ads during the busy summer season that they need to double it at $100/month during the slow winter season to gain traffic.
We believe there's a smarter approach that works better and saves you money.
We use our proprietary, forward-looking metrics, Future Occupancy Projection and Future Occupancy Target, to establish how much demand our clients will be in need of. Then the algorithms within automatically determine the right amount of money to spend to reach that demand on a day-to-day basis—a process we call Predictive Advertising.
A targeted approach, combined with a system that knows exactly how much you should be spending, are powerful solutions we provide to help communities gain demand in the winter. But you don't have to be a RentVision client to adapt these practices. There's great information on how we make this work within our Predictive Apartment Marketing webinar presentation.
2. Leverage your displayed content for a greater impact.
Once your ad spend is in a position to start driving the right demand, the next step should be leveraging your displayed content so that it has greater impact in the wintertime.
Here's two things you should immediately consider if your community's occupancy is low heading into winter:
Provide the needed push for a struggling floorplan.
If there's a floorplan failing to gain as much traction as others (something you could easily measure and identify within the RentVision Platform), you should position it heavily in front of your target audience. This can be done by running a display ad for it in Google or making it a part of your featured floorplans section on the homepage of your community site.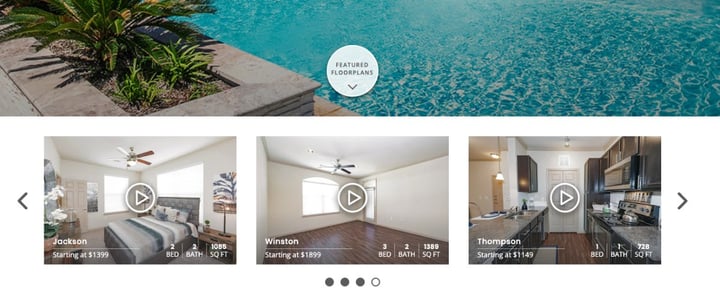 RentVision websites have a 'Featured Floorplans' section on the homepage where
communities can make changes to which floorplans they want to showcase.
Run a concession or special.
If repositioning your content to display struggling floorplans isn't converting as fast as you need, then the discussion should turn towards pricing. Offering a rent concession or special isn't exactly a tactic property managers love to use, but they're an effective life raft when communities are facing a vacancy crisis. Should this be the decision your team makes, it's pivotal that your audience is made aware of these changes.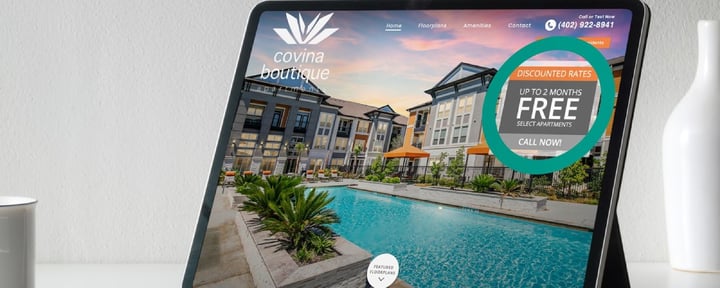 A feature of RentVision websites is there's an option to highlight any concessions
or specials with a prominently placed box on the homepage.
We know there are a number of different factors that impact a potential resident's decision to rent from you. Pricing and availability, however, still have a heavy influence and provide a sense of organic urgency. Triggers like these could bring in more demand when you leverage them correctly in your displayed content.
3. Embrace the virtual leasing trend.
Every single resident in your community had their own leasing journey. Some may have presented themselves as a lead and converted into a lease in a matter of days. Others may have been waiting for the right things to fall in line for them to make their move. All of this is to say, that just because it's winter and your community's vacancy rate is higher than you'd like, you can't really force potential residents to hasten their personal decision.
But—and this is key—you have the control to make that leasing journey as streamlined as possible by embracing a virtual format.
We designed our community and corporate websites to do exactly that, which is especially needed in the wintertime as demand softens. Potential residents can view walkthrough video tours and floorplan-specific photos of your units and amenities, as well as declare themselves as leads with the Request An Appointment tool.
With all of these virtual options available, prospects have all the information they need to be able to lease from you without having to visit you in person. That right there shortens the typical leasing journey, as complications like travel or cold weather aren't delaying the process. And as a bonus, apartment listings featuring a virtual touring option gathers more views than ones that don't. That's free demand.
You can take things a step further by adopting electronic signing, too. We now know that most renters, especially digital natives, have become comfortable with and prefer a self-guided, virtual leasing process.
Conclusion
There are ways for apartment communities to combat the difficulties brought on by the winter slowdown. Being intentional with your ad spend by targeting the right audience, leveraging your displayed content to get the most impact, and embracing a virtual leasing process, will help you gain the amount of traffic you need to maintain a healthy occupancy.