A Google Business Profile is one of the most important marketing channels in the multifamily industry. It's also widely misunderstood and, oftentimes, devalued.
Today, we will explain how a Google Business Profile fits perfectly into your marketing strategy and why it's such an important marketing channel.
What is Local SEO?
In the early days of search engines you only had one type of result on the page when you ran a query on a search engine—the blue organic links that the search engine generated based on its ranking algorithm.
Here's an example of what that looks like: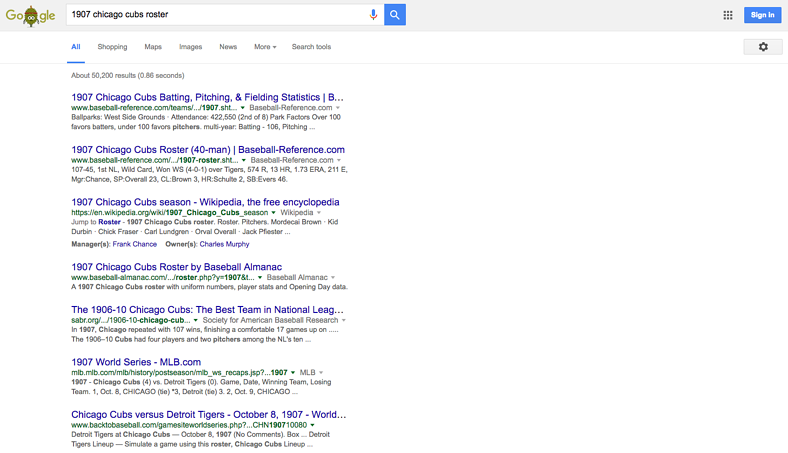 As you can see, this is a basic search results page. There are no ads, no images, no business listings, no carousel, etc.
This approach to search had its limits.
There was no monetization strategy with organic links. The organic links shown were generated by an algorithm that crawled the entire web and showed the most relevant information. These also cost the company $0, as there is no payment required to show up in the organic search results. This is why search engines began offering paid search as an advertising opportunity.
Suppose someone searched for "Pizza Hut."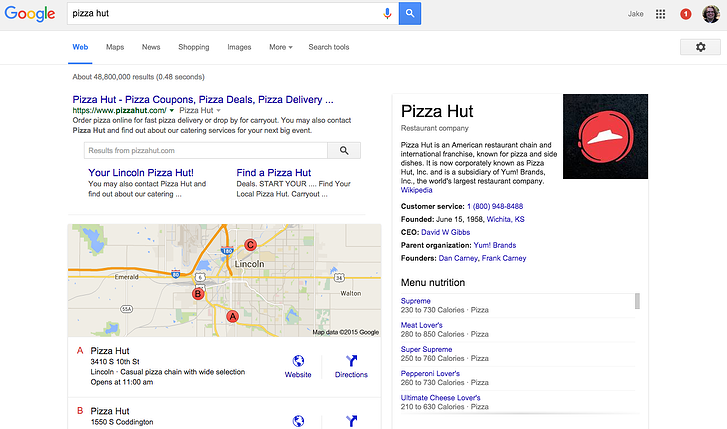 The top organic search result would, quite naturally, be a link to the Pizza Hut website. But it is unlikely that the searcher wishes to learn more about the company or check out the corporate site homepage. They are likely looking for directions or a phone number of a nearby Pizza Hut. There are several likely user intents behind that search, and organic search alone is not going to be able to answer all of those different intents.
Search engines needed to find a way of returning localized data for search results that have some sort of location-based intent behind them, which is the problem local SEO solves.
Local SEO is challenging.
However, this is somewhat complicated. For example, with restaurants a local franchise of a national chain may not have a separate page on the corporate website. So, where should the search engine refer users? Further, what if someone actually did want the Pizza Hut homepage rather than a location-based result?
Search engines still needed to provide good organic search results; they just needed to give locally based results too.
This is where the business listing enters the picture. On Google, these listings have gone by many names over the years:
Google Places for Business
Google+ Local
Google Places
Google My Business
Google Business Profile
This is basically a Yellow Pages directory built into Google.
Google is able to use information from their business listings to give location-based results to their users. For example, if someone searches for "Pizza Hut" in Lincoln, Nebraska on Google, you get this result:
As you can see, this result gives users information about the company, a link to the corporate home page, and local results that show users where in town they can find a Pizza Hut.
The map and the results directly below it are what we are specifically talking about when we talk about "local SEO." Local SEO refers to optimizing your online presence so that you appear in the location-based search results built around Google's local business database.
What can apartment communities do to rank well in Google's local results?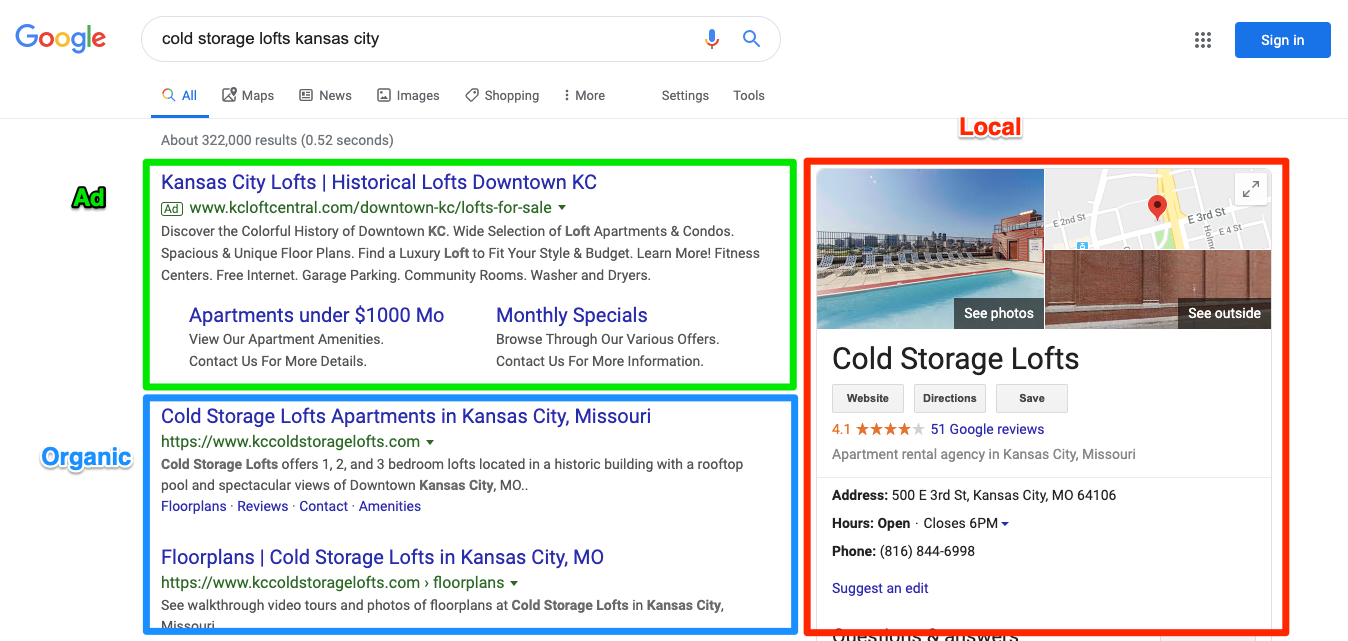 As with organic results, ranking well in the search results comes down to how easy-to-use and trustworthy your content appears to be to Google, which is based largely on how easy-to-use and trustworthy it is for human users.
What can you do to make your local listing seem trustworthy to Google? There are several things:
Verify the business listing
Make sure your business name and phone number are accurate
Link the listing to your community website
The main thing to understand is that Google is trying to establish that your community's local listing is maintained and updated by people who actually are connected to the real-world business location.
So, for example, if Google sees one address listed on your Google Business Profile and a different address when it crawls your listing on an ILS, it might say, "Huh, that's odd. This listing doesn't seem to be trustworthy. Why is the address different?" The same applies to the community's phone number and name.
A further concern with optimizing local listings is with providing additional information to help prospects learn about the business. Once the basic business information is listed and is accurate, you need to make your listing stand out with additional information. This comes in the form of reviews and photos. Your team will have control over your photos, so you want to make sure that you post quality photos on the page and strategically choose your cover and profile photos.
With regard to reviews, while you cannot compensate for reviews on Google, they do allow you to ask for reviews. If you have residents you know to be happy, you should ask them to write a review. Publishing a review on Google is very easy and providing them with a link will make it even easier.
Why is local SEO important?
There are two parts to answering this question.
Local SEO is important because mobile is taking the place of desktop computers. Our research suggests that nearly 2/3 of all traffic to apartment community websites comes from mobile devices. Additionally, independent research found that 78% of local-mobile searches resulted in an off-line purchase and that 88% of people who search for local businesses on their mobile device visit that business within 24 hours. So, you need to be focused on local search for the simple reason that half of the people coming to your website are on mobile devices and are therefore, interested in local search.
After some recent changes at Google, the placement for local search results has shifted. Prior to the shift, the top result on the page was often an ad or an organic result with the local pack results beneath those. But, now the top result on the page is a local result in 93% of Google searches.
Are there other ways you can use your local listing to reach prospects?
Google has now rolled out a new tool called Google Posts. Briefly stated, Posts allows you to create social media-style posts that will go directly to the search result page and Google Maps. This is how it looks at the time of publication on mobile in both Search and Maps (screen caps via Search Engine Land):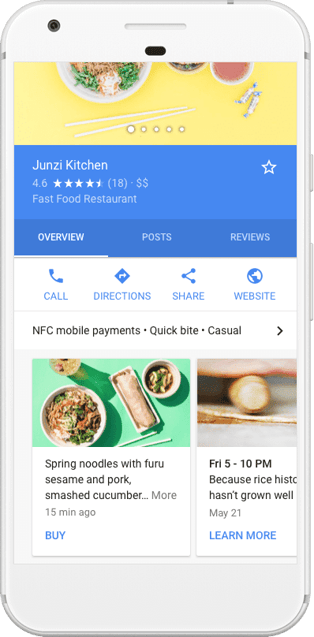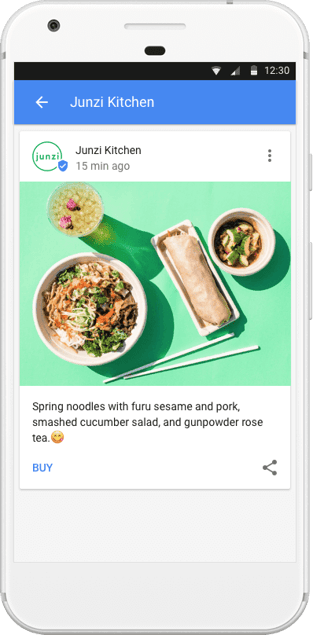 This gives you an idea of how powerful the tool could potentially be. It will help communities highlight specific benefits they offer that are too specific to go in the title tag on the home page or the meta description, but that can still be valuable selling propositions with prospective residents.
What should my main priorities be as an apartment marketer with local SEO on Google?
Claim/create your community's business listing.
Update information on the listing.
Add quality photos to the listing.
Use posts to help prospects learn about other benefits your community offers while still on the search result page.
Encourage happy residents to publish a review, but do not offer any kind of compensation for doing so.
If you do these things, your listing should be fully optimized and should appear near the top of the results when someone searches for your community by name. (Note: If you have to make significant changes to your listing, it may take awhile for Google to note those changes and update the results page accordingly.)
Conclusion
A Google Business Profile rounds out your digital marketing strategy and make it easier for people to find your community. If used effectively alongside Google Ads and a well-designed website, a Google Business Profile can drive engaged leads to your leasing office. For this reason, your business listing in Google is an essential tool if you want to make it easier for prospects to lease an apartment.