A property lease-up refers to the time between the announced launch of a new apartment community and six to 12 months after opening. During that time the community will build a brand, establish a website, open its doors for business, and welcome its first batch of residents.
It is the most significant period in a community's existence, as the marketing, leasing, and revenue decisions made during it have a lasting impact. It's vitally important for property management companies to have a well-defined process for each of those areas to execute a successful apartment lease-up that will create long-term benefits.
There are two primary lease-up types: the new construction lease-up and the remodel lease-up. For transparency, we're focusing on new construction lease-ups in this resource.
We've structured this resource to match the same strategic timeline we use when helping clients navigate their lease-ups. They are:
Phase One: The As Soon As Possible Phase
Phase Two: 6 Months Before Opening Day
Phase Three: 3 Months Before Opening Day
Phase Four: Opening Day And Beyond
We aim to help you complete all the necessary tasks in each phase of your apartment community's lease-up to ensure long-term success.
Read this resource if you're interested in:
Understanding lease-up strategies and having a well-defined process for opening a new apartment community.

Establishing an identity for your new apartments.

Knowing the key tasks for establishing your new community's online presence, including how to build a lease-generating website.

Effectively setting and adjusting rent levels in a lease-up.

Calculating how much you should spend on marketing when opening a new community.

Earning leads with digital advertisements.

Shortening the duration of your lease-up.


Lease-Up Phase One:

The As Soon As Possible Phase
The lease-up begins when the ink dries on the contract to construct your new apartment community. Two significant marketing undertakings take immediate priority: defining your community's identity and building its online presence.
Define Your Community's Identity
Choosing a name for your new apartment community is tricky. In our years working in the multifamily industry, we've seen it all when it comes to names. From a marketing perspective, we've discovered that it's essential for names to be distinct, easy to spell, and easy to remember for prospective residents to find your community in an online search.
Here are three tips for choosing an apartment community name that achieves those goals:
1. Choose a unique name that will rank well in a search.
First, devise a name other communities haven't already used. If you choose not to, Google will eventually figure out that your community is different because it is in a different location, but it can take a long time and create a lot of confusion while you are trying to lease up.
Take the name 'Mountain View Apartments' as an example. A quick Google search confirms that there are already communities called Mountain View Apartments in Wausau, Wisconsin; Gillette, Wyoming; Colorado Springs, Colorado; San Dimas, Moreno Valley, and Concord, California; Bozeman, Montana; and Anniston, Alabama. Additionally, Google displays various Internet Listing Service links for apartments in Mountain View, California.
It would be advisable to run a similar Google search on some of your potential name ideas to ensure it isn't commonly shared.
2. Choose a name that is easy to spell.
The chances of your prospect, which is only somewhat aware of your community, remembering to write, for example, 'Parque Place Apartments' instead of 'Park Place Apartments' when searching for you on Google are slim. The same could apply to a name like 'Riverside Pointe.'
While an unusual spelling can offer a distinctive look in your community's logo and signage from your perspective, it ultimately creates huge problems for searchers.
Most individuals will default to the regular spelling of a word when typing a name into a Google search. The search engine will likely struggle to connect the keywords to your community, resulting in potentially missed leads simply because they need help remembering how to spell your name correctly.
Another solid rule of thumb when naming your community is to refrain from using numbers altogether because those tend to become too confusing. If you call your community 'The View at 37th', keep that usage consistent across the board. Don't do something odd with the number, such as the 'The View at Thirty 7th'. That's very difficult for both potential residents and search engines to recognize.
3. Choose a name that is easy to remember.
In this case, we argue less is more. For example, there's just too much going on in a name like 'Riverfront Apartments at Pleasant Valley.' Memorizing a long name with many different words is asking too much of your prospects. If they forget even one part, let alone if they enter an incorrect word, they will never find your community in an online search. Small decisions like this that may inconvenience a prospect when searching might cost you, so choosing a simple and easy name will stand out among the rest. At this stage in a prospect's apartment search, they are not looking to get confused or be unable to find a page they were on before.
To help with this process, we've developed a free, interactive tool called Community NameScore. It allows you to enter potential community names and grade them on their uniqueness, spelling, and memorability.
Once You've Named Your Apartments, Choose A Domain Name For Your Website
The other vital aspect of establishing your identity is selecting a proper domain name for your community website. There are four basic rules you should work to stick to when choosing a domain:
Use your apartment community name

. This rule might sound obvious, but you would be surprised by how many communities choose a domain that doesn't include their actual name.

Keep the domain short

. Shorter domains rank better in Google, while more extended domains are tougher to remember. Also, if prospects want to return to your site, they may want to navigate there directly rather than via a search engine. But to get there directly, they need to enter the website address correctly and a shorter domain gives them a higher chance of being able to do this.

If possible, include "apts" or "apartments" in the domain

. But keep in mind; the goal is to try and have a shorter domain which may make it hard to include either. An acceptable alternative could be including "live" or "live at," such as www.liveatfireside.com.

Find a ".com" domain

. Generally speaking, other top-level domain options are still new enough that they are not yet widely recognized and trusted by internet users. Thus, they often struggle to rank well in search.
Of course, there is a connection between your domain and your community's name. If you want a short and memorable domain, you will also need a community name that is easy to spell. If a person has to remember that your name is "Parque" or that you format your name as "Fifty5 Apartments," they will likely not be able to remember your website URL.
Once you've selected a domain name, the final step is to purchase it. Namecheap and GoDaddy are two domain registrars where we recommend starting.
Create Your Community's Logo and Color Scheme
Now is also when you should begin creating your apartment community's branding. You will need to identify both your primary and secondary colors and a font scheme, as both aspects will be beneficial in creating a consistent marketing look.
Hiring a graphic designer to help you facilitate this creative process and develop your apartment's logo will be the right move in this area.

Establish Your Apartment Community's Online Presence
An apartment community's online presence must include these three essentials:
Community Website

Google Business Profile

Digital Advertisements
Putting up a 'Coming Soon' website and securing your Google Business Profile (GBP) listing will take precedence early in the lease-up process because both actions accomplish the urgent task of establishing your existence with Google. We'll explore digital advertising in more detail in Phase 3.
Longevity is imperative to building trust—both with Google from a search engine optimization (SEO) perspective and with potential residents. We have learned from our experience working with new apartment constructions that if the property management company waits until closer to opening day to begin establishing their online presence, they will hurt their community's ability to achieve optimal visibility and will extend the time period of limited occupancy.
For example, suppose Google sees that an apartment community has had a GBP profile and ownership of the same domain URL for an extended time. In that case, it perceives that community's website as authoritative and, thus, will place a higher value on that website in relevant searches.
This is key because Internet Listing Service companies vie to own part of your community's web presence. When they learn that you're building a new property, they will create their listing of your apartments based on your address. However, should you wait until too late in the lease-up process to establish your own, prospective residents will see links to an ILS first because they will be ranked higher than your website on the results page when they search for your community online. That means your apartments will be primarily featured alongside their 100 nearest competitors.
Meanwhile, although you're not officially accepting leases yet, building a web presence for your apartments early on will generate more trust and anticipation for prospects as your community gets closer to opening.
Put Up A 'Coming Soon' Website
Once you've selected and purchased a domain name, you must hire a web developer to help you create a 'Coming Soon' website, which will help generate some needed excitement and web presence for your new apartments.
Be sure this first iteration of your community's website includes as much visual content as possible. You're not expected to have everything you need to complete your website at this early stage of the lease-up, but the most important thing you can do is start gaining online authority and credibility with a live domain.
Check and see if your architect can share the interior and exterior renderings of the property. Your developer can then add these photos or even video tours so prospective residents can get the best glimpse of what your apartments will look like. If you cannot get this type of media this early in the process, you could utilize imagery from similar properties in your portfolio.
Claim Your Free Google Business Profile
Your Google Business Profile will be one of your most visible and central marketing channels. When a prospective resident searches for your community by name, Google will display your business profile prominently in both desktop and mobile search results. This placement creates needed trust and meaningful visibility for your apartments because prospective residents recognize these listings as dependable and accurate.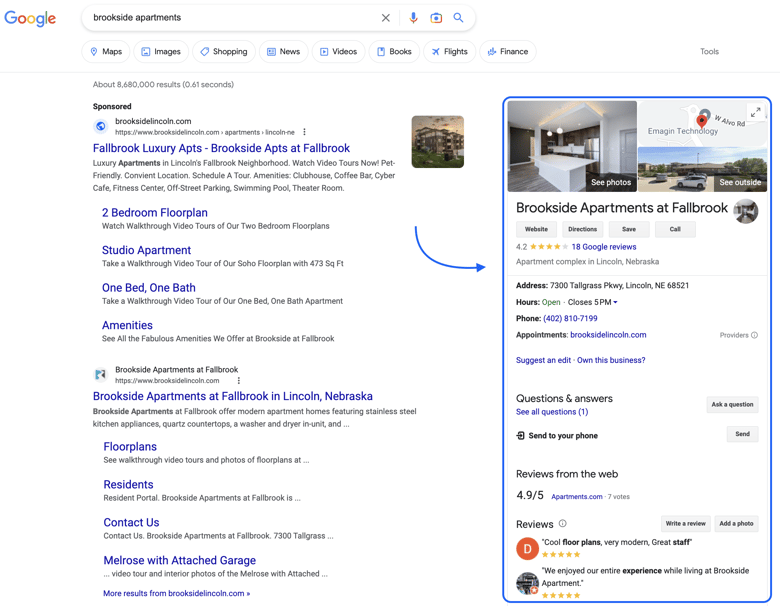 It also impacts how prospective residents will learn about your community. The directions to your community and information about it in Google Maps are pulled directly from your GBP listing, and 91% of potential residents say they are likely to use their phone when looking for their next apartment. Another emerging trend is using navigational applications, like Google Maps, to perform discovery searches rather than specific keyword searches to compare apartment community listings within specific geographic locations.
Creating your Google My Business listing requires seven steps:
Go to

business.google.com

and create a new account.

Enter your apartment community's name, and include the word apartments (even if it's not used in your actual name).

Select your business category. We recommend using 'apartment complex,' 'apartment building,' and 'apartment rental agency.'

Enter your physical address, which you must verify later to officially claim your listing (more on that below).

Add what your leasing office hours will be. Since you're creating a new listing, you also have the option to declare when your community is officially opening.

Write a 750-word business description.

Identifying your community's buyer persona

is a great place to start when developing your overall marketing message.

Add visual content such as blueprint photos, renderings, etc.
To verify that the address of your apartment community is correct, Google will mail a postcard with a PIN code on it that you will have to enter into your GBP account to finalize the listing.
Getting possession of the postcard can be quite the hurdle for new properties under construction, as some may still be unable to accept incoming mail. Some of our clients have requested with their construction companies to build and put a mailbox on site, but even that may not be possible because roads still need to be developed on the property.
One tactic that we found worked for some of our clients was requesting that their local post office hold their mail, which meant that Google could officially send the postcard and they could finish the verification process.
If Google cannot send the postcard after a couple of tries, there is the option to set up a video conference to verify your location with one of their representatives. However, this isn't always guaranteed, and after 5-7 attempts, Google will no longer allow a business listing to verify its address with a video conference.
Knowing that there could be a few time snags with Google's verification process in advance makes it all the more clear that the earliest you can do this in the lease-up, the better.
It's also crucial that all of the information featured on your 'Coming Soon' website and GBP profile match and are accurate, or else Google won't connect the two.
Even after the lease-up, you will want to have a marketing team member monitor your profile, update it with relevant information and media, and maintain the community's reputation in online reviews.


Phase Two:

6 Months Before Opening Day
In Phase One, you've accomplished two major to-dos for opening a new apartment community. You established its identity, including name, domain URL, logo, and color scheme, which all work together to help create consistency within your marketing moving forward.
You also built needed authority with search engines and prospective residents by creating a 'Coming Soon' website and claiming your Google Business Profile. After signing the papers to make your property, those two things are the most pressing.
In a typical lease-up, the regional manager usually has a 6-month window to complete the necessary marketing, leasing, and revenue decisions. Phase Two is when a lot of the heavy work begins.
The focus of this phase should be:
Completing your website design.

Setting rent levels for every unit that'll go live on opening day.
Though we won't go into specific details here, this is also the appropriate time to begin the staffing process. Hiring a property manager is of utmost priority, but you'll also need to start recruiting for a leasing agent or assistant manager, weekend staff, and maintenance personnel.
The Six Essentials Of A Lease-Generating Website
Though your apartment community's website is live, it still needs to be completed. Up to this point, its main goal has been to announce the launch of your new apartments. You and your developer must strategize and finalize the website's design so it's ready at least three months before you open the doors.
Your community's website is the essential marketing tool you'll have, and you need to make sure it helps you convert qualified leads into signed leases. This same mentality applies when you hire a marketing vendor—if the tools they offer don't help you sign more leases, then they will not be the best option for you.
For example, we have seen marketing vendors promise to build a beautiful boutique website with elements that complement your new community's brand. However, what we've learned time and time again in this industry is that prospective resident's don't sign a lease because of an apartment community's marvelous digital branding. They sign a lease because your website's practical, actionable content helped them build the trust and confidence necessary to make the life-changing, financially-implicating decision to rent one of your apartments.
Think of your community's website as your virtual leasing office. Do your leasing agents give tours of units? Tell rental rates? Give information about the pet policy or amenities?
Yes, they do all of those things! Your website should be designed to do all of those things as well. Here are the six essentials:
Mobile-First Design



When designing your website, you must account for the increasing mobile phone consumption dramatically impacting how prospective residents seek out and engage with apartment communities. This means your web developer should ensure that all of the content on your website must adapt to and be easily consumable on every device.
Apartment shoppers expect a seamless mobile browsing experience. If your website is unnecessarily difficult to use on an iPhone, prospects will leave quickly, and you'll have lost out on a great lead because your website wasn't built with a mobile-first mentality.
2. Floorplan-Specific Pages
In a study of our websites, we found that 84% of all visitors went to the floorplan page as soon as they arrived on the community's website. This means prospective residents care most about the units they'd be living in when seeking information about an apartment community.
And this makes perfect sense. Every prospective resident knows how many bedrooms and bathrooms they'll need in a floorplan before they begin their apartment search. Having floorplan-specific pages provides a lot of value to prospective residents because they can feature everything from photos and walkthrough video tours to pricing, amenities, and other relevant information in one place.
These pages will resonate with prospective residents because they have the answers to all of their questions. They'll also save time for your team because prospects will know if an apartment is worth touring and whether or not they should reach out to a leasing agent. On the flip side, if you don't have all of this information listed on your website, it can accumulate countless wasted hours of phone calls and tours that could have easily been avoided.
Floorplan-specific pages are also helpful in advertising, as they make it easier to direct more prospects to the types of floorplans that are struggling the most.
3. Walkthrough Video Tours
Your leasing office can stay open 24/7 because walkthrough video tours allow prospects to see the inside of your units without needing to drive anywhere. They also generate more qualified leads for your leasing agents by increasing the interest level for prospects looking for exactly what your apartments offer. Plus, your agents can leverage them before, during, and after showings to help each prospect gain assurance before signing a lease.
Walkthrough video tours have become the standard in apartment marketing. Without them, your apartment community may fail to engage or stand out to prospects during critical moments in their search. Read more in The Essential Guide To Apartment Video Tours.
When adding video tours to your website, it's vitally important to feature them on each of your specific floorplan pages and not as a separate web page. This makes it easier for prospective residents to consume everything all in one place and avoids disorganizing your website's navigation with unnecessary extra pages popping up for prospective residents.
4. Influential Media Content
The part of your brain responsible for seeing is also responsible for making decisions. This psychological factor is why the walkthrough video tours and floorplan-specific media content on your community's website must be well-produced and edited by professionals capable of giving your units and amenities an attractive appeal.
5. Strategically Placed Calls-To-Action
Nearly everyone visiting your website is looking for an apartment community. By strategically placing Calls-To-Action (or CTAs), your website can better perform its actual purpose of being a lease generator because they make it easier for prospective residents to reach out to your leasing office.
Imagine, for example, if a visitor landed on one of your floorplan-specific pages and fell in love with your apartments after watching a walkthrough video tour. Having CTAs that prompt them to call or schedule an in-person showing can accelerate the leasing process in just a few clicks.
Another way to shift towards a mobile-first mentality is to provide prospects with a CTA that automatically opens their phone's navigation application with directions to your apartment community.
6. Great User Experience
You can create a great user experience on your website in two primary ways. The first is that your website should load quickly. Websites with slower loading times frustrate users and lead to lower conversion rates.
The second way to achieve a great user experience is to take a minimalist approach to your website. Having too many pages for prospective residents to peruse through can be overwhelming. A home page, floorplan pages, amenities page, and a contact page are genuinely all you need.
How To Set Rent Levels In A Lease-Up
One of the trickiest parts of managing an apartment community is setting rent levels that maximize revenue.
However, we have found that it's less complicated in a lease-up situation because you're in a position to be more flexible with pricing.
Still, you need to determine two primary components of rent at this stage to set your community up for future success—base rent and unit amenities.
Base Rent
Your base rent is the uniform price applied to the specific floorplans in your community. In a lease-up, you could determine this by using a couple of different methods. One place to start is to compare your new property with existing properties in your portfolio and set a base rent based on the various floorplans.
The other way is to find similar properties online and compare their rents. Though we're not necessarily suggesting you follow a competing property's pricing structure, it will give you a sense of your market geographically.

The first step is setting the suitable base rent for each floorplan type at your new property. The next is to break down each unit within those floorplans by their specific amenities.
Unit Amenities
Unit amenities are the values you place on each unit's positive and negative differentiators on your property. Though two units may have the same base rent because they're a part of the same floorplan type, one could have a nice view of the swimming pool, and the other may have a view of the parking lot. The unit with the view of the pool has a higher value, so its final rent price should be higher than that of the unit with a poor view.
When complete, you now have established a rent range for each floorplan. It's vital to present this range when showing prices on your website, a considerate action for the benefit of prospective residents because you're accounting for each unit's amenities and not misleading them by only presenting the base rent of each floorplan.
Be Flexible
Though you're not in a stage to start leasing units, you can gauge the interest in your apartments—specifically, your different floorplans—by measuring the amount of web traffic to your website.
If one floorplan gets more traffic than another, you can raise the rent on the popular one and lower the rent on the others. That's why flexibility with your pricing is essential throughout the lease-up process.

Phase Three:

3 Months Before Opening Day
It's crunch time—you're less than three months away from having residents move into your new apartment community.
You need to start developing leads by turning on various paid marketing sources that will direct people to your community website so they can begin engaging with your leasing office. It would help if you also aimed to build up excitement within your city by doing some network marketing. We'll focus on those steps and how to think about your marketing investment in general in this phase.
You also need to set a regular meeting cadence with your contractor (if you still need to) to ensure that your units will be ready on time. This knowledge is vital now as you're about to begin conversing with prospective residents and potentially signing leases for specific move-in dates in the future. We'll also focus on how to handle lease signings before opening day in this phase.
Build Excitement With Local Businesses
Opening a new apartment complex is a massive deal for your city and local businesses. They're incentivized by having more living spaces to help them grow their employee and customer base, which gives you an excellent opportunity to start developing relationships to let them know how your apartments could benefit them.
Here are three network marketing ideas you could try to build excitement for your new apartments within your city:
Create a welcome packet featuring all the same information you have on your website and drop them off at various businesses (or schools) in the area.

The property manager can conduct 'hard hat' tours with city officials, networking groups, chamber of commerce representatives, journalists, and more.

Post frequent construction updates on your community's social media pages so interested parties can follow along with the progress.
Turn On Your Lead Flow With Google and Facebook Ads
You may have a great website with compelling photos and walkthrough video tours. However, this won't matter unless you have a method of getting prospects to come to visit it. That's where digital advertisements come in. They're like the engine that powers your entire online marketing presence and are instrumental in a lease-up when you're in the greatest need of demand.
Check out RentVision's complete digital advertising guide (and bookmark it!) for everything you need to know about how to set up effective digital ad campaigns on Google and Meta (Facebook) that generate qualified leads so you're fully prepared for turning on this critical lead flow during this phase of the lease-up.
How To Think About Your Marketing Investment In A Lease-Up
Your marketing spend impacts your leasing velocity more during a lease-up than at any other time in your community's existence. That's why you should be ready and willing to spend a lot of money on your marketing sources because you have 100% vacancy and need to fill those units as quickly as possible.
Here's an extreme example to make the point: let's say that on opening day, you're going to have one building with 40 units that rent for $1,000/month go live. If you can lease only one of those units every three days, it will take 120 days before that building is full. In that scenario, each unit in that building will sit vacant for an average of 60 days.
So if you're also spending $1,000/month on a marketing source like Google Ads, as long as you can attain a single lease every two months, you'll still have a net zero return on your marketing investment.
You'd still want that to be faster so that you generate an ROI. But that is the point—your marketing sources don't have to be efficient to develop a positive ROI when you have such a high vacancy, meaning you can safely spend more during a lease-up.
Then when the lease-up ends, you can also safely cut your underperforming marketing sources because you'll no longer have vacancy durations of 60 days (or more).
How To Handle Lease Signings Before Opening Day
It's reasonable to expect to have prospective residents reaching out about potentially living at your new apartment community with still a few months to go before you officially open. While you need an official certificate of occupancy, you can still take deposits, hold units, and even offer leases with a contingency that says it's not active until your targeted opening.
Yet when you start converting leads into residents before opening, you must have a strategic approach to space out your leases— a pivotal decision from the start of your property's existence with significant implications.
In a new construction lease-up, you're likely only going to have one of your buildings ready for move-ins on your official opening day. You'll sign a bunch of leases at once, but you must be wary of what effect that will have on your community when a year later, you'll likely see an excess of vacancies in the same building.
That's why you should stage your lease expirations apart to control future vacancies better the year after your community opens. There are three different approaches you can take during a lease-up to help you avoid stacking vacancies:


Offer variable lease terms to spread lease expirations out

. If you only offer 12-month leases, you will have too many leases expiring in one year. Instead, determine how many leases you want to expire per month next year and offer a combination of lease terms between 6 and 18 months to spread the lease expirations out.





Sign true 365-day leases

. This approach won't provide as much value as the first approach, but it will still help you avoid having a bunch of units expire all at once while also making it easier for you down the road to turn over and lease units faster.





Offer leases that are 11.5-12.5 months long and have all of your leases expire on a Sunday

. Here is what we mean: Imagine somebody signs a lease to move in on September 1. You can choose to have their lease expire the following year on the two Sundays before or after a 365-day lease. Keep a log of how many leases expire on those Sundays and pick the lease expiration date for each new lease with the fewest expiring leases. Though this may mean that tenants aren't signing actual 12-month leases, it won't detract them from signing it because right now, what they're worried about most is when they can move in and less about when they're supposed to move out. Also, having leases expire on a Sunday is accommodating to your residents. You're giving them the weekend to move out and avoiding unnecessary days of vacancy loss because your maintenance staff can begin turning over the vacated unit first thing on a Monday morning.


Phase Four:

Opening Day And Beyond
It's officially opening day!
Welcoming residents to your new apartment community is a monumental achievement, and you should be in a celebratory mood.
Greet those moving in with a housewarming gift. Have an open house or ribbon cutting with a food truck. Whatever you do, make it the special occasion that it is.
Expect the first few days to be busy as U-hauls and trailers fill your parking lot. To avoid chaos, try to limit how many move-ins can occur in any single day so that new residents aren't bumping into each other while moving their couches into their apartments.

As exciting as opening day is, plenty of work remains ahead for you and your team.
When Do You Want The Lease-Up To End?
To recall, your lease-up period ends when your new community has reached 95% occupancy, and tenants are paying at or above market-level rent.
An exceptional goal is to complete your lease-up in less than a year. To make this happen, you must set milestones for your lease-up to keep you on track throughout the year.
Let's say the first building of your new community is opening on January 1st. It has 100 units, including 50 1-bedrooms and 50 2-bedrooms. Of the 1-bedrooms, there are 30 units in Floorplan A and 20 units in Floorplan B. The 2-bedrooms are made up of 10 units in Floorplan C and 40 units in Floorplan D.
Here's an illustration to break it down:

Now you should ask yourself how fast your team can lease up this building. If you think you can do it in 6 months, you should set targets for how many units you need to lease in each floorplan per month, like this: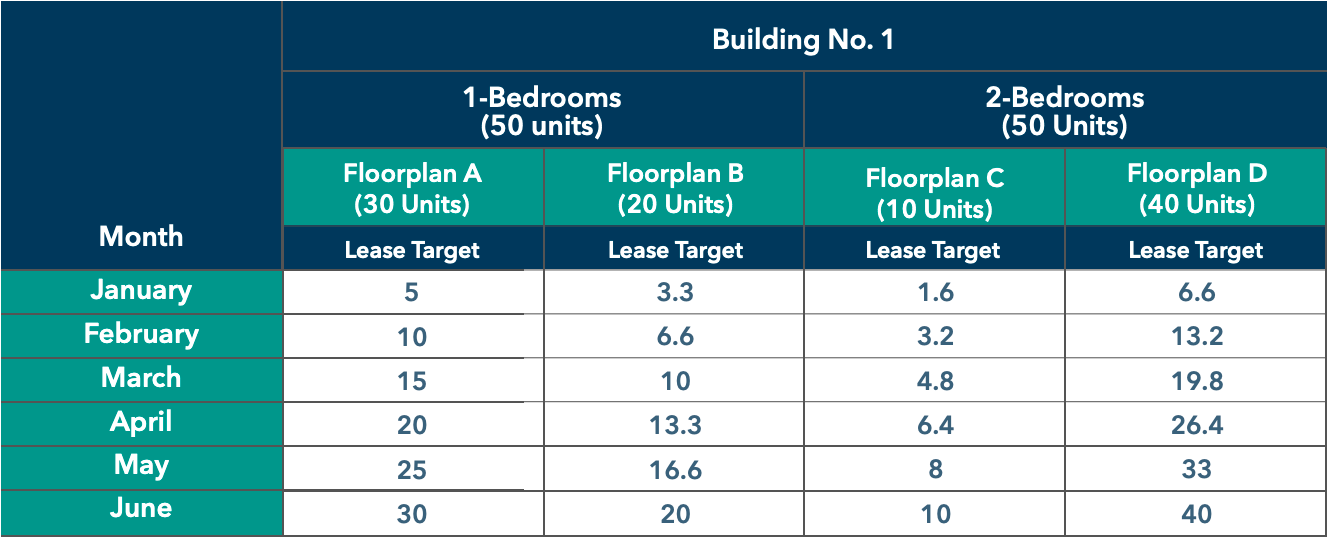 One of the challenges with this timeline is that it assumes all of your units will be finished on time—mainly if your new property features multiple buildings.
It can sometimes take six to eight weeks before the next building will be ready to be occupied, so we'd recommend focusing your efforts on leasing one building at a time and adjusting your timeline for your specific community. A good rule of thumb is to ensure one building is at least 75% leased before you move on and start renting units in the next one.
Also note that this scenario needs to account for seasonality, considering that the middle of winter is periodically slow for apartment communities, and typically new residents aren't all that excited about moving around that time.
But the purpose here is to show you an example of a strategy you can adopt with your team to ensure you're on track to complete the lease-up in less than a year.
How To Speed Up A Lease-Up
The speed of your lease-up depends on two factors you have complete control over: pricing and marketing.
Using the same method featured in the previous section to set milestones for how many leases you need to be signed to meet your completion goal can also help you diagnose and respond to pricing and marketing issues.
In the example from earlier, our imaginary 100-unit community with four different floorplans set a goal of completing their lease-up in six months. It needs to achieve five lease signings per month to sign all 40 of its units in Floorplan A.
Tracking the number of leases signed compared to lease targets, as seen in the illustration below, allows your team to record your progress as it advances and identify any pain points along the way.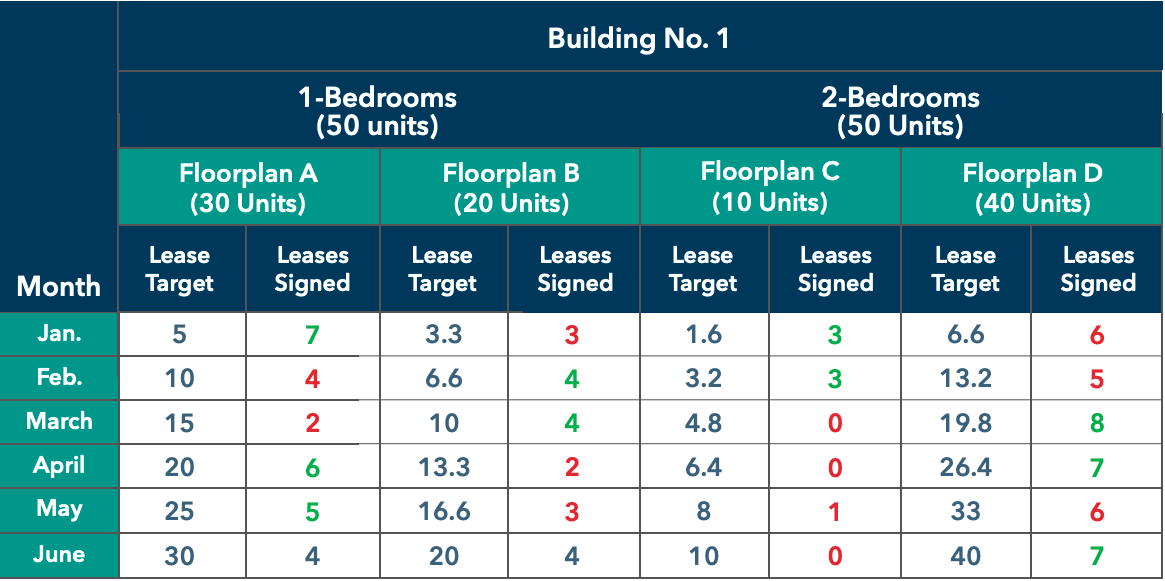 Pricing
Let's look at what happens here with Floorplan A in the table above and how it relates to pricing.
In the first month, due to the excitement surrounding the opening of the brand-new apartments, there were seven leases signed. While only four leases were signed in February, everything is fine as the community is ahead of schedule with 11 total leases signed.
Then March happens when it only gained two signed leases. That's two consecutive months of failing to meet the goal of five signed leases.
There's an identifiable problem going on with Floorplan A. Here's how we'd recommend adjusting your pricing to solve it.
The base rent of Floorplan A on opening day was $950/month. In the first few months of your lease-up, you should increase or decrease base rent between 0-5% depending on your lease targets.
If this community was following this method to change their pricing, they should feel comfortable with raising the price because there's strong demand after signing seven leases in the first month. They choose to increase it by 4% to $988/month.
Now, these adjustments are entirely subjective, but that is the point. You're allowed to be more flexible with price changes in lease-ups.
After failing to meet their goal of five leases signed in February, this community only slightly lowered their price by 1%, from $988/month to $979.
Then it only signed two leases in March. That adjustment could've been considered too slight. Nonetheless, they know they must find the correct rate to attract more prospective residents to sign a lease again.
They returned to their original base rent of $950 and exceeded their goal with six leases signed in April. This time, instead of increasing their price by 4%, they only increased it by 1% to $960/month in May, resulting in five leases signed. By June, they'd met their goal.
All this explains the work it takes to find your community's pricing 'sweet spot.' For this community, it's around $960/month. From June onward, we'd recommend they only adjust their base rent by 0-2% to avoid pricing out future prospective residents.
Marketing
You need to be just as vigilant and flexible with your marketing as you are with pricing early in the lease-up.
First, you need to consistently monitor the amount of paid and organic traffic to your apartment community's website in Google Analytics. Lower your digital ad spend to save money if you always meet or exceed your monthly lease targets.
If you fail to meet lease targets, raise your spending to drive more traffic. Like finding your pricing sweet spot, you need to find the appropriate amount of website traffic required to generate more leases faster.
Again, your marketing investment in a lease-up significantly controls your leasing velocity.
Conclusion
We hope you now have a better understanding of what it takes to execute a new apartment community's lease-up and the value of having a dialed-in process for it.
A lot of work needs to occur before and after a new community opens for it to achieve long-term success.
We've helped many clients launch new apartments using the same timeline we've laid out in this resource. If you're planning to build a new apartment community, we'd love to be able to meet with you to discuss your marketing, leasing and revenue strategies and show you how our predictive apartment marketing system can help.
Download the case study below to learn how RentVision helped one apartment community's lease-up.