Check out RentVision's complete digital advertising guide (and bookmark it!) for everything you need to know about how to set up effective digital ad campaigns on Google and Meta (Facebook) that generate qualified leads so you're fully prepared for turning on this critical lead flow during this phase of the lease-up.
How To Think About Your Marketing Investment In A Lease-Up
Your marketing spend impacts your leasing velocity more during a lease-up than at any other time in your community's existence. That's why you should be ready and willing to spend a lot of money on your marketing sources because you have 100% vacancy and need to fill those units as quickly as possible.
Here's an extreme example to make the point: let's say that on opening day, you're going to have one building with 40 units that rent for $1,000/month go live. If you can lease only one of those units every three days, it will take 120 days before that building is full. In that scenario, each unit in that building will sit vacant for an average of 60 days.
So if you're also spending $1,000/month on a marketing source like Google Ads, as long as you can attain a single lease every two months, you'll still have a net zero return on your marketing investment.
You'd still want that to be faster so that you generate an ROI. But that is the point—your marketing sources don't have to be efficient to develop a positive ROI when you have such a high vacancy, meaning you can safely spend more during a lease-up.
Then when the lease-up ends, you can also safely cut your underperforming marketing sources because you'll no longer have vacancy durations of 60 days (or more).
How To Handle Lease Signings Before Opening Day
It's reasonable to expect to have prospective residents reaching out about potentially living at your new apartment community with still a few months to go before you officially open. While you need an official certificate of occupancy, you can still take deposits, hold units, and even offer leases with a contingency that says it's not active until your targeted opening.
Yet when you start converting leads into residents before opening, you must have a strategic approach to space out your leases—a pivotal decision from the start of your property's existence with significant implications.
In a new construction lease-up, you're likely only going to have one of your buildings ready for move-ins on your official opening day. You'll sign a bunch of leases at once, but you must be wary of what effect that will have on your community when a year later, you'll likely see an excess of vacancies in the same building.
That's why you should stage your lease expirations apart to control future vacancies better the year after your community opens. There are three different approaches you can take during a lease-up to help you avoid stacking vacancies:


Offer variable lease terms to spread lease expirations out

. If you only offer 12-month leases, you will have too many leases expiring in one year. Instead, determine how many leases you want to expire per month next year and offer a combination of lease terms between 6 and 18 months to spread the lease expirations out.





Sign true 365-day leases

. This approach won't provide as much value as the first approach, but it will still help you avoid having a bunch of units expire all at once while also making it easier for you down the road to turn over and lease units faster.





Offer leases that are 11.5-12.5 months long and have all of your leases expire on a Sunday

. Here is what we mean: Imagine somebody signs a lease to move in on September 1. You can choose to have their lease expire the following year on the two Sundays before or after a 365-day lease. Keep a log of how many leases expire on those Sundays and pick the lease expiration date for each new lease with the fewest expiring leases. Though this may mean that tenants aren't signing actual 12-month leases, it won't detract them from signing it because right now, what they're worried about most is when they can move in and less about when they're supposed to move out. Also, having leases expire on a Sunday is accommodating to your residents. You're giving them the weekend to move out and avoiding unnecessary days of vacancy loss because your maintenance staff can begin turning over the vacated unit first thing on a Monday morning.


Phase Four:

Opening Day And Beyond
It's officially opening day!
Welcoming residents to your new apartment community is a monumental achievement, and you should be in a celebratory mood.
Greet those moving in with a housewarming gift. Have an open house or ribbon cutting with a food truck. Whatever you do, make it the special occasion that it is.
Expect the first few days to be busy as U-hauls and trailers fill your parking lot. To avoid chaos, try to limit how many move-ins can occur in any single day so that new residents aren't bumping into each other while moving their couches into their apartments.

As exciting as opening day is, plenty of work remains ahead for you and your team.
When Do You Want The Lease-Up To End?
To recall, your lease-up period ends when your new community has reached 95% occupancy, and tenants are paying at or above market-level rent.
An exceptional goal is to complete your lease-up in less than a year. To make this happen, you must set milestones for your lease-up to keep you on track throughout the year.
Let's say the first building of your new community is opening on January 1st. It has 100 units, including 50 1-bedrooms and 50 2-bedrooms. Of the 1-bedrooms, there are 30 units in Floorplan A and 20 units in Floorplan B. The 2-bedrooms are made up of 10 units in Floorplan C and 40 units in Floorplan D.
Here's an illustration to break it down:

Now you should ask yourself how fast your team can lease up this building. If you think you can do it in 6 months, you should set targets for how many units you need to lease in each floorplan per month, like this: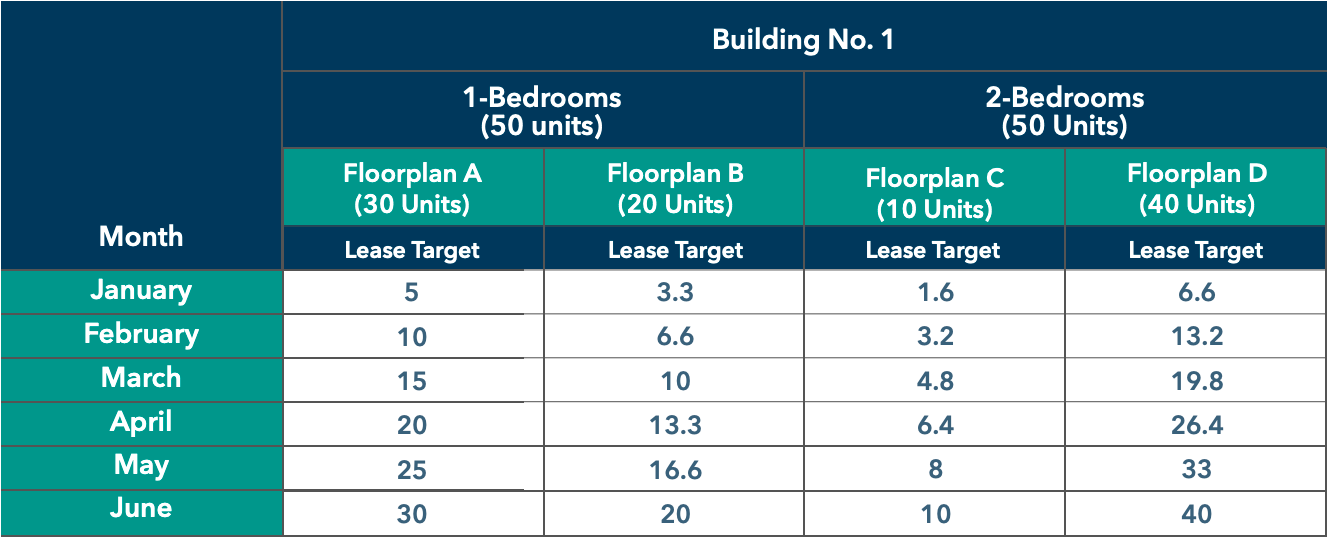 One of the challenges with this timeline is that it assumes all of your units will be finished on time—mainly if your new property features multiple buildings.
It can sometimes take six to eight weeks before the next building will be ready to be occupied, so we'd recommend focusing your efforts on leasing one building at a time and adjusting your timeline for your specific community. A good rule of thumb is to ensure one building is at least 75% leased before you move on and start renting units in the next one.
Also note that this scenario needs to account for seasonality, considering that the middle of winter is periodically slow for apartment communities, and typically new residents aren't all that excited about moving around that time.
But the purpose here is to show you an example of a strategy you can adopt with your team to ensure you're on track to complete the lease-up in less than a year.
How To Speed Up A Lease-Up
The speed of your lease-up depends on two factors you have complete control over: pricing and marketing.
Using the same method featured in the previous section to set milestones for how many leases you need to be signed to meet your completion goal can also help you diagnose and respond to pricing and marketing issues.
In the example from earlier, our imaginary 100-unit community with four different floorplans set a goal of completing their lease-up in six months. It needs to achieve five lease signings per month to sign all 40 of its units in Floorplan A.
Tracking the number of leases signed compared to lease targets, as seen in the illustration below, allows your team to record your progress as it advances and identify any pain points along the way.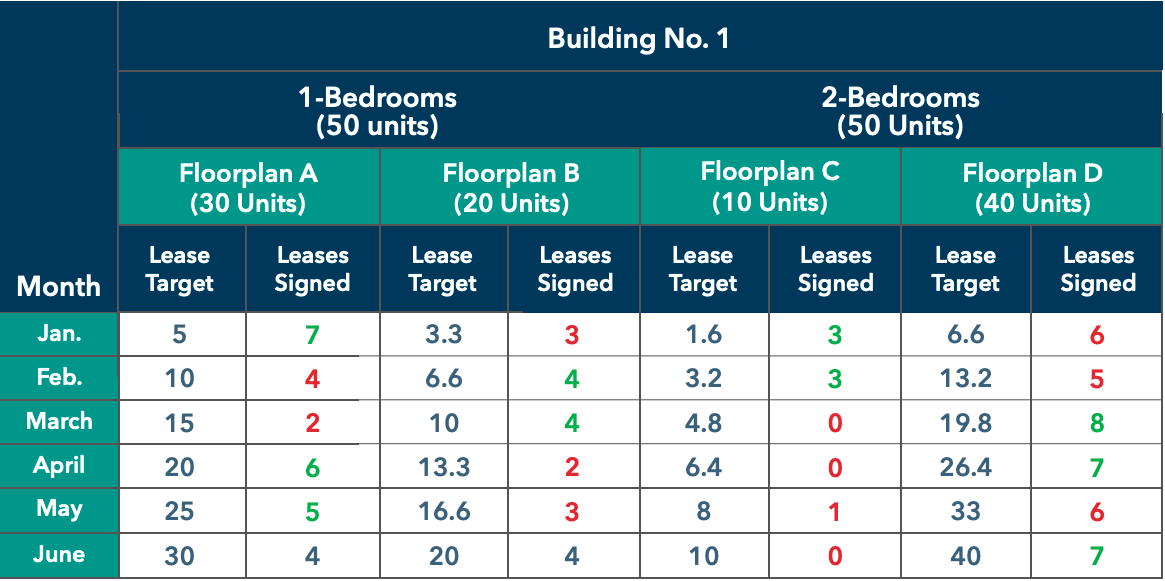 Pricing
Let's look at what happens here with Floorplan A in the table above and how it relates to pricing.
In the first month, due to the excitement surrounding the opening of the brand-new apartments, there were seven leases signed. While only four leases were signed in February, everything is fine as the community is ahead of schedule with 11 total leases signed.
Then March happens when it only gained two signed leases. That's two consecutive months of failing to meet the goal of five signed leases.
There's an identifiable problem going on with Floorplan A. Here's how we'd recommend adjusting your pricing to solve it.
The base rent of Floorplan A on opening day was $950/month. In the first few months of your lease-up, you should increase or decrease base rent between 0-5% depending on your lease targets.
If this community was following this method to change their pricing, they should feel comfortable with raising the price because there's strong demand after signing seven leases in the first month. They choose to increase it by 4% to $988/month.
Now, these adjustments are entirely subjective, but that is the point. You're allowed to be more flexible with price changes in lease-ups.
After failing to meet their goal of five leases signed in February, this community only slightly lowered their price by 1%, from $988/month to $979.
Then it only signed two leases in March. That adjustment could've been considered too slight. Nonetheless, they know they must find the correct rate to attract more prospective residents to sign a lease again.
They returned to their original base rent of $950 and exceeded their goal with six leases signed in April. This time, instead of increasing their price by 4%, they only increased it by 1% to $960/month in May, resulting in five leases signed. By June, they'd met their goal.
All this explains the work it takes to find your community's pricing 'sweet spot.' For this community, it's around $960/month. From June onward, we'd recommend they only adjust their base rent by 0-2% to avoid pricing out future prospective residents.
Marketing
You need to be just as vigilant and flexible with your marketing as you are with pricing early in the lease-up.
First, you need to consistently monitor the amount of paid and organic traffic to your apartment community's website in Google Analytics. Lower your digital ad spend to save money if you always meet or exceed your monthly lease targets.
If you fail to meet lease targets, raise your spending to drive more traffic. Like finding your pricing sweet spot, you need to find the appropriate amount of website traffic required to generate more leases faster.
Again, your marketing investment in a lease-up significantly controls your leasing velocity.
Conclusion
We hope you now have a better understanding of what it takes to execute a new apartment community's lease-up and the value of having a dialed-in process for it.
A lot of work needs to occur before and after a new community opens for it to achieve long-term success.
We've helped many clients launch new apartments using the same timeline we've laid out in this resource. If you're planning to build a new apartment community, we'd love to be able to meet with you to discuss your marketing, leasing and revenue strategies and show you how our predictive apartment marketing system can help.
Download the case study below to learn how RentVision helped one apartment community's lease-up.