A lease-up is perhaps the most significant time period in the existence of your new apartment community, and your marketing plan directly determines its success.
In partnering with various property management companies over the years, we've learned that there are three marketing tasks in particular that take precedence during their lease-ups. The three tasks, in order of when they should be accomplished, are defining the new apartment community's identity, establishing its online presence, and then deploying digital advertisements.
Prioritizing these three to-dos, especially early, is how we'd recommend you approach your apartment marketing while you're in the lease-up phase. We'll break down each of those tasks in this blog to give you a sense of what it takes to ensure the marketing decisions you make for your new apartment community have lasting impact.


Video: Three Things To Do Before Opening Your New Apartment Community
Define Your New Apartment Community's Identity
We've seen it all when it comes to names for apartment communities. From a marketing perspective, we've discovered that it's important for names to be distinct, easy to spell, and easy to remember for prospective residents to find your community in an online search. Watch our video with three tips for choosing an apartment community name that achieves those goals.
To help with this process, we've developed a free, interactive tool called Community NameScore. It allows you to enter in potential community names and have them graded on their uniqueness, spelling, and memorability.
The other vital aspect to establishing your identity is selecting a proper domain name for your community website before developing it. There are four basic rules you should use when choosing a domain:
Use your apartment community name.
Keep the domain short.
Include "apts" or "apartments" in the domain, if at all possible.
Find a ".com" domain.
Defining your identity also includes creating your apartment community's branding. You will need to choose your primary and secondary colors, as well as a font scheme, as both aspects will be immensely helpful in creating a consistent marketing look. We'd recommend hiring a graphic designer to help you facilitate this creative process and develop your apartment's logo.
Establish Your New Apartment Community's Online Presence
An apartment community's online presence has these three essentials: a lease-generating community website, Google My Business listing, and, as we'll explain more in the next section, digital advertisements.
Website
Early in the lease-up, it's not expected that you will have all the elements necessary to begin designing your website. However, once you've selected and purchased a domain name, you need to hire a web developer and put up a 'Coming Soon' website.
This initial iteration should try to include as much visual content as possible. If available, you can utilize interior or exterior renderings of your property. If not, you could use imagery from other similar properties in your portfolio.
Over time, as you continue to build your community website, you should focus on making sure it features floorplan-specific pages, high quality media content such as walkthrough video tours and photos that showcase the inside of your units and amenities, highly visible click-to-call or click-to-email buttons, and the ability to adapt to mobile devices. All of these features will not only create a great user experience, but also facilitate the process of converting leads into leases.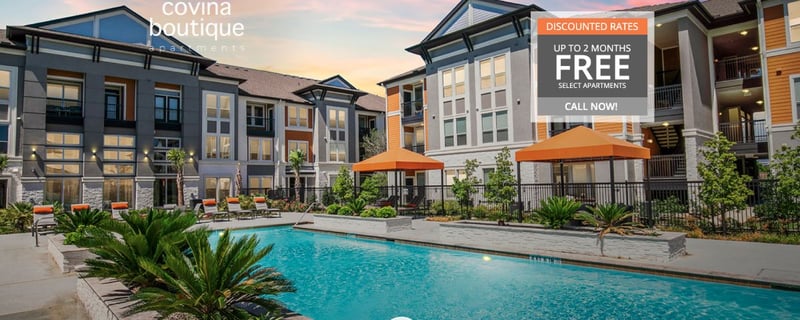 Example home page of a community website
developed by RentVision.
Google Business Profile
Your Google Business Profile will be one of your most visible and central marketing channels. GBP profiles are recognized by most internet users as dependable and accurate. When a prospective resident searches for your community by name, Google will display your profile prominently in both desktop and mobile search results, which will both help them learn about your community and direct them to your website.
It's also key because 91% of potential residents say they are likely to use their phone when looking for their next apartment. An emerging trend is the use of navigational applications, like Google Maps, to perform discovery searches rather than specific keyword searches in order to compare apartment community listings within specific geographic locations. Considering that Google Maps pulls this information directly from your Google Business Profile, it's important that you have this marketing channel optimized to include the correct community (and/or leasing office) address, hours of operation, contact information, and website link. You should also include the same high-quality visual content that you use on your website.
Doing the work of establishing your apartment community's online presence early in its lease-up will not only help generate some needed excitement, but also build needed authority with both Google and prospective residents.
Deploy Digital Advertisements For Your New Apartment Community
You may have a great, lease-generating website in place; however, this won't matter unless you have a method of getting prospects to come visit it. That's where digital advertisements come in. They're an engine that helps to power your online marketing presence, and they're especially useful in a lease-up when you're in greatest need of demand.
We highly recommend digital advertising for four key reasons:
Digital ads generate traffic to your website.
Digital ads can target people actually interested in your apartments.
Digital ads are easy to evaluate.
You can adjust how much you spend on digital ads anytime you want.
Our ebook The RentVision Guide To Digital Advertising For Apartment Communities lays out the same strategy we use when managing millions of dollars worth of digital ads for our clients' apartment communities each year, helping them generate the right amount of demand at the right time while saving marketing dollars when they're occupancy is under control.
Considering your occupancy is at 0%, you will need to create and purchase multiple digital ads for both Google and Facebook so that more prospective residents can easily find your apartments and visit your website.
Conclusion
For further details on each of these three important tasks, as well as other guidance for how to approach your marketing, leasing, and revenue when opening a new apartment community, download and read our ebook How To Execute A Successful Apartment Lease-Up. Receive your free copy now by filling out the form below.