Our team at RentVision studied more than 70,000 of our client's leases to determine the best apartment digital marketing tactics and strategies. We started with an attribution study, matching the marketing source from where each renter converted to a lead.
Conversion points were calculated through phone call tracking software, which assigns each marketing source a unique phone number. When a prospective resident dials one of those numbers, the call redirects to the community's leasing office, and the software matches that number to its assigned marketing source. Our study matched leases to 66 online marketing channels using phone call conversions.
We'll highlight which marketing sources in our study were best for generating leads who sign leases and provide key takeaways from that data to help you improve how you market your apartment communities online.
The Top Three Apartment Digital Advertising Converters: Community Website + Google Ads + Google Business Profile
These three sources combined account for 83% of attributable leases in our study!
Community Website: 49.01%
Google Business Profile: 26.75%
Google Ads: 7.04%
Remember, we're using attribution data collected from phone calls, so these percentages are by no means definitive rankings.
For example, few (if any) prospective residents convert into qualified leads simply because of an apartment community's Google Business Profile (GBP, formerly Google My Business). But that source is attributed to a substantial number of leases because of its high visibility in online searches; a prospect inputs a community's exact name into the search bar, and then that community's GBP appears with a click-to-call phone icon to contact the leasing office. It's an online shopping behavior pattern more common today, so it's naturally a source for more phone calls.
The best interpretation of this data is that when apartment marketers utilize a community website, with Google Ads pushing traffic to that website and an updated Google Business Profile for a higher search presence, they have the most powerful engine for generating the type of leads who ultimately sign leases.
Second Tier: Apartments.com, Zillow, CoStar, And Other Internet Listing Services
Our study aligns with the notion that the Internet Listing Service model for advertising apartments is slowly dying—at least in terms of their effectiveness in garnering leases.
We found the most popular ILSs—Apartments.com, Zillow, CoStar, Apartment List, Rent Path, Apartment Guide, and Rent.com—together accounted for roughly 13.5% of leases.
That isn't to suggest that apartment marketers should avoid ILSs; if they are an excellent lease source for your communities, then continuing to use them makes sense.
But they're also expensive and have a minimal return on investment for leasing, which is why we believe apartment marketers should stop spending thousands to advertise on ILSs. They're great for building higher lead counts, but metrics show only a few of those leads sign a lease.
Key Takeaway: There's A Clear Apartment Marketing Funnel
Prospective residents, like ordinary shoppers, conduct their search for an apartment in three distinct phases:
Awareness: They search to discover which apartment communities are available to them that fit their predetermined needs (location, floorplans, pricing, etc.)

Consideration: At this point in their process, prospective residents have identified communities that may be best for them. However, they still need further research to narrow their selections confidently.

Decision: Prospective residents are close to making a decision and are highly interested in one specific community.
When placed in the context of awareness-consideration-decision stages, a clear 'sales funnel' pattern with apartment marketing channels emerged after studying three years' worth of leases. How marketers utilize sources to advertise their apartments within the framework of this funnel can be vital in determining leasing success.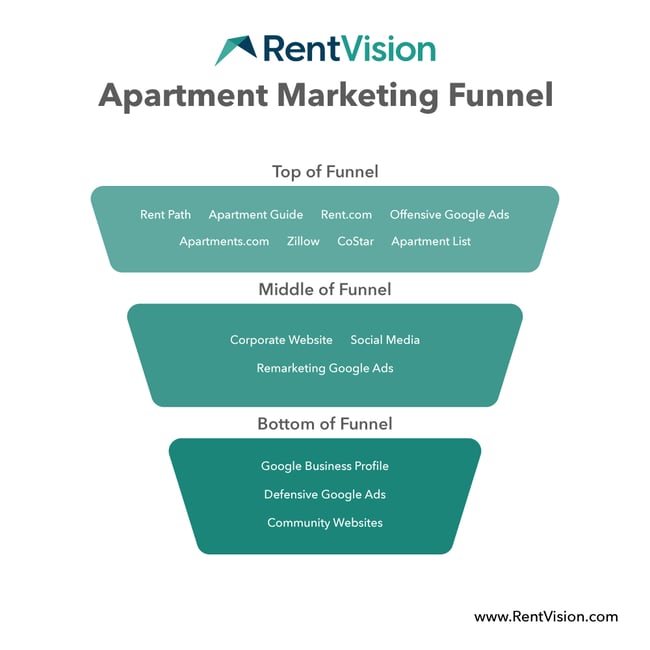 Putting it bluntly, spending most of your marketing budget at the top-of-funnel will be expensive and mostly unproductive at generating leases. But that isn't to say they shouldn't be part of your community's marketing strategy.
Top-Of-Funnel
Top-of-funnel sources are great for creating awareness for an apartment community.
Internet Listing Services, for example, help prospective residents discover apartment communities that best fit their predetermined needs. Our data suggests they're most effective at the top of the funnel; they get people 'to your door' by creating a lot of leads, but they could be better at getting someone to pick up the phone and convert from lead to lease.
Middle-Of-Funnel
In our study, we found that sources like a property management company's corporate website and popular social media channels like Facebook and Instagram had minimal attributable success with earning conversions. Yet these sources are still important in their effect during a prospective resident's search process.
They would be best-considered middle-of-funnel because prospective residents are usually aware of specific apartment communities available to them before interacting with those kinds of sources, meaning they're using them as avenues to conduct more research before getting to the decision phase.
Bottom-Of-Funnel
Lastly, we feel confident labeling marketing sources like a community website and Google Business Profile as bottom-of-funnel because they're attributable to the decision phase of someone's search, which is why most conversions occur on those ad platforms. Prospects have reached the point where they're ready to call the leasing office, and the evidence proves it.
Google Ads Are The Only Marketing Source That Is Effective At Every Stage Of The Apartment Marketing Funnel
Google Ads are critical for apartment marketing because they are productive at every point of a prospective resident's search process. And in the sales funnel model, we can identify precisely how apartment marketers should use Google Ads to move more people through the conversion process more quickly.
Google Ads that worked in the decision phase are often tied to defensive advertising campaigns. Defensive campaigns target exact keywords related to your apartment community, such as your name and location, so when a prospect searches for your apartments by name in Google, they see an ad for your community at the top of the search engine results page.
Remarketing campaigns in Google are perfect for prospects in the consideration phase at the middle of the funnel. They are display and video ads that appear outside of the search engine (perhaps the ads most Internet users are familiar with). They're great for keeping your apartments top of mind after a prospect has interacted with your community's website during the awareness phase of their search.
Then lastly, offensive Google Ad campaigns work great for capturing prospects at the top of the funnel. These campaigns intend to target people looking for something similar to what you offer but didn't know that you existed. While defensive campaigns could include a search term like 'brookside apartments in lincoln, ne,' offensive campaigns get much more specific about what prospective residents are looking for in an apartment community. They include search terms like 'apartments in northeast lincoln, ne' or 'pet-friendly apartments near the university of nebraska campus,' emphasizing specific locations and community features attractive to apartment seekers. ​​
Conclusion
Adding popular ILSs to your community's marketing strategy is helpful in more minor cases, as the data from our lease study suggests. But remember the funnel effect—those sources are great for helping prospective residents become aware of your apartments. They're also great for helping prospective residents become aware of your competitors. This limits their effectiveness as lease generators. Being at the top-of-funnel, they may generate lots of leads, but that doesn't often translate to more leases.
By comparison, offensive Google Ad campaigns make better use of your top-of-funnel advertising dollars, especially when working with middle-of-funnel remarketing and bottom-of-funnel defensive campaigns. A great Google Ads strategy can move prospective residents through the funnel faster.
Bottom-of-funnel sources achieve every apartment marketer's desired outcome: getting a prospective resident to convert to a qualified lead more likely to rent. That is why utilizing a community website, defensive Google Ads campaigns, and a Google Business Profile should be a priority, as they're far and away the best online platforms to advertise apartments.
We apply all three bottom-of-funnel sources to our apartment marketing system's setup. The evidence clearly shows that they best match the typical prospective resident's online search process and can incite more qualified conversions. With our predictive digital advertising solution, our clients benefit from getting traffic to their community website before vacancy hits, utilizing Google Ads campaigns that work at every stage of someone's apartment search. Predictive advertising is so effective for generating conversions and leases that moving away from prototypical top-of-funnel marketing sources, like expensive ILSs, altogether is possible.
If you want to learn more about RentVision's apartment marketing system and how we can help you establish a winning strategy prioritizing a community website, Google Ads, and Google Business Profile, schedule a demo with one of our team members today!
Continued reading on digital advertising for apartments