What is Apple Business Connect?
Apple Business Connect is a free marketing tool introduced in 2023 "that allows businesses of all sizes to claim their location place cards and customize the way key information appears...across Apple Maps, Messages, Wallet, Siri, and other apps."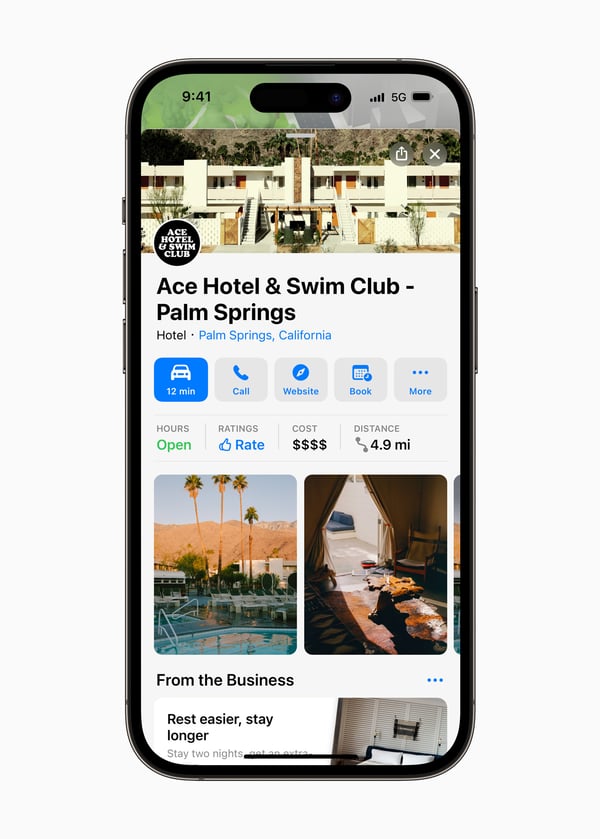 Apple Business Connect place cards feature photos, your physical address, phone number, website link, an 'about us' section, a rating section (aggregated from other review websites), office hours, and directions. Users can access a business' place card through Apple Maps and the search feature built-in to every Apple device.
Truthfully, Apple Business Connect's release aims to disrupt the local SEO empire Google has built by competing directly against its highly visible Google Business Profiles. Still, this move has a lot of merits, all of which positively impact your apartment community's marketing strategy and should prompt you to implement it as an additional source alongside your Google Business Profile.


Why you need to add Apple Business Connect to your multifamily marketing strategy


124 million + Americans own an iPhone

(

Oberlo). There is an insane and unignorable amount of potential reach businesses can incentivize from utilizing their Apple Business Connect place card within the 'Apple ecosphere' of iPhones, iPads, Watches, and Macs many use daily. Most of your community's future renters are of that audience profile.


84% of renters plan to use their phones to search for an apartment

(

Multifamily Executive

).

Overwhelming evidence suggests prospective renters can complete every step of the leasing journey for their next apartment on their iPhones. Apple makes controlling your presence easier on them with their new marketing tool.


More prospective renters are turning to navigational apps (including Apple Maps) to perform discovery searches to seek apartments in specific geographic locations. So there's a real opportunity for your apartments to stake a claim over nearby properties with an optimal Apple Business Connect place card.


How do I create an Apple Business Connect place card for my new or existing apartment community?
(Note: Before creating an account, ensure that you keep a record of log-in information, and it would be best to use an Apple ID tied to your property management company or apartments rather than an individual's to avoid any future complications.)
Here's a simple step-by-step process as outlined by Apple (complete account set-up instructions here):


Go to businessconnect.apple.com and sign in with an Apple ID. (Here's how to create a new Apple ID.)


Click to agree to service terms and also opt-in to email.


Select 'Small Business,' then select 'Next.'


If you're claiming an existing location, enter the name of your apartment community, then select 'Next.' (Place cards of known businesses already exist within Apple Maps, but their data comes from elsewhere; this is your chance to 'claim' the place card so you can customize it and control its content.)


If you're claiming a new location (for a new apartment community), select the option 'Add this location with this name.'


Use the pin feature on Maps and drag it to the front door of your apartment community, then select 'Next.'


After selecting English as the default language, you will enter the name you want to appear on the place card for your location. Be sure to include the word 'apartments' at the end of your name if it isn't already.


Confirm or change the primary and additional business categories. For the primary category, you need to select 'apartments.' As for an additional category, the best option is 'professional services.' When you're done, select 'Next.'


Enter the link to your community's website, then select 'Next.'


Enter your leasing office hours by selecting the days of the week and open and close times, and add more details about different hours for different days if necessary. Then select 'Next.'


The last step is to verify your apartment community's place card through Apple—a much faster and more user-friendly process than the verification process for Google Business Profiles.
You can select to receive a verification code for your Apple Business Connect place card via phone call. Or you can have Apple review and verify your ownership of your place card by uploading a picture of an official document (i.e., a piece of mail like a utility bill) that shows your apartment's name and address, then select 'Done.'
Apple says the verification process beyond this point could take up to five days, but in our experience, it usually takes less than a day.
These are just the standard steps to complete to claim your apartment's Apple Business Connect place card. Still, there are more features for you to take advantage of so your community's listing stands out. We'll go over some of those items next.


How to optimize your apartment's presence in Apple Business Connect

With more customizable control of your apartment community's brand and digital presence across Apple devices, you can ensure they stand out above the competition.
Three features in Apple Business Connect you could utilize to optimize your apartments' presence include:


Adding your logo and a beautiful cover photo of your apartments. The visual content you apply to your place card is critical, considering that those images will be what Apple users see across devices. For example, say someone shares your community's place card in iMessage with a friend. The text bubble will show the cover photo you select for your apartments. For some, that little text bubble may be the first impression of your apartments. Whether you make your cover picture one of a furnished unit, an amenity like your community pool, or an exterior of your property, it's imperative to use a high-quality photo that offers an appealing representation of your apartments. (See example below.)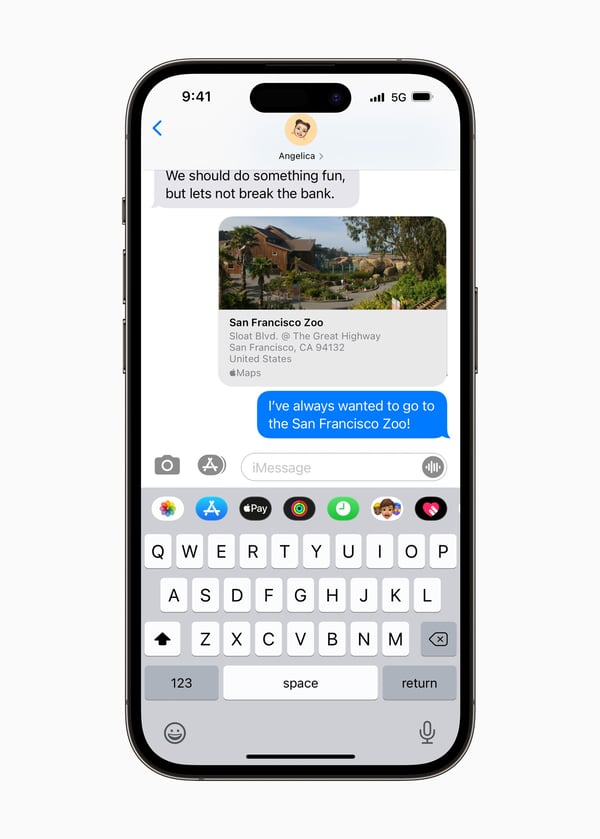 Use the 'Showcase' feature to highlight a rent special. A 'showcase' is "a new feature in the place card that helps businesses present customers with offers and incentives, like seasonal menu items, product discounts, and more." It includes a call-to-action button that prompts viewers to your website. (See example below.)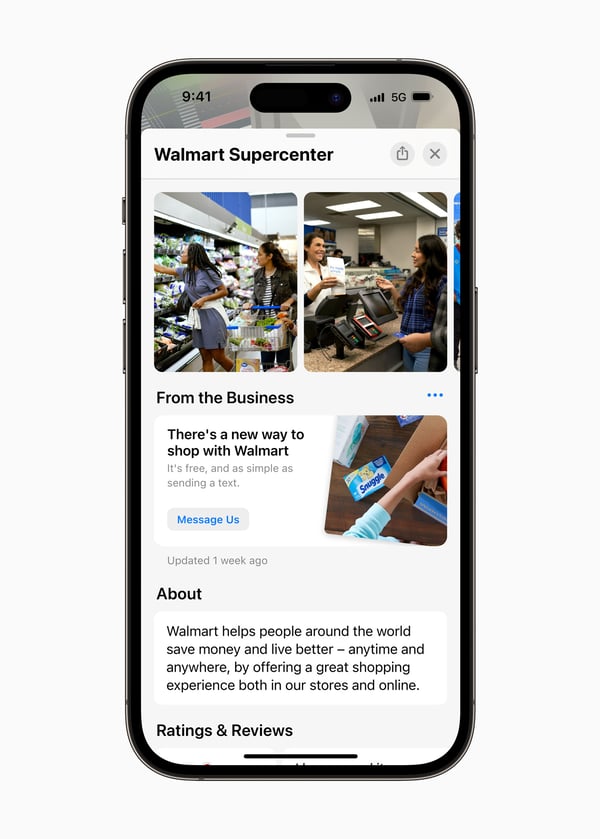 Tailor the 'About Us' section to resonate with your prospective residents. Whenever you craft marketing messaging for your apartments, you must target your ideal renter persona. Considering that apartment hunters may read this tidbit of information in the awareness stage of the leasing funnel, or the middle of a geographical discovery search, you must ensure it resonates with the types of individuals who typically rent from you. Start by asking yourself these seven questions to identify your ideal renter persona.


Can I track the engagement of my apartment's Apple Business Connect place card?

Yes! Apple provides comprehensive analytics and reporting for you to assess engagement and visibility for your apartments in Apple Business Connect.
You can track how prospective renters found your apartments in Apple with a report that counts the number of taps on your place card from search results and search taps by type (name/brand search, category search, or other like an address-specific search).
Additionally, you can see how renters interact with your place card with valuable reports showing metrics like:


Place card views (from users tapping your place card in search results or on the Apple Maps platform, as well as through shares).


Action taps (when someone taps directions, website, call, share, business action, or showcase).


Conclusion: Apple Business Connect is a must-have source for your multifamily marketing plan

Apple Business Connect is a burgeoning marketing channel bound to gain popularity by its sheer reach and connectivity to Apple devices. Like any Apple design, the place cards have an aesthetically pleasing user interface. And the user experience is simple, too.
As most of your apartment renters likely own an iPhone and other Apple devices, you cannot miss this opportunity to claim and curate an Apple Business Connect place card that makes your apartments shine!
Continued reading