If you have worked in the multifamily industry for any length of time, you have probably received an email promising to help you with search engine optimization—otherwise known as SEO.
Why do these emails fill so many marketing directors' inboxes? SEO is something that is enormously valuable, but somewhat complex. Whenever you combine those two things you may have a recipe for scammers and swindlers.
In this post, we want to clear up some of the mysteries with SEO. Our goal is to help you distinguish between SEO marketing strategies that will improve your marketing and those that just cost you time and money without providing any major payoff.
What is SEO?
Search engine optimization is work done to help a website, app, or other web property achieve greater visibility on search engines.
Since Google commands close to 90% of all organic search traffic (https://sparktoro.com/blog/as-the-antitrust-case-against-google-kicks-off-heres-where-the-doj-should-start/), SEO essentially means "doing whatever Google says in order to be more visible on Google and its various web properties."
What is a "good" website according to Google?
Google wants to provide its users with information that they find helpful, relevant, or interesting. If a search engine gives its users bad results on the search page, they'll lose users. So, what makes a website "good" in the eyes of Google?
Here are some basic answers:
The site loads quickly, images are formatted quickly, text is sized appropriately, navigation is clear and easy to use, etc.
The site has original, high-quality content, including professional photography and videography that your company has the rights to.
The site is relatively easy for their search spiders to crawl—title tags and header tags are utilized correctly, images are named with relevant and accurate names, alt-text is included, and page URL structures are easy to read.
There is also another growing SEO field: local SEO. Local SEO is work done to increase your business's visibility in the local search results on Google. The two screen captures below show what part of the search result page is organic vs what is local: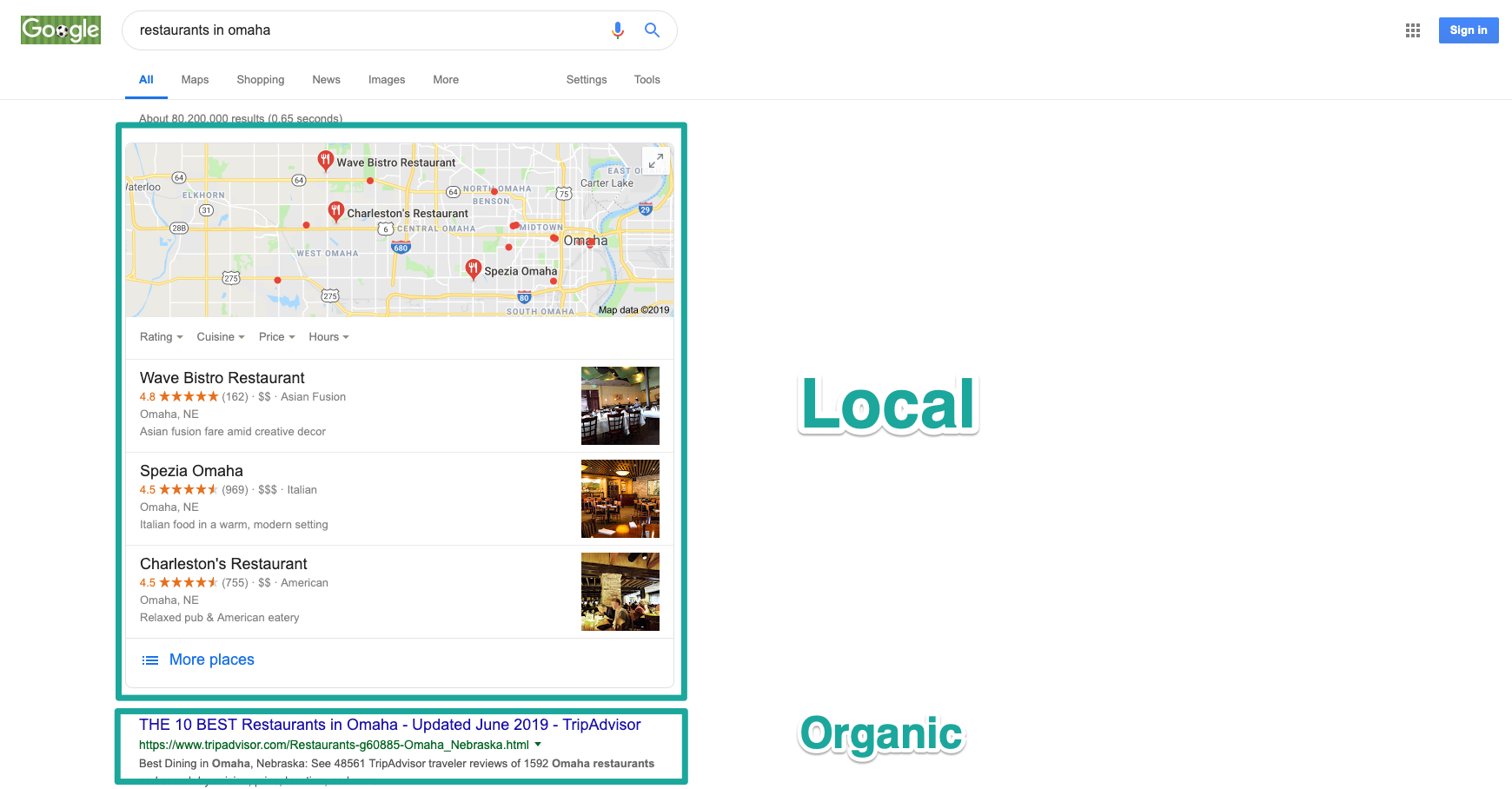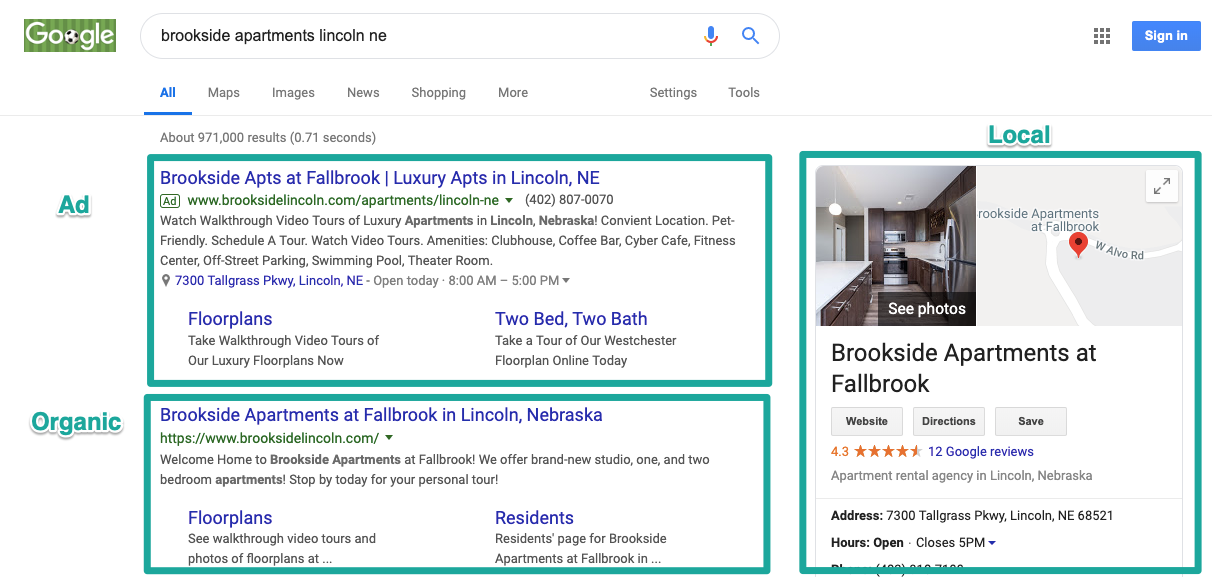 Local SEO in the apartment industry means working to ensure that your community's Google My Business listing (shown on the right side of the search result page in the image above) is set up correctly.
The category (Google My Business offers different category options you can use to describe your business), address, and phone number need to be correct. You should also have photos uploaded and a link to the community website.
Unfortunately, Google is ultimately who controls your local listing. You can suggest to Google what it should display as your phone number, address, or profile picture and most of the time they'll listen.
That said, there's no guarantee on these things. This is, unfortunately, the state of local SEO right now—local search is both enormously valuable because of its value on mobile devices, and entirely dominated by Google. So, when Google says "Jump," all we can do is say, "How high?" This is one reason we always encourage communities to have their own community website. You have far more control over a website than you do a Google My Business listing.
How can you find out if your site is meeting Google's general guidelines?
There are several things you can do to monitor your site's performance.
What work should SEO consultants be doing for your site?
When someone says they are going to do SEO work on your site, these are the sorts of things they should be doing:
Development work required to make sure your site loads quickly.
Checking that all links work correctly.
Ensuring it is desktop and mobile-friendly.
Confirming your business's address, phone number, and website are consistent whenever referenced online.
High-level strategic thinking about improvements that could be made to your overall SEO strategy to help your community become more visible on Google.
What things should SEO consultants not be doing for an apartment website?
This is actually a more interesting question. The multifamily industry is unique in a number of ways. We sell a fairly expensive product that is purchased quite rarely. We also have a limited supply of product that is geographically constrained. So a lot of standard SEO or marketing practices do not necessarily translate to apartment marketing. Here are three things that SEO consultants sometimes do but that we would discourage them from doing in the multifamily industry.
SEO consultants will often create content to promote a website they are working on.
In the multifamily industry, you don't necessarily want them doing that. The most important content you produce is going to be photos and videos and most SEO companies will not have expertise in this area or even own the necessary equipment. You should hire a professional photographer and videographer instead.
SEO consultants will often brainstorm new content ideas, such as infographics, social media campaigns, or Ebooks and whitepapers.
But, in our industry, the type of content you need is pretty much the same across the board, walkthrough video tours and photos.
Apartment websites are hyper-niche sites so the traffic you can attract is always going to be relatively limited and focused on a single thing. Therefore, you can produce all the infographics, Instragram photos, and Facebook posts in the world and it almost certainly won't do much for you.
SEO consultants will often help review performance metrics to see how your website is performing.
This isn't necessarily as good a fit in our industry as others because multifamily has a unique sales model due to the traits of our product. If you have a community with 100 units, you will probably only make somewhere between 40 and 60 sales in a single year—assuming some residents renew their leases and that most your leases are 12 months. Your product is also geographically constrained. You can't ship it anywhere. You can't even move it within your city. Because of these unique characteristics, our models for marketing and selling will necessarily look a little different than typical marketing and selling practices in other industries.
An SEO consultant can look at traffic patterns, but if the person doesn't understand seasonality, the relationship between web traffic and leasing, how vacancy affects marketing strategies, and so on, they will struggle to identify what you should be doing to improve results.
There is one other problem. Pulling all of your relevant data in our industry into a single report is not easy. In a typical e-commerce business, you could build a solid report on all of your key metrics in something like Google Data Studio, pulling data from Google Analytics and Google Ads. But, because our industry also tracks phone leads, leasing agent performance, and rental rates, it will be harder to build an all-in-one report for your community.
For these reasons, it is generally wise to work with an SEO consultant who has experience in the multifamily industry.
Conclusion
The challenges with search engine marketing in the multifamily industry are significant. The work itself is more difficult due to the unique traits of our industry which we have already mentioned above. We have an expensive product. We have a fairly significant limit on how many sales we can make in a single year. We are constrained geographically. All these issues shape the way we approach marketing in the multifamily industry.
Before you pay for someone to do SEO work, be sure that you understand what the person is going to do for you and that it is something they should actually be doing.
If you have a good handle on these questions, you'll be well-positioned to use SEO to improve your community's marketing and leasing performance.