Let's just be direct: if you aren't using Google Analytics for your website you're wasting money. Without solid website analytics to find out what is working--and what isn't working--in your web presence, you are forced to make decisions blindfolded.
So today, we have a step-by-step tutorial to teach how to install Google Analytics on your apartment website. Even if you don't have a ton of time to mess around with the software, take time to install Analytics right away so that you can begin the collect the data. Later on, you can do all kinds of fancy queries, filters, and segmentation--but only if you have already collected the data.
Step 1: Check to See If Google Analytics is Already Installed
In many cases, web developers install Google Analytics by default, especially so that they can learn more quickly if there are any problems on the site from a development point of view like broken links.
Just right-click on the background of your website and select "View Source" or "View Page Source" (if you use Safari, you may need to enable the Develop menu under your preferences), which will look something like this: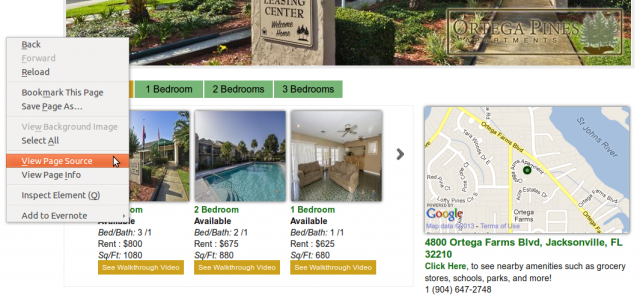 Then, use the Find function (Ctrl-F on a PC; Command-F on Mac) to search for the phrase "ua-", the first characters of a Google Analytics tracking code. If Analytics is already installed, you should see a snippet of code that looks like this:

See the part that says ".google-analytics.com..."? If you see something like this, then you already have Google Analytics installed. You might ask your web developer about how you can get access to your Analytics profile.
But, if you don't find this code...
Step 2: Install Google Analytics on Your Website
Go to www.google.com/analytics and click "Create an Account":

If you don't have a Google account (either with a @gmail.com email address or with another email address that you use for other Google services, like YouTube, Drive, or Reader), go through the steps to create a new Google account. Otherwise, just sign in from your normal Google account.
Once you have the actual account set up, click "Sign up" when you get to this page:

On the next page, fill out the information for the site that you will be tracking: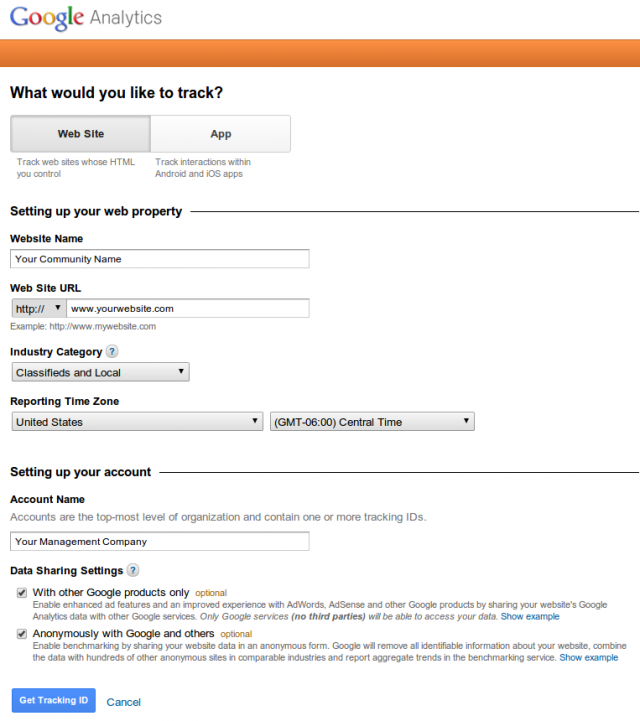 It doesn't really matter which Industry Category you select. Google uses that information to generally classify statistics across industries, but it won't affect the functionality of Google Analytics that you will experience.
For the Account Name, you can select your apartment community if that's all that you need access to; however, if you are managing multiple websites for a management company, assigning a management company name to this account might help you to organize all of those Analytics profiles.
After you click "Get Tracking Code," you should see this page: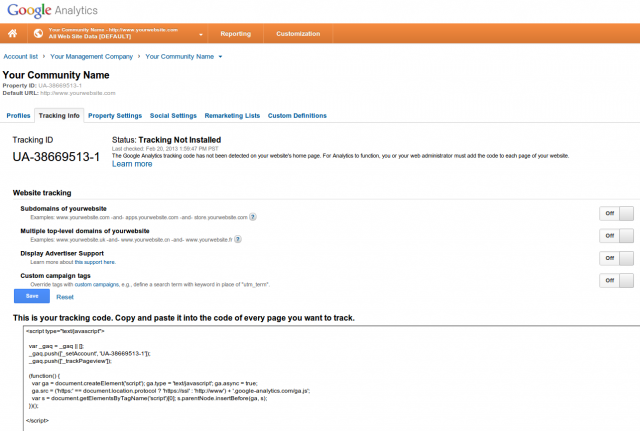 From here, just highlight the tracking code, copy it, and paste it into the HTML of every page on your website. (You may need help from your webmaster to do this part.)
That's it! Once you have the tracking code installed, Google will begin to collect data about how visitors are using your website. From there, you can begin to glean valuable information about the performance of your website, but also the performance of your traffic generation sources.