Sometime in the next few months, my wife wants to buy a new phone. Hers is a few years old now, runs really slowly, and has a small hard drive. All of these things make it hard to use just for ordinary day-to-day things.
If the camera takes forever to open, you can't easily snap photos while you're out and about—especially if you have squirmy little kids who don't hold still when you're trying to get a photo (which we do).
If there's no space on the hard drive, you can't install that app you'd like to have on an upcoming trip.
If the phone crashes regularly, you will find it hard to get directions using the Maps app.
The funny thing, of course, is that it wasn't that long ago that no one had a phone that could do any of those things and we all managed just fine.
But, of course, that isn't the world we live in now. Smartphones are the norm. This creates some challenges for your community, but also a ton of really exciting opportunities. The biggest opportunity is in the space of local SEO, which allows you to reach the right people at exactly the right time—when they are searching for you by name on a mobile device. And here's the cool news: All the work you do to optimize for local searchers on mobile devices translates with minimal effort over to desktop as well.
In this post we will provide a brief overview of what local SEO is and then explain how Google My Business in particular is a powerful marketing tool that looks set to become even more important in the years to come.
What is Local SEO?
Local SEO refers to the work that marketers do to make sure that a local business can easily be found on search engines.
Isn't that just "SEO"?
Well, kind of. SEO is something that literally anyone who owns a website should do to improve their website's visibility on search engines. So, for example, I did SEO work on the soccer site I used to run. In that context, it meant that I made sure my website loaded quickly, that the content was easy to scan, and that everything I posted was genuinely high-quality work.
Local SEO is slightly different. Because it is specifically concerned with promoting the services of a business that sells goods or services locally, its primary concern is not necessarily driving traffic to the business website. That's a secondary objective, but the main goal is to drive potential customers to that business's location or toward calling that business to inquire about their products.
Because the goal is a sale rather than web traffic, your objectives as a marketer shift slightly. But Google's objectives change as well. Google only has a valuable product to the extent that their product gives their users what they want. So if a user has a phone and is out looking for a local business's number or hours, Google's product needs to make that easy for them. And sending them to a website that Google does not control and which may or may not even list the hours or phone number is not "easy."
To solve this problem, Google created something called Google My Business. (That isn't what they called it at first and it took them a number of years to actually get their house in order on this product, but for the last couple years things have been relatively stable.) When someone searches for a specific local business or enters a search term that suggests they are looking for local business information, Google returns a different kind of search results page that emphasizes local.
This is what you might see when searching for something with a local intent: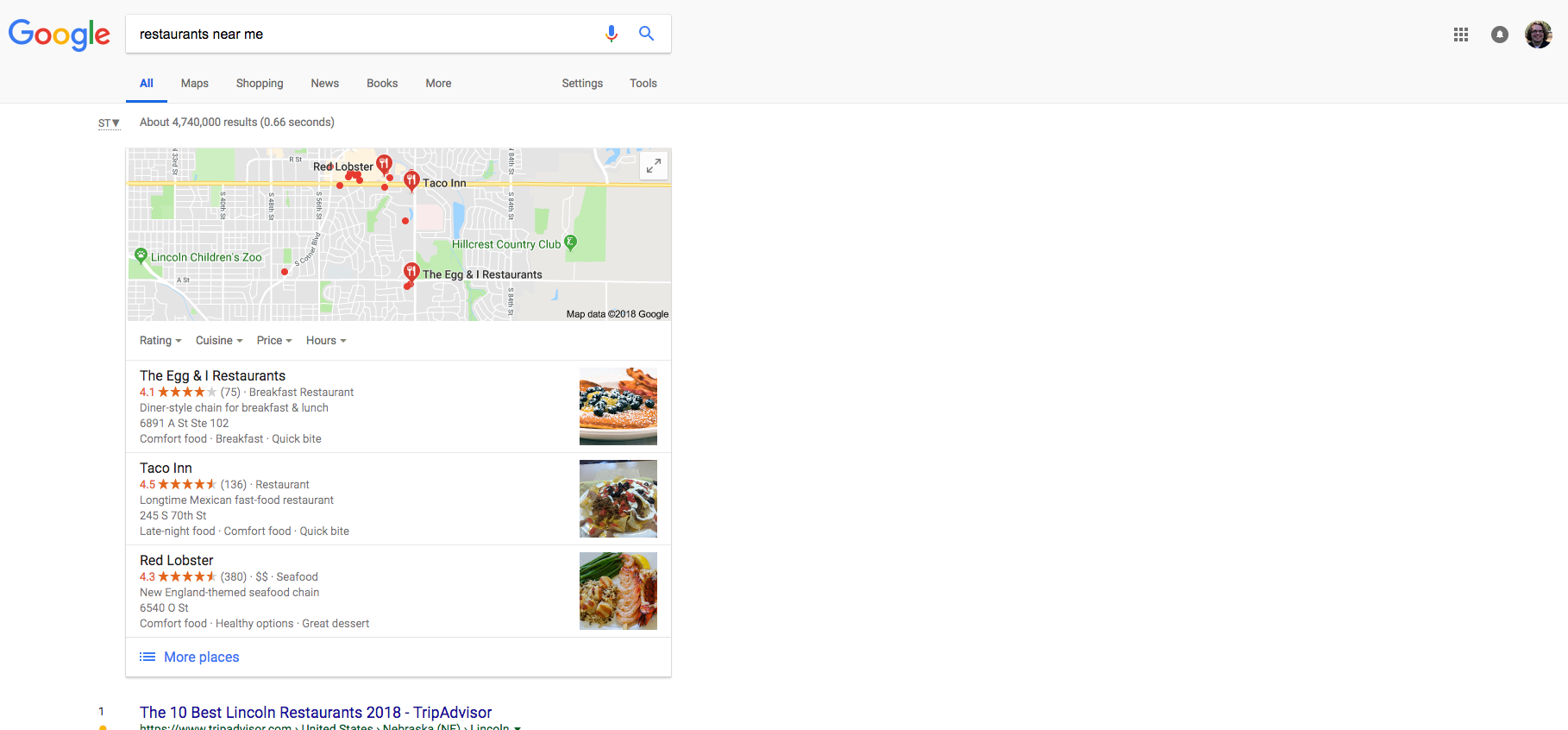 Similarly, if you search for a particular local business, you see something like this: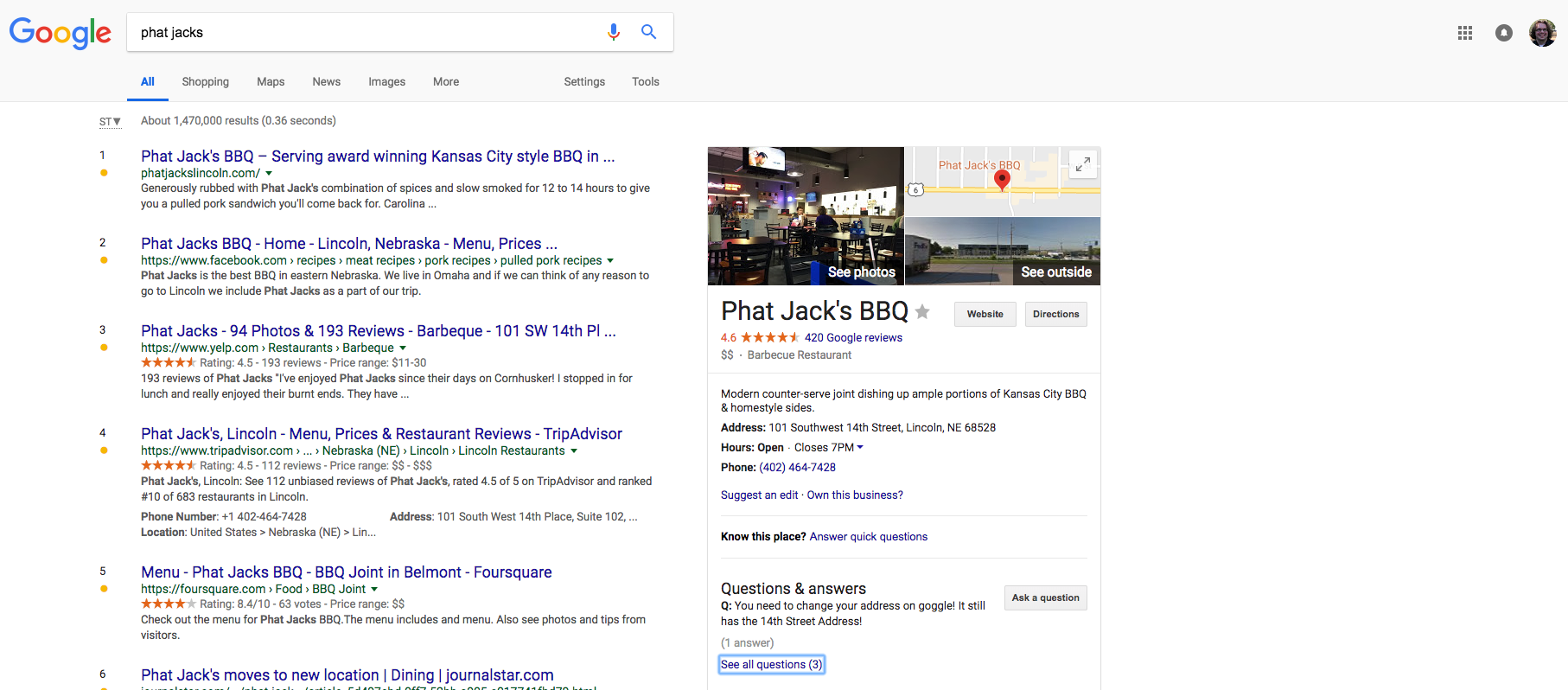 With these kind of search result pages, Google can provide their users with the kind of information they are most likely to be looking for. This creates a better experience for the search engine user, which also means a happy, loyal customer for Google.
Importantly, these listings also produce consistent results for businesses. According to internal data from one client, we saw roughly 1/3 of trackable leases coming from local business listings.
How can apartment communities use their Google My Business listing?
In the past, there wasn't a ton of flexibility here for individual business owners. You obviously could enter things like a website link, phone number, and address into the dashboard and Google would display that data. But beyond "enter basic company information and make sure it is accurate," there wasn't a lot that could be done.
That is, however, beginning to change. Google is now building out features that will allow the business owner to have greater control over their local listings and to communicate directly with searchers on Google.
There are three particular features we want to highlight in this post, all of which allow you to interact directly with Google's users. The first is older and more known: responding to online reviews. The other two are both more recent and have only rolled out in the past year: Questions and Answers and Google Posts.
Responding to Online Reviews
To reply to an online review, first navigate to your Google My Business dashboard. NOTE: If you manage multiple Google My Business pages, you will need to select "Manage locations" at the bottom of the left-side menu to select the correct page that you wish to work on: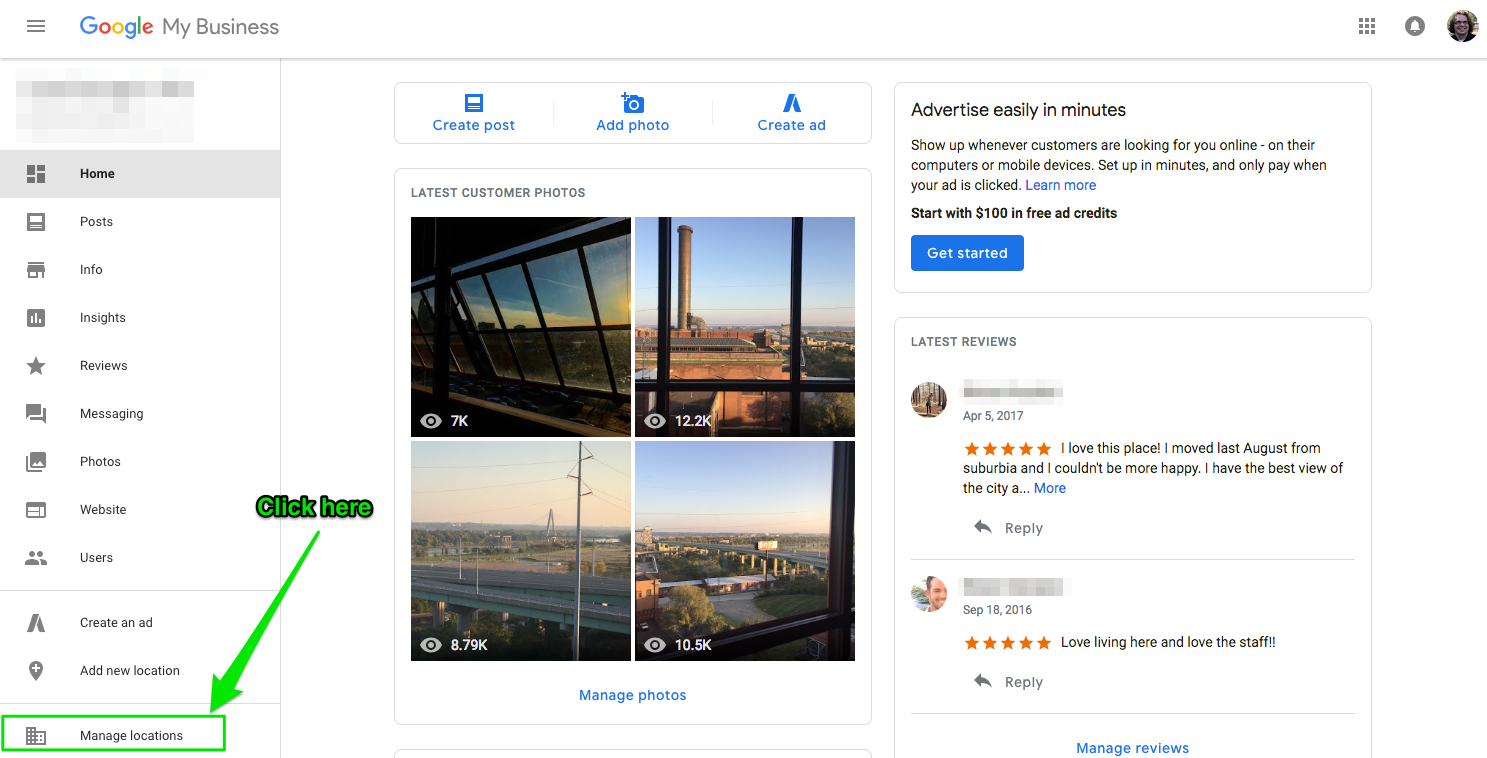 Once you have selected the right community, which you will know by looking at the business name in the top left corner of the screen, you can reply to reviews in two different ways: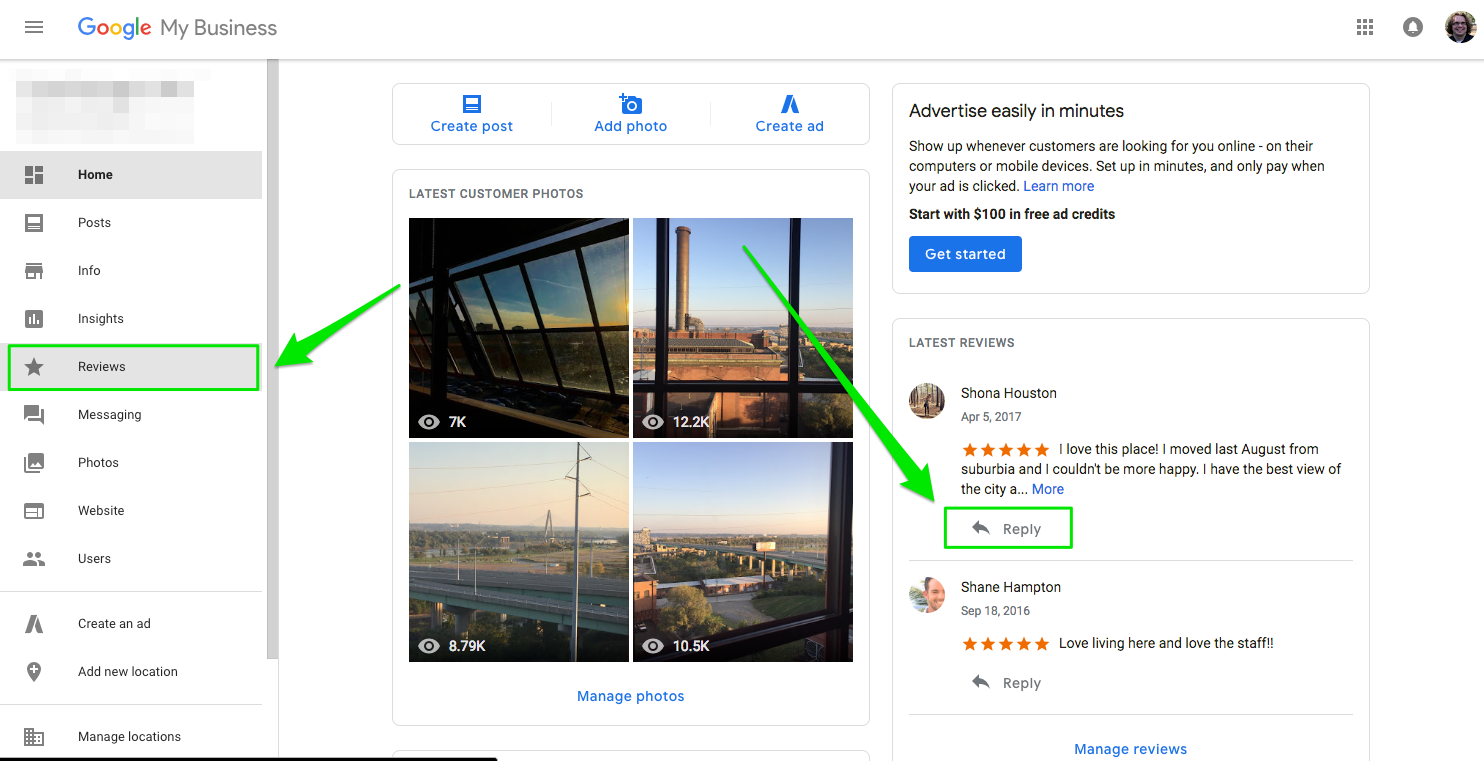 If you reply to reviews from the main dashboard. Just click the "Reply" button below any of the reviews displayed on the right side of the page and you can respond: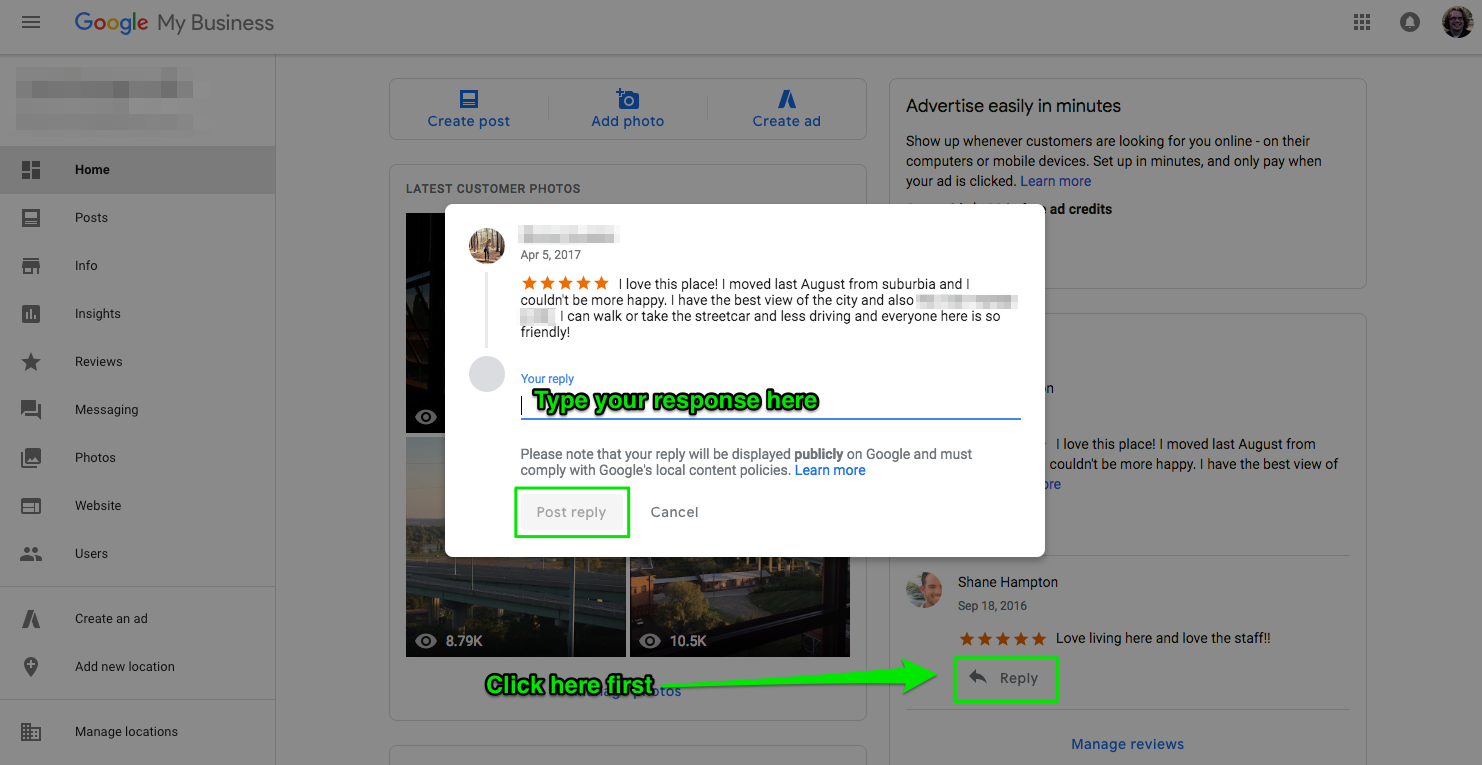 If you navigate to the reviews report in the dashboard, you will see a full report that allows you to organize reviews by ones that have received a reply from you and ones that have not.
Here is the main dashboard from a community that has replied to all its recent reviews: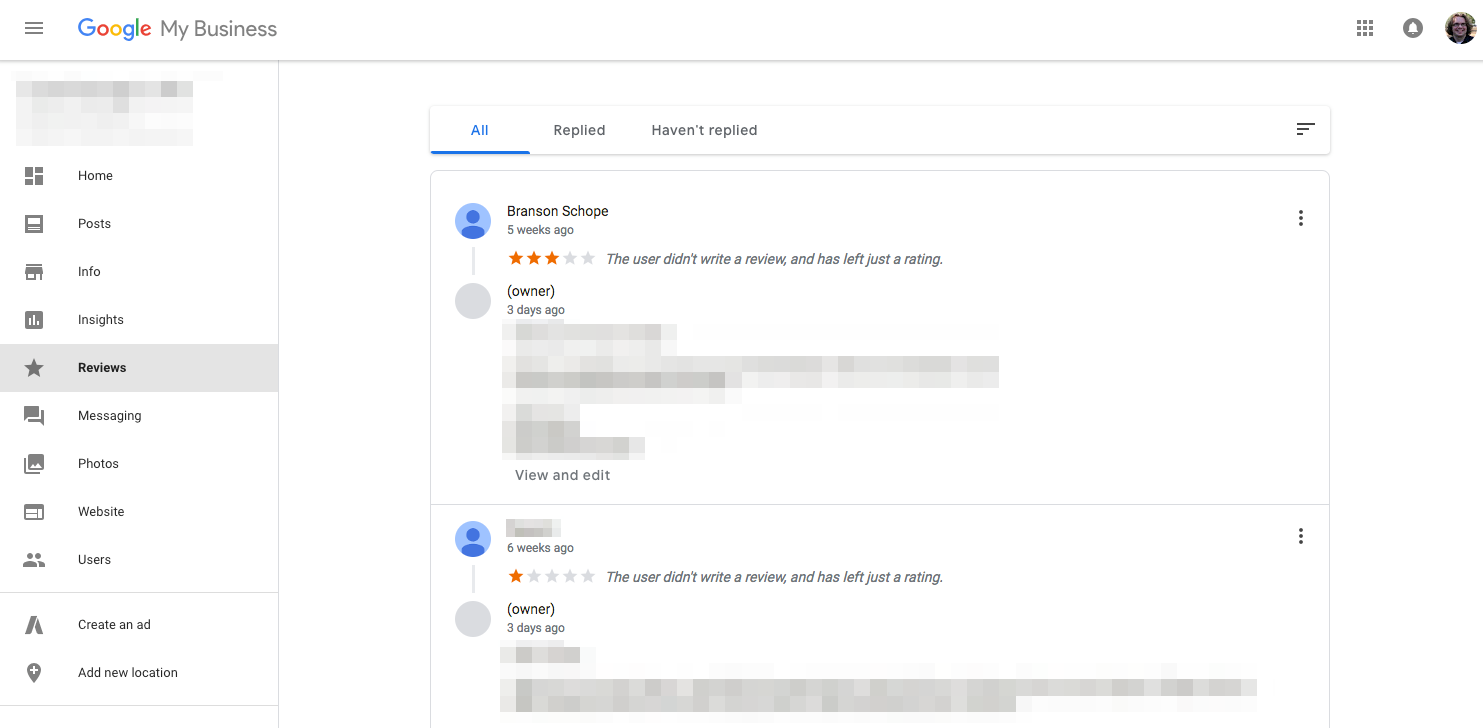 If you have a review that hasn't been answered, you can reply by simply clicking the "Reply" button below the review:

Of course, knowing the technical bit about how to reply to online reviews is only one part of the battle—and arguably a relatively small part of that battle.
The bigger question is what you say in response, particularly to a negative review. We have written on this question in the past and advise following five key principles:
Don't invalidate their complaints.
Don't be rude.
Don't make accusations.
Be empathetic.
Be helpful.
If you want more guidance, Moz has a couple very good articles on the issue:
The big idea here is that responding to negative online reviews allows you a chance to reach out to unhappy residents and to show prospective residents how you handle an unhappy customer. It can be a powerful win, even if you'd rather avoid having the bad review in the first place.
Google Questions and Answers
In August of 2017 Google rolled out a new feature on local business listings called Questions and Answers. The idea is that Google's users can ask specific questions about the business and get answers either from the business owner or someone local who knows the answer. The question and answer feature is now part of the local business listing when someone searches for a business by name: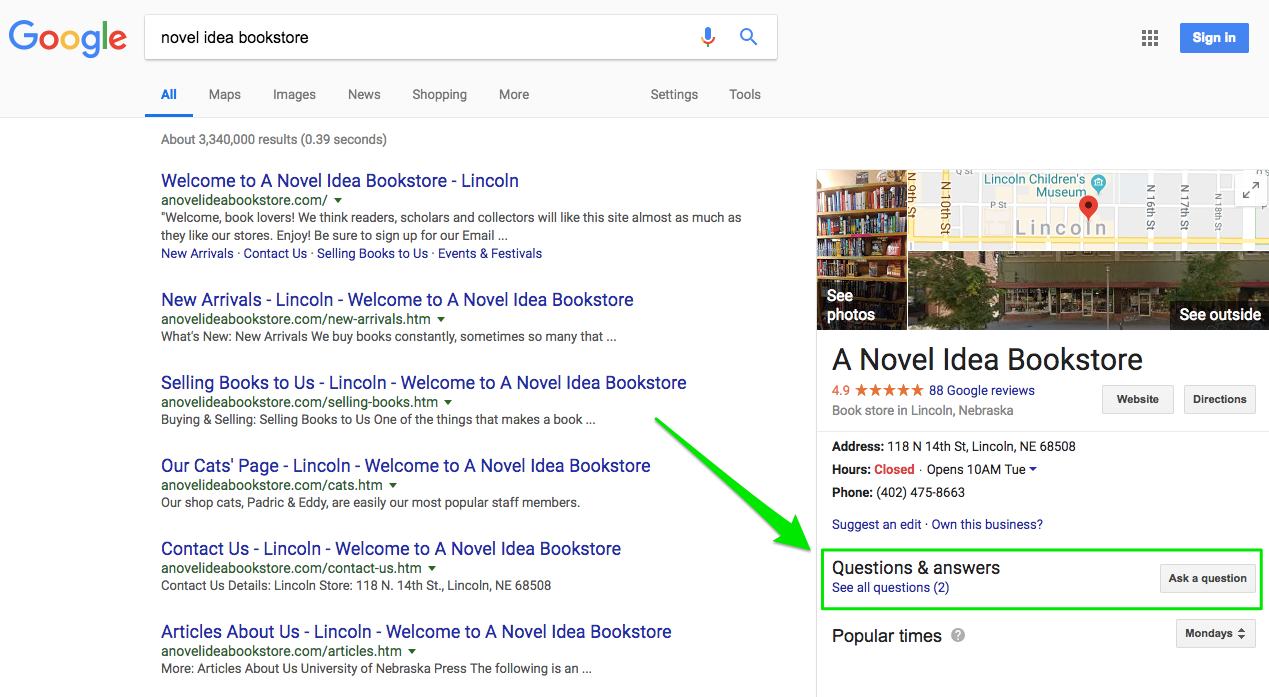 If you click the Ask a question" button on the right, that will open up a dialog box that lets you submit a question. If you click "See all questions" on the left, you can view questions and see if you are able to answer any of them. If you click the link, this popup will appear: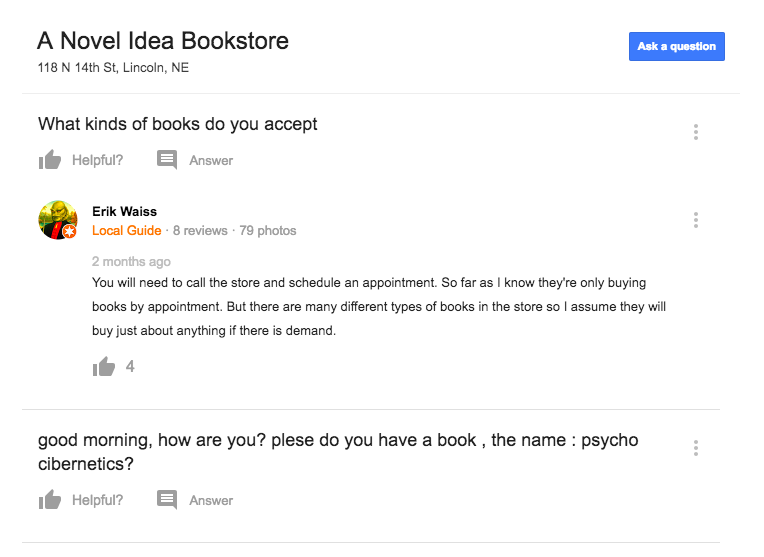 As you can see from the second question below, there are still some issues that Google needs to work out with the feature. This feature probably is not going to replace simply calling the business to ask a question. That said, it is another way to interact with prospects and add some value to your local business listing.
Does this mean you should answer every question someone asks? Probably not. But do at least keep an eye on this feature as it does provide a unique opportunity to communicate directly with a person who is interested enough in your community to submit a question.
Google Posts
Finally, let's talk about the most exciting and promising new addition to Google My Business. It's called Posts. The idea is simple: Just as you can put up new posts to send to your followers on Facebook, you can now write and publish posts to show up on Google Search to anyone who searches for your community.
The obvious benefit, of course, is that whereas Facebook posts will not be seen by most your followers and may not be relevant to the few who do see them, Google Posts show up for anyone who searches for you by name. So you can both be more confident that you have an audience and know that the audience is actually engaged and cares about what is in the post.
There are a few different types of posts you can create in Google. To begin, click the "Create post" button in the top middle of the home page in your Google My Business dashboard: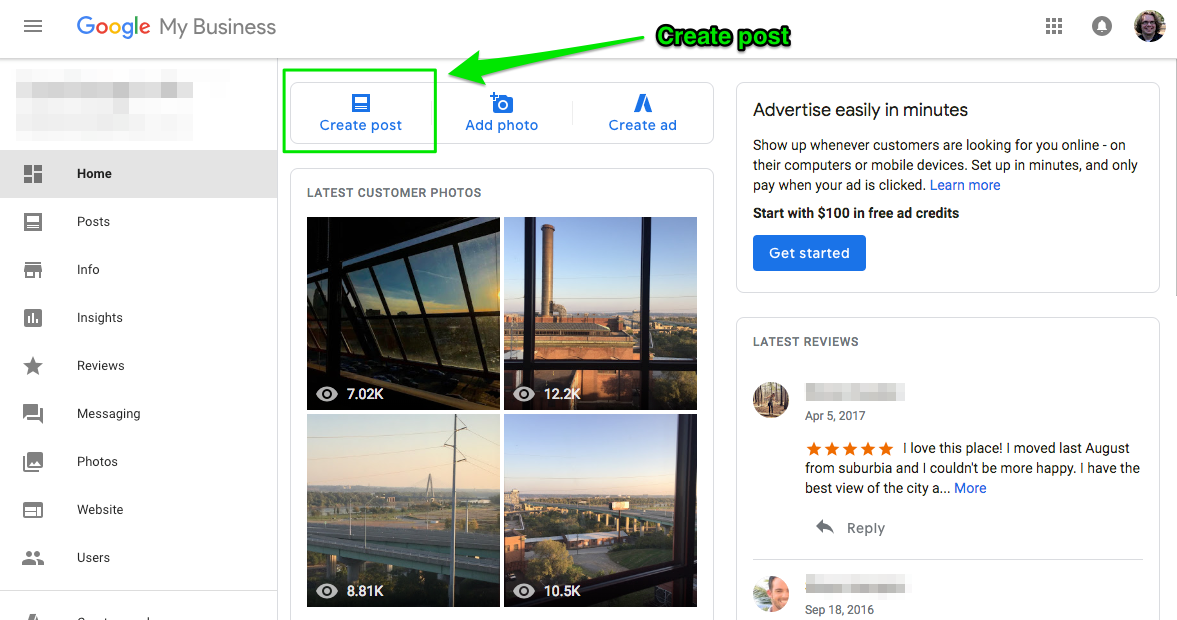 Once you have clicked "Create post" you will see a pop-up menu where you will create the post: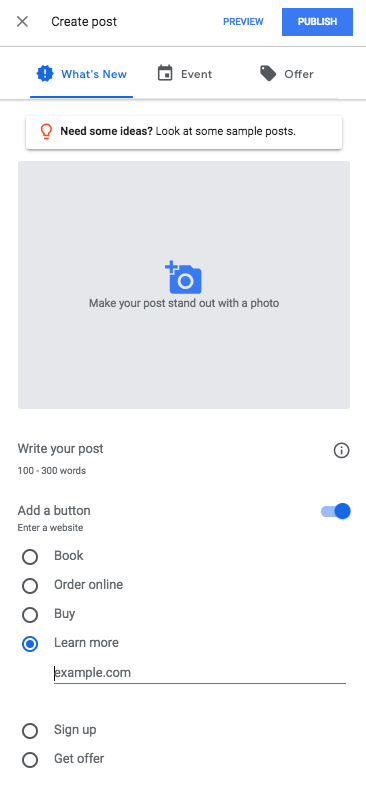 You will then have to choose between three separate post types.
You will also be asked to write the post and add other relevant information based on the post type that you use. Finally, you'll be asked if you want to add a button to the bottom of the post. The button can say one of six things:
Book
Order online
Buy
Learn more
Sign up
Get offer
Once you have filled out all the forms, you can then click "Preview" to preview the post before publishing. If it looks good, then you can click the "Publish" button in the top right corner of the pop-up: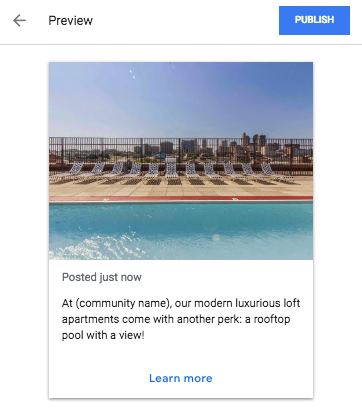 There is one other thing we should note: Google is in the process of rolling out an update that will allow users to also embed videos in Google My Business posts:
Add video to Google Posts!@rustybrick #LocalSEO #smallbiz pic.twitter.com/kWIsl2x4aH

— Andy Simpson 🔍 (@ndyjsimpson) May 8, 2018
That being said, video functionality has not been rolled out to all users at this time, so you probably won't have the ability to embed videos in your posts right now. But it appears to be rolling out so check in regularly to see if you now have that ability from your account.
Conclusion
We have obviously been bearish about search and apartment marketing for a long time. Way back in 2012 we suggested that Google+ would be more important than Facebook for most communities. So this isn't new terrain for us.
That said, one of the tradeoffs traditionally has been that social allowed for more customization of your page and interaction with prospects—at least, in theory. (In reality, there weren't any prospects on your social media, so it never quite worked out the way some thought it would.) Search was awesome, but it didn't give you the same kind of control.
But with these new rollouts to Google My Business, that may be starting to change. We may well be headed toward a world where you can benefit from the reach and effectiveness of search while still having the interactivity traditionally associated with social media marketing.