While apartment communities typically tailor their marketing plans to reach a broad audience, recent trends indicate a need for more engagement with prospective residents within their specific geographic area.
In 2019, 45.5% of Americans moved within 100 miles of their previous residence—an all-time high. That number could possibly increase after 2020 in light of the global pandemic, as many potential residents are wary of leaving their immediate area due to concern about how other locations are faring with the virus.
Local Search Marketing isn't necessarily a new concept for the multifamily industry, but it's clearly something worth revisiting. In this blog, we'll go over 3 tactics your community can use to strengthen its local search presence:
Maintain an active Google My Business account.
Stand out on both Google and Apple Maps.
Manage your online reputation.
1. Maintain an active Google My Business account.
Google My Business (GMB) is a free tool to manage your presence on Google, and it's an absolute must-have for apartment communities. If you haven't established ownership over your listing, here's our guide to help you get started.
GMB is the epicenter of your community's local search presence, as the data you provide within its online dashboard (name, location, hours of operation, etc.) is integrated into your Google Maps listing as well. We'll talk more about just how critical this is.
With more potential residents seeking to move within their local area, you need to make sure your apartment community takes advantage of its geographic location to become a factor in their search. While simply owning a GMB account is helpful, using its many valuable tools frequently can be a difference maker.
Here's why frequency matters:
It shows your marketing towards your local audience.
You're giving apartment seekers the most relevant information they need to impact their decision.
Your GMB listing has more legitimacy than other nearby apartment communities.
Maintaining an active local search presence is really easy to do given the tools within the GMB dashboard. You can post pictures, deals, status updates, update descriptions, and so much more, all within a single hub.
Your apartment marketing team should get into the habit of posting on a frequent basis. Whether you share a photo of one of your amenities or feature one of your available floorplans, these posts will improve your listing and resonate with potential residents.
Google My Business is also helpful in that you can easily edit hours of operation to make it clear that you're going to be closed on a holiday, or that you're only offering virtual tours. It's very important to be on the ball about these issues to make sure your audience knows about them. If your leasing office is closed on a day your GMB profile says it is open, you'll have pretty much eliminated any lead that calls or visits to your community because you provided them with misleading or wrong information.
Where does legitimacy come into play? Let's look at two examples of a GMB listing for an apartment community.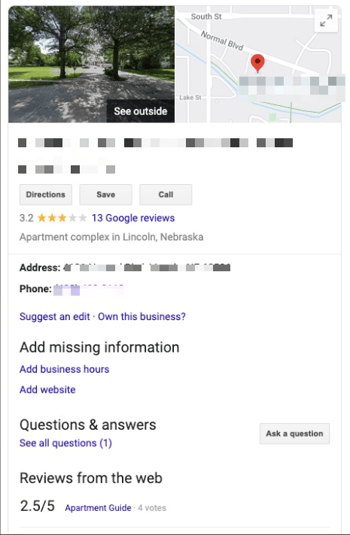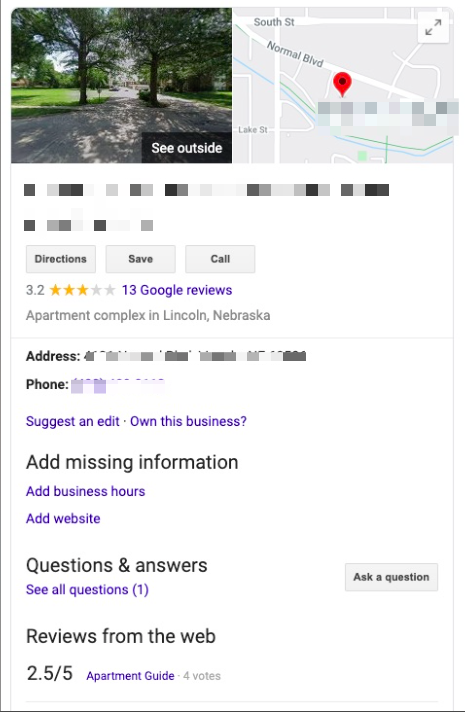 Community "A" doesn't have a very strong listing because it's missing a lot of valuable information, such as a link to its website and business hours. The other issue is that the only photo available is an exterior shot taken by one of Google's street view vehicles.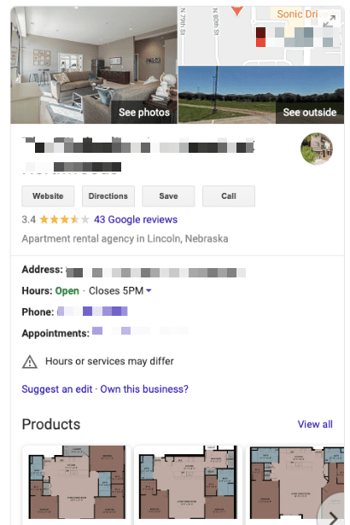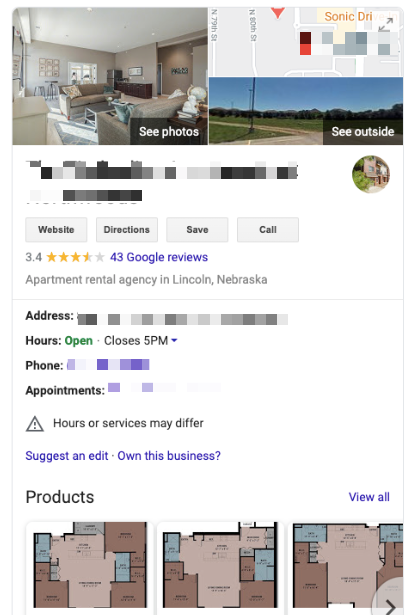 There's a noticeable difference in appearance for the listing of Community "B" compared to Community "A". It has a complete GMB profile, including website link, phone number, and hours of operation. It has also taken advantage of the product posts feature to highlight different floorplans. Finally, you're providing access to a photo library of units and amenities by clicking the "See photos" link.
Here's the thing: Community "A" may be the perfect fit for a potential resident, but it's local search presence lacks the necessary information to confirm that. Community "B" has a listing that is more legitimate, and more likely to incur interest, because it's full of helpful information. This is why maintaining your local listing is an important marketing tactic, as it can give you a leg up against your area competition.
2. Stand out on both Google and Apple Maps.
We've known for some time the importance of having a mobile presence is for apartment communities, as 91% of potential residents say they are likely to use their phone when looking for an apartment.
Another emerging mobile trend is the use of navigational applications, notably Google Maps and Apple Maps. This is due to apartment hunters performing more "discovery" searches (84% of searches) rather than specific keyword searches, utilizing these navigation apps on their smartphone to compare listings for apartment communities within specific locations.
So, how can you position your community to stand out in Google or Apple Maps?
For Google Maps, the answer is profoundly simple: all you need is to own and maintain a complete Google My Business listing. If you're already doing your due diligence of frequently updating your GMB, Google's algorithm will rank your community higher than others within the navigational search. It's that easy!
A few particular things you can do to optimize your GMB listing so it ranks higher in Google Maps include:
Make sure your apartment community name and address are consistent, especially if your name has a word like Street or Saint that could be abbreviated in some form.
Include your tracked number and main number. Many communities place just their tracked number in GMB so they can measure call traffic from that listing. However, posting your main number as the secondary line makes it easier for Google to identify your community as it can trace that secondary line directly to your website.
Write a complete business description that includes information about your location, your available floorplans, and amenities.
Correctly categorize your apartment community. We've noticed inconsistencies when reviewing GMB listings for various communities, as some incorrectly identify their business as a "property management company" or "real estate" rather than "apartment".
Apple Maps, the packaged navigation app for iPad and iPhone users, is emerging as a competitive search locale for apartment communities. Apple has prioritized improving its Maps platform over the years, drawing close comparison to the same user interface as Google Maps. Google Maps, however, still owns 67% of market usage.
At this moment, a significant difference between Google Maps and Apple Maps is that Apple's platform outsources a lot of your data, such as photos, directly from Yelp. While apartment communities can claim their own listing using the Apple Maps Connect, they don't have the same ability to control over their listing as Google does because businesses are ranked almost entirely by Yelp reviews. This goes without saying that your community would need to own and maintain an active Yelp account along with a Google My Business profile.
However, the Apple iOS14 software update later this fall will include a new tool called Apple Ratings, which give users the ability to review and post photos of businesses directly within the Apple Maps app. A reported feature of Apple Ratings is that it will prevent review fraud, helping to build more trust with local searchers.
While Google Maps still owns the majority of local marketing searches, Apple Maps has a large audience and new features that can't be ignored. Having a strong presence in both platforms should now become a vital part of your marketing team's efforts.
3. Manage your community's online reputation.
While every potential resident has his or her own needs, one thing that will always have an impact in apartment searches is the experience of others. A research group found that 7 out of 10 potential residents used ratings and reviews to inform their choice of new home—a statistic that your apartment community should be paying attention to.
Ratings and reviews have a very visible location in local searches, which is why your marketing staff must work diligently to maintain a strong reputation online. Much like when you set aside time to update your GMB profile, your team should make a habit of checking your online reviews on a weekly basis.
Whether somebody leaves a positive or negative review, always be sure you respond. The same research group found that over 60% of residents want to see that an apartment community responds to reviews, as it showed the management and leasing teams were staying on top of and actively addressing residents' concerns.
Of course it's easy to thank someone for leaving a positive review. Reading and responding to a negative review, however, is sometimes uncomfortable.
Learn more about how to respond to negative reviews here.
5 recommendations we have when dealing with unsatisfied customers include:
Don't invalidate their complaints.
Don't be rude.
Don't be accusatory.
Do be empathetic.
Do be helpful.
If for some reason you feel somebody left a fraudulent review, you do have the ability to report a review. Regardless, it always helps your cause to respond to all reviews.
Conclusion
At this moment, residents are conducting more searches for available apartments within their specific locale. This reprioritizes the need for communities to maintain a strong local search presence in order to stand out amongst their competitors.
An active presence on Google My Business will help improve a community's ranking within navigational apps, which is where many potential residents are going to discover and choose an apartment community locally. Additionally, with reviews being heavily weighted within local search platforms, managing your community's online reputation is also vital.
RentVision's dedicated team of Marketing Advisors can guide you through the competitive world of Local Search Marketing, and help you build a Google My Business page that's optimized to bring more visibility to your community. To set up a time to meet with one of our experts, schedule a free consultation by filling out the form below.