Google Ads is a paid service that allows you to create digital advertisements that appear both in Google searches and across the internet through Google remarketing ads.
It can help you get in front of people who are looking for exactly what you have to offer. Not only do Google Ads get in front of the right people, but they get you in front of the right people at the right time. Google doesn't charge you to run ads, and it doesn't cost if someone views the ad—it only costs when someone actually clicks on the ad and visits your website.
In terms of what we offer with our digital marketing strategy, there are four types of Ads campaigns we could use, depending on your community's goals and your budget.
Our goal is to begin with the most qualified traffic possible and focus your budget there until we hit that campaign's daily budget. With the extra money left in the total budget we are able to broaden the scope of the campaigns to drive more traffic to your community.
Defensive Campaigns
The first and most foundational is your defensive campaign. The goal is to help defend your community's name, so that the first thing someone sees when they search for you is you.
Here, you can see that, when someone searched for Elements of Belle Rive Apartments in Jacksonville, Florida, an ad for the community appeared in the very first position on the page.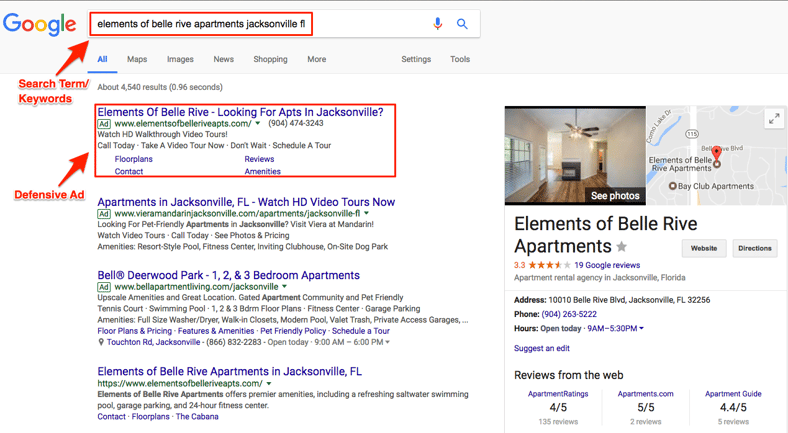 This is especially important because we often will see listing services or competitors use your name to bait people onto a site other than your own, like two of their competitors did here. This is one of the most important campaigns we'll focus on to make sure your warmest leads are going to your website.
The data backs this up as a strategy too: Websites that have an ad and top organic spot on a search result page enjoy a click through rate nearly 10xs higher than that of websites who only have an ad or only have an organic search listing.
Competitor Campaigns
The second type of campaign we use are called competitor campaigns. These campaigns allow an ad for your community to show up in the search results when someone searches for a community down the street from you who maybe has similar prices, amenities, or product.
We think of this as today's version of standing in your competitor's clubhouse handing out flyers for your community. This can be a very effective way to find people who are looking for something similar to what you offer, but who maybe didn't know that you existed.
If the competitors in your market change, please notify your Marketing Adviser so we can help in updating who you're targeting.
Offensive Campaigns
There are two different types of offensive campaigns. The first is actually the competitor campaign we discussed above. The second type would be keyword campaigns like "Pet-Friendly Apartments" or "Apartments Near West Little Rock, AR".
What kind of keywords do we target in these campaigns? It's not the ones you might first think of. The common thought in our industry is to get in front of as many people as possible—so buy ads on major search terms like "apartments in houston" or "apartments in dallas," right?
Unfortunately, that strategy doesn't work very well. When we do that, we may end up in front of people who aren't qualified leads (wrong price point, wrong part of town, doesn't accept pets, etc) and end up wasting both your time and theirs.
We've found that someone searching for something as broad as "Apartments in St. Louis, MO" is at a point in their search where they still may not be aware of what it is that they want.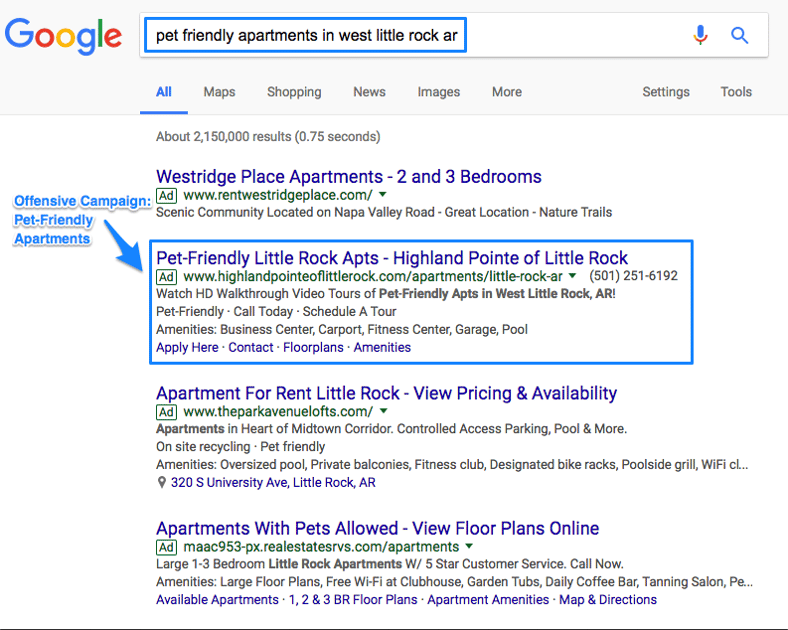 Targeting broader keywords such as these come into play in your marketing strategy after you are showing up in front of the much more qualified traffic we'd discussed above, such as those looking for you by name, or those searching for your competitors.
When we have a larger budget to work with and you are need of a greater volume of traffic, we are able to begin targeting those looking for those broader keywords (ie., Luxury, Pet-Friendly, or Affordable)
Remarketing Ads

The final type of campaign would be your remarketing ads. Essentially, when someone visits your website they will get cookied, just like they do everywhere else on the internet. This means that the website leaves a bit of code on the browser used to access the site which then allows that website to follow the user around the internet as they browse.
If you have remarketing ads set up, you can advertise to these people on other websites. When they leave your website to go elsewhere on the internet, they will see picture ads for your community over the next 30 days, reminding them of that apartment search they already started. Most people research multiple communities when looking for their next home, so if we can be the ones to get back in front of them over and over again, they'll be a lot more likely to think of you first when they pick up that apartment search where they left off. This builds something of a subconscious level of trust, as your prospective residents become more familiar with your name after seeing your property repeatedly.
Conclusion
Keep in mind that the traffic packages we offer are very fluid. You're able to move up and down any given month based upon the community's needs at any point in time. We understand that the traffic you need at 75% occupancy or in a lease-up is a lot different than the traffic you need when you're completely full with a waiting list.
This is part of the reason we at RentVision see ourselves as your marketing partners. You are not simply paying a fixed rate for the same service every month. Instead, you are working with a team of experts who understand that things change at every community and so marketing tactics need to change too—and sometimes quickly. So as your needs change, we adjust your plan so that you're not spending money you don't need to spend. This not only saves you money; it makes your leasing teams more efficient. Happy leasing!