Apartment websites are best understood as an extremely effective marketing tool that allows potential residents to learn about your community before contacting your leasing staff—providing your staff with higher quality leads.
But if your community website is going to become that kind of leasing tool, you need to design an effective website that helps prospects qualify themselves and make purchasing decisions.
This is why you need floorplan landing pages.
Any effective business website needs to understand its customer and what that customer wants. In multifamily, our customers are apartment residents and what apartment residents care about most is what their apartment is like. In fact, 87% of the time, the second website page visitors view is a floorplans page. Prospects care about floorplans, and good apartment websites make it easy to learn about individual floorplans.
Oddly, this is something that many in our industry still haven't figured out. The standard design for most apartment websites still has a single page for all the floorplans, a separate page for photos, and another separate page for amenities: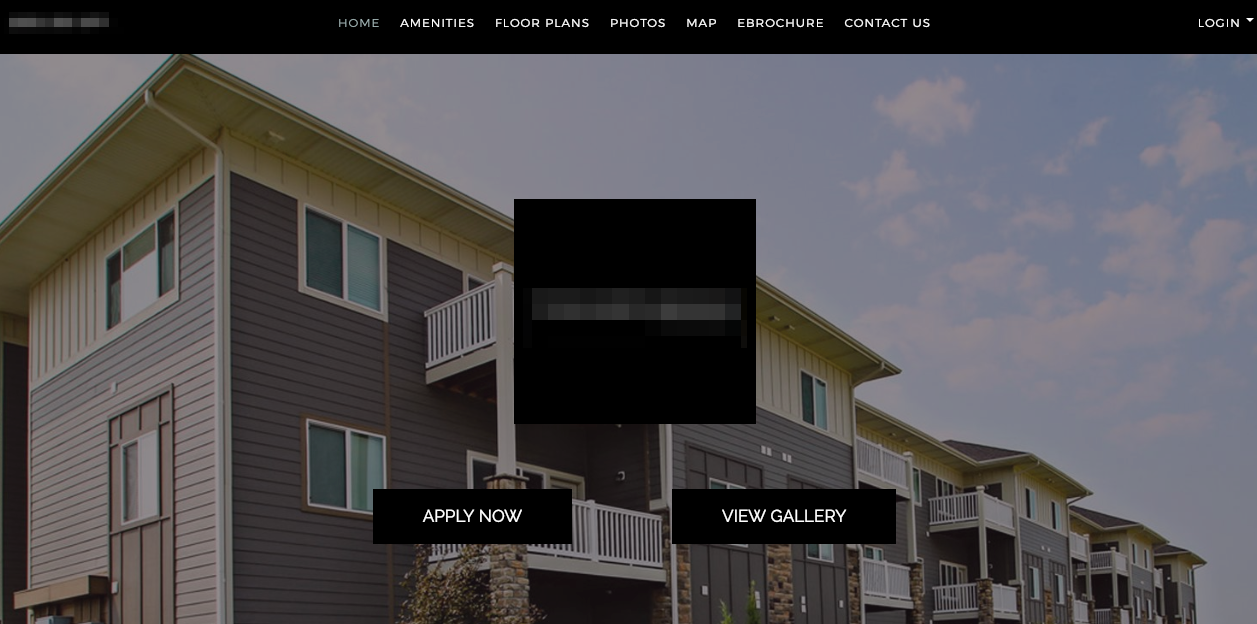 Of course, from the perspective of someone in the industry, this makes a certain kind of sense. They are thinking in terms of the entire apartment community and they can break that community down into floorplans and amenities.
But this is the wrong way to make decisions. Website decisions should be based on the buyer's perspective, not management's perspective. The site isn't for you; it's for your prospects.
Prospects have a different set of needs. They don't necessarily care about the community; they care about their apartment. So, what do you need to have to maintain successful floorplan landing pages? What goes into making an apartment website that prospects will love to visit?
1. Give prospects floorplan-specific content.
Most of the marketing content on apartment websites is community-specific, but not floorplan-specific. So, the shopper knows that the photos we see and the amenity listings apply to the community, but they don't know much about the specific floorplans.
A prospect might see a photo of an apartment that looks really great—but they don't know which floorplan they're looking at. The only floorplan-specific content is typically a two-dimensional rendering of the floorplan—but that won't tell most people very much about what their apartment looks like.
What you need, then, is a page for each floorplan that features photos and a walkthrough video tour, specifically showing that particular unit. This takes the uncertainty out of the equation for the prospect. They know exactly what the floorplan looks like, which helps them to feel more confident about whether or not they are interested in leasing it. This means that the bad leads can disqualify themselves while good ones will be more engaged when they call the leasing office.
2. Use prominent calls-to-action.
If someone who needs an apartment is already on your website and is engaged in the buying process, this means that there was a step before they got on your website—likely doing a search on Google or browsing Craigslist. Hopefully, there will be a next step after they look at your website. But what will the next step be and how will your prospects know what the next step is?
That's where calls-to-action come in. You need a way of making sure your best leads do what you want them to do once they've seen your page and decided they want to learn more. In this case, you want them to call your leasing office and set up an in-person tour. The best way to do that is to use what's called a call-to-action. A call-to-action can be anything on your site that helps prospects know what action to take next. The best CTAs for apartment websites are prominent places where your phone number is listed or, on mobile, a push-to-call button is located.
The benefit here is that it makes it incredibly easy for prospects to find your community's leasing office number and call the office,— which is what you want them to do.
3. Share relevant information about the floorplan.
Think about the things you'd want to know about an apartment when trying to find your new home. Obviously, you want to know the number of bedrooms and bathrooms, square footage, etc. You also probably want to know about pet policy, washer-dryer, parking, and kitchen amenities.
All of that information needs to be included on the floorplan page. You don't want to make people go from one page to another to another, simply to learn the most basic facts about the floorplan. Make it simple. Keep all of that information together and on the floorplan landing page.
4. Keep distractions to a minimum.
If you want prospects to use that page to learn about the floorplan, don't put tons of extraneous content on the page. They don't need a PDF of the lease or a long FAQ about residential agreements. They also don't need lengthy descriptions of the neighborhood, or tons of resident reviews that you have published on your own site, which aren't particularly trustworthy in the eyes of a prospect anyway. Give them a walkthrough video and great photos. List the amenities. Give them the price. Make sure the phone number is prominent. And that's all. Don't do loads of extra work and don't put extra information on the page. Keep it clean and make it simple for prospects to learn about your community.
Conclusion
Multifamily is a unique industry in many ways, so drawing comparisons between what we do with our websites and what other industries do with theirs is complicated. If I go to a restaurant's website, I'm not looking to buy; I just want information like the office hours, menu, etc. But, if I go to Amazon I am specifically wanting to make a purchase.
The multifamily experience online should be closer to the Amazon example than it is to the restaurant example. Why? Because most of the key questions about a multifamily product can be conveyed online, and apartment shoppers can go some distance toward making a purchasing decision using the information they find.
Restructuring apartment websites to have floorplan-specific pages with floorplan-specific photo and video is a step in the right direction. It makes the shopping experience easier for the customer and gives your leasing team better leads. Simply put, there is a very good case to restructure your community website along these lines because of how it will better serve your customers.