Apartment marketing on Facebook is a perennial topic of interest in our industry these days and it's easy to see why. Facebook has 1.65 billion monthly users, 1.51 billion mobile users, and 1.09 billion daily users. 72% of online adults have visited Facebook in the past month. In the USA and Canada alone Facebook has 152 million users. All of this adds up to a massive social media company that has a larger audience than any of their rivals.
That being said, one of the challenges with coming up with apartment marketing ideas for Facebook has always been that Facebook's primary value--helping people stay in touch with friends and family--isn't necessarily easy to monetize in a way that is obviously beneficial to businesses. Put another way, people don't really use Facebook intending to conduct business, find jobs, leave online reviews, etc. Obviously Facebook could be used to do all those things, but that's not the way most Facebook users came to Facebook and so it's usually an awkward fit for marketers.
This is particularly a concern in the multifamily industry where Facebook can become an enormous time suck for already-busy leasing staffers and marketing directors. So the first thing we need to say about Facebook apartment marketing is that your primary focus as a multifamily marketer can't be Facebook.
It needs to be generating organic search traffic, pay-per-click advertising, and maximizing your reach through Craigslist. But if you're doing that already, Facebook can be a good way to supplement that work.
Post community photos in albums organized by floorplan.
Realistically this won't be the first place people find you--that'll be Craigslist or via paid or organic search--but if they do end up on your Facebook page, it's a good idea to have one more way for them to see your floorplan-specific photos. So create albums for each of your floorplans and make sure those are easy to find on the Facebook page. The screen captures below show how this ought to look on your Facebook page.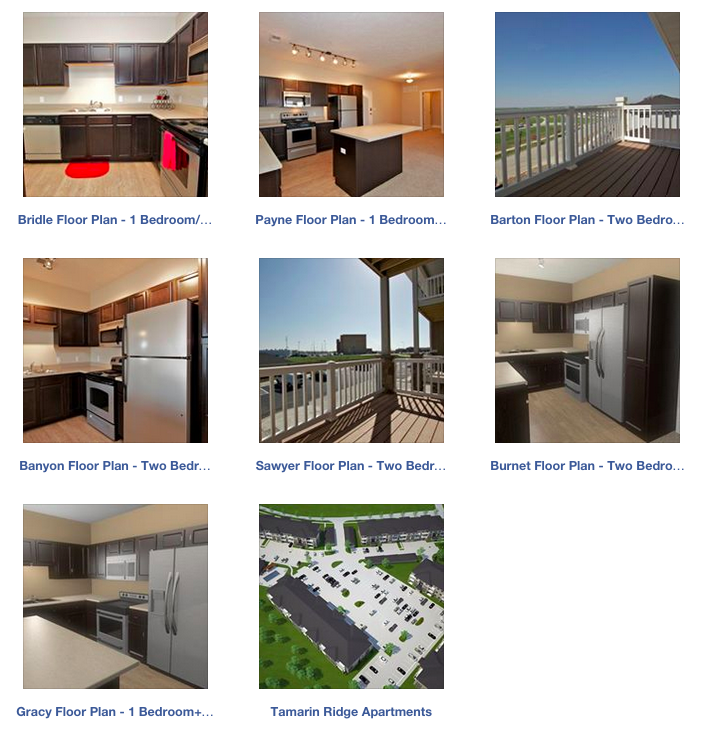 The upside to sharing these photos on Facebook, in addition to simply making them available in one more place, is that it's also easier for prospects or residents to interact with them--to like them, comment, share, etc. This probably won't happen that regularly because, again, most people aren't using Facebook to interact with brands. That said, it's a notable point that Facebook makes it easier to interact with specific individuals than, say, Craigslist or Google AdWords.
Promote community events on Facebook
If you have a big event coming up, whether that's a Super Bowl party or Labor Day cookout or something else entirely, you can use Facebook to promote the event. Invite your residents and allow them to invite friends--at the very least you'll have a fun event and you could also get some new likes on Facebook and maybe some new marketing leads if any friends that show up are looking for an apartment.
To create an event, you'll need to start by clicking the Events button on the left side of the screen in your News Feed:

Once you've done that, you'll be on your Events page. Click the "+ Create" button in the top right corner to create a new event: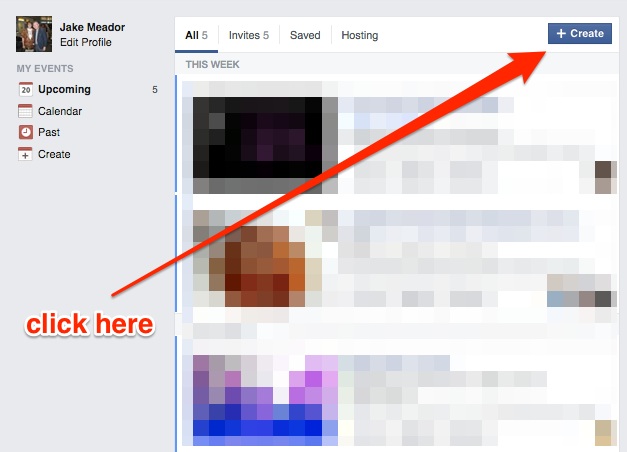 Clicking that button will create a popup dialogue to create your new event. You'll need to fill in relevant details and choose what people to invite. Once you've done that, your event is up!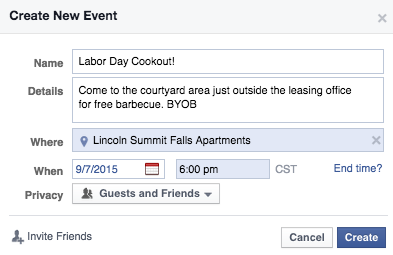 Use Facebook Advertising to Promote the Page
You can set up ads to display in the News Feed or on the right side of the page and you can also set up ads that will display only to people who have liked your page, only to friends of people who have liked your page, or even to people who have visited your community website. The screen capture below shows one defined audience for an ad for an apartment community in Lincoln. In it we limited the ad to people in a certain location, a certain age range, and who had a particular connection to the community--they were friends with people who had liked the page. But note that you could also limit the ad's range by gender, language, income level (possibly useful for luxury communities or tax credit communities), behaviors, and much more.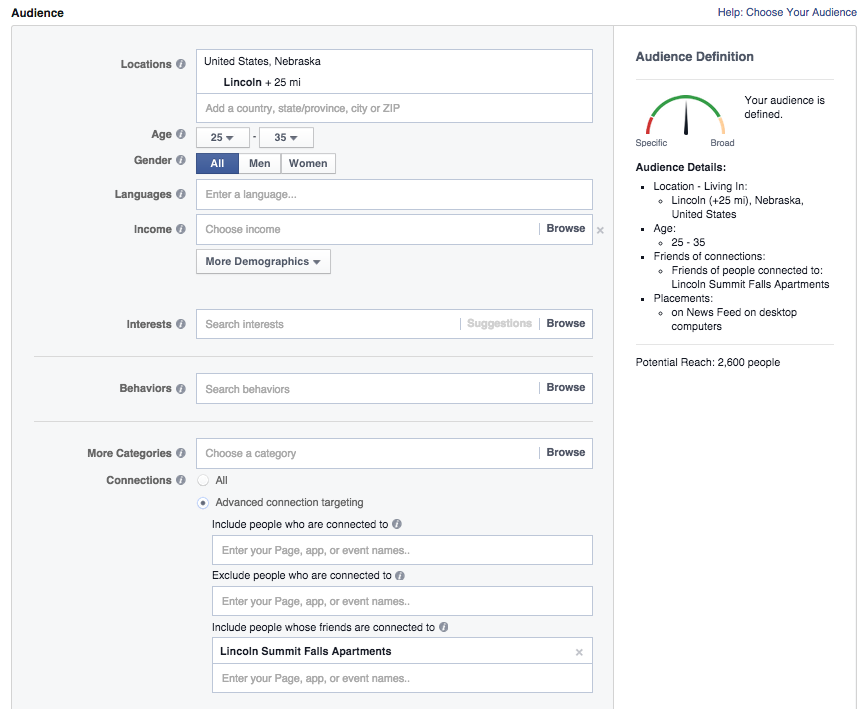 If you do use Facebook advertising, be sure to keep a close eye on it. Your ad spending can ramp up quickly and if you're running an inefficient ad you need to figure it out and adapt before you end up wasting marketing dollars on lousy ads.
Complete your business listing profile.
This is basic, but it's surprising how many communities forget to complete their profile. This is essential for multiple reasons. First, you need your name, address, and phone number information to be consistent across the web. If your Facebook information is different than, for example, your Google My Business listing, Google will look at that and say "this business listing isn't trustworthy," and won't show it.
Thinking about the future, if Facebook continues to develop their own business listing service then this information could also become more important internally within Facebook's own business listing system.
When you create your Facebook page, make sure you fill out all the relevant information--community name, address, phone number, business category, Facebook URL, and so on. The screen captures below show how to do that:
To begin, go to your home screen while logged into the community account. (You'll need to be an administrator on the account to do this.)
First, note that you change the cover photo and profile photo simply by clicking the transparent camera graphic that I've marked with red boxes below. To change other data, you'll need to click the About button.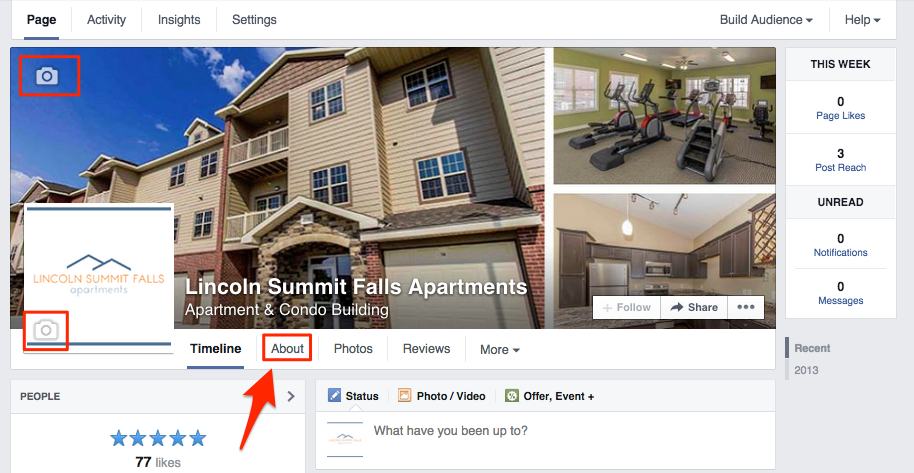 Once you're on the About screen, you'll need to click the Page Info button on the left side of the page.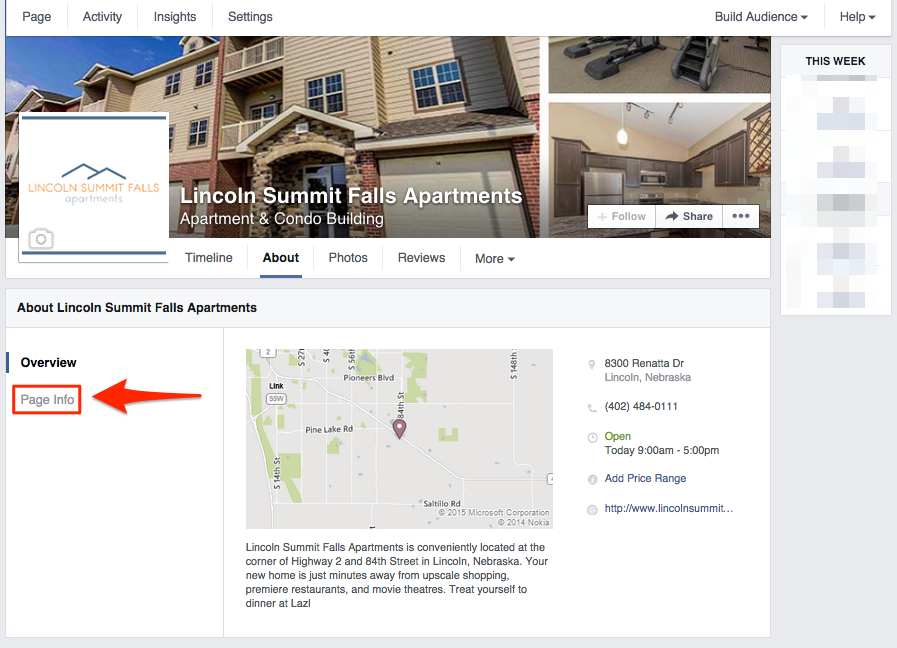 Once you've done that, you'll see all of the different fields you can edit when creating or editing your Facebook business listing. To do that, simply click in the field that needs to be edited and enter the appropriate information. We've indicated where to click with red rectangles in the screen capture below: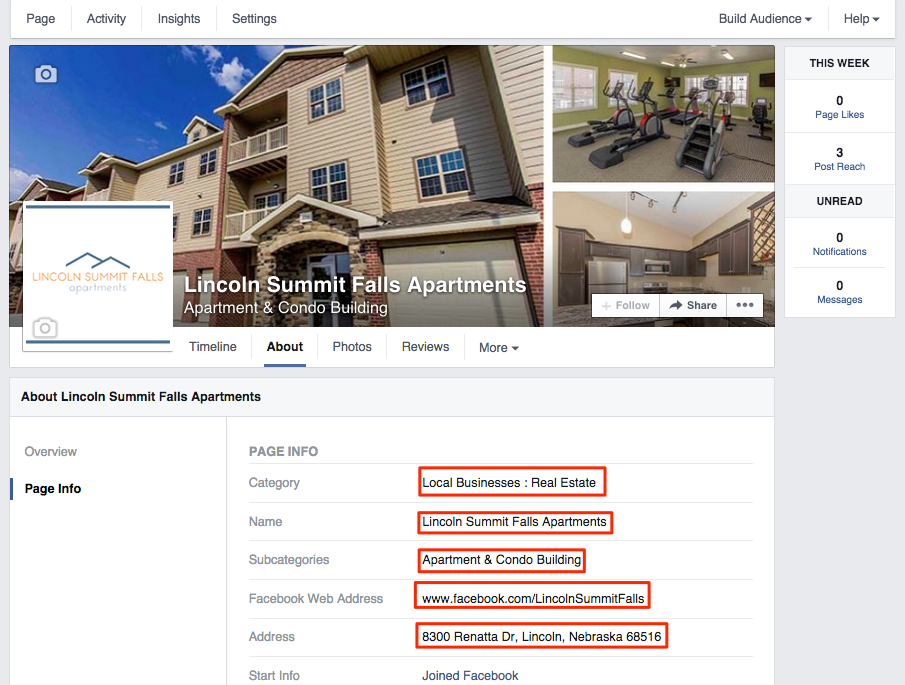 Set Realistic Expectations
The final key is to set realistic expectations for your Facebook page. Do not go into this expecting to instantly start raking in the leads with Facebook. Google and Craigslist are the traffic kings in our industry. Using Facebook is about supplementing your current traffic and also being prepared for the future should Facebook ever become more of a player in local business listings.
Conclusion
If you have more questions about Facebook, Facebook advertising, or local SEO feel free to ask in the comments below. Thanks for reading!