We talk a lot about floorplan landing pages and their importance for a community's online marketing strategy. That said, sometimes these conversations can seem a little abstract. If you haven't done some of this stuff yourself, it can be hard to picture how video tours fit on the page or how you pack all the information onto one page. So today we're going to simply walk through what a successful floorplan landing page ought to look like.
First things first, what is a floorplan landing page?
In web marketing jargon, a "landing page" is any page that a person might land on when looking for your website. Specifically, it's a page that you would link to in ads, sitelinks, or social media to help people navigate to a specific place on the website.
So when we talk about floorplan landing pages, we're talking about pages on your site dedicated exclusively to specific floorplans in your community that prospects can navigate to via ads, social media, organic sitelinks, or by navigating through your community's website.
One of the unfortunate things about our industry is that a lot of community and corporate websites are not designed with floorplan landing pages. The most common structure we see on apartment websites is to have a home page and then an About/Contact page, a Floorplan page that shows blueprints for all the floorplans, a photos page (that occasionally also has a video or two on it), and an amenities page.
What we're proposing with the floorplan landing page is to collapse the floorplan, photos, and amenities pages into a single thing--separate pages for each of your floorplans. So the total number of pages is going to be about the same, but you've organized them around your floorplans rather than around the community. (In other words, you've moved from a business-centered organization to a customer-centered organization.)
What a Good Floorplan Landing Page Looks Like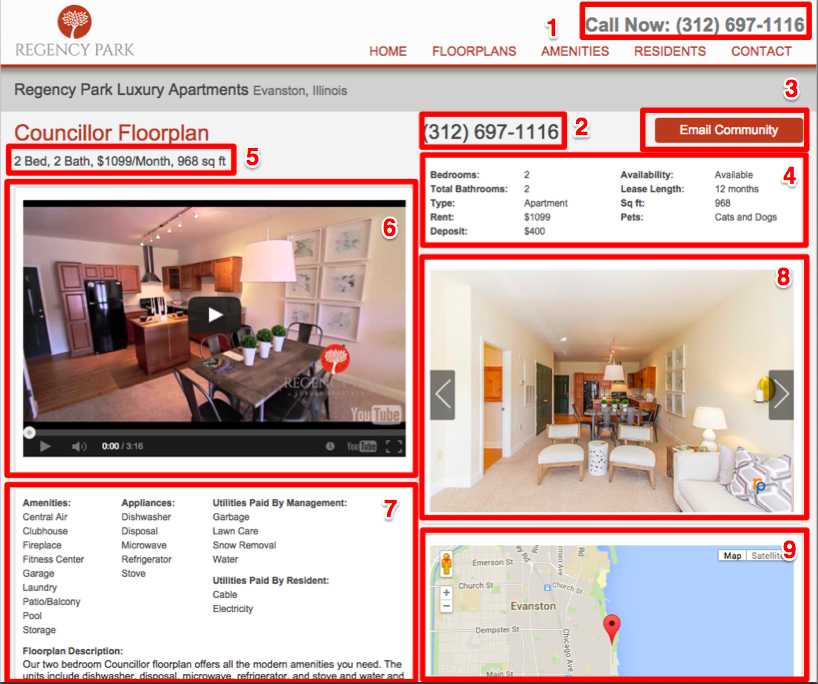 The above is a marked up version of a floorplan landing page on a demo site.
1. Call-to-Action in Top Right Corner
The first thing to note is that the phone number for the leasing office is prominently listed in the top right corner of this website. That call-to-action is found on every page of the website. The goal is that a prospect can easily find out how to contact the community at any point during their time on the website. The harder you make for a prospect to do a specific thing, the less likely they are to do that thing--so if calling the leasing office requires them to find a contact page, they're less likely to call. By putting it on every page, we guarantee that they can always find the phone number.
2. Call-to-Action on Floorplan Page
That said, sometimes when a person is browsing a specific page, they start to zone out what's going on in the menu at the top. So we also include the phone number in the top right corner of the floorplan part of the page so that users have another place where they can locate the phone number. The basic idea is that including the number in multiple places doesn't hurt at all--at least not on this scale--and it can be really advantageous.
3. Email Call-to-Action
Though all the data we've seen suggests that phone leads outnumber email leads by some margin, including a link that allows prospects to email the leasing office does have its advantages. First, some people prefer email to the phone (I do). Second, email leads are easier to track, so you can also use email leads to learn a fair amount about your web marketing strategy. (That isn't to say phone leads can't be tracked as well--but tracking email leads is a bit more straightforward.)
4. Floorplan Information
Obviously the main thing prospects want to see will be what their potential apartment actually looks like. So the photos and video are really important. That said, they also need to know how many bedrooms and bathrooms there are, roughly how large the apartment is, what the rent and deposit are, and--don't forget this!--what the pet policy is. So you want to have a place on the page that allows them to quickly learn all those specific facts. This absolutely can't be the only thing on your floorplan page, but providing these quick, specific pieces of information is very important.
5. More Floorplan Information
The logic here is basically the same as the logic on number two above. You want to provide a few different places for specific pieces of information to be listed in order to make it as easy as possible for prospects to find what they're looking for. Obviously you can overdo that, but in our experience most communities err on the side of under-emphasizing certain pieces of information. We still see lots of communities that do not include the phone number on the floorplan page and some that don't even include rent pricing. So don't make that mistake--make the information easy to find and self-serve.
6. Video Tours
The video tour is one of the most dominant elements on the page and for good reason: Prospects want to know what their apartment looks like, and the video tour will tell them. Again, the goal is to make the information easy to access, so by placing the video tour right next to the information given in number four, it becomes even easier for prospects to find out what they need to know about a given unit.
7. Amenities Information
Amenities information is important to include because it reduces the amount of work prospects have to do to when researching on your community website. This allows prospective residents to find out other pieces of information they might want to know that isn't specifically about the floorplan or is not covered in the floorplan information box described in number four.
8. Floorplan Photos
One of the biggest problems with how most apartment websites are designed is that the photos and floorplan pages are separated--and usually the photos aren't labeled by floorplan. The net result is that even when a community does have floorplan photos uploaded to their site, it's usually not possible to figure out which floorplan is being posted. This is bad because it means the photos are less useful to prospects and it sets up prospects to be disappointed on their leasing tour--they might see a floorplan photo that looks great on the site and assume it's the unit they'll be seeing, only to be disappointed when they enter the unit. If you want to avoid disappointing a prospect on the tour--and you should--then make it easier for them to know exactly what the unit looks like by posting photos of the floorplan and indicating what floorplan is being shown. The best way to do that is with floorplan landing pages, but if you don't do that at least label the photos by floorplan on your Photos or Gallery page.
9. Map
This is the final point but it's also an important one--by including a map on the page you make it very easy for the prospect to figure out exactly where your community is located. And if you do it via mapping software from Google or Yelp, then your map on this page will also be connected to your business listing on that service--which they can use to get directions to your community and to learn more about it by reading user reviews.
Conclusion
As we said above, the main idea is to shift your web design from a business-centered mentality to a customer-centered mentality. By using floorplan landing pages, you are creating a website that is easier to navigate, provides relevant, readily accessible information to prospects, and encourages them to contact your leasing office. If you have questions about how this works in practice, feel free to ask away in the comments!