Our intention in designing websites that emphasize visual content, such as walkthrough video tours, is to allow apartment seekers to make decisions without needing to drive anywhere. While your online presence is pivotal, it isn't a complete replacement for the work your leasing agents also do when highlighting your apartment community during in-person showings. They're meant to work in tandem together.
In this blog, we describe the leverage (and power) your walkthrough videos have before, during, and after in-person showings.
Before A Showing
There's a strengthening trend within the multifamily industry of inbound rental searches coming from IP addresses outside of an apartment community's area. The city of Denver, for example, saw 48 percent of its searches for available apartments in 2019 originate from seekers who reside elsewhere.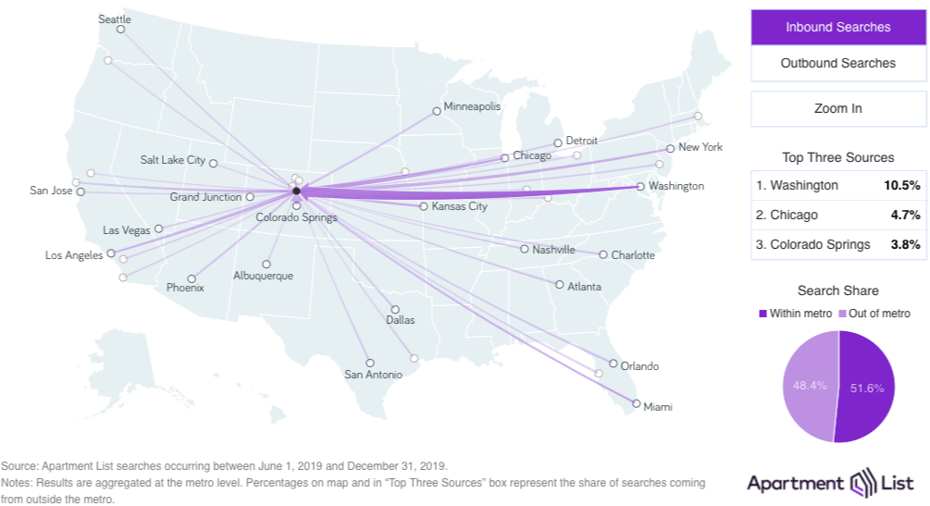 That pattern suggests there's a strong possibility many of your potential residents may not be able to conduct an in-person showing until their move-in day. Their only access before making a decision to rent could only come via a walkthrough video tour, which is why they're so important to have on your community's website.
If a prospective resident calls wanting to learn more about your apartments, instruct your leasing agents to direct them to a walkthrough video tour on your website while they're on the phone. This will allow your agent to answer any questions they may have right away, almost completely replicating the same experience as an in-person showing. This is worth doing even if the caller has the ability to come see the apartments for themselves that same day.
The walkthrough video tours can also be considered a failsafe for those times when a potential resident is asking for you to stay late and conduct a tour when that doesn't work with your schedule.
During A Showing
There are times when not all decision makers are present during the time of an in-person showing. A potential side effect of this is having to schedule a second showing. Your leasing agent's time is precious, and shouldn't be wasted by having to book multiple showings for the same lead.
This is where online tours can have an important role even during an in-person showing. Consider allowing the missing stakeholder to get on the phone before the showing is over to have them see a walkthrough video of the floorplan you just showed. That could allow the present stakeholder to stay and immediately begin the leasing process, thus leading to a better conversion rate.
We also know that there are times when the in-person showing just isn't going as well as expected—and that's okay. Use those moments as an opportunity to show a walkthrough video from another one of your properties. They may find a home that better fits their needs, and it also results in a win for your company.
After A Showing
One could assume that, after both a virtual and in-person showing, walkthrough video tours don't carry as much weight as they did earlier in the process. However, we believe that there's a couple of really effective ways to still utilize the videos after the showing.
First, get into the habit of sending follow-up emails to prospective residents with a link to the walkthrough video of the floorplan you showed them. Since most apartment searches are short and competitive, this practice will help keep your community top of mind.
Secondly, encourage prospective residents to share your walkthrough videos with non-stakeholders, such as family members or friends. Even though they're not planning to live at the apartment, they too want to make sure the potential resident will be happy and comfortable in the place they plan to live.
Conclusion
Walkthrough videos don't replace in-person tours; instead, the two are meant to work in tandem together when marketing your apartment community to prospective residents. The videos are useful and have leverage before, during, and after in-person showings. Using them effectively during the leasing process will result in better conversion rates, while also saving your leasing agent's time.