With the winter season approaching, many apartment communities are about to experience a significant slowdown in their leasing velocity. The reason is fairly obvious: residents simply don't want to move when the weather is cold.
Communities are affected by this slowdown in varying ways. On one hand, communities with a lower vacancy are sitting in a solid position heading into this time of year because their supply is small enough to meet the diminished demand. On the other hand, communities that have a lot of leases expiring over the next couple of months, or had too many units left unoccupied from the busy leasing season, are in danger of falling into a vacancy crisis.
RentVision's website solutions can be used to prevent that.
Here's three ways you can optimize them for winter leasing:
1. Direct potential residents to walkthrough videos of available floorplans.
Over a decade ago, RentVision created the first series of walkthrough video tours of apartment communities, which is one of the most valuable marketing solutions we still offer to our clients. A walkthrough video lets potential residents tour a floorplan from a first-person perspective online without them needing to drive anywhere.
Example of a RentVision walkthrough video tour.
Walkthrough videos are beneficial during the winter for three reasons:
Weather is no longer an excuse to stop potential residents from seeing your available floorplans. With everything online, your floorplans are available to tour 24/7.

Listings with a virtual tour option reach more potential residents than those without them

. This is key for communities who are in need of excess demand in winter, and another example of why walkthrough videos should be prominently featured on your website.
Regardless of your occupancy, residents planning to make their move when the weather improves can still view walkthrough videos of your floorplans to inform their decision.
One thing we know about winter is that because demand is slower, any and all leads take on extra importance. They should be given every opportunity to know about what their living experience could be like in your community and walkthrough videos fulfill that purpose.
Plus, 70% of renters say they would be happy to rent an apartment before seeing it in person.
As it so happens, the survey cited above, took place during the 2020 COVID-19 pandemic—an event which created a seismic change in how apartments are marketed. With traveling restrictions in place, more and more renters required prospective communities to provide them with virtual options to see their future homes. Google Trends reported that the search term 'virtual apartment tours' peaked in August 2020.
While it might not have been as a result of a health crisis, we saw this trend coming when we began producing walkthrough videos all those years ago. And in the same way that walkthrough videos benefit communities in the midst of a pandemic, they're useful in wintertime, too.
2. Use the Request An Appointment tool to streamline your leasing process.
In order to maintain a strong leasing velocity in the winter months, especially if you're in the group of communities with a higher vacancy rate heading into them, your leasing process should be made to operate as efficiently as possible.
RentVision's community websites address this with a feature placed prominently on each floorplan page called the Request An Appointment tool. With it, prospective residents can select two preferred appointment times to meet with a leasing agent. These requested appointments can be held in-person, over the phone, or virtually depending on what works best for your team and the prospective resident. Another benefit of this tool is that you can apply a custom time buffer for your last appointment time available each day to ensure your staffing is set.
Potential residents have the ability to declare interest and set aside a time to meet with
your leasing staff using the Request An Appointment tool.
Here's how the Request An Appointment tool can increase your leasing velocity during the winter:
With it being strategically placed in a highly visible location on your floorplan pages, the tool serves as a call-to-action and prompts a potential resident to begin the leasing process upon first visit to your website. This could decrease the amount of time a lead's typical nurturing process lasts, which answers your need to fill floorplans faster.
We can provide you the option for this tool to be used to request virtual meetings (FaceTime, Zoom call, etc.), which eliminates cold weather as an excuse for why you're not converting as many leads as needed during the winter.
It essentially gives potential leads the ability to declare themselves as interested. Because demand is typically slower in the winter, letting leads set aside a time that works best with both them and a member of your leasing staff is a huge opportunity that can't be wasted.
A best case scenario, especially in the winter, is that a prospective resident interested in your community sees one of your available floorplans and immediately starts their leasing journey by using the Request An Appointment tool right from the web page.
As a refresher, here's how to use and customize the Request An Appointment tool in the RentVision Platform.
3. Create urgency by placing an announcement banner on the top of your homepage.
A new feature we quickly developed and rolled out as a response to the 2020 pandemic was the addition of an announcement banner on the homepages of RentVision corporate and community websites. Their intent was to give our clients the ability to let potential residents know about how they'd changed standard procedure during the health crisis, and highlight virtual touring and/or meeting options available to them.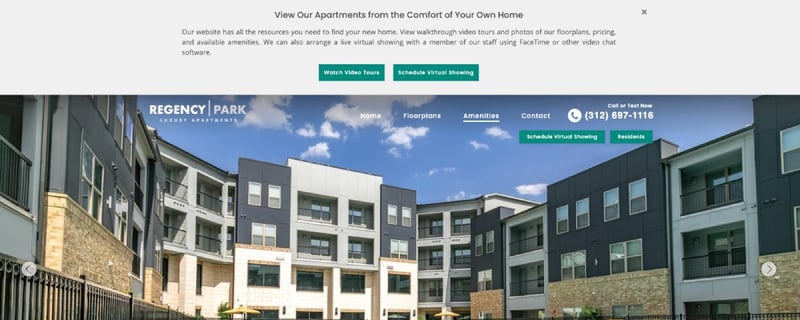 Example of an announcement banner on the homepage
of an apartment community's website.
Announcement banners are also really useful during the winter. If there exists a need to ramp up your leasing velocity because your supply is larger than your demand, you can use an announcement banner to highlight your walkthrough videos, or other virtual options, and create a sense of urgency. Because they're likely the first thing a potential resident will see when visiting your website, the content you feature in the banner can have a heavy influence on their search process.
Conclusion
It's hard to generate demand in the winter months. You could use the remainder of your annual marketing budget towards advertising, which isn't a bad play if the circumstances require it. But spending more on ads and then hoping to earn the right amount of traffic isn't the only way you'll survive the slower season.
You need to make your leasing process as streamlined as possible, especially in the winter. After all, leasing velocity and leasing efficiency work hand in hand. To maintain the right inflow of traffic, prospective residents should be able to easily see what their living experience would be like (walkthrough videos), get up-to-date information on leasing procedures (announcement banners), and have the option to meet with with a member of your leasing staff (Request An Appointment tool). Websites powered by RentVision have those solutions available.
If you're a client and want to add some of these features to your website, contact your Marketing Advisor now in advance of the winter leasing season. Or, if you're new here, we'd love to be able to meet with you to learn more about how we can help you achieve your marketing and leasing goals by filling out the form below.