Here are the latest ways RentVision is making renting your apartments easier.
The most significant change affecting our clients (and marketing professionals everywhere) is Google's transition from Universal Analytics to Google Analytics 4. We'll discuss how our services are changing alongside this transition, as well as other key updates that include:
The introduction of price strike-throughs for RentVision's revenue management users.
A series of custom content updates for your apartment community websites.
Update No. 1: Migrating our clients and services to GA4.
ICYMI...A significant marketing event just occurred as Google sunset its Universal Analytics platform on July 1, 2023. Essential online marketing data, such as your website traffic, user engagement, acquisition, and more, is now being processed through its new analytics platform, GA4.
If you're a RentVision client, we migrated your Universal Analytics accounts to GA4 for you.
What exactly is GA4? Here's a refresher on GA4 and its impact on apartment marketing.
But for a quick recap:
Google created this newer version of its widely-used Analytics platform to complement the increasing focus on Internet user privacy.
Rather than relying on embedded code on websites called 'cookies' that track every user's actions, GA4 provides marketers with a valuable picture of how visitors interact with their websites through 'events' instead, which can include user actions like opening a page or watching a video.
And moving to the 'events'-based model affects the most important data we're all familiar with.
Before continuing about the most direct impact GA4 has on RentVision's services, here's a complete breakdown of everything changing on our end with this transition. (Seriously, you should stop here and check this article out because it covers a lot of changes!)
To better align with events, we've upgraded how we measure ad performance to a new metric that better aligns with GA4, Cost Per Engaged Visit (or CPEV).
We ensure that your digital ad campaigns are the most cost-efficient at delivering the most qualified traffic to your websites, as that gives you the best chance at generating better leads and getting leases.
Historically, we measured campaign performance and automated spending using a metric we created called Cost Per Minute, which emphasizes the cost-per-click of an ad campaign and the amount of time the visitors originating from that campaign spent on your website.
(Typically, the longer someone is on your website, the more likely they convert to a legitimate lead with the highest intent of leasing one of your apartments).
However, Time on Site, as a standalone metric, is no longer reliable in GA4.
That's why we developed Cost Per Engaged Visit. In this new calculation, an 'engaged visit' requires a user to visit a certain number of pages on your community websites for it to count as an event (except if the user exits the website from the 'Residents' page; we don't want your CPEV metric to be impacted by current renters visiting the website to pay rent, request maintenance, etc.).
As was the case before with Cost Per Minute, the lower your CPEV, the better. And we are now using that metric to inform our predictive algorithms, which determine when and where to reallocate your advertising budget so that you're always getting the right amount of qualified traffic at the best price.
Update No. 2: Introducing automated price strike-throughs (for revenue management clients).
Displaying pricing on your community websites is essential because it's critical information every prospective renter needs to know before they apply.
Showing rents creates action—it's why every one of our clients with software integration can show up-to-date prices on their websites.
By now applying automated price strike-throughs for our revenue management clients, we're taking things to the next level.
Whenever there is a vacancy or Future Occupancy discount active, we will strike through that floorplan's total price and show the discounted price next to it on community and corporate websites (see example below).
Showing a price strike-through creates urgency, further incentivizing interested prospects to act now and take the next step in the leasing process—and getting you back in control of vacancy faster.
Update No. 3: New custom content modules for your websites.
Lastly, we've added a few custom content modules for community websites.
Upon request, you can add custom content on the 'Contact Us' page, like your community's Instagram feed.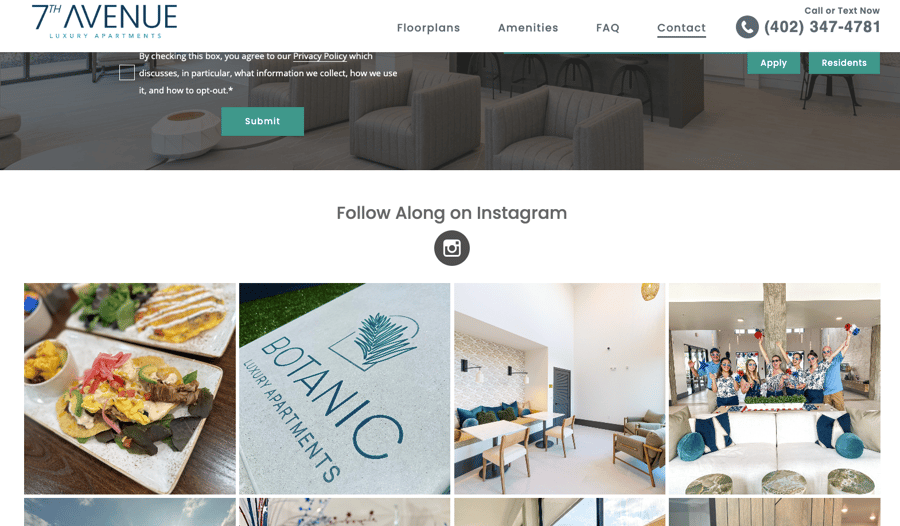 Or you can add custom content on your homepage, like reviews.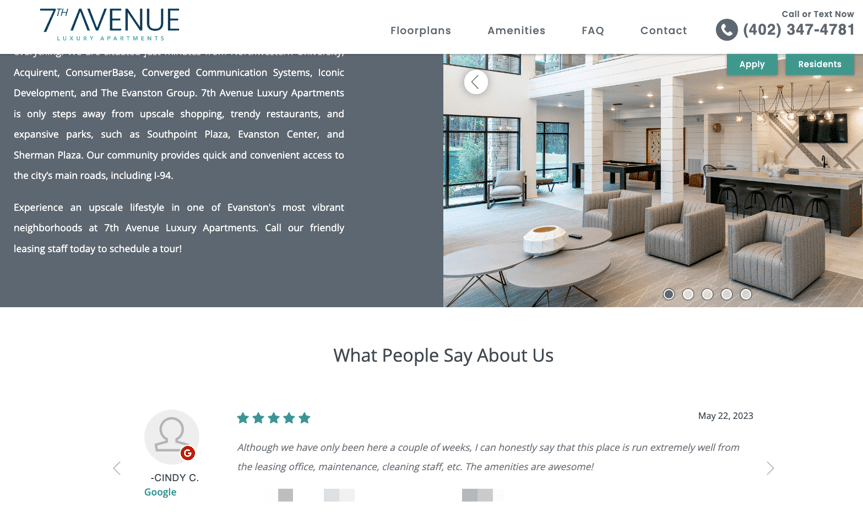 Both examples shown are a great way to provide necessary social proof to your websites, which helps prospects gain confidence in your apartments as the best choice for them because they can see what current/former tenants have to say as well as get a feel for what their living experience would be like in your community.
Conclusion
The latest RentVision product updates focused on effectively migrating to GA4 and enhancing website performance through custom content modules and automated price strike-throughs for revenue management clients.
Contact your Client Success Manager if you have questions about these updates or want to add them to your plan. You can also help us improve your experience with RentVision's products by completing this short product feedback survey. We'd love to hear from you!
Want to learn more about how RentVision can make renting your apartments easy? You can click here to schedule a demo.