There's one prominent feature on most apartment community websites that is more problematic than helpful.
And it's likely something most apartment marketers wouldn't expect or consider a problem.
It's the 'Gallery' page.
Now you might be thinking, "The Gallery page is the most important feature on my apartment's website." We're not saying that isn't the case.
In fact, a page featuring brilliant photography or videos of your apartment community's units and amenities provides prospective residents with some helpful information that will influence their decision to pursue signing a lease.
Video: The Top 3 Problems With Apartment Websites
What's wrong with a photo gallery page?
The photo gallery becomes a problem when it is the only page on your website that features quality visual content of your apartment community.
There's two significant issues with relying solely on a photo gallery page to showcase your apartments.
1. Gallery pages offer incomplete information and create confusion for prospective residents.
Many of the gallery pages we've come across over the years will have photos of a kitchen, living room, and bedroom mixed amongst photos of the clubhouse, pool, or gym.
The problem with randomly grouping together photos of your apartments like this is that there's no way of discerning whether or not those interior photos were taken inside of a 2-bedroom floorplan or a studio floorplan—creating unnecessary confusion for the viewer.
It also means that most gallery pages are actually missing important information. Which brings us to our second point…
2. Prospective residents want to see photos of the inside of a unit of the floorplan that interests them.
This is important because prospective residents know exactly how many bedrooms they need before ever signing a lease.
When the only visual content you have is a gallery page, you may not be providing them with an accurate depiction of the floorplan with the bedroom count they want. That could cause them to seek out nearby communities to see if their websites' let them see the inside of the units that actually fit their individual needs.
How do you fix the problem?
Present floorplan-specific content on your apartment website.
The real problem with photo gallery pages isn't the page itself, it's the lack of floorplan-specific content featured on your website.
Reorganizing your website so that each floorplan has its own dedicated page provides a clearer representation of your apartments than a gallery page can for prospective residents.
RentVision builds our clients' websites in a manner that prioritizes floorplan-specific content.
This is an example of what prospective residents see when they click on the 'Floorplans' option in the menu of an apartment community website built by RentVision. The page lists each of the floorplans at the community and features their walkthrough video tour, bedroom count, size, rent price, availability, pet policy details, and more.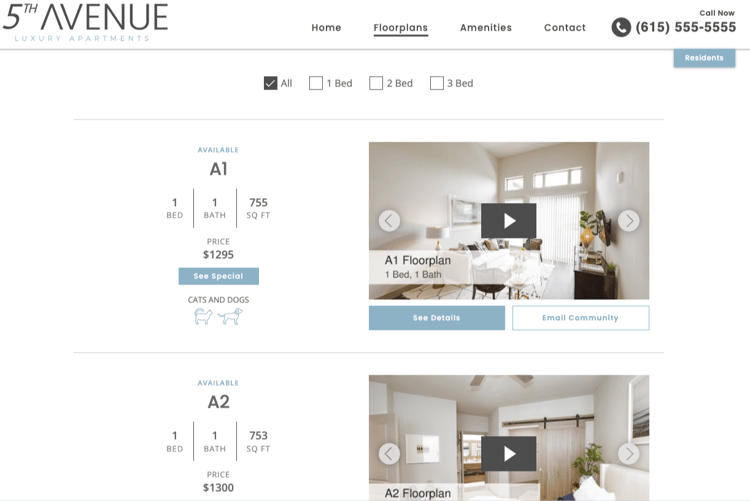 List of floorplans at an apartment community as featured on a website by RentVision.
Visitors are then able to click on the name of each floorplan to open its own unique page that gives a comprehensive overview from which prospective residents are able to gather all of the detailed information they require during their apartment search.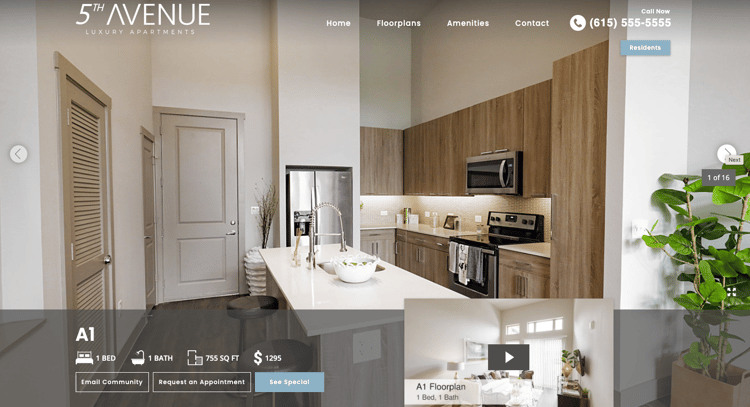 Example showing top of floorplan page as featured on a website by RentVision.
This is what a website visitor would see after clicking on the link to open the page dedicated to the Thompson floorplan at this community. At the top of the page is a photo scroller that features 14 images of that specific floorplan only—a much more effective and informative use of a gallery—instead of cobbling a bunch of random photos together on a single page.
Below the photo slideshow is a walkthrough video tour and links to contact a leasing agent, schedule an in-person showing, or view the current special of that floorplan.
Scrolling further, visitors can see more details regarding that floorplan, including rent, availability, pet policy information, amenities, appliances, and included utilities.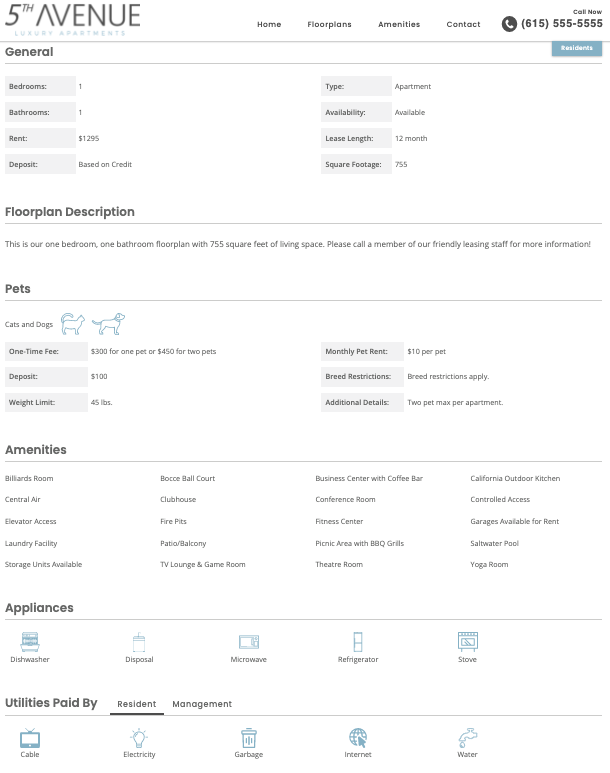 Example showing bottom of floorplan page as featured on a website by RentVision.
Regardless of whether you utilize RentVision's services or not, hopefully the examples above help you see the benefits of featuring photos on dedicated floorplan pages instead of a photo gallery page. Floorplan-specific content can significantly impact a prospective resident's search and their ability to engage with your apartment community's website.