In the past, we have published case study data looking at mobile traffic to apartment websites. Obviously there is always a lot of chatter in tech circles about this question, but multifamily often lags a bit in its adoption of new technology.
So while the business world in general has been talking about "the year of mobile" since the early 2000s, the multifamily scene has always been a bit slower to adopt mobile.
That said, mobile is now a big deal in our industry.
How big has mobile been historically in multifamily?
Here's the background. In the spring of 2014, we did a study of 35 communities and 56,812 website sessions. We found that from that sample size, 43.71% of all sessions came from mobile devices.
We updated those numbers about 18 months later for the fall of 2015. We observed a slight uptick, but nothing too significant: With a slightly smaller sample, we found that the number of mobile sessions had bumped up to 48.51%.
We are now almost two years out from that study and are ready to release a new batch of data. It is by some distance our most comprehensive study on this point and it tells a surprising story: We've hit the tipping point on mobile use in multifamily.
Mobile has hit the big time in our industry.
For this study, we looked at traffic to 75 community websites. We selected a diverse range of community types (luxury, c-level, etc.) and locations (southeast, southwest, midwest, urban, suburban, etc.). Overall, we tracked 823,446 sessions on these various property websites, all from the 2017 calendar year.
Of those sessions, 534,217 came from mobile devices. That is 64.88% of all observed apartment website visits. This is obviously a big shift from what we saw only two years ago. Simply comparing the raw number of visits, this is what it looks like in chart form: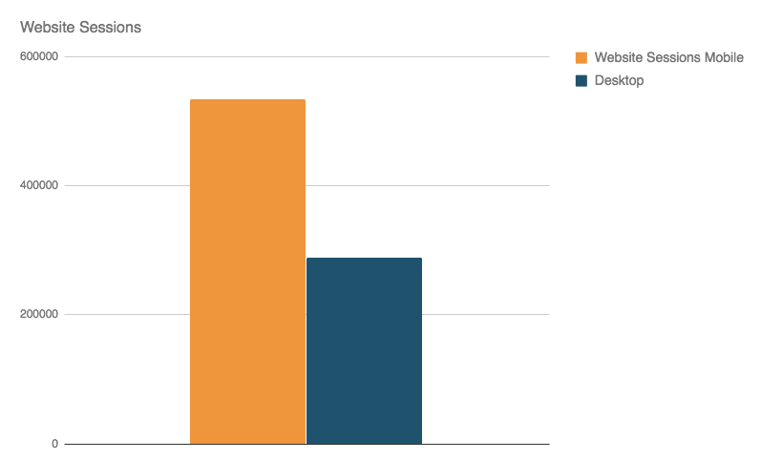 Further, that number is not inflated by a few communities with unusually high mobile numbers. On average, mobile accounted for 64.24% of all sessions to each individual community site.
Of the 75 communities we studied, only four had fewer than 50% of their sessions coming from mobile devices. In other words, 71 out of 75 communities got the majority of their traffic from mobile. In fact, for 56 out of 75 communities mobile sessions account for more than 60% of their total website sessions.
What does this data mean?
That's easy: It means you really, really cannot afford to have a bad mobile site. If these numbers are consistent industry wide, it would mean that a community with a bad mobile site may be giving 2/3 of their mobile visitors a bad web experience. Given that 45% of consumers say they wouldn't do business with a company that has a bad mobile website, that's a pretty big deal. If your site isn't mobile friendly, your community is missing out on residents. It really is that simple.
I'm a RentVision client. Is my site OK?
Yep! We've got you covered. Our mobile websites are focused around helping people do the things they are most likely to do while on their phone:
Call the leasing office.
Email the leasing office.
Get directions to the property.
Making those options particularly prominent and easy to access has, in our experience, helped produce more high quality leads.
Conclusion
The big idea here is not difficult: You need a good mobile site for your community. The majority, and in many cases the vast majority, of your website's visitors are coming in on a mobile device. If you aren't prepared to service them, you'll lose their business before they even talk to your community's leasing staff.
If you have a mobile site already, great! If you don't, talk to your development team about how to get one set up. And if you need help, please reach out to one of our advisers. They'd love to talk to you about how we can help you with this problem.