RentVision's development team recently completed a series of releases featuring new and improved tools for our clients to utilize on their community or corporate websites. These enhancements are intended to both aid potential residents' browsing experience, and allow our clients to highlight their offerings better.
In this week's blog, we'll review some of these RentVision site updates and discuss how they benefit your community.
Amenities Page
You now have the ability to reorder the sections of the Amenities page on community sites. Other than price and/or availability, amenities arguably are one of the most important things potential residents look at when deciding on their future apartment home.
By default, the sections on the Amenities page are in the following order: Amenities, Floorplans, Utilities, Pets, Community Description, Explore the Area Map. You can now rearrange these sections. However, it is not possible to remove sections completely.
Pet Policy
Another important part of apartment marketing is making sure your community's pet policy—regardless of whether or not you accept pets—is clearly visible and easy to find on your website, as it's another one of the first qualifiers many potential residents have.
The numbers speak for themselves as to why this is the case:
59% of renters say pets played an important part of their apartment search.
33% of renters said a community's pet policy was the deciding factor in whether or not they'd visit that community.
71 million U.S. households have at least one pet as pet ownership rates are rising nationwide.
It's for these reasons that we have expanded the pet policy section of our client's websites so that they can provide as much information to potential residents as possible.
Before, the pet policy section on RentVision sites had character limits that prevented our clients from clearly defining their community's policy. Now, you can provide more details about what pets are allowed, deposit and rent prices, weight limitations, breed restrictions, and more. Plus, we've provided an additional text field to allow you to enter any more specific details you desire.
This change will not only benefit your community's marketing but also have an impact on leads seeking more information about their furry friends.
Announcement Banners
When the 2020 Coronavirus pandemic began, we worked hard on developing a solution to help our clients highlight their virtual options and/or let prospective residents know of any changes put in place due to social distancing measures.
In a short amount of time, RentVision's developers designed new announcement banners for both corporate and community websites.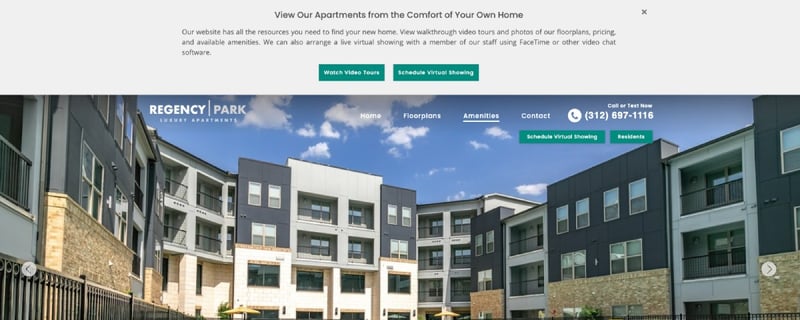 The benefits of announcement banners is that it allows you to direct website visitors to your walkthrough videos as well as schedule a virtual tour, all so they can visit your community from the comfort of their couch. This makes it clear to them that you're concerned for their health and respecting their wishes to remain safely isolated while conducting their search.
To our current clients: please contact your marketing advisor to get started in order to get this feature added to the homepage of your site.
Other Key Updates
We've made a couple of other noteworthy changes that affect our corporate websites. The first is a new testimonials slider module, which gives you the ability to showcase a positive review of your company. While it's not required, this module allows for a headshot of the person who gave the testimonial to be featured.
The module can be featured on any templated page, so you have the freedom to decide if it's something you want featured on the About, Team, and Communities pages, or other custom pages.
Additionally, we've improved the Team Page template on your corporate site so that your staff bios are more apparent. Before, bios only appeared if a user clicked on the headshot of one of your team members. Now, the bio will automatically appear when a user hovers the mouse of the headshot.
If you have a Residents page on your RentVision community website, you can now add the Our Team slider module to showcase your team's headshots.
Another major project that our development team has taken on is improving the accessibility of RentVision sites. This is being done through a series of updates that's ongoing, as we cannot claim full Web Content Accessibility Guide (WCAG) compliance. However, this effort is important to us because it falls in line with our company mission to consider others as more important than ourselves, and we believe all potential residents should be able to easily access your websites.
Conclusion
One of the key benefits of having RentVision as your marketing partner is that you're constantly on the front edge of apartment marketing. While other marketing vendors promise to build you a flashy apartment website for a huge, up-front price and then move on to the next project, we are constantly providing our clients with beneficial updates. In fact, many of the updates we've made to sites over the past year have been requested directly from clients.
If you're not a client of RentVision yet and want to learn more about our website solutions, we'd love to schedule a time to talk about how we can help yours gain more qualified leads and stay ahead of the apartment marketing game with constant upgrades.