As apartment communities around the U.S. start the process of reopening, property management teams are changing some of their normal procedures in an effort to help slow the spread of the virus.
Under certain conditions, communities are allowing residents to use their pool, gym, clubhouse, and other amenities. As a number of apartment seekers initially delayed their moves, leasing offices are now dealing with more traffic while simultaneously having to maintain proper social distancing and group size.
The multifamily industry progressed rapidly in a short time. The restrictions brought on by the pandemic forced many apartment communities to quickly adjust and change how they operate—transitioning to virtual tours, or accepting payments online only, are just a few examples. Though many parts of the country have loosened lockdowns, and a semblance of normalcy has returned, the processes that management teams initially adopted are now being considered the norm going forward.
Making sure that these new procedures are a part of your marketing message is the next step teams should be taking. Both current and potential residents need to be made aware of your community's new safety measures. In this blog, we'll offer some recommendations on how to incorporate these changes into your marketing plan.
1. Inform current residents of the changes within your community first.
While marketing plans are typically designed to attract and acquire new residents, this is an opportunity to use marketing to retain your current residents. As they are most immediately affected by any changes, they should be the first audience to target. Whatever new policies or procedures you're doing, you're doing it all for their safety. That's a message they need to hear from you.
How do you 'market' to your own customers? Here are three internal marketing campaign ideas you can run within your community:
Community-wide Email
This the first, and easiest to try. The tone of said email should absolutely reflect your team's concern for their health and wellbeing. In it, lay out all of the new community guidelines with specific details—hours of gym operation or pool time, limits to number of individuals in community spaces, package pick-up options, etc.
Mail
Another option is placing that message as a document in each of your residents' mailboxes. We recommend pairing this with your community-wide email campaign, if possible. If a tenant didn't receive or open the email, you're utilizing a secondary touchpoint in taking advantage of the mail.
Door Signage
Use the space available on each of your entryways to post signage that's consistent to the message of your email or letter. When a tenant wants to use the gym, he or she could easily read and understand the guidelines you have in place for it. Your guidelines should be easily visible throughout the property.
The content of your marketing message should clearly define your expectations of current residents, including what, if any, violations you've proposed for failing to adhere to your new policies. After all, you don't have the time of ability to enforce everything. Some may be opposed to swimming pool restrictions, or mask mandates. In your message to current residents, encourage them to look after their neighbors, and trust that they will do what is right under the circumstances.
In that same light, if you've shifted to online pay or are requiring tenants to drop off keys in a lockbox outside of the clubhouse, be sure that you're including those new practices within your message to tenants. Those are examples of safety measures that may become permanent. Now would be an opportune time to make that a part of your normal procedure—just make sure residents know before rent is due.
2. Post your safety guidelines in a highly visible location on your website.
Once you've informed your current residents of the new policies, you should then turn your attention towards spreading that message to potential residents.
To do that, you need to share those details on your community's website. Ideally, your safety statement and guidelines would be placed strategically on your homepage, whether that be through an external link via an image, or standalone page that can be accessed via the main menu. Work with your marketing and development team to make sure you're getting that message featured prominently online.
While most of the content posted on your website will be recycled from the same message you shared with tenants, you also have to keep in mind that you're now engaging with a different audience. You should include details that'll directly impact potential residents, as it impacts their decision to lease from you.
These details may vary depending on your specific situation. For example, if you're at the phase of reopening where you're comfortable with hosting in-person tours again, but only under safe social distancing measures with masks required, you have to make that clear on your website.
In the same token, you can't expect every apartment seeker to want to visit you in person. With many of the new virtual options you now have, spell out those alternatives in your messaging to website visitors so they're aware of all the options available to them.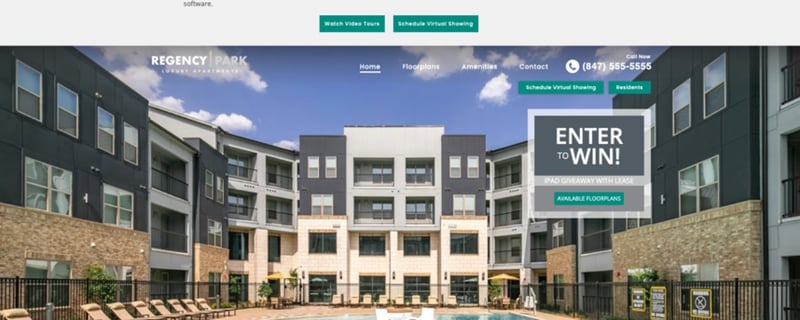 For RentVision's community sites, we developed an announcement banner feature that highlights our clients' virtual content, such as their walkthrough videos and floorplan-specific photos. Additionally, we've enhanced the appointments feature to give apartment seekers the option to request a virtual showing. Both of these features are highly visible, allowing website visitors to easily interact with them.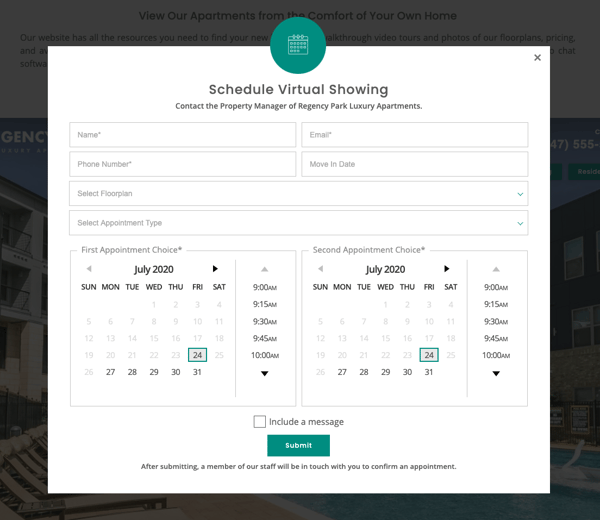 3. Include safety measures in all communication with potential residents.
If your response to the virus is well-positioned and laid out clearly on your community's website, then chances are apartment seekers will become aware of your new procedures. However, you just can't assume that when a lead reaches out to your team to learn more about your apartments, that they're knowledgeable of your business practice.
That's why it's very important your team to incorporate your new safety measures in every communication with potential residents. Whether the initial contact was established either by phone call or email, your leasing agents need to be clear and helpful about any new procedures that affect visits, move-ins, and more.
None of your messaging to potential leads should come off as prohibitive, either. Be willing to work with these seekers to make sure that you're doing what you can to help them with their search.
For example, if your team is still leery about hosting in-person tours, you need to communicate your alternative options—online walkthrough videos, virtual tours, Zoom meetings—so that potential residents still get the chance to learn what they want about your community. Otherwise, the lead may decide to choose another community because it was more accommodating during the search process.
4. Run a digital ad campaign that highlights your virtual content.
Once you've informed current residents, and subsequently posted information about your new procedures online, you can then begin directing apartment seekers to your website with a digital advertising campaign.
The purpose of this campaign shouldn't be along the lines of "We're here to protect your health", or "This is how we're stopping the virus". Your community is not trying to win a competition of being the best at dealing with a public health crisis, and statements like these aren't going to solve a potential resident's problem of finding an apartment home that fits their needs. Rather, your primary focus, as with any digital ad campaign, is simply to build awareness about your community and bring the traffic you need to your website.
In this instance, a smarter way to use your digital advertising is running a campaign that highlights your virtual options, including walkthrough videos, floorplan photos, and alternative touring options. You don't need to imply the health reasons, because everyone can infer why you're promoting online-only content.
With digital ads directing potential residents to your site, they can begin to learn more about your new procedures, as they should be communicated prominently on the homepage of your website via a banner or menu option. While new pool restrictions or gym hours may not be relevant to a seeker, they will want to learn more about your community, as well as what the process will look like for them to sign a lease and move into one of your units while safety measures are in place.
Conclusion
As you and your team plan on reopening your community in a safe manner, be mindful of how you're going to spread the word to current and potential residents alike. Clearly define what alterations are being made within your community, so that everyone knows what to expect, as well as what's expected of them. Being transparent is especially critical, as you want your tenants and customers to feel that you're taking these actions because you're concerned for their health and well-being. It's a message worth sharing, and one that you need to effectively communicate through your marketing plan.