This week's blog is written by RentVision CEO & Founder, David Watson. It's the second in a series of blogs detailing our digital ad targeting strategy. Read Part I here.
Cost-Per-Click. Bounce Rate. Conversions. Keyword Relevancy. Which metric is most valuable for evaluating how well your digital advertising campaigns are performing? If you have wondered about this, you are not alone. At RentVision, we manage millions of dollars worth of digital advertising for our clients each year. Historically, our Marketing Advisors have found it difficult to help our clients maximize their digital advertising campaigns, because each client would value certain metrics over others. Our Marketing Advisors also had differing opinions of what key metrics were most important. This growing debate caused me to pause last year and ask one question: What is the best way to evaluate the effectiveness of digital ads? The answer is surprisingly simple and profound.
Cost Per Minute (not to be confused with CPM)
None of the above four metrics are unimportant. In fact, they are all outstanding metrics! However, they fail to tell the whole story individually. You need to properly weigh each of those metrics to make the most educated budget decisions. At RentVision, we have combined those four metrics and created our own singular metric to measure digital ad campaign performance on Google and Facebook. With this one metric, you can get an accurate pulse on your digital ad campaign performance. We call this metric, "Cost Per Minute."
Cost per minute is calculated by dividing our average cost-per-click from a campaign by the average time on site of that campaign.
Cost-Per-Click / Avg. Time on Site = Cost Per Minute
In other words, if a campaign drives visitors to your website where they spend an average of two minutes and thirty seconds on the site, and your clicks are costing you $1.00 each, then your cost per minute is $0.40 cents per minute.
$1.00 cost-per-click / 2.5 minutes = $0.40/minute
The lower your cost per minute, the more effective your campaign is. But why does this work? Let's take a look at the four metrics I mentioned in the beginning of the article and see how they relate:
1. Cost-Per-Click
Everybody knows that you want the lowest cost-per-click for your campaigns. If cost-per-click goes down, the cost per minute will go down.
2. Bounce Rate
A bounce rate is the percentage of your site's visitors who navigate away after viewing only one page. Whenever this occurs, somebody is not going to be spending much time on your website, and it will increase your cost per minute.
3. Conversions
Are you tracking phone calls or emails from your website? In apartment marketing, it can be difficult to accurately attribute conversions, because some people may be shopping for an apartment at work while looking on one computer and then calling from a different computer at home. Further, they may end up just calling the Google local number, instead of the dynamic number appearing on your website to track conversions. In our research, we've seen people who convert on a website spend an average of 3 to 5 times more time on a website as those who did not. In other words, people who spend more time on your website are more likely to become a lead. So, if you have a lower cost per minute, that means people are spending more time on your website, thus, you will receive more conversions.
4. Keyword Relevancy
You want to spend money advertising to the people searching for the keywords that are most relevant to your apartment community. As it turns out, people click on an ad and visit your website via a Google search. Those clicks tell you indirectly whether or not your website was what they were looking for by how much time they spent on it. If they spent lots of time, your keywords proved to be relevant and your cost per minute should've gone down.
Measuring cost per minute cuts through the mess of so many metrics pertaining to digital ads. It simplifies the evaluation process and will allow you to re-allocate your budget to the most effective campaigns. As we have begun rolling this metric out to clients, our advising conversations are much clearer, faster, and more beneficial. Everybody can quickly evaluate the performance of their individual campaigns and can make informed decisions about how to re-allocate their budget based on an objective metric. Calls become faster, saving our clients valuable time. With this one metric you can develop automations like machine learning that optimizes spending campaigns to be more cost-effective. Another example would be that we can create alerts based on cost per minute or automatically reallocate money from one budget to the other.
Have you measured your cost per minute? We took the time to build a Google Data Studio report that you can use and see your cost per minute on each Google Ad campaign that you currently have deployed. Just fill out the form below, and you will be emailed a link to see your own custom report. Since it is a Google Data Studio Report, Google will be able to pull your information if you are logged into your account, and you will immediately be able to see all of your data. Below is a snapshot of what you will see in your report.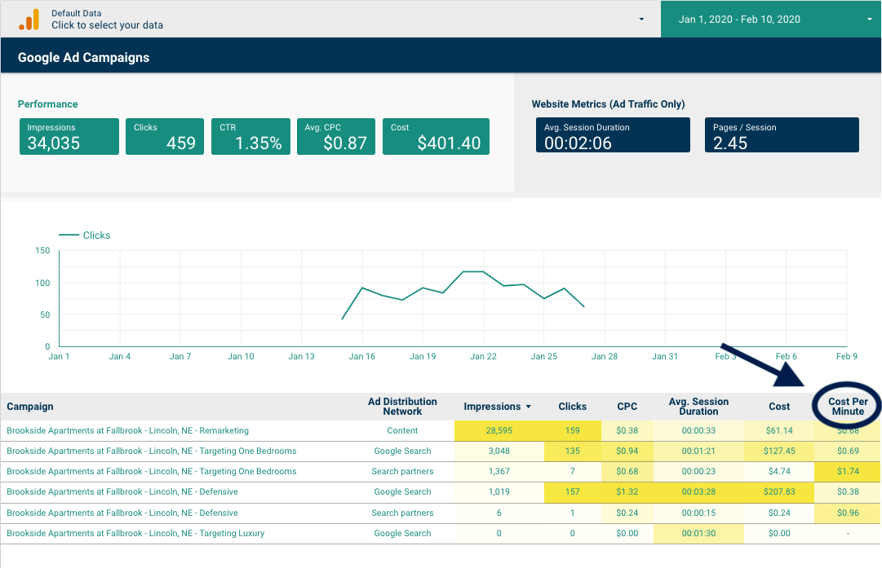 If you desire to improve your cost per minute, read our next blog post where we discuss how to deploy machine learning to optimize your ads and bidding combination for maximum results. Our initial machine learning lowered cost per minute by 14% for our clients. We would love to do the same for you—learn more here!