As the financial fallout from the Coronavirus pandemic continues to affect most industries, including the multifamily industry, a common question that has emerged from clients is how to optimize their digital ad spend. One of the greatest things about Google Ads is that you're given the ability to adjust your budget whenever you want.
In this blog, relying on historical perspective and statistical data, we offer our recommendations on how to best approach your apartment community's digital ads during this time of uncertainty.
Historical Perspective
While we've never dealt with a serious health scare like this, we've had some experience on how apartment marketing is affected during times of crisis. For example, wherever a major storm has occurred, we've observed an uptick in apartment searches online in that region.
The Florida panhandle was devastated by Hurricane Michael in mid-October 2018—the first Category 5 hurricane to strike the United States in over two decades. A week after the storm dissipated, the search term "apartments for rent" in Panama City—one of the cities directly hit—doubled, achieving its highest peak of popularity in almost two years.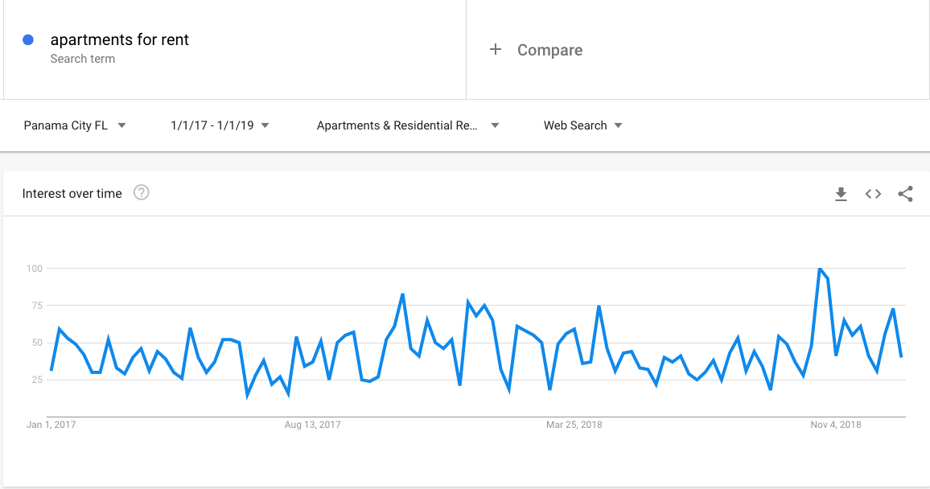 Those numbers give indication to the opportunity that arises for apartment marketers as a result of these events. More specifically, communities whose digital advertising highlights walkthrough video tours and other virtual options for potential residents to see on their website have a competitive advantage in the search process.
Be Prepared for Increase in Leasing Activity
As more states and metro areas begin to put mandatory quarantine and social distancing measures into effect, we assume that leasing activity will slow down for the time being. RentCafe reports there's been a drastic decrease in the search traffic for apartments since the outbreak began. However, once people feel safe enough to leave their home, we also assume there's going to be a rapid acceleration in leasing, which should also lead to an increase in your ad budget.
We don't know when exactly that time will be. The Coronavirus outbreak is in its early stages, and varying parts of the country are being affected differently than others. The University of Washington provided this great resource that lets you see when the spread of Coronavirus may eventually slow down and cease in your state. (Be sure to select your specific state, because each has a very different curve that will affect your decision process.)


The chart above represents our home state of Nebraska. We've yet to hit the peak of the outbreak. While the number of active cases may dwindle throughout the month of May, the Coronavirus will still be affecting our lives until sometime in mid-June or early July.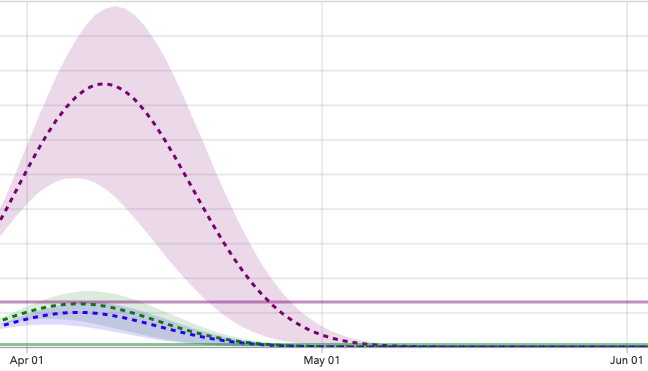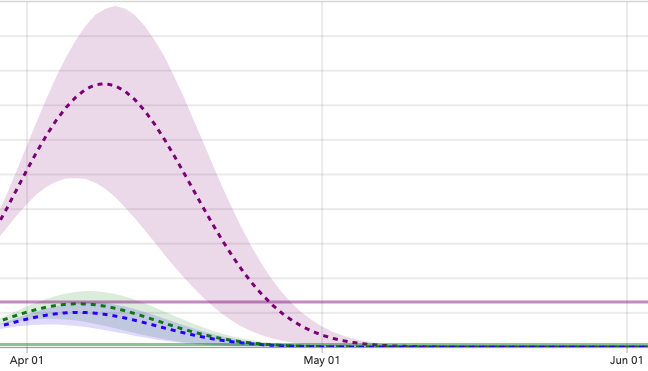 This chart represents the state of New York. Unfortunately, it has become the global epicenter of the pandemic. The timeline, however, is drastically different than Nebraska's. The virus' impact will be strong and swift, leading to the potential return to normalcy as early as May.
An apartment marketer needs to look at this data to try to answer the question of when will people be comfortable enough to begin touring and moving into their new homes again? For a property in New York, they may not need to make any changes to their budget if it's projected that things will return to normal by May 1st. As for a property in Nebraska, they may choose to limit
in-person tours until June or even July. This is where it may be time to alter your digital ad strategy.
Our Recommendations
Physical access to most apartment communities is almost impossible right now, and hardly anyone will want to sign a new lease without having seen the inside of their new home. It's important to keep a strong search presence and push your visual content while potential residents shop around during this time.
If you believe the Coronavirus will persist for a long period of time, or if your finances are tight right now, we recommend using only remarketing and defensive campaigns. Then, once things return to normal and leasing activity resurges, slightly increasing your digital ads budget may give your community a competitive advantage.
Class A Property:
Because residents seeking a high-end community take more time in their apartment search, Class A properties may be able to keep their spending as is if you expect people to begin moving again in 3-4 months.
Class B Property:
If it's estimated that apartment seekers continue to delay their move another for longer than two months, Class B properties should then begin to emphasize only defensive and remarketing campaigns. Learn more about our digital ad strategy and types of targeting campaigns here.
Class C Property:
Of the 6,000 renters recently surveyed by RentCafe, 28 percent said that they've begun looking for less expensive options in their apartment search due to the Coronavirus. Though their ad budget may be slimmer compared to others, Class C properties have an opportunity to see an increase in web traffic to their community's site.
The following grid goes into further detail of RentVision's recommended digital advertising approach for each property type during the Coronavirus pandemic.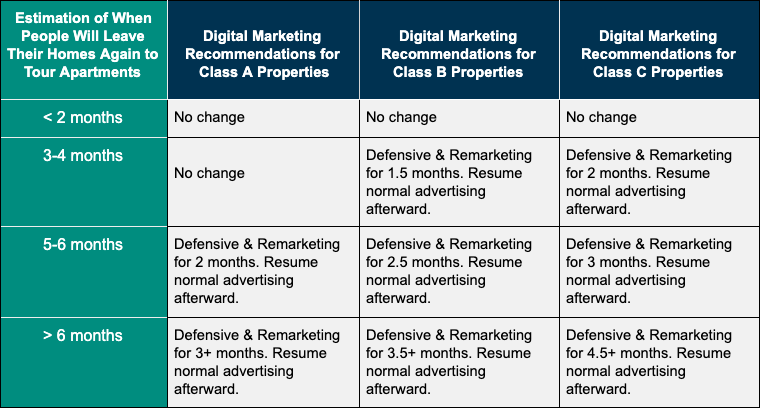 Conclusion
Just like you, we're still trying to figure out how to best navigate the Coronavirus outbreak. But the thinking behind our recommendations is based on what we've learned historically during tough times as well as with statistical trends related to the multifamily industry.
We will continue to work with each of our clients to develop the best digital ad strategy suited to their specific needs.