In this post we will walk you through two things you'll likely find yourself doing somewhat regularly in RentVision. First, we'll talk about how to change featured floorplans. Second, we'll explain how to change rent specials.
How to Change Featured Floorplans
The reason our websites allow you to select a "featured floorplan" is so that you can drive traffic to a particular floorplan with lower occupancy numbers.
By placing those vacant floorplans on the homepage and rearranging their order based on how many vacancies they have, we can drive more traffic to those pages to help generate more leases. Obviously your problem floorplan is going to change with time so you need to be able to change the floorplan you feature in that high-value space on your home page.
When you first log into RentVision you will be on the Dashboard. You will need to scroll down to the bottom of the page until you see the Floorplans section.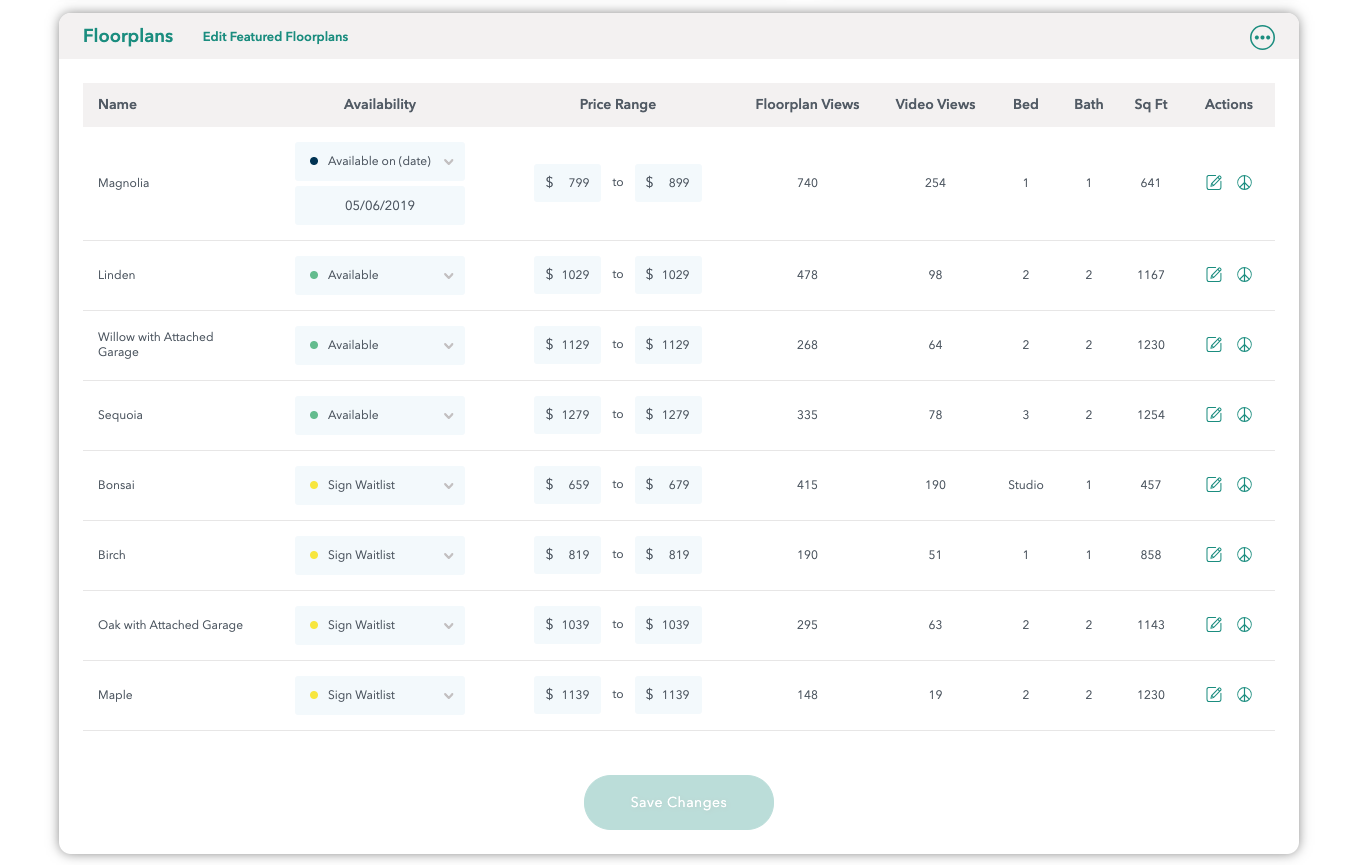 Once you have reached the Floorplans section, you will need to click the "Edit Featured Floorplans" button.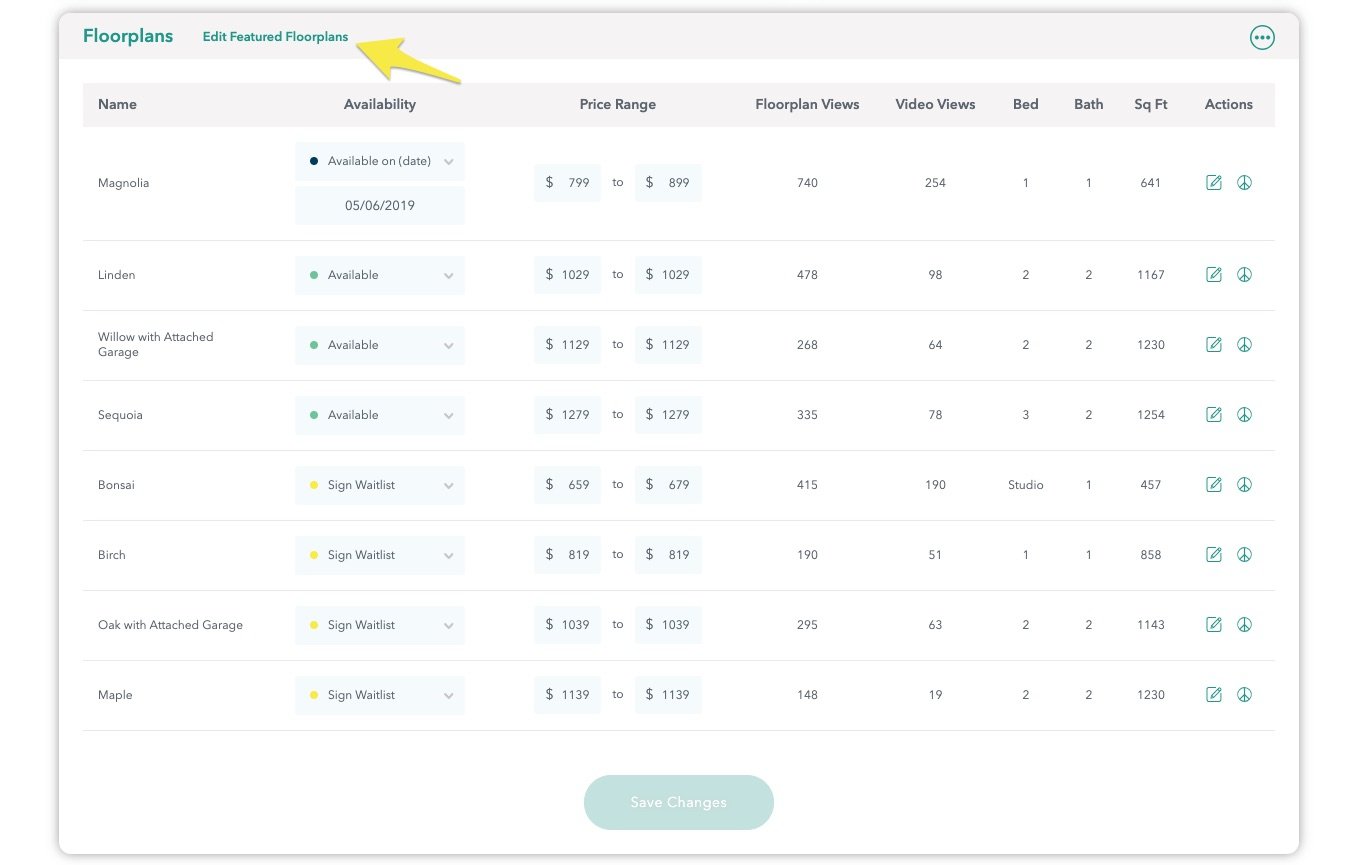 After you click on the "Edit Featured Floorplans" button, you will be on the Website main tab and Details subtab, as shown in the image below. On the left hand side you will notice a column of sublinks including your community name and floorplan names. The link with your community name should be highlighted and inside of this page you are able to select or rearrange your "Featured Floorplans."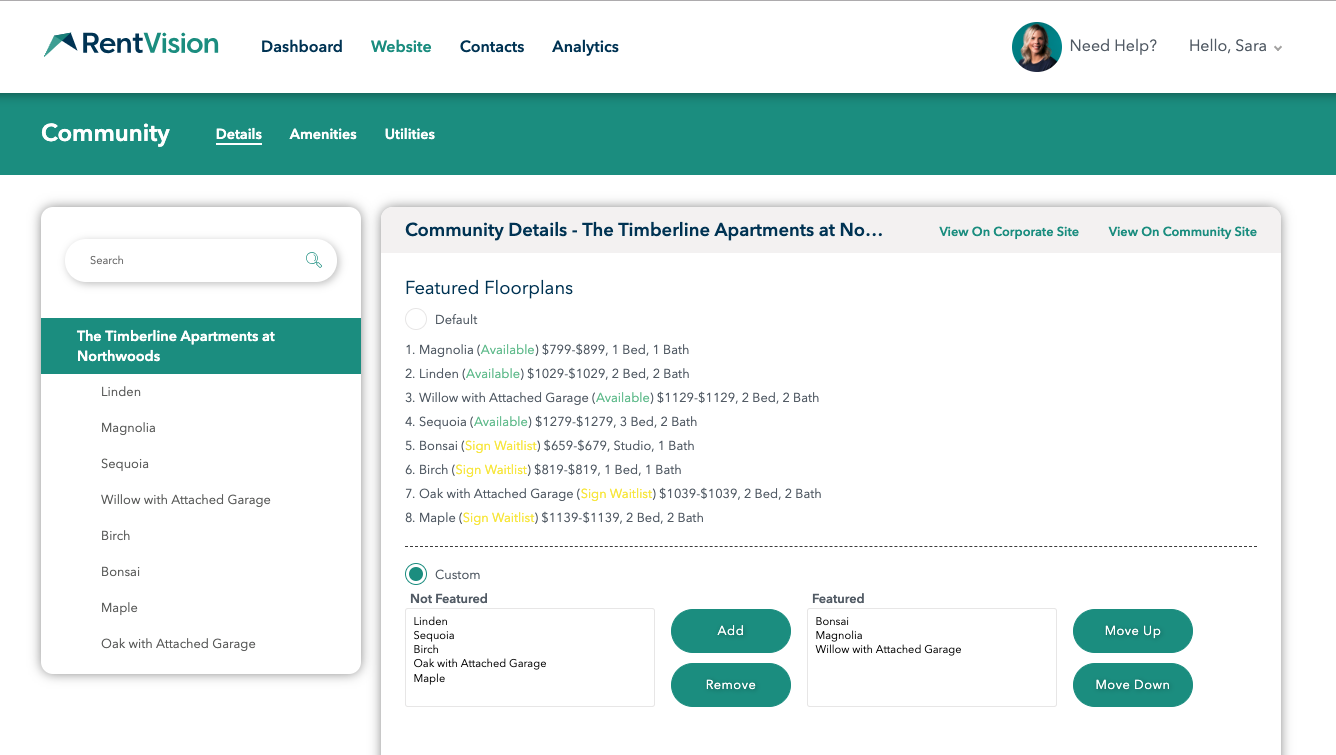 First, you will want to click what floorplans you want shown on your community's homepage. Next, click the floorplan you wish to add to the Featured Floorplan section, and click "Add."

After you click "Add" your floorplan will move from the "Available" box to the "Selected" box.

Continue this process until all your desired floorplans have been transferred over. The order is very important as people can this feature on the website from left to right. Whichever floorplan is listed first in the "Selected" box will be the first shown on the website, which tends to receive the most views.
You will want to list the floorplan with the most vacancies first in this list and the floorplan with the lowest number of vacancies in the last spot. You can alter the order by clicking on the unit and pressing "Move Up" or "Move Down." After you are satisfied with the order of the list, click "Save Changes."

Now, reload your community's homepage and your floorplans will be in the desired order showing left to right most vacancies to least vacancies, just as it was ordered in the "Selected" box in the RentVision Platform.