Some time ago we published a piece called "5 Free Apartment Marketing Ideas on Facebook." It's a good article, one we'd happily run again today. We cover what Facebook can do for an apartment community, why it can be a valuable marketing channel, and go into some detail on how to actually do certain things when marketing a community on the world's largest social network.
That said, there is more that needs to be said on this. Those ideas we share for reaching people via Facebook are good techniques, but they don't deal with the most basic problem with marketing any kind of good or service on Facebook: Facebook decides what will and won't show up on a person's timeline.
Getting in front of people on Facebook is a problem.
Think about the problem this way: You've got a Facebook page for your apartment community and there is some sort of content you want to share through that page to all of your followers. That is obviously an easy thing to do. And if you do it in a thoughtful way along the lines of what we propose in the article linked above, the people who see it should be helped by what you share.
But you can't really control who does or does not see it. Facebook does. And here's where it gets complicated: There are 50 million active small business pages on Facebook. What's more, on average there are around 1500 posts competing for placement on your timeline at any given moment.
Put another way, there are an enormous number of people competing for the attention of Facebook's users. Your community page isn't special. You're just one of the literally millions of pages competing for placement on an individual's timeline.
It gets worse: Organic reach on Facebook has fallen off a cliff. Facebook simply doesn't show your page's posts to users for free these days. They did once upon a time in 2012 and 2013. They don't anymore. So now you not only have a ton of competitors to overtake; you also have to fight against Facebook itself.
How can you overcome this problem that faces all marketers using Facebook?
We'll give you a hint: It's green and everyone is always trying to get more of it. The answer is paying for Facebook Ads.
Indeed, the interesting thing is that as Facebook has scaled back on organic post reach for users and started emphasizing ads more, their stock prices have gone up. The folks at Convince and Convert have put together a fantastic graph showing exactly how that has happened: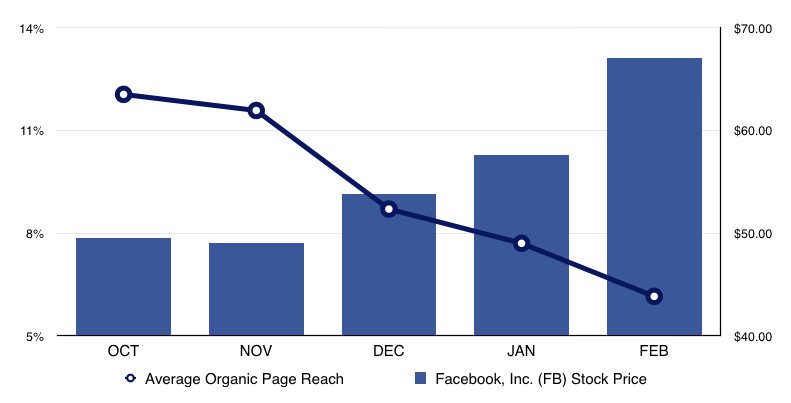 The bottom line, as Baer rightly notes, is that ultimately Facebook doesn't care about your business; they care about their business. And as they made life harder on individual businesses trying to reach their followers their own stock prices shot up. They don't gain anything from showing your posts to their users for free. But if they can get you to pay to be in front of their users? Then they're on to something.
How should you use Facebook advertising?
Like AdWords, Facebook advertising is complex and difficult. Moreover, it is set up to make it as easy as possible for you to spend money. So you want to be cautious and careful in the early days with Facebook.
To begin, we'd recommend setting up ads to get back in front of people who have already visited your community website. These ads, called remarketing ads, are particularly valuable because they only show up to people who you know have expressed interest in your community—as evidenced by the fact that the person has visited your community website.
As you observe the results of your advertising and track the results, you can then make adjustments as needed. If you need less traffic, you can rein in the spend and save money. If you need more, you can begin taking small, strategic steps to expand your advertising on Facebook based on demographics and other information about the account.
Conclusion
What does the decline of organic (free) reach for your posts on Facebook mean? Well, it means that Facebook marketing has become a far more time- and cost-intensive activity. Though the unique quirks of our industry means that Facebook apartment marketing has never necessarily been easy, it is harder today than it was in 2013.
From where we're sitting, it's actually become so hard that in many cases it won't even make sense for apartment communities to dedicate much in terms of resources to it. Having a Facebook page is fine. And if you have one, you should make sure it is well-organized and has nice photos on it of the community. But in many cases it simply won't make sense to dedicate large amounts of time to posting on Facebook or setting up ads on Facebook for the simple reason that many apartment communities will simply struggle to ever get significant traffic from Facebook.