One of the challenging things about online marketing, in contrast to older forms, is that the pace of change is much quicker. And that is particularly clear if you consider marketing on search engines.
Take traffic from mobile search, for example. When I started at RentVision (in 2013), we saw probably between 25% and 40% of traffic to client websites coming from mobile devices. As of 2017, the average share of traffic coming from mobile was up to 64%.
Because of the growing importance of mobile, it is essential that you understand how mobile websites differ from desktop sites, what Google values in mobile websites, and how a strong mobile presence can help boost your community's visibility online, which, if you have a good leasing team, will in turn translate into higher lead counts and higher revenue as well.
First, a bit of background: In April of 2015, Google rolled out a major mobile algorithm update that they say is bigger than either Panda or Penguin. In this post, we'll walk you through what happened, what you need to know about the updates, and what the long-term consequences have been from this update.
What exactly did Google do?
Google (which has a long-standing interest in mobile) wanted to push webmasters to create sites that are easier to use on mobile devices. To do this, they reworked the mobile search rankings to give higher placement to sites that are mobile-friendly according to Google's definition of the term.
Due to the high number of sites that are not mobile friendly, the update had a massive impact. But if you were doing things the right way on mobile already, then this update really wasn't a big deal for you.
What is Google's definition of mobile-friendly?
Google has spelled out their mobile criteria in this post. Here are the four main points they emphasize when assessing a site:
Avoids software that is not common on mobile devices, like Flash
Uses text that is readable without zooming
Sizes content to the screen so users don't have to scroll horizontally or zoom
Places links far enough apart so that the correct one can be easily tapped
To illustrate what each of these points means, we've included screen captures with the post of websites that fail each of these tests.
Sites Using Software that is not Mobile Friendly
First, let's look at a site that is using Flash: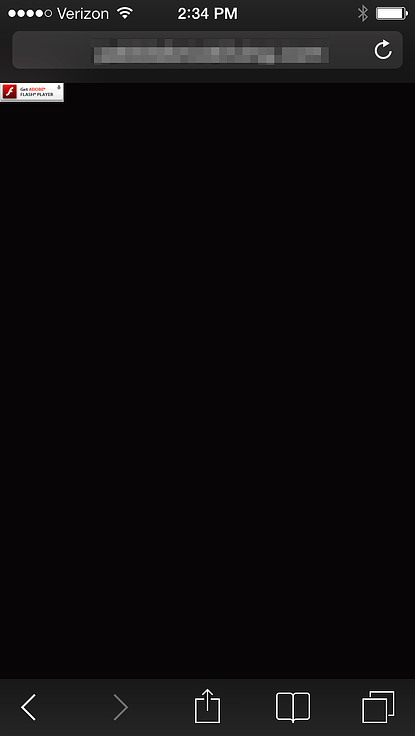 In this case, the whole site is Flash based, so none of it functions on mobile.
In other cases you might see a site that only has certain portions that run on Flash. In that scenario, there will be certain areas of the website that do not work properly.
Either way the site is not going to properly work on mobile so Google doesn't want to show it in their search engine results or does not want to show it as a highly ranked search result, at least.
Sites Using Text Too Small to Read
The second type of site Google warns about is one that has text too small to read on a mobile screen. The example below shows what this might look like in practice: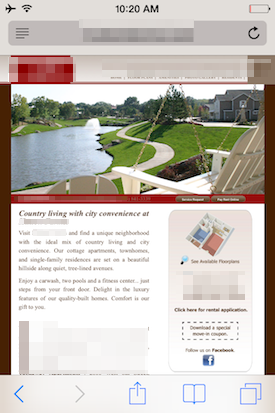 Again, this is a site that is basically unusuable on mobile because of the text, so Google doesn't want it ranking highly on mobile searches.
Sites that Fail to Size Content Appropriately
This is an issue with photos particularly--if users have to zoom in or out in order to view the photos on your site, this is another problem Google will dock you for. In practice it looks something like this: Note that the images are not sized appropriately for a mobile screen, which means you have to zoom in to see them clearly.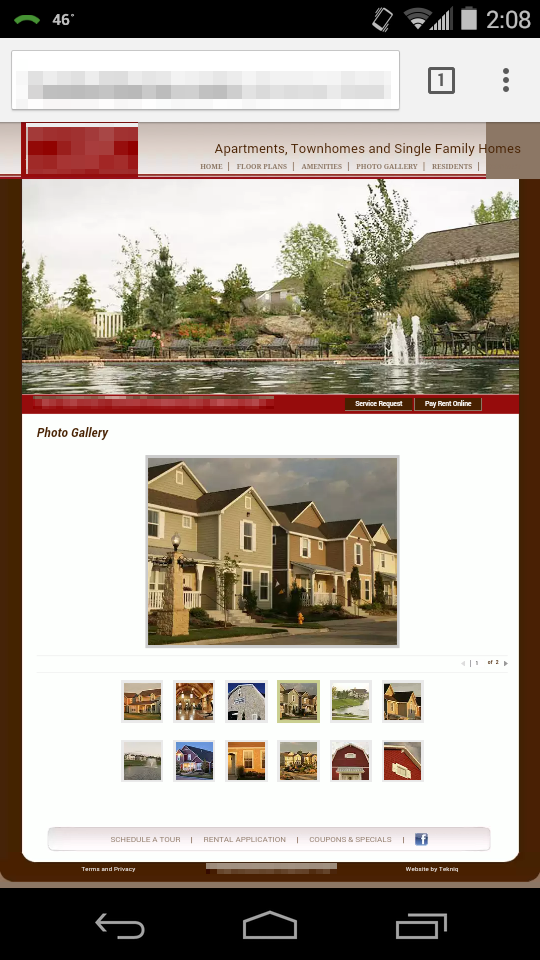 Sites with Links Too Close Together
The final issue to discuss is with how sites display links. This issue crops up when you have multiple links on a page but the linked text is too small, making it difficult to select one link without inadvertently hitting another.
We've indicated the place where this is the biggest problem with a red rectangle: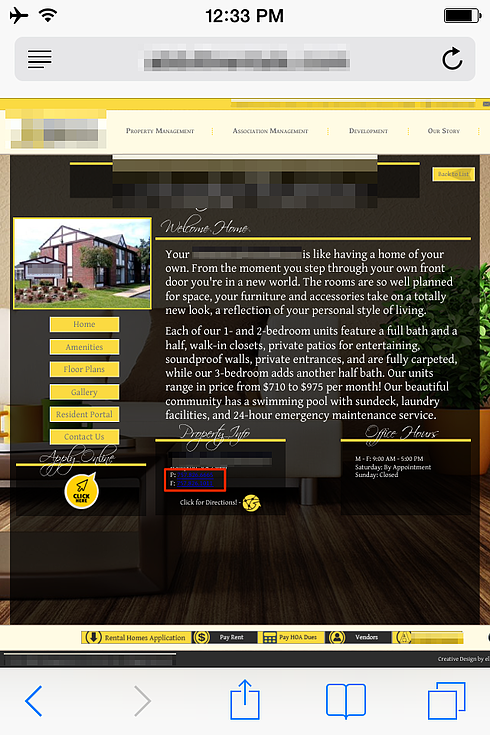 Is there an easy way to find out if my site is mobile-friendly?
Yes. Use this free tool provided by Google.
Does it matter if my site is mobile-friendly? How many people find an apartment searching on a smartphone anyway?
You might be surprised. Mobile apartment SEO is a bigger deal than you think. When we first wrote about these issues over two years ago we found data that said that 91% of all apartment shoppers are likely to use mobile devices during their next apartment leasing cycle.
Since that time, we've spent a lot of time monitoring client traffic with various analytics tools and here is what we've found:
64% of all apartment website traffic comes from mobile devices. (Learn more here.)
56% of all apartment website traffic comes from Google search or Google ads on mobile devices. (Broken down further: 30% of all apartment website traffic comes from Google search on a mobile device. 26% comes from Google ads on a mobile device.)
Point being, mobile is a big deal in our industry and, in our industry at least, "mobile traffic" basically means "Google traffic." If your site gets penalized on Google's mobile search, you could lose as much as half of your traffic. So even if your desktop rankings continue to be acceptable, a mobile ranking plunge will still be disastrous.
What happened after the change?
As this Search Engine Land post indicates, in 81% of tested queries all three of the top three results were mobile-friendly. (Granted, tracking SEO results based on keyword ranking is a bit antiquated, but sometimes its the best we can do.)
Of course, the reasonable question to ask is how big a deal that actually is. It sounds significant, but how can we know? If, for example, the fourth result still gets a high number of clicks then it isn't that big a deal if the top three are mobile-friendly. You can fail to be mobile-friendly, rank fourth and still do OK.
Thankfully, we don't have to guess at how many clicks each spot on the SERP typically gets. Chitika has created a chart showing the percentage of clicks each ranking receives. When you set that number next to this chart of click distribution on organic search produced by Chitika you can better understand why this is a big deal: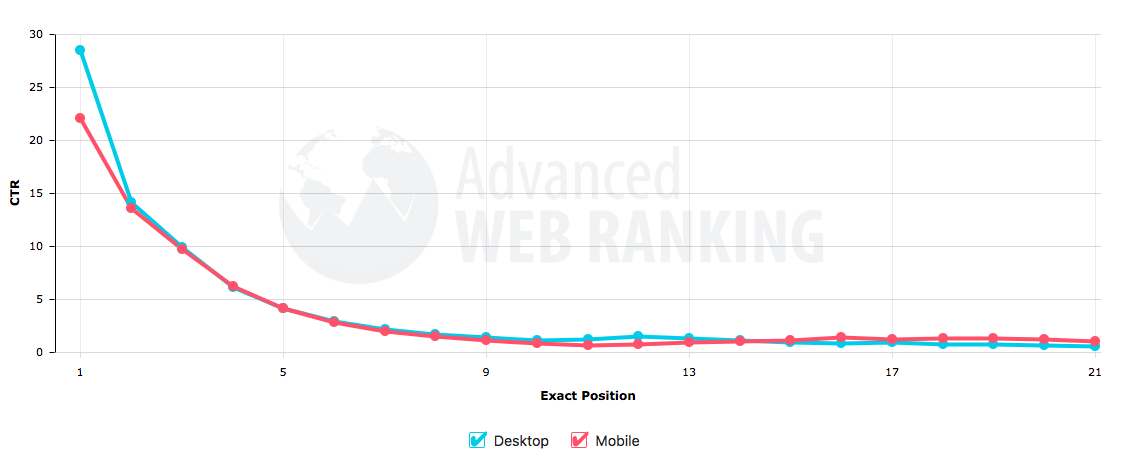 As you can see, around half of all the clicks on a given search term go to the top three search results. Therefore, if your site is not mobile friendly you're missing out on a massive amount of apartment website traffic.
There is an added concern here as well. If you're dealing with keywords that have a massive amount of traffic, even the ~6% of clicks the fourth ranked result receives might amount to a nice number of visits. Obviously you'll still want to make your site mobile-friendly in order to have a shot at higher rankings, but in the interim a fourth placed ranking might still give you a fair amount of visits.
Unfortunately, in multifamily many of the most valuable keywords are going to be searched far less often. Branded keywords—keywords that include your specific community's name—are enormously important but they have a much lower search frequency. So even if you might theoretically be getting 6% of all the clicks from a fourth position, that's going to actually be an incredibly small number simply because there aren't that many people searching for your community by name.
How can I find out how much mobile traffic I'm getting from search?
Search Engine Journal has a post walking you through how this works.
One easy way to do this is to open analytics and go to Audience -> Mobile -> Overview. Once in there, go to secondary dimensions and click "Acquisition -> Traffic Source." That will produce the report pictured below.
From there, look for the row that says "Mobile" and "Organic." This isn't a perfect way to do this, but it's a quick, easy, and basically reliable method. Read the Search Engine Journal post to learn more.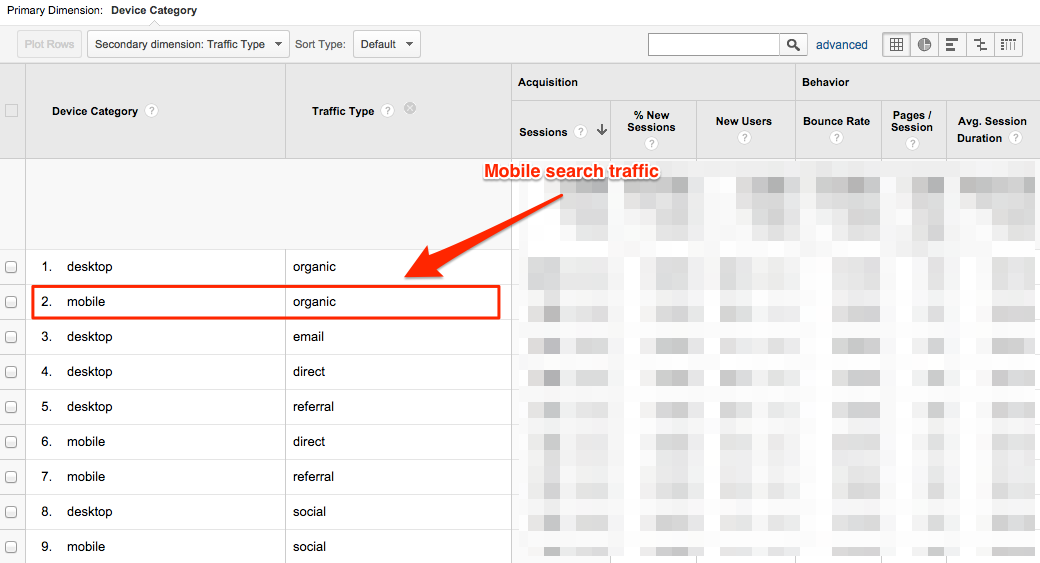 I've heard things about a mobile-first index from Google. How does this relate to that?
So technically speaking the big deal in search these days is "mobile-first" rather than "mobile-friendly." Briefly, Google is currently in the process of establishing a mobile search index for the entire web that will operate independently of their current index, which looks at desktop versions of websites. In time, the mobile index will replace the desktop index as Google's regular index of the internet.
However, for the purposes of multifamily communities, this is kind of a distinction without a difference. There are ways that making your site mobile-friendly could get you in trouble as Google makes the move to mobile-first indexing. It is unlikely that most multifamily websites are going to run into the problems described in the article linked in the last sentence.
Conclusion
If you are a RentVision client, your site is optimized for mobile. If you are not a RentVision client, the first thing you need to do is plug your website URL into the mobile-friendly test located right here to find out if your site is mobile-friendly. If it is, then you can kick your feet up, pour yourself a drink, and relax, knowing that you aren't going to be hit by this update.
If your site fails the mobile-friendly test, then you need to get on the phone with your web developer or marketing services provider as soon as possible and talk to them about the issue. Google is serious about mobile and they want webmasters creating mobile-friendly sites. So you can't afford to maintain a website that isn't able to be used on mobile devices.