For as long as we have managed Google Ads campaigns for our clients, we have run into some variation of this question:
"If I'm an apartment community in Seattle, shouldn't I be creating ads on keywords like 'apartments in seattle' or 'apartments for rent seattle'?"
The short answer is, "No. That seems like a good idea but it's actually a waste of your time and money."
You can read the longer answer below.
Why shouldn't I target the most common keywords for my industry in my area?
That question, of course, gets at the key idea: Intuitively, it just makes sense to advertise on those kind of keywords because they are almost certainly the most popular search terms for the multifamily industry in a given city or metro area. The data bears it out too: We consistently find, regardless of what keyword tools we use, that "apartments in (city, state)" are extremely popular search terms.
So why wouldn't you try to advertise on them? There are two reasons.
First, advertising on these search terms is a waste of money.
Let's look at a few sample search result pages for "apartments in (city)."
Here is "apartments in seattle":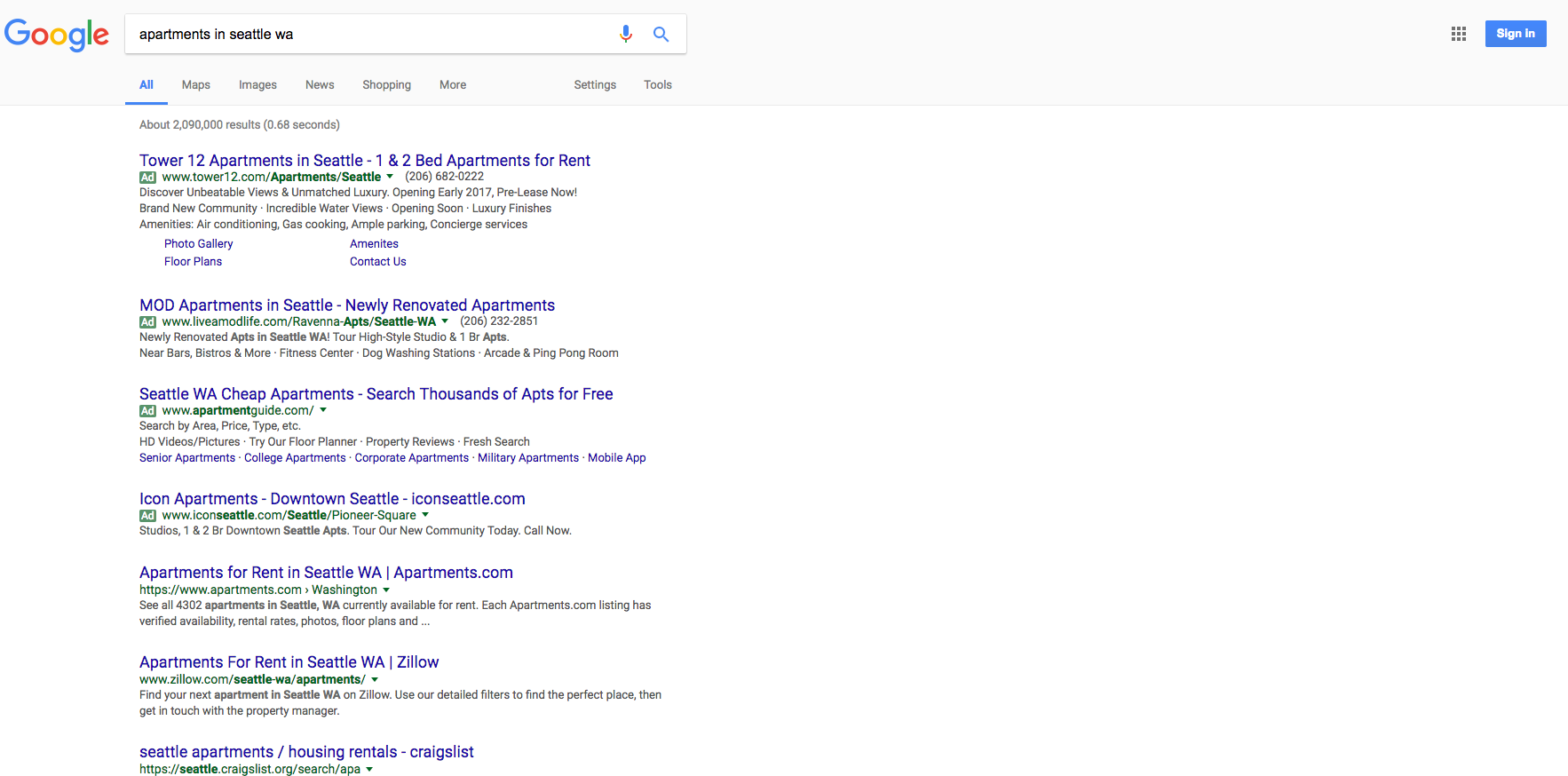 There are a few things to note about this search result page.
First, the top organic results are all listing services—apartments.com, Zillow, and Craigslist. So Google thinks the most relevant results are listing services, not individual apartment communities. Keep that in mind; we'll come back to it later.
Second, three of the four ads are from communities. That's good, right? It means your community could show up on this incredibly popular search term with the right ad strategy, doesn't it?
Actually, the answer to that question is "probably not." Here's what you need to know about those three communities: All three of them are luxury properties in sought after neighborhoods.
Tower 12's cheapest publicly listed rent rate is $1,870/month for a 571 square foot unit. Their most expensive publicly listed rent rate is $5,920 for a 1,434 square foot two-bedroom unit. They also have a number of floorplans where the only rent information listed is "call for details." So odds are very good that they have even higher (maybe significantly higher) rent rates than that two bed unit that goes for nearly $6,000 per month. They also have 28 distinct floorplans and the community is 34 stories high and, as the website says, 69% of their units overlook water. This is an extremely wealthy property.
Do you charge $4.12/square foot for one of your apartments? No? Then you probably can't compete with Tower 12 on Ads.
The other communities are similar: Mod Apartments is in the popular Ravenna area and their rates start at $1,310/month for a 382 square foot studio. Their most expensive units currently listed on the site are 756 square foot two-bed units starting at $2,040 per month. These are also brand new, updated units—stainless steel appliances, USB chargers installed throughout the units, and in-unit washer/dryers. The amenities are strong too—a yoga room, gym, dog wash station, game room, outdoor fire pit, indoor fireplace lounge, etc.
Finally, there is Icon, which is also in downtown. Their offerings are comparable to Mod in terms of size, price, and amenities.
I ran some variations on the search to see what else I found, "apartments in seattle," "apartment rentals seattle," etc. The results were the same—I saw lots of well-off luxury properties in desired locations and a lot of listing services, which as national companies will have more money than any individual community.
Significantly, I didn't see communities making repeat appearances on the search results page either, which suggests that even these communities are limiting their spend.
Let's take another example from a more middle America metro area. Here is "apartments in indianapolis":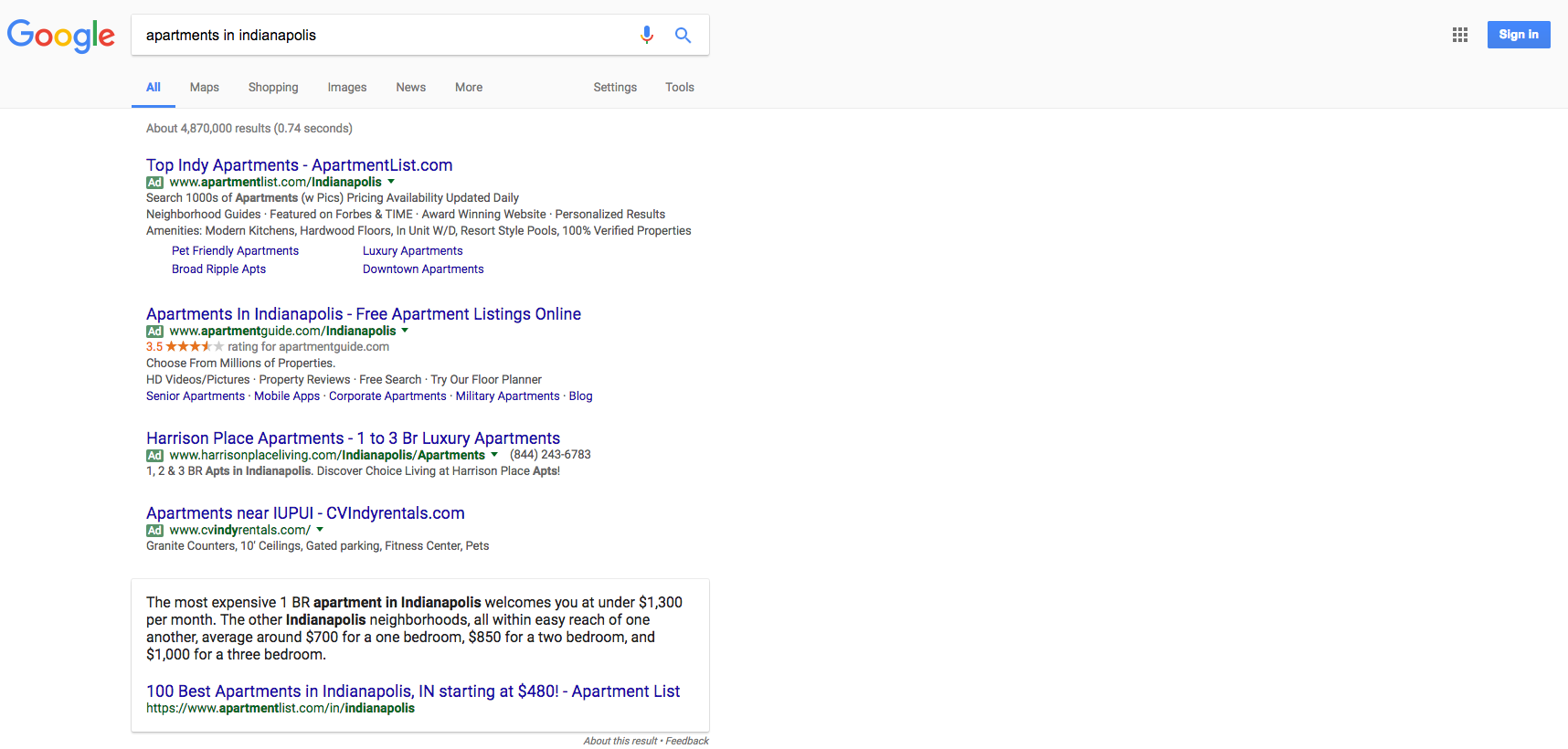 Here we have two listing services in the top two results. Then in the next two spots we have a very large property and a larger management company.
The larger property is not as high-end as what we saw in Seattle, but is still pretty nice and is newly renovated. Most likely, they are pumping a ton of money into Ads right now after completing a renovation and will scale back over time. The management company, meanwhile, has a number of properties in the area and has been around for decades, according to their website.
What should we learn from these examples?
What all of these results suggest is that hitting these top spots takes a great deal of money. It's almost certainly not a sustainable strategy for any community save the largest, most expensive properties on the market.
We need to make one more point before moving on: Recall that the top organic search results on both samples we saw were listing services. This suggests that Google thinks the listing services are the most relevant sites on that search term.
This also influences Ads results because Google evaluates relevance as one of the factors in determining how much you pay for a click. They want the top ads on a search term to be relevant to users because if the ads are not relevant, users won't click them and Google won't get money. To make up for this, Google typically charges higher rates to advertisers whose ads won't be as relevant to people searching the given term.
What that means is you not only need to compete with listing services (who have way more money than you) for top placement on these keywords; you also will need to compete against them on a playing field that is not level.
Taken together, this adds up to an enormous amount of money for your community. In many cases, you will end up spending more money on Ads to rank for these sorts of keywords then you will on any other kind of advertising.
Second Reason: It is a waste of time.
It's not just expensive though. It's also inefficient and wastes precious time that could be spent on more worthwhile pursuits.
To illustrate this, let's talk about two groups of people.
The first group of people who are apartment shoppers who are a good fit for your community. They are a good fit for a variety of reasons:
They are looking for a community in your price range.
They are looking for the kind of apartment you are currently trying to lease.
They are willing or eager to live in the neighborhood your community is located in.
The amenities you offer are a good fit with what they need—they need something pet-friendly, with a gym, etc.
Now let's talk about our second group: These are all the apartment shoppers in your metro area. This is a far larger group than the first group:
It includes people looking for units both more and less expensive than what you offer.
It includes people looking for units both smaller and larger than what you are currently offering.
It includes people who do not want to live in your neighborhood.
It includes people who do not want your amenities or need different amenities—they need something that is pet-free, they want a rooftop patio, etc.
Given all of this, it makes more sense to advertise to the first group than the second, right? Well, when you advertise on "apartments in seattle" or "apartment rentals seattle," you're reaching the second group.
What this means is that you are going to spend insane amounts of money to advertise on these general search terms and most of the clicks you get are never going to convert into leads, let alone leases because they are objectively bad fits with your community.
If you're Tower 12, this might be OK. You get a ton of clicks from unqualified people but, hey, you have 30+ floors of apartments that rent for $4/square foot. You have money. But if you're a normal community, spending the kind of money you'll have to spend for those general terms is almost certainly a bad idea.
Instead of pouring tons of money down the drain chasing leads that will never convert, we have found that it is far more effective to advertise on highly relevant keywords, starting with all of a community's top branded search terms and then slowly expanding out to more general terms that still closely align with that community's particular niche.
Conclusion
There are a ton of vendors in our industry who will offer to manage Ads for your community. Many of them encourage clients to target these kind of broad keywords because of how many people search them. We hope this post has explained why that is not a strategy most communities should adopt. There are some very limited benefits to targeting general keywords like "apartments in seattle" but for most communities it simply is not a winning strategy.