Competition is a fact of life in almost any industry.
In fact, successfully managing an apartment community is sometimes just as much about keeping an eye on what competitors are doing as it is managing day-to-day, onsite tasks. This is particularly true as the multifamily industry continues to grow, and so many new communities open their doors every year.
Even if your team are rockstars onsite, a new competitor who opens down the street from you will still hurt your occupancy. Whether they're offering move-in specials, new amenities, or upgraded furnishings, this new community gives your residents another option, which can, in turn, hurt your occupancy.
Wouldn't it be great if you knew how your competitors were marketing their apartments online? And how you could successfully beat them out?
In this post, we discuss a simple way to monitor your competitors on Google.
How to Monitor Competitors
Monitoring your competitors on Google is surprisingly easy. Begin by opening an incognito window in your browser.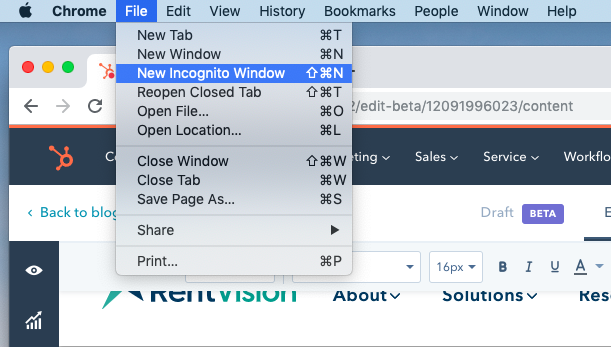 You need to open an incognito window because if you do not your personal Google search history will influence the results Google shows you in search. By using an incognito window, you're getting the closest thing you can to a "universal" Google search results page.
Now, inside your incognito window, you can begin testing various search terms to see what kind of results come up for users.
What terms should you search?
The easiest way to answer that question is to simply list out the terms a high-quality lead might enter before finding your community or a close competitor.
Don't think "apartments in (city, state)." True, many people search for those keywords. But, it's actually not a high-quality keyword for individual communities. The intent behind the search is plainly much broader than learning about a single community. So, Google is going to direct people toward listing services. Additionally, someone who uses such a broad search term is very early in the shopping process.
Therefore, there is a high chance that the renter is not planning on moving soon, is still deciding on which area they want to move to, or is still determining their budget. We suggest going after the searchers who are further along in their apartment hunt, or in sales terms, at the end of the funnel. The higher quality the lead is, the better.
Instead of aiming at such broad keywords, identify narrow ones to target. For example, look up community-specific names—they can be extremely valuable. Search for your direct competitors, and even search for yourself. If someone is anyone advertising on your branded keywords, set up defensive campaigns to protect your brand on Google.
If you'd like to expand beyond community-specific keywords, consider more general, yet targeted searches. "Apartments near (local landmark)" or "luxury apartments in (neighborhood)" are specific enough that you'll reach prospects that are further along in their leasing process.
Make sure you're taking note of which communities and internet listing services are also targeting these keywords. This will give you insight on how much digital advertising other companies are doing, and potentially give you a leg up on the competition.
Why should you monitor competitors?
If you notice that your competitors are targeting keywords on Google, that may be an indicator that there is value in targeting that keyword. If it is working for them, then it may also work for you. This isn't always the case, since there are many poorly ran Google ads strategies out there, but you'll be able to determine which keywords best align with your marketing strategy and community's buyer persona.
The other benefit to monitoring your competition is that it helps you get an inside scoop on what your competitors are doing. This may be the nudge you needed to leap into a digital marketing strategy. The multifamily industry has always been slow to adopt digital innovation, so while it's finally beginning to move towards Google Ads, there are still many opportunities waiting to be seized.
Given that, you'll want to see how competitive the most valuable keywords to your community are within your area. If you are not seeing any competitor ads, there's likely an opportunity for you to reach larger audiences. The lack of competition also means that the cost of targeting those keywords will remain lower—making this a relatively simple and straightforward "win" for your community.
In other cases, you may see that certain keywords are already saturated with ads. In that case, you may choose to avoid those keywords. Instead, focus your ad budget on more search terms that will bring you a higher ROI.
In addition to the techniques described above, you can also use SEO tools like Moz or Ahrefs to help monitor competitors on Google. However, while those specialty softwares come with hefty subscription fees, the method we describe above can be done for free. Have you tried to do competitor research to see how they're using Google Ads? If so, we'd love to discuss your results in the comments below.