Live Case Study Post 1, Live Case Study Post 3
Welcome back to our Live Case Study - so glad to have you join us on this journey!
Today we're going to talk about what we've seen within the last week and explore one of the marketing platforms we use: Facebook.
Today is Wednesday, August 8, 2018. In case you didn't see our first video, here's a quick preview of last week: A property we partner with had 21 available units. Due to the spike in move-outs, we increased advertising spend from $1,000/mo to $1,500/mo. We split that budget between Facebook ($300) and Google Ads ($1,200).
As we mentioned, last week there were 21 available units and this week there are 19. The property had 4 applications, but one of them decided to back out or got declined.

That's the good news.
The bad news, and the reality that comes with property management, is that we had another move-out added to the schedule, so we went from 5 move-outs this week to 6.

Nonetheless, we're excited with what the data is showing. Diving into RentStream you can see how much momentum web traffic is gaining. These statistics show dramatic improvement when compared to previous weeks. Specifically, we're seeing 100-125 visits per week rather than 50 -100.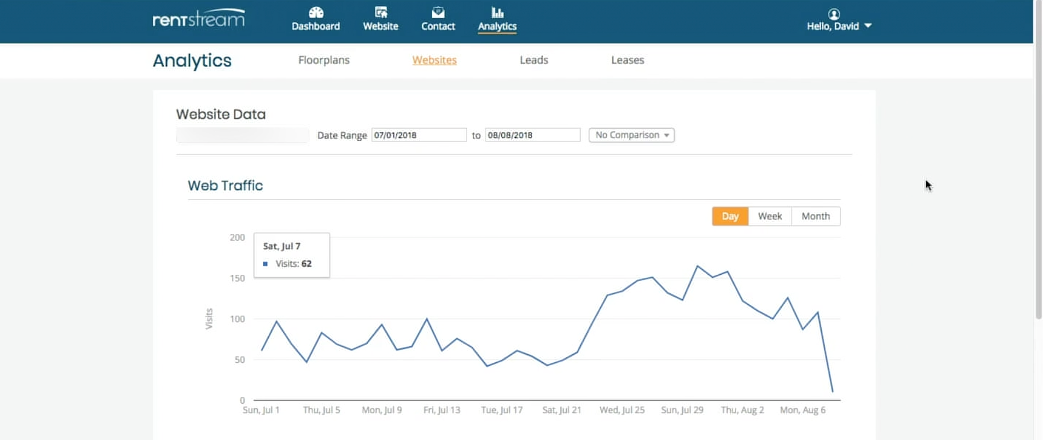 When looking at analytics we also glanced at lead count, which is at an all time record high. This property received 29 unique phone calls, and this week has already received 15. Weeks within RentStream run Monday - Sunday, so there's still time to beat last week's record.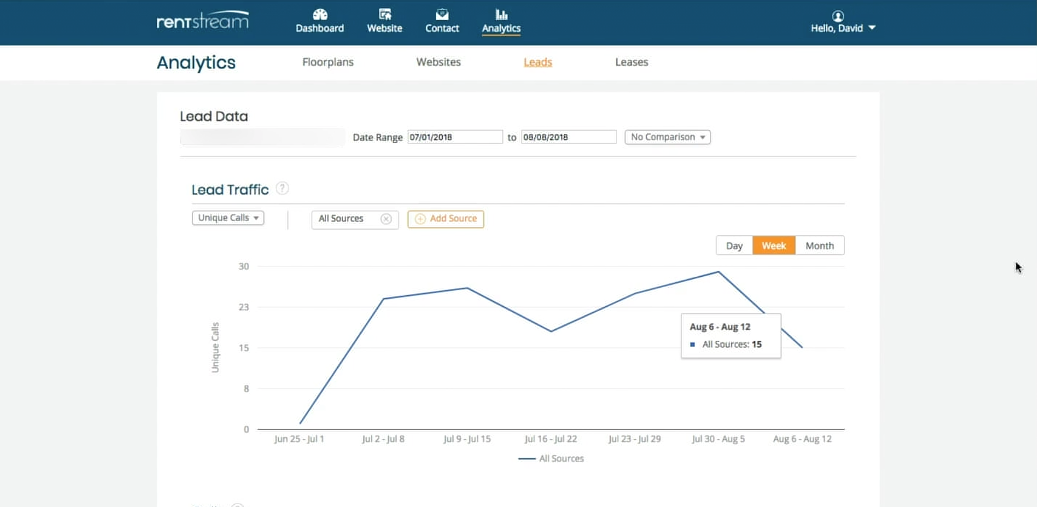 Now it's time to explore Facebook. A lot of properties (if spending any time on Facebook) allocate most of their time and energy on Facebook pages. Keep in mind, this is a great first step, however, Facebook pages are not huge lead generators.
Pages are a great way to keep current residents up to date on resident activities or upcoming events. Facebook Ads are paid posts that cost each time someone clicks on the ad. Via Facebook's Business Manager, we are able to target specific demographics of people, making it easier to get in front of renters perfect for your property.
Now that we know the difference between Facebook Pages and Facebook Ads, let's dive in.
For this specific property, we are running three separate ads. Which are:
Slideshow

Multiple photos that automatically change, similar to a video

C

arousel

Multiple photos that a user must manually click through

Single Image

One photo featuring larger text options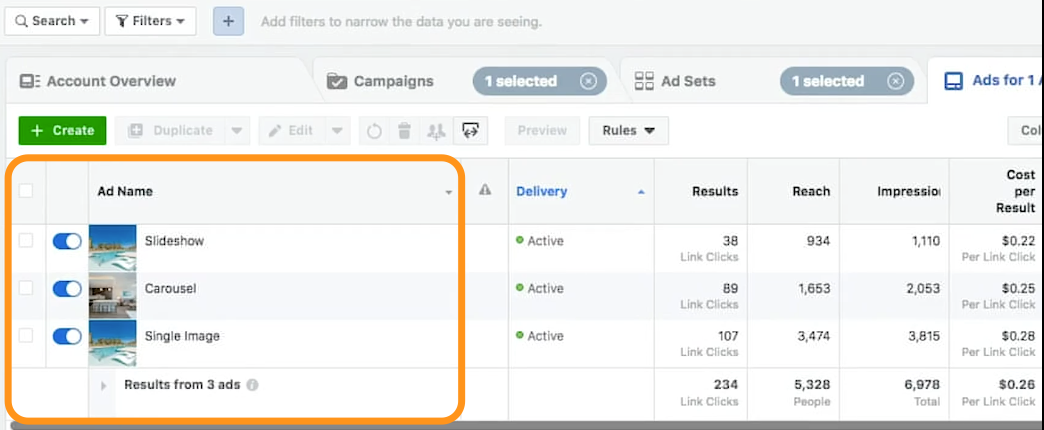 What's neat about Facebook is that it shows the ad that's performing the best, the most. So out of 234 link clicks, our Single Image Ad has been clicked 107 and seen by 3,474 people. The next most prominent ad is our Carousel Ad which has been clicked 89 times, and reached 1,653.
What advertisers like best about this platform is how inexpensive it is. We have reached a total of 5,328 people, received 234 link clicks, and only spent $60.03. Therefore, the average link click is only $0.26.

Another thing we keep a close eye on besides budget, is the relevancy score. This is a score Facebook gives between 1-10 (10 being the best). Our ads are receiving scores around 7.3 overall, which is pretty astounding. This means we are reaching the correct demographics of people in this specific location.
Beyond relevancy, we want to make sure we're not reaching our targeted viewers too often. We are able to monitor this by keeping a close eye on the frequency score. This gives us insights into how many times Facebook users view our ad. We're happy with numbers under 5, and currently, our Facebook ads are seen an average of 1.31 times per person.

We're excited to discuss Google Ads with you next week and give an update on where this property in in terms of occupancy rate. Talk to you soon!