Live Case Study Part 2, Live Case Study Part 3
ROUGH TRANSCRIPT
Hi everyone. My name is David Watson. I'm the founder and CEO of RentVision. Today we're going to do something we've never done before. We're going to do a live case study.
With most case studies, companies only show their gems, the best case scenarios where they get the best possible results. But today we're going to begin a case study that hasn't finished yet.
Today is August 1, 2018. We're going to be looking at a client community that has 201 units here in the midwest. This property is about to have some tremendous vacancy issues. They entered this week with six vacant, unrented units. This week eight more units are moving out. Next week five more units are vacating. The following week, four more units are vacating. It was possible that in a couple week there would be 23 vacant, unrented units out of 201, leaving them at 88% occupancy.
This could spell real trouble for the property. But we believe that when we work with clients and draw leasing, revenue management, and marketing together, we can completely control a vacancy situation. That's why we're going on this journey. We want you to see what this looks like.
Let's start by diving into the accounting software dashboard for this property.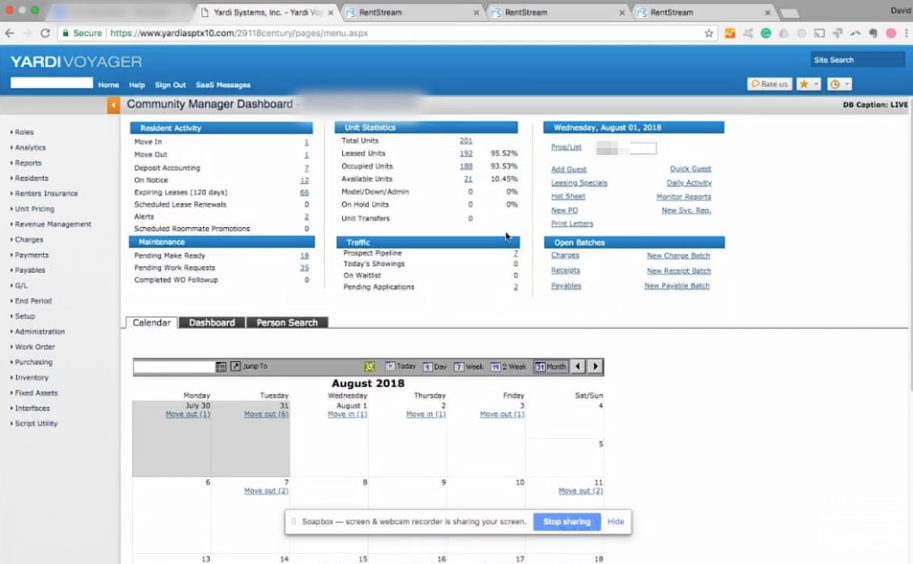 As you can see, they have 201 units and 21 available units. Two units have already leased this week. They've dropped from 23 to 21 available units. If we scroll down, we can see all the numbers--when the move-outs are happening, when move-ins are happening. Things aren't looking good.
One of the key things here is to predict the future. It sounds fancy, but it's not. It is very easy for a company to see how many move-outs they have coming up.
What I recommend doing is asking yourself "what is my target occupancy for the whole year?" Maybe it is 95%. If that's the case, your available units may be a little higher than that because you have occupied units on notice. So you may want to say, "hey, if my available units goes above 8%, I need to do something to anticipate the problem."
In the case of this property, we began working with them over the last couple of weeks to address their looming vacancy problem. Here is their RentStream dashboard. The first page I have up is their traffic.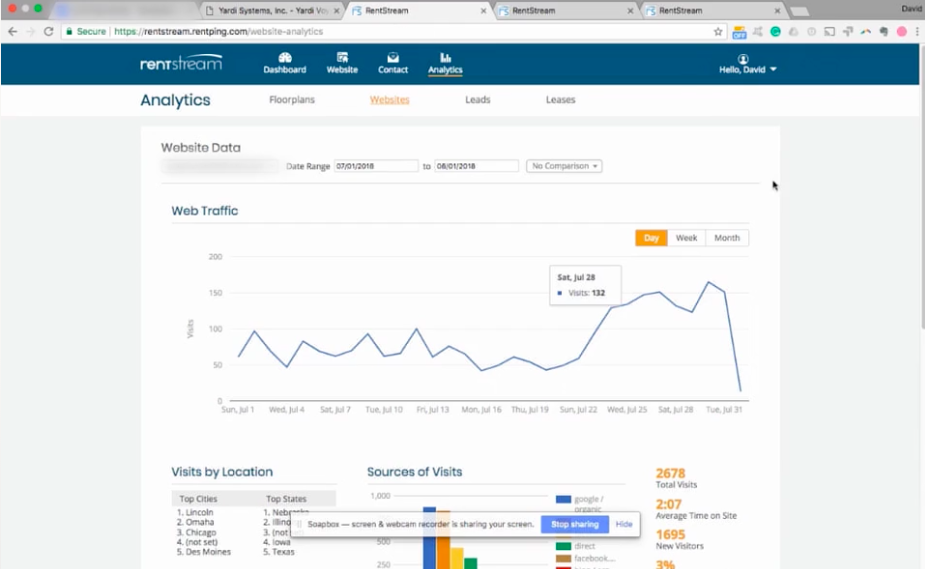 Now, you'll notice their web traffic hovered between 50 and 100 visits a day for most of the month. That's a little higher than normal because we had a little vacancy to handle in early July and we increased Google Ad spend. But in anticipation of these move-outs coming up, we began to really increase ad spend a week ago on Monday, July 23. You can see traffic increase to 125-150 visits a day. The traffic for August 1 is low, but that is only because we are filming this in the morning on August 1. It will be up around 125 or 150 by the end of the day.
Right away we have already nearly doubled the amount of traffic going to this website because a marketing adviser here at RentVision has increased ad spending on Google and Facebook in order to increase the traffic. When we have more supply, it's a myth that you can't immediately generate more demand. That's what we do for our clients and what we are doing in this case right here.
I went ahead and did a comparison in RentStream between this past week and the week before.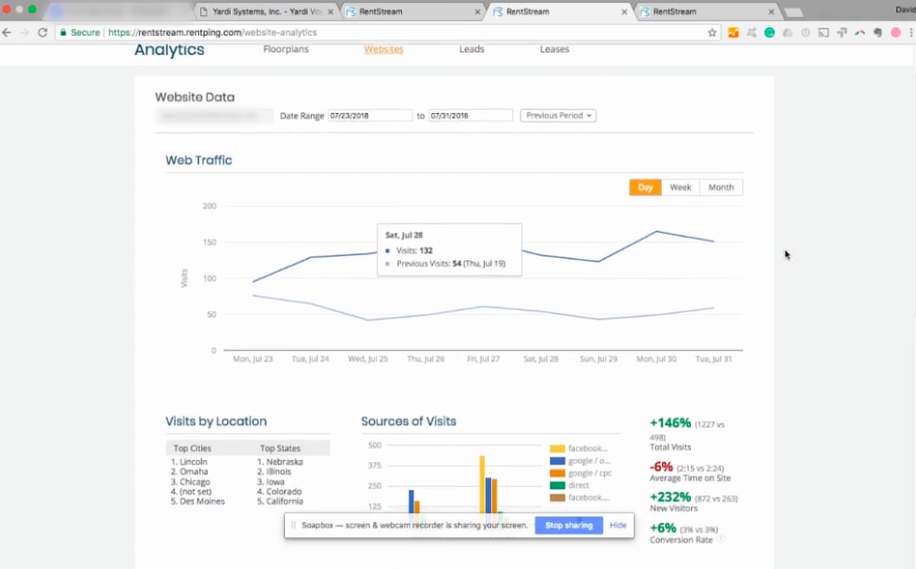 The dark blue line is the traffic count from the past week and the light blue line is for the previous period. One of the things you'll notice is the comparison. Visits are up 146%. Time on site is slightly down but that's to be expected. The more advertising we push, the quality of the lead degrades a little. The number of new visitors is actually up 232%. Most importantly, our conversion rate is solid. Our conversion rate is 3%, which is a little lower than we'd like to see, but it has not been affected by increasing these ad campaigns.
Finally, you'll notice that the number of unique leads jumped from 10 to 29. So the number of unique calls is nearly triple.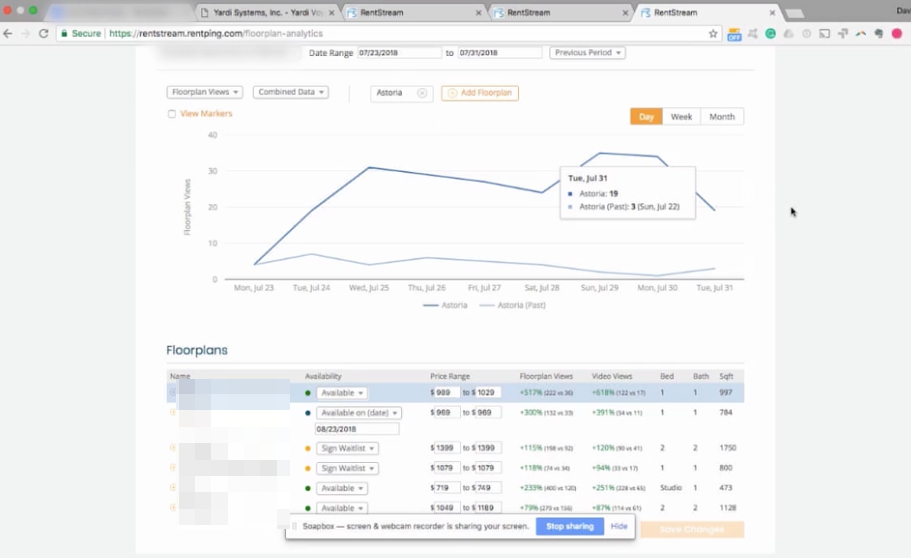 Last, we can look at our floorplan data. One challenge this property has is that 15 of the vacancies are from two floorplans. We wish it was a little more spread out, but in this case it's not. Interestingly enough, look at the increase in floorplan views. On this first one, it's 517% increase and video views, a virtual tour with someone actually walking through the unit, has increased 618%.
That's the best case scenario, but the other numbers are strong. Anywhere from 79% to 391% increase for these floorplans. Right away we're seeing incredible demand. What you can't see on the other end is that this client is also implementing some temporary inventory specials in order to move units faster. Those will burn off each week as units rent quickly.
We expect over the coming weeks to see lots of units rent. We started these campaigns a week ago. It is typically about seven days on average from the time someone views a website to when they contact a property. Many people contact the same day they look, but a lot of others come back later. Last week there weren't many leases, but this week we've already had two. We expect to see several more leases over the coming weeks. We'll keep you updated.
We hope you enjoyed this live case study and that it showed you how we can help people control their vacancy.