We have seen over 300,000 new units open in the multifamily industry every year since 2016. Typically, those new units are filled by new renters rather than people who have been renting in the multifamily industry for a longer period of time. What's more, as occupancy continues to hang around 95% in most communities, we expect to keep seeing high new construction numbers in the foreseeable future until demand begins to drop off and occupancy dips accordingly.

Because we are continuing to see so many new constructions, several multifamily companies are having to think through their lease-up strategies. New constructions are an enormously risky venture, but also offer a high reward if they're managed correctly. In this blog, you'll learn how to craft a successful lease-up marketing strategy.


1. Define your community's identity.

The first challenge facing many communities is simply defining an identity for the property. It's very important to select a good name for your community and we'll give you a few tips on how to do so.
Choosing a Community Name
Whether you are opening a new apartment community or rebranding, successful community names should be distinct, easy to spell, and easy to remember.
Here are three helpful tips when choosing a name for your community and examples of each:
Choose a unique name

that will rank well in search.

Choose a name that isn't already used by other communities. If you don't, Google will eventually figure out that your community is different because it is in a different location, but it can take a long time and create a lot of confusion in the meantime.

Example: Mountain View Apartments—a quick Google search confirms that there are already communities called "Mountain View Apartments in Wausau, WI, Gillette, WY, Colorado Springs, CO, San Dimas, CA, Moreno Valley, CA, Concord, CA, Bozeman, MT, and Anniston, AL." Additionally, Google is also ranking various listing service results for apartments located in Mountain View, CA on the search results page.

Choose a name that is easy to spell.

Don't use odd spellings or words that will be difficult for prospects to remember. While an unusual spelling can offer a distinctive look in your community logo and signage, it will also create huge problems for searchers. Your typical prospect, who is only somewhat aware of your community, is not going to remember to write "parque" instead of "park" when searching for you on Google.

Example: Parque Place Apartments or Riverside Pointe Apartments—unusual spellings should be avoided because most residents will default to the normal spelling of a word when searching for a property. Please note this opinion is based off of the English language. Sometimes, Google can save you because it will see the search term and be able to connect it to your property. But in many cases, Google will struggle to connect the keyword that a prospect searches for with your community. The result is missing out on leads simply because they can't remember how to spell your name. Communities with numbers in their name will often get in trouble here because they try to be too cute. If you are, "The View at 37th," then keep that spelling consistent. Don't do something odd with the number such as, "The View at Thirty7th." It won't be memorable and it will confuse people.

Choose a name that is easy to remember

.

Brookside Apartments at Pleasant Valley—there's just too much in a name like this. It's asking prospects to remember too much simply in order to search for your community. If they forget even one part, let alone if they enter an incorrect word, they'll never find your community.
To help with this process, we've developed a free, interactive tool called Community NameScore. It allows you to enter in potential community names and have them graded using the three aforementioned metrics.
Watch our video and learn 3 Helpful Tips When Naming Your Apartment Community.
Choosing a Domain Name
The other vital aspect to establishing your identity is selecting a domain name for your community website. There are four basic rules you should try to stick to when choosing a domain:
Use your apartment community name. This rule might sound obvious, but you would be surprised by how many communities or businesses, for that matter, choose a domain that doesn't include their name.
Include "apts" or "apartments" in the domain if at all possible. However, this won't always be possible. If that's the case for you, "live" or "live at" could be an acceptable alternative. For example, www.LiveAtRentVision.com.
Find a ".com" domain. Generally speaking, other top-level domain options are still new enough that they are not yet widely trusted by internet users, thus, they often struggle to rank well in search.
Keep the domain short. Shorter domains tend to rank better in Google, while longer domains are tougher to remember. Also, if a prospect wants to go back to your site, they may want to navigate there directly rather than via a search engine. But to get there directly, they need to enter the website address correctly.
Of course, there is a connection between your domain and your community's name. If you want a domain that is short and memorable, you will also want a community name that is easy to spell. If a person has to remember that your name is "Parque" or that you format your name as "Fifty5 Apartments," they will likely not be able to remember your website URL.


2. Build your community's platform.

Once you have selected a name and domain for your community, it's time to begin building your online platform. By "platform" we mean "your community's online presence." It's the thing people find when they are looking for your community online.
The Three Essentials for Your Online Platform
In our opinion, every community platform must include these three staples. The platform may include other items, of course, but these are the essentials.
Google Business Profile
Community Website
Your community website is an online leasing office. All the things your leasing office does should also be offered on your community website.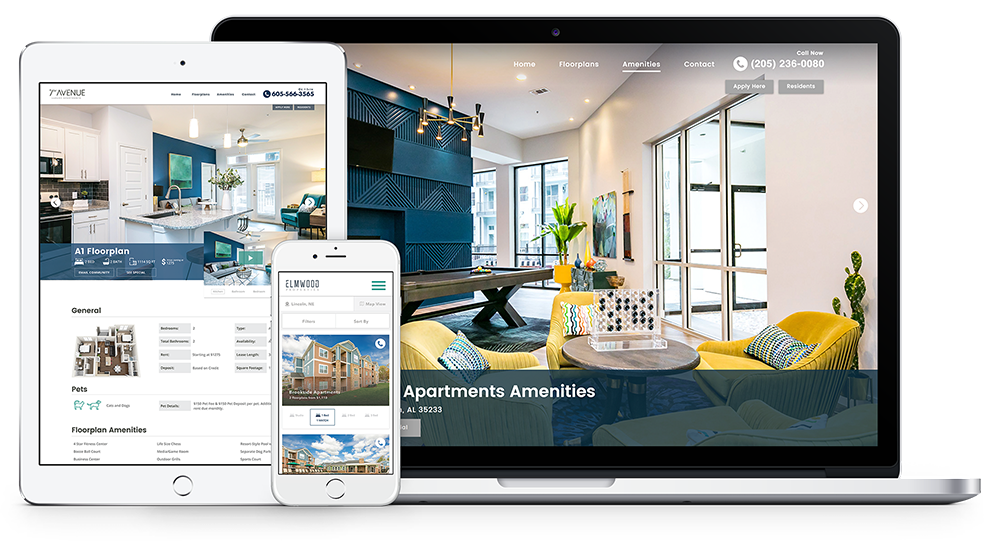 Does your leasing office tell people the rental rates? Yes, so your website should too. Does it give tours of your individual floorplans? Yes, so your website should as well. Does your leasing office tell people about your pet policy and amenities? Yes, so your website should do the same. For a deeper dive on the essentials of a community website, read our 6 Actionable tips to Design User-Friendly Apartment Websites blog.
To test the effectiveness of your existing community website, check out our Community SiteScore Tool.
Google Business Profile
Your Google Business Profile is essential for three reasons.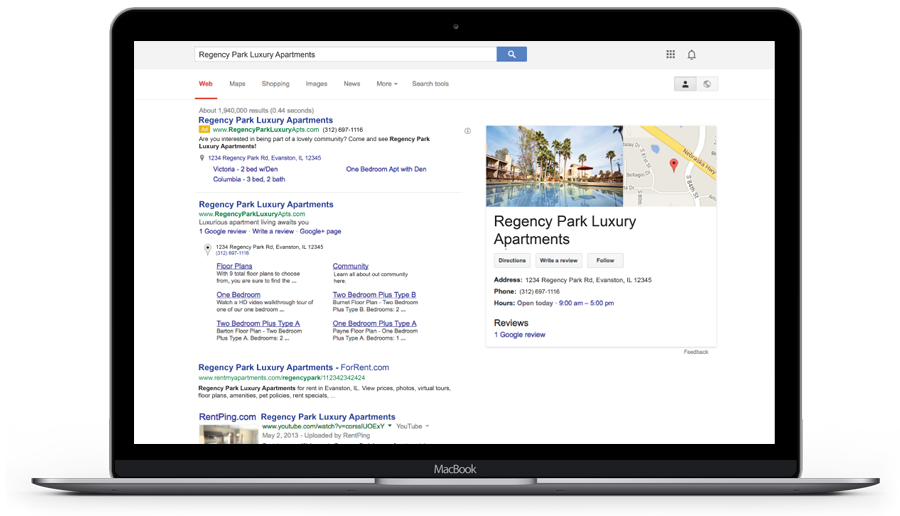 First, directions and information about your community in Google Maps is pulled from your Google Business Profile. So if you want people to be able to navigate to your community using Google Maps, your Google Business Profile needs to be set up.
Second, Google Business Profile makes it easier for people to learn more and interact with your property on the search results page itself. They can see your leasing office's hours, find your phone number and address, navigate to your website, and read online reviews of your community.
Third, the Google Business Profile listing takes up valuable space on the search results page and draws attention to your property and away from the search results that you do not control, such as a listing service or competitor community website. It also brings a sense of legitimacy to your property.
To learn more, read our blog on Why A Google Business Profile Is Essential to Your Marketing Strategy.
Google Ads
Finally, Google Ads help round out your basic online platform.
Google Ads can be used to drive traffic to your community website across a variety of search terms in Google. The primary place we recommend communities to advertise is their own branded search terms, which are any widely used search terms that refer to your community by name.
This protects your online brand and makes it easier for users to find your community on Google.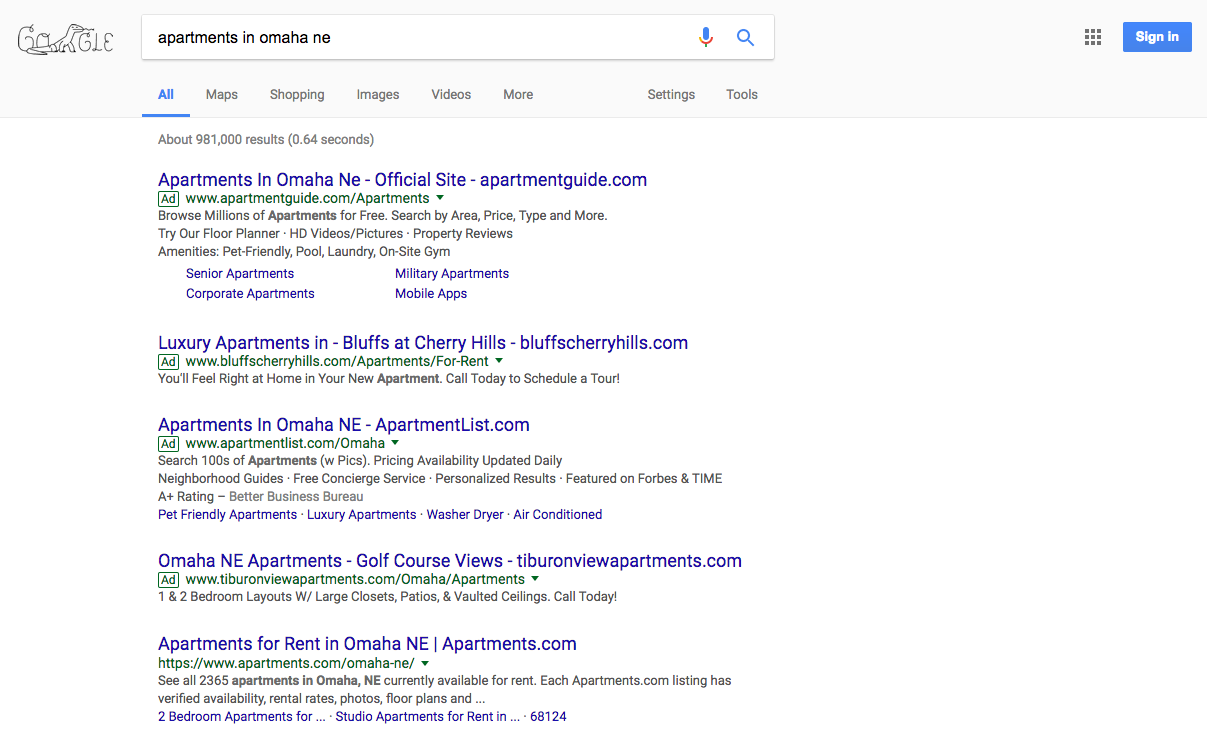 You can also advertise on other terms. You can identify general search terms that are relevant to your community—"luxury apartments near (local landmark)" for example. Or you can set up ads to run on your competitor's branded terms.
Google Ads is also an essential aspect to controlling your community's demand. If you have an unexpected spike in vacancy, the best way to drive additional demand to the property is via Google Ads.


3. Generate interest in your community.

For your purposes, "generating interest" basically means driving engaged traffic to your community website. The two primary ways of doing this are via organic search and paid search.
If you're wondering why we aren't mentioning social media, it is because, in general, social media is not a great marketing channel for multifamily. Social media excels at marketing for interest-based brands, like sporting goods brands, food and beverages, etc. When people have a general interest in a topic, brands operating in that topic's market space will often do well on social media. But multifamily housing does not really fit the "interest-based brands" category. The one exception to this rule is Facebook advertising, which can provide targeted traffic to community websites in certain situations.
The reason search-based marketing works well in multifamily is because it's built around problem solving rather than consumer interest. People come to search engines to solve problems—they need an answer to a problem or information about an immediate need.
Apartment shoppers obviously fit into this picture nicely. They aren't generally interested in multifamily housing. They are, however, interested in having a place to live. So during their housing search, they will get on Google and enter various search terms that help them learn about their options, and eventually, lease an apartment.
Your goal is simple: If prospective residents are searching for a place to live and your community is a place they could call home, then you want them to find your community.
The two ways to make that happen are organic and paid search.
Organic Search
The good news is that search engine optimization (SEO) is relatively straightforward in the multifamily industry. If you build an accessible, well-designed website that includes content that answers the primary questions a shopper will have about your community, you should rank well on Google.
We also recommend doing as much SEO work as you can during a lease-up— setting up your Google Business Profile, a "Coming Soon" site, etc.—before listing your property with an internet listing service (ILS). We recommend creating a "Coming Soon" website 12 months prior to opening your community, in order to build domain authority. Otherwise, the ILS will be first to create a presence for you on Google, and you will spend the first 6 months of your community being open, trying to get back the top spot for your own name.
Below is an example of an ILS listed in the first position in search, for an apartment community that is under construction. While the "Coming Soon" website is in a close second place, this shows the importance of claiming your Google Business Profile and creating your future website at least a year in advance, prior to listing your property with an ILS.
That said, the challenge with organic traffic in multifamily is that there is often a fairly firm cap on how much you can expect at any given time. Every community has a fairly niche and narrow product they can offer—a long-term housing commitment that requires either a large amount of money or a long-term commitment to living in a certain place, while trusting staff to maintain the property that you are going to call home. There will never be a gigantic number of people looking for your product at any given time.
This means that while organic search is going to be the best way to reach the people who are looking for a community like yours, you're usually going to need supplemental help from other marketing channels during certain times of the year.
Paid Search
Paid search does two important things for your community.
First, it makes it easier for prospects to find your website and feel confident in your trustworthiness as a housing provider. When a prospective resident searches for you by name, and they see your ad alongside your organic search listing and Google My Business listing, it helps them get to your website and it communicates professionalism and competence.
Let's see this put into practice. The example below shows a professional-looking Google Business Profile listing in the local search listing to the right. As stated above, it verifies that your ads to the left, in the paid and organic search listing are affiliated with your business listed beside it. It also communicates credibility to those who are searching for your business.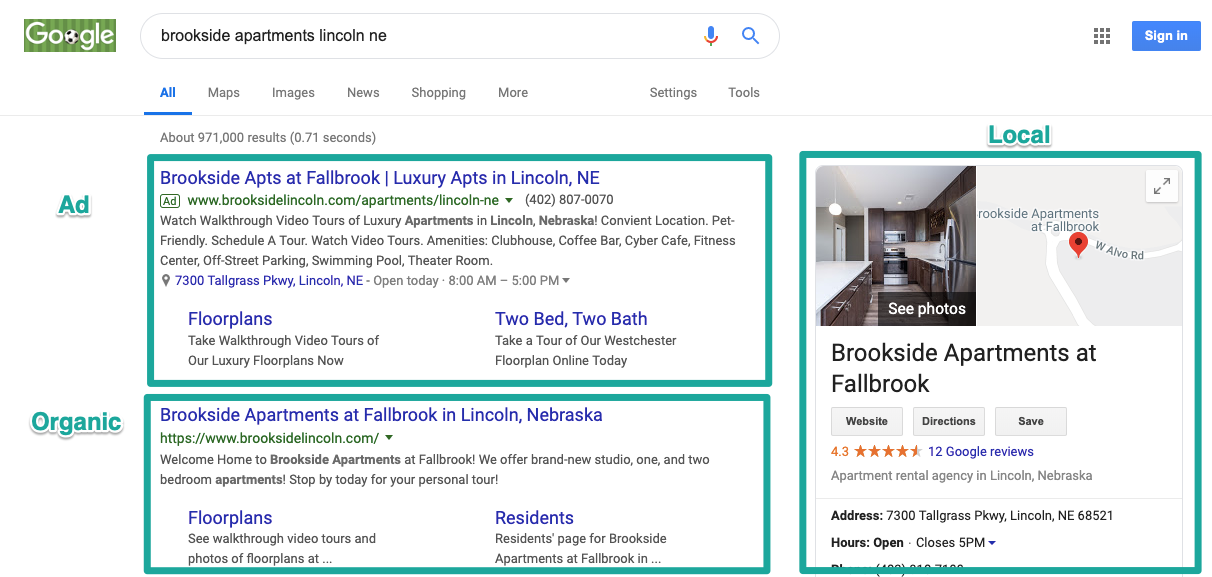 Second, paid search traffic supplements your organic search traffic for those seasons when organic traffic is not sufficient.
If you think of your community's monthly organic search traffic as representing your community's average demand, then you're well-positioned to understand what paid search ought to do for your community: It increases demand for those times when your supply exceeds your average demand.
If you have a competent ad manager supervising your account, your Google Ads budget can basically guarantee that your supply and demand are always balanced, meaning your vacancy never gets too high and your rental rates never get too low. Learn more about how we maximize your ad performance and see how your ads are performing by reading our blog: Measuring Multifamily Digital Ad Effectiveness with One Metric.


4. Convert your leads into leases.

When leasing up a property, it is important to determine how many leases you want to generate per week and then adjust traffic levels accordingly. We refer to this as your "leasing velocity." For example, if you drive too much traffic and your staff cannot handle the volume, it will result in fewer leases and wasted marketing dollars. If you don't generate enough traffic, then your staff isn't operating at full capacity and your community will lose money because of the slow velocity. Part of this ongoing strategy is making adjustments along the way and finding the right balance to reach your desired leasing velocity.
Managing a lease-up successfully requires more than just strong marketing and a leasing velocity. If your marketing strategy is generating leads, but your leasing team isn't converting those leads to leases, then you will still have trouble.
The basics of being a good leasing agent aren't hard or mysterious:
Answer the phone.
Be courteous to prospective residents.
Know each of your community's available offerings.
Be prepared to field common questions and/or objections.
Ask for the lease.
That being said, any kind of sales position is often harder than it sounds. In the video below, learn how to handle a leasing call and some common mistakes that leasing agents make when on the phone with prospective residents.
The key to successful leasing is equipping your leasing team with the skills they need, providing them with quality leads, and tracking their performance to see where improvements can be made.


5. Monitor your results and make adjustments as needed.

Multifamily properties are never "done" with marketing in the way that they are "done" with a lease-up. After some amount of time, you will no longer be a new community. Newer properties will open their doors in your neighborhood and you will begin the more ordinary work of trying to compete alongside other established, long-standing multifamily communities.
If you wish to do that well, then you need to understand how to track your community's performance, read your data, and make smart decisions based on what that data tells you.
Several tools are necessary to do this work well: First, you need to use Google Analytics or a similar tool to track website visits and performance. Second, you need to use some sort of system for creating and monitoring tracking numbers so that you can evaluate the performance of each individual marketing channel. Finally, you will need some kind of software (or even just a spreadsheet) to track performance across time and identify opportunities to improve your marketing and leasing performance.
How can you successfully identify problem areas?
There are a couple simple methods. First, if you see one channel dramatically underperforming relative to other channels, that's a good sign that something isn't right.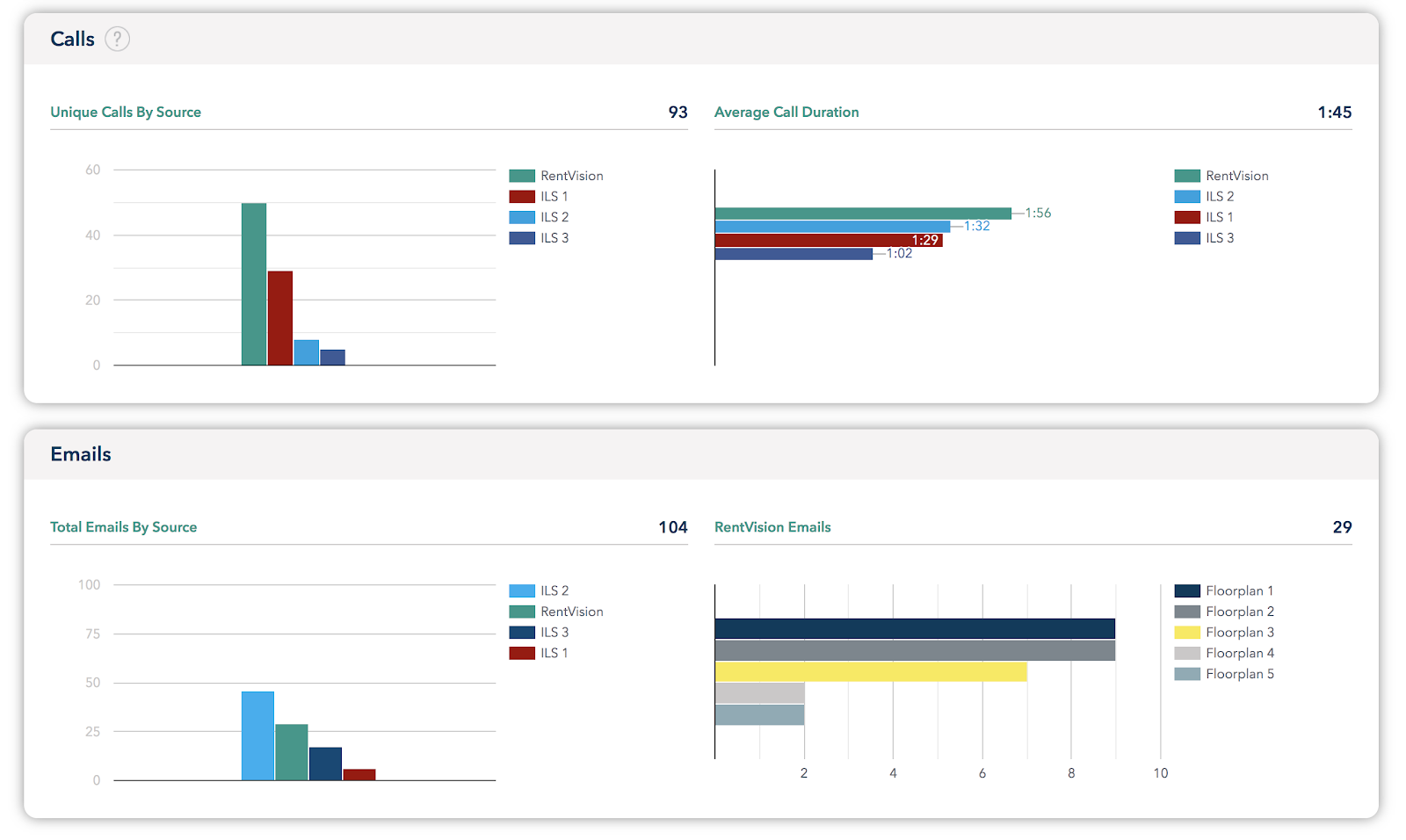 In most cases, it means you have too many listing services and several of them are underperforming relative to what you are spending on them. In our experience, this is a very common problem. Many communities invest in too many listing services and only see worthwhile results from one or two of them. The rest of the money is basically wasted.
Another tip to track performance is to look at conversion rates. The conversion rate is the percentage of users who take a desired action. So you can track your conversion rate from website visitor to lead, or from lead to lease.
If you use tracking numbers and track leases carefully, you can even get a decent idea of conversion rates from lead to lease. This is valuable data, as it can tell you if your marketing channels are actually producing real leases or are simply wasting your staff's time by producing a large number of bad leads.


6. Conclusion

Lease-ups are stressful and expensive. But they are also a huge opportunity for growth in your company.
Because of the nature of the multifamily product, it can be fairly difficult to see dramatic growth in your business without significant risk. After all, rental rates on individual units can only grow by so much year-over-year. To grow your business you need to grow the number of units you can rent. And often that means new constructions.
So most companies in our industry that aim to grow will need to navigate the challenges of a lease-up at some point. We hope this post has helped you see the value of having an effective marketing strategy established during this difficult process.
For more information, you can download a free copy of our ebook How To Execute A Successful Apartment Lease-Up by completing the form at the bottom of the page.
And as a bonus, watch the next video to see how RentVision helped a 200-plus unit apartment community complete its lease-up in less than a year (and raise rents by the end, too).