With the Google Search platform having such a critical role in marketing your apartment community, it's important to stay caught up with its many updates. Google's developers are consistently working to improve the search engine to make it a better tool for both businesses and consumers.
In this blog, we'll highlight a few Google updates for 2021, and analyze why each matters to apartment marketers.
1. You can now discover key insights with Google My Business performance reports.
Google has updated its Google My Business performance reports. You can see your report by logging into your Google My Business (GMB) profile and clicking "Insights" in the sidebar, and then "See new profile performance" at the top of the page.
The latest update expands the reporting from 3 months to 6 months. Key metrics you can discover include the number of calls or messages generated from your listing, number of searches that triggered your profile, and a breakdown of the most popular search terms that returned your profile.
Why This Matters for Apartment Marketers: With many potential residents performing discovery searches in platforms such as Google Maps, your GMB profile has an important role in bringing attention to your apartments. You should be measuring the amount of phone calls or messages originating from there—high numbers could mean your profile has great visibility, while low numbers may indicate your apartments aren't reaching as many prospects as you need.
The other valuable metric in these reports is the search term breakdown. If you're struggling with selecting the right keywords in your Google AdWords campaigns to bid on, this may help you identify search terms that actually connect prospects directly to your apartments.
2. Page experience takes on greater impact in Google search rankings.
A common misunderstanding most marketers have with Search Engine Optimization (SEO) is it's a method to increase visibility of their brand. "If we just buy the coolest, state-of-the-art website design with brilliant photography, our company will instantly gain more popularity." While in some ways this can be true, it's not exactly how Google sees it. The search engine won't rank your website higher because it's the prettiest—it's looking for the websites that are the most helpful and user friendly.
That's why Google is rolling out an update that gives a user's page experience a greater role in how the search algorithm ranks websites. There are varying standards Google uses to measure page experience. It tracks loading time, interactivity, and visual stability, to quantify the key aspects of the user-centered experience (or what they call their Core Web Vitals). The search engine will also measure mobile friendliness, safe browsing, and HTTPS, as well as check that there's no intrusive elements.
Basically, websites that allow users to get more done and engage more deeply will rank high in page experience. Websites that are slow, not secure, have multiple motion graphics and pop-ups, or lack valuable content, will rank lower in page experience.
Why This Matters for Apartment Marketers: Your apartment community's website is your most valuable marketing tool and lead generator. If your website doesn't have a great user experience (whether you know it or not), you will struggle to engage with prospective residents as well as lose out on some key leads.
All of the signals Google measures to rank web pages are emphasized on apartment community and corporate websites built by RentVision. We highly encourage you to try our free Community SiteScore tool, which gives you an analysis of your website's overall performance, security, SEO signals, local listing (GMB), and integration with Google Analytics. This will help you know whether your most valuable marketing tool is either helping or hurting you.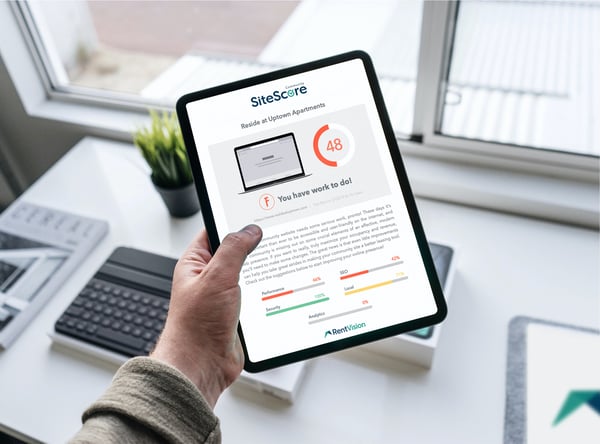 [Click Here to Use the RentVision Community SiteScore Tool and Get a Free Report on Your Website]
3. Google Maps is now showing web search results along with local listings.
Google users began noticing that the company has started to include web search results in the local listings section of Google Maps. This section is already full of information, such as listings of properties, their ratings and reviews, location, and more. The addition of web search results makes this feature more user friendly, with the purpose of providing as much helpful content as possible.
Why This Matters for Apartment Marketers: While there may not be an immediate actionable here in regards to this update, it should underscore, at least, Google's intention to improve their maps feature. Google wouldn't be making tweaks there unless they knew it would resonate with searchers. If anything, apartment marketers should know the value of owning and actively updating their GMB profile.
4. Google introduces community feed to Google Maps.
Adding to the previous update, Google is also introducing a new Community Feed feature in Google Maps.
The intention behind this update is to give searchers the most relevant information and latest recommendations about businesses, restaurants, and other features within their vicinity.
Why This Matters for Apartment Marketers: Again, owning your local listing is critical here. You may not realize that a portion of your apartment community's target audience may be in your own backyard. Additionally, it's easy to picture a scenario where a prospective resident wants to learn more information about the area surrounding your community.
There's multiple ways apartment marketers could use this tool. If you have a struggling floorplan that needs a push, or are currently running a rent special, highlight that information in your GMB profile. Updates like those could appear on the Community Feed. Additionally, you could incentivize your current tenants who have expressed happiness about your community to post a positive review of your apartments online. New reviews or recommendations will also be found in the Community Feed.