What would you do if you could communicate whatever message you want to prospective residents when they are searching for you on Google?
Would you tell them about your rent specials? Post something about an upcoming community event? Something else entirely?
Well, good news: With Google's new Posts tool, you can do exactly that.
What is Google Posts?
Posts is a tool that Google has introduced in order to bring some of the functionality we associate more with social media networks—the ability to define customizable messages to post for people to see—into the search result page on Google.
What do Google Posts look like?
Here is an example: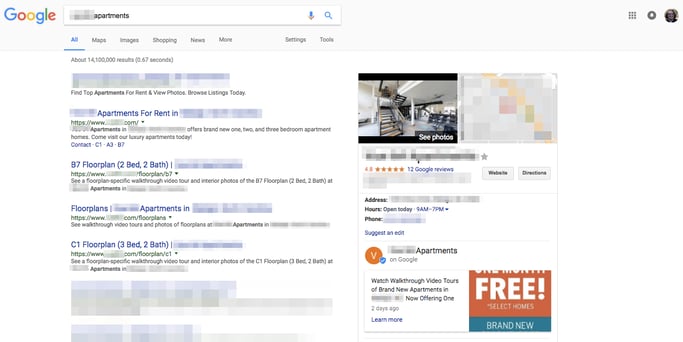 As you can see in the bottom right corner, if someone searches for the business by name they now see posts written by the owner of that business's local business profile. So now, in addition to seeing the business's review data and contact information, Google's users can also see customized messages written by the business.
Why is Google introducing Posts?
This is an interesting question. Obviously the company is locked in a long-term battle with Facebook for online advertising revenue. Both companies can reach a huge audience, but the way that people use the two platforms differs considerably.
Google tends to be an intent-based platform: I have a specific thing I wish to accomplish and I go on Google to search in order to do that thing.
Facebook, in contrast, is an interest-based platform: I am interested in fitness so I follow these pages on Facebook.
That being said, both companies have tried to cross over into the other sphere. Facebook has experimented with a number of modifications to their search feature to try and bring in that intent-based side of things. Google, on the other hand, has tried things like Google Buzz and Google Plus to make their platform more social.
It seems that Google Posts is their latest attempt at making search look a little bit more like social. Posts behaves very like a Facebook post that appears on the Google search result page.
There is a further motivation here as well for Google: They want people to stay on Google-branded web properties rather than navigating to a different website. The longer people use Google services, the more Google can advertise to them and the more Google can learn about the user, enabling them to create more relevant ads to show the user, which means they can charge the advertiser more to reach the user.
Posts provide one more feature that a user can interact with and gives businesses incentive to put even more of their marketing content on the Google search page rather than having it exclusively on their company website.
To sum up: They have an incentive to use Posts as a way to close the gap with Facebook a bit as far as social goes and they have an incentive to use Posts as a way to control more of a business's online presence.
How do Posts Work?
In this section, we will walk you through how to create a new post.
First, make sure you are logged into Google. Then click the small grid of boxes in the top right corner that allows you to access the various Google apps. Scroll down and select "My Business."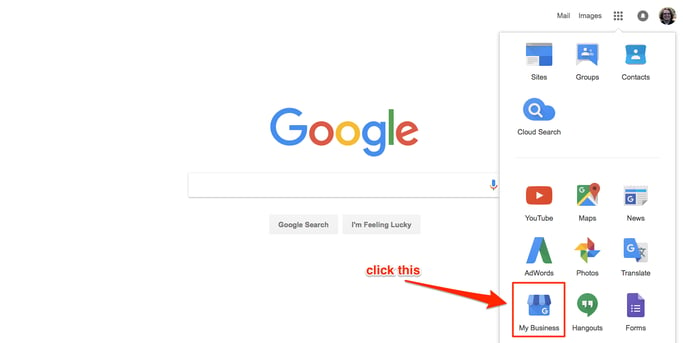 Next, you will see the home dashboard for your business page. It looks like this. Note the "Posts" menu item on the left side of the dashboard.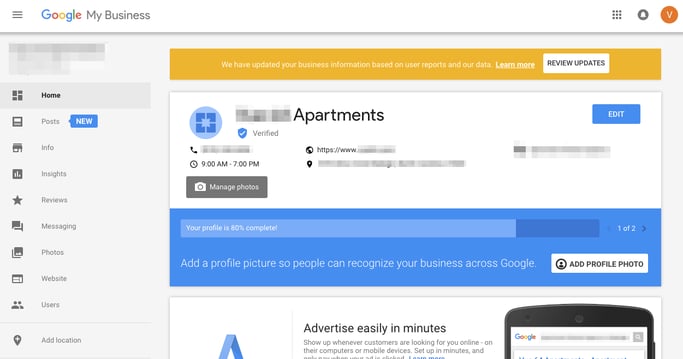 Click "Posts" and you'll be taken the Posts page: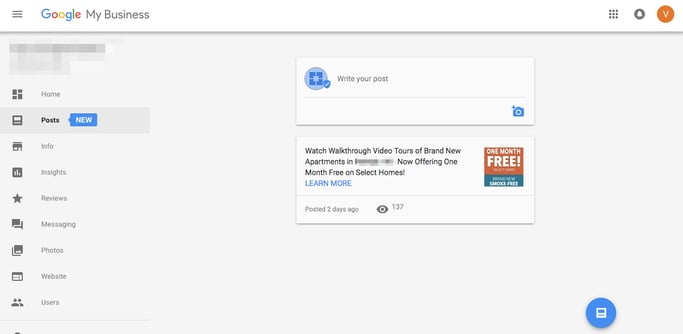 To create a new post, simply click "Write your post" in the top middle section of the screen. When you do that, this screen will pop up: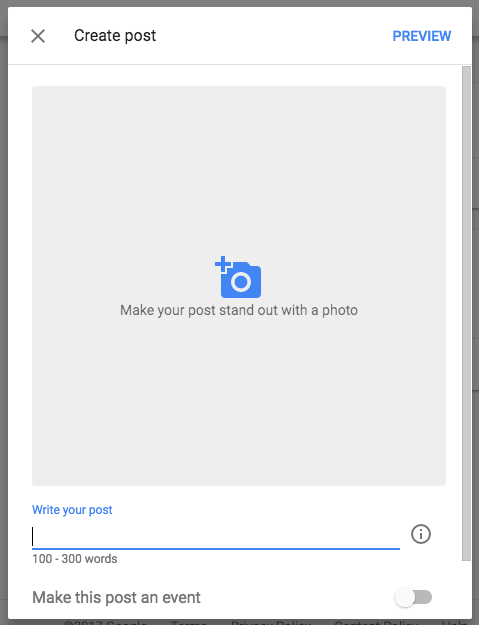 There are four things you can do in this screen:
Add a photo.
Add text.
Make the post an event and add time/place information.
Add a button to the event, allowing the user to interact with the post in some way.
When you add a photo, you'll be asked to crop the image so that it fits within the parameters of a Google Post.
Once you have everything formatted as you want in the post, you can click "Preview" in the top right to see what the post will look like when it is live: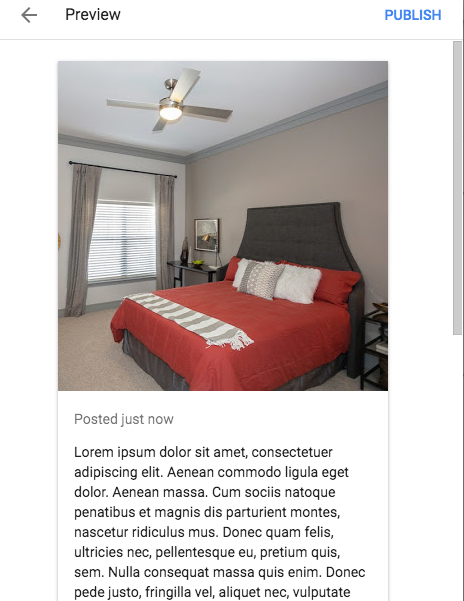 If you are happy with how everything looks, click "Publish" in the top right corner and the post will go live.
What should I use Posts to do?
We teased some of this above. There are three uses that seem most apparent to us:
Use Posts to announce rent specials so that apartment shoppers can become aware of deals your community is offering.
Use Posts to tell residents (and prospective residents!) about events your community is planning. This makes it easier for current residents to find that information and shows prospective residents how active your community is.
Use Posts to share photos from previous events. This is more of a marketing move as it is less likely that current residents will be looking for photos from past events, but it is still valuable because it shows prospects that you have an active community and provides another opportunity to show people photos of your property.
Conclusion
Hopefully this has given you some ideas about how to use this powerful new tool to promote your community. If you have questions, reach out to us using the "Talk to Us" button in the top right corner of the page. We'd love to hear from you!