There's an article you ought to read over at the NN Group website about how on-page redundancies make your website harder to use. The NN Group article is specifically concerned with one particularly sort of redundancy (linking to the same page twice on the same page), but the principle applies more broadly as well.
How should you think about apartment website design?
The chief goal of an apartment website is to produce actual leasing outcomes for your community. Websites aren't something we create just because "it's the right thing to do" in a digital era or because everyone else has one. We create apartment websites to help lease apartments. Therefore, the first rule of website design in multifamily is that all our design decisions should be guided by the question "What will help us lease apartments?"
Toward that end, you want to create a website design that makes it easy to learn about your floorplans and easy to contact your leasing office.
What makes a website more complex and difficult to use?
There are a number of website features that can add frustration to the typical user's experience on a site:
Menu items need to be clearly labeled and identifiable.
Pages need to load quickly.
Basic information needs to be easy to find.
We'll talk about examples of each of these problems below.
Menu items need to be clearly labeled and identifiable.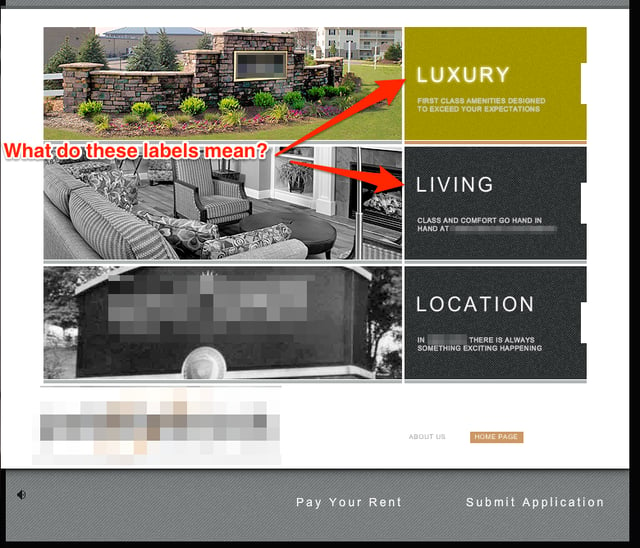 In the above case, it's hard to know exactly what you'll find if you click the "Luxury" or "Living" links. Will you find amenity information? Photos? Floorplans? This is bad design because it forces users to do extra work to accomplish very simple tasks.
What you want, instead, are clear menu links that allow prospects to be confident they are selecting the right link to find the information they need. Menu labels like "Photos," "Amenities," "Contact Us," and "Floorplans" are excellent because they communicate something clear to the average prospect.
Pages need to load quickly.
Slow-loading pages are another frustration, particularly on mobile devices that typically rely on slower connections to access the internet. To find out if your site's page speed is holding you back, use our free SiteScore tool.
There are a number of things you can do to improve site speed. Some are relatively simple, like optimizing images for the web. Others involve more technical SEO work, like setting up a Content Delivery Network (CDN) or doing server-level work. If you do try the more technical projects to improve site speed, make sure your web developer takes the lead on this so that nothing gets broken.
Basic information needs to be easy to find.
Sometimes communities put the phone number in a bad place on the page: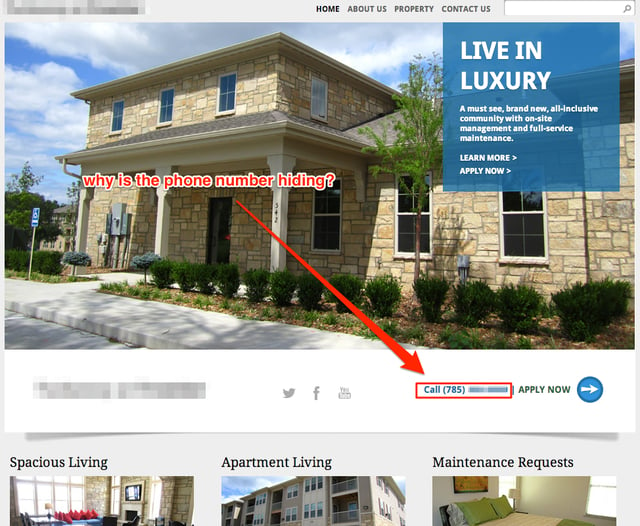 And then sometimes they forget to even include the phone number (or address):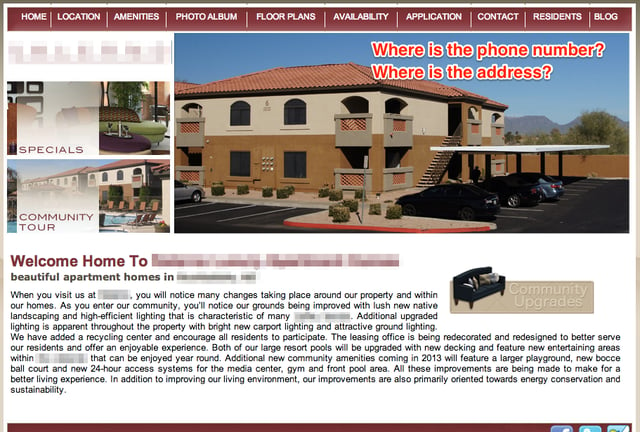 A well-designed website will make it easy for people to find specific pieces of information that they need. In the case of an apartment community that information includes the phone number, address, rent rates, pet policy, and leasing office hours. If those five things are displayed in easy-to-find places, you're doing well. If prospects have to spend time hunting for them, you're in trouble because many prospects will instead hit the back button and go back to the search results rather than dig around on a badly designed website.
Conclusion
Badly designed websites cost you leads. A prospect might be perfect for your community but if they can't find out how to contact you or can't load your site, they'll never even make it to your leasing team. So when you are designing your community's website (or evaluating a website that's already live), think about how a prospect would use the site. What information do they care about? What do they click first? If you build a site with your prospect's needs in mind, it will be a better, more effective website.