In this week's blog, we're trying something new. We're interviewing a RentVision team member to learn a bit more about them, how they ended up with RentVision and how they help make it easy for clients and prospects to rent apartments.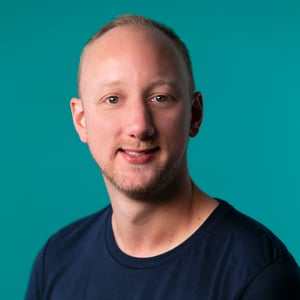 Today's interview is with Aaron Rishel, one of the RentVision media producers who travel around the country to capture visual content of every apartment community that partners with us. During his visits, he takes photos of the community's floorplans, exteriors, and amenities and he also shoots walkthrough video tours of each floorplan.

RentVision is unique in that we employ full-time media producers to handle all of our visual content—rather than outsourcing—which ensures high-quality results every single time. This means that when a RentVision media producer shows up at your community, they have flown into town to shoot your specific property. Aaron is one of our biggest road warriors on our team—traveling hundreds of thousands of miles each year. We were extremely excited to interview him and have you learn more about his role.
How did you first get started in media?
Aaron: I got into photography as a kid. We traveled a lot and I had a little phone camera I would use. I studied fine art photography and commercial photography in college. After I graduated, I worked in photojournalism at the Midlands Business Journal with my friend Rob, who I had known since middle school. (Note: Rob Durland is another RentVision media producer.) We also did some video work there that highlighted some of the articles we produced. That is where I started doing video. I taught Rob photography. He taught me how to shoot videos.
Can you talk about the process of shooting a floorplan walkthrough video tour?
After we get the keys from the property manager, we have to set up the unit. Photography is all about lighting, so we have to make sure the blinds, lights, and everything else looks correct. Sometimes we also need to clean up the unit a little bit. Model units are often used for in-person tours, so sometimes the bedding gets messed up or a chair gets moved a little. We have to make sure all of the furniture looks nice and is in the right place. We want to make it look as good as possible. After we do that, I shoot the photos first and then shoot the video.
I shoot photography first because you get a feel for how everything looks and how to move throughout the unit. After shooting the photos I know where the mirrors will be or if they have a frame on the wall where the glass will be reflective. I don't want to get caught in the frame at any time while shooting the video.
As you take photos while moving throughout the unit, you figure out where those areas will be where you might get caught. Shooting photos first also gives you a good mental layout of the unit. The video should be as seamless as possible, so you don't want to stop and hesitate while you're filming—you want to know where you're going. We don't cut the video or edit a video together from multiple takes. We do it as one continuous shot. A big part of the work is understanding the angles, so that you capture the room but don't get yourself in the frame. I've done it enough times that I've gotten a feel for it and know when I need to start turning, but it takes a little getting used to.
What are some of the challenging parts of capturing visual content of an apartment community that surprised you when you first started?
Exterior photos can be hard. There are a lot of things you don't notice if you're just walking around outside. There are electrical control boxes, pipes, people that have junk on their patio, fire hydrants...all of that stuff has to get photoshopped out or cropped out. The weather is such a big factor too. It's not just rain either. If the shady part of the building is the best looking and the sun is behind it, you don't have good lighting to shoot. All of those things can make shooting exterior photos more complicated.
What happens after you film the unit?
We meet back up with the property manager. I explain how everything went. Then our scheduling coordinator reaches out to them the next day, goes over the timeline, expectations, and asks whether they have any questions. Sometimes we'll show clients sample photos to give them confidence in the product they're receiving. If a corporate employee hired us, the property manager may not have seen one of our websites or videos before so I can show them those things to help them know what the final product will be like.
Once the filming is done, we start editing. That means putting music with the videos, color correcting, and doing everything as quickly as possible so it is timely for the client, but also making a great product that we're proud of.
We actually upload photos and videos the night of the shoot, so that whichever members of the media team are in the office can start editing the next day. We have one media producer per week who stays in the office in a support role. Their job is to help out the team members who are traveling by organizing photos and videos, editing, and managing tasks, so that the travelers can just upload content into Dropbox and have more time for shooting.
What is the strangest thing you've experienced while doing a shoot?
Once, while I was filming I looked outside and saw a resident walking outside with a large pet rat on a leash sitting on her shoulder and crawling around in her hair.
How many miles do you fly for work in a year?
In the past two and a half years I've flown almost 215,000 miles, which is enough to go around the equator nine times. I get about 100,000 points a year most years, though last year, I barely missed getting the companion pass.
We want to give a huge thanks to Aaron for joining us this week. We're pleased to be able to share a bit more about our process when shooting photography and floorplan walkthrough video tours because the idea can seem deceptively simple until you actually try to shoot one yourself. We hope you enjoyed learning about our process.