Building a website is one of those things that doesn't seem like it should be that complicated, but quite often it is.
If you are someone in the multifamily industry, you probably have bumped up against this problem at some point.
You're working at a community and they badly need a new website. But how do you actually build one?
Do you go with a free service like Wix?
Do you try to hack something together on your own using WordPress?
Do you hire someone to build a website for you? (Please don't do that. If you pay someone a one-time fee for a site you will almost certainly get a lower-quality site and you won't have anyone to help when technology changes and the site needs to be updated. Plus you probably won't find someone with industry experience so they won't understand the unique needs you have as an apartment community.)
Do you work with a vendor to provide a website?
There are tons of options.
Finding the right solution for your community can be hard. And now there's a new option: Google has a new website builder baked into their Business platform.
What is Google My Business's Website Builder?
Google My Business (GMB) Website Builder is a new tool Google has launched to provide easy, affordable websites to small businesses that can't afford to build their own website.
If you have a Google My Business listing (and you almost certainly do) then you can have a website through this tool. You may have even received an email from Google inviting you to do that:
You're almost done - click publish to launch your new website. You've already created a mobile-friendly website, don't forget to click publish, so that your website can be seen by your customers.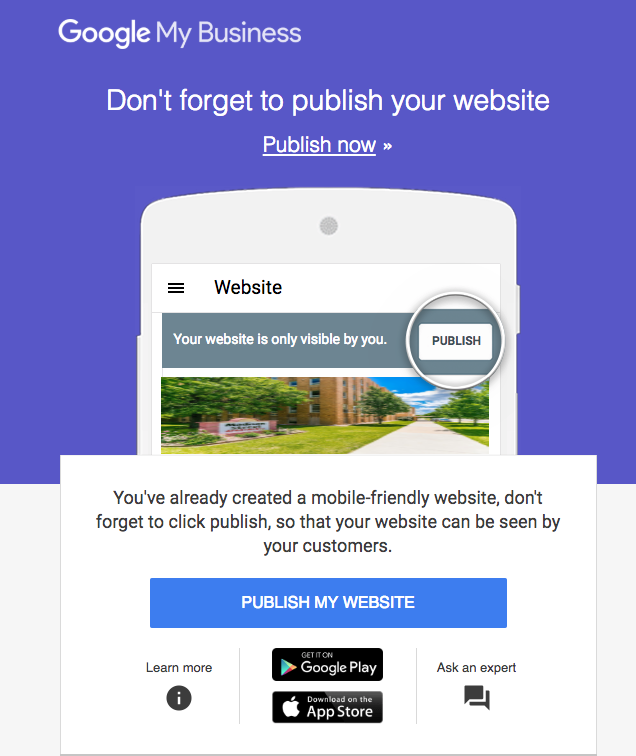 NOTE: If you have a community website, do not click "Publish My Website." It will remove your community website from the search listings and change your Google My Business listing's website link to the Google My Business website.
If you don't get an email like that, you will need to navigate to the dashboard to create the website.
To create a website, go to business.google.com and navigate down to the locations that you manage at the bottom of the page. Click the GMB icon for the location that you want to build a website for:
Once you have done that, you will be in the GMB dashboard. Scroll down to "Websites" on the lefthand navigation menu and click that option.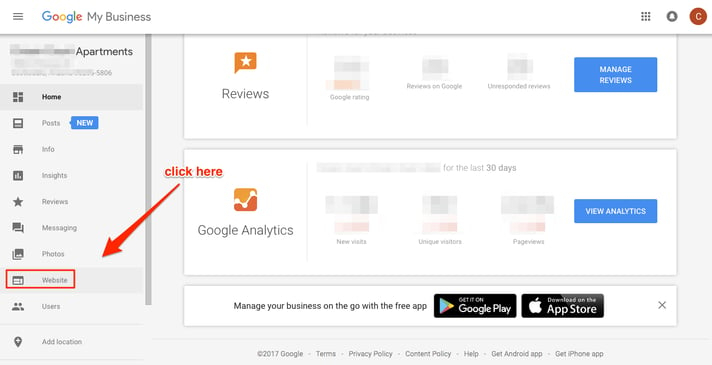 After doing this, you'll be navigated to the websites tool and see a few pop-ups asking you to build a website.
Click through those and Google will generate a website for you: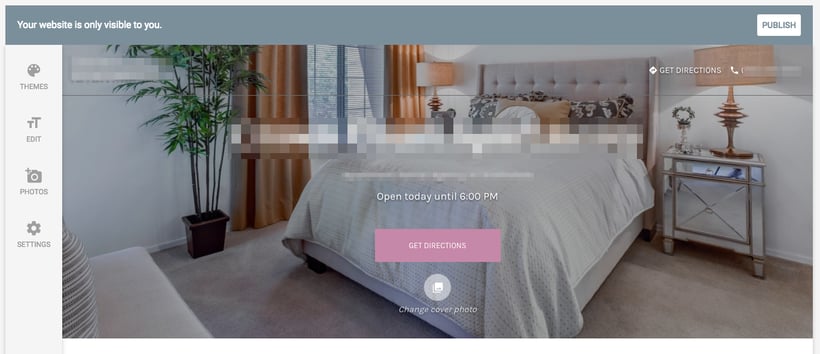 You can then edit the content of the site, changing images and text. In most cases, you can edit information simply by double clicking on it wherever you see it on the website preview screen. You can also use the menu at left to make edits.
Once you are done, click "Publish" in the top right corner and your website is live!
There are problems with the GMB Website Builder websites.
The main issue with the GMB Website Builder is that it's a blunt tool.
Different small businesses have different needs from their website. What works for a restaurant or photographer or extermination company won't work as well for a multifamily community.
A multifamily website needs to have some embedded videos on floorplan-specific landing pages that walk prospects through each floorplan. It needs the right kind of calls-to-action, encouraging prospective residents to call the leasing office to set up an in-person showing. Other businesses will not have these needs.
The primary way you should understand your website is as an online leasing tool, an extension of your leasing staff. This understanding assumes certain web design features that an all-in-one tool like GMB's Website Builder simply cannot provide.
The second problem is that if you have Google My Business as your primary local listing and a Google My Business website as your website, you basically have entrusted your entire web platform to Google. (If you use YouTube to serve videos, then you're even more reliant on Google.) But what happens if something changes with Google? What if you inadvertently violate Google policies and your account gets suspended? This is a classic example of putting all your eggs into one basket. Generally speaking, we all know that's a bad idea.
Finally, if you have a community website and a Google My Business website, those two sites will compete against each other for web visitors. Prospects who would be better served by finding your official site, complete with floorplan-specific pages, walkthrough video tours, an amenities page, and so on, will end up on your Google My Business website instead. This is not an ideal experience for your prospects which means it is also not an ideal experience for your community.
Who should use the GMB Website Builder?
The short answer to that is "communities that would benefit from a website but lack the resources to pay a vendor or to build something using WordPress. This could, of course, include a lot of properties!
Thinking about my own neighborhood in Lincoln, I can think of a few properties around here that are far too small to be able to pay for their own website but who would benefit from something like a GMB website. But it is still, relative to the multifamily industry as a whole, a small group.
Who should not use the GMB Website Builder?
Most larger multifamily communities should not use the GMB website builder. There are three reasons why:
First, as we already mentioned, the tool is a very blunt object that lacks the ability to provide more industry-specific features to help your website perform better as a leasing tool.
Second, it is important to control as much of your online marketing strategy as you can. This is becoming more difficult as Google and Facebook become more dominant online.
If your website is built through Google, you have very little control over the platform. Google could roll out an update overnight and it could break your site. Or, more worrying still, Google could decide that it isn't worth their time or effort to maintain these websites. They've killed tons of products in the past, after all. Indeed, in 2008 they killed a product that is remarkably similar to the GMB Website Builder tool.
In contrast, if you build a website on a domain that you control, then you are building on a platform that belongs to you. This means that you can make choices as to what sort of content should go on the website, when the website needs to be updated, and when it is time to modify your strategy with the site.
You should want to have this kind of control because no one knows what is going on with your community better than you.
Third, if you build a Google My Business website, your community website will be removed from the search result page and your Google My Business listing will now link to the Google My Business website instead of the community website. In other words, publishing a Google My Business website basically removes your official community site from the Google SERP.
Conclusion
The dominance and ubiquity of companies like Facebook and Google can be a good thing. Building a website requires some level of technical knowledge and if you don't have it, the GMB tool is a great way to get a free website.
That said, be leery of putting all your eggs in one basket. If Google controls your website and you are relying on Google for traffic via organic and paid search and Google controls your local business listing online... well, you're depending a lot on Google.
To some extent, that is unavoidable given how dominant the search giant is. But if you can find places where you can still have more ownership of your marketing—such as your website—you absolutely should figure out how to do that.