As we reflect on 2020 and what it meant for both the multifamily industry and apartment marketing going forward, one thought continues to emerge:
Apartment marketing should be dynamic rather than static.
This has been a consistent theme in our messaging for years, yet it rings more and more true each day. In the competitive world of apartment marketing, communities who are able to quickly adapt their marketing strategy to meet the needs of potential residents are better set up for continued success.
Due to the fallout from events in 2020, both how and where potential residents consumed information about their future apartment home changed significantly. Once again, apartment marketers will be required to pivot their plans in order to reach their target audience and gain the amount of traffic they desire. How will your apartment community's marketing approach become more dynamic?
Let's start by looking at three dynamic apartment marketing trends we believe you should have on your radar in 2021:
1. A majority of potential residents will begin their leasing journeys on their phone. Meet them there.
As nearly 60% of workers in the United States are now either working permanently or partially from home, media consumption habits and mobile phone usage have skyrocketed:
Clearly, behavioral patterns with mobile phones and other media devices are much different due to a global pandemic in 2020. As we begin 2021, the challenge to apartment marketers is this: How do you cut through all the noise out there?
The first answer is quite obvious. Knowing that people are spending more time than ever on their phones, it's a safe bet that there's where you'll find a large pool of potential residents actively seeking a new apartment home. In fact, we know that 91% of potential residents will use their phone while conducting their search.
Developing or enhancing your apartment community's mobile presence is how you can become a dynamic marketer in 2021. By simply meeting potential residents where they're focusing a majority of their attention, you're positioning your apartments for more access and visibility. That's the first way you cut through the noise.
The second way, according to the experts at Hubspot, is offering "relevant messaging that grabs a customer's attention, engages them, and guides them to the next step of the buyer's journey". It's not just having a mobile presence that's important, it's having one that actually works and drives leads to convert. Potential residents want a user-friendly, seamless shopping experience on their phones, because it's what they're used to.
This means your apartment community's website should be optimized for various mobile platforms, load quickly, feature influential photography or videos of your units and amenities, and allow searchers to initiate the leasing process. Lacking a mobile presence like this may automatically disqualify your community during the search process.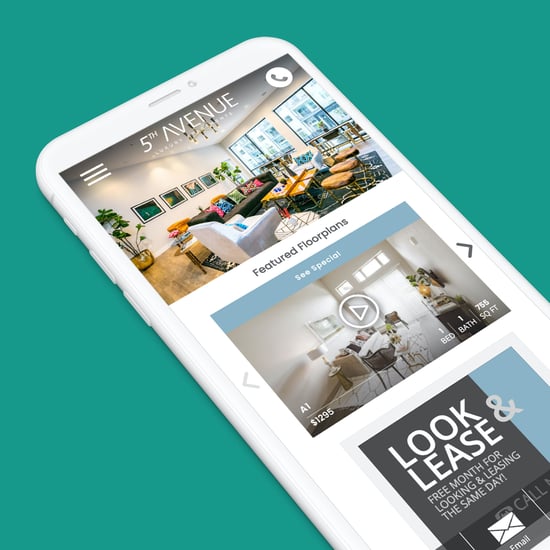 RentVision's community websites are designed to be mobile-friendly,
and look great too. [Learn More]
On top of offering a strong mobile experience, your apartment community should also be easily discoverable in online searches. That moves us into our second marketing trend in 2021 that should have your attention.
2. Google My Business listings will become even more valuable in increasing your apartment community's visibility online.
Throughout 2020, Google provided numerous advancements to its Google My Business (GMB) platform to help businesses combat the challenges of a global pandemic and spread the word about their altered services, online features, new hours, and more.
Those upgrades were only on the surface; underneath, specifically within Google's algorithm, GMB took on a greater role in determining organic rankings on the search engine results page (SERP). Search Engine Land reports that the Map Pack or Local Finder, which are features near the top of the SERP, are influenced most by the quality and content of a company's GMB profile.
To put it simply: a complete, visual, and updated GMB profile is the best free solution available for your apartment community to achieve more visibility and higher placement on both the SERP and Google Maps.
Here's why that matters for apartment marketers in 2021:
It's important to keep in mind that, yes, while rankings on the SERP and Map Packs remain the top conversion factor for customers when researching a business, other important features such as positive sentiment in reviews and completeness of profiles matter, too.
This is another example why apartment marketing must be dynamic. The game has changed. Google is continually adding new updates to its search platform, while renters are behaving differently than they did last year or even the year before that.
3. Remarketing Google Ad campaigns will be more effective as internet consumption has increased.
We've written before about the influence of remarketing campaigns in apartment marketing and how they have a psychological effect on a potential resident's decision. Remarketing campaigns are display ads across the internet that are targeted towards users who have already visited and taken action on your apartment community's website.
Dynamic apartment marketers understand that the search process is extremely competitive, and that potential residents rarely convert upon first discovering your community. Unless they were looking directly for your apartment community, they may not find you until they visit an Internet Listing Service site or see your listing in a Map Pack, where you're instantly being compared against other communities. If they do decide to learn more about you by visiting your community's website, now you have to be positioned to maintain their interest throughout their unique leasing journey.
This is why remarketing campaigns set up as a perfect play for apartment marketers in 2021, now that we know many people are working from home and consuming more media content than ever before.
Picture the scenario of an individual sitting on their couch with a laptop, looking up apartment properties while work is slow. Maybe they'll even shop for a gift on Amazon or look up a how-to video on YouTube. As they're browsing across these sites, remarketing display ads of your apartment community could be shown to them. The more familiar a searcher becomes with your property, its logo and colors, the more trust they build in you.
Conclusion
As we flip the calendar, apartment marketers need to be dynamic and adapt to both where and how potential residents are selecting their future apartment home.
In 2021, it won't just be having a brilliant, flashy website or spending x-amount on digital advertisements that determines how successful your marketing is. It's about having a strong mobile presence that works, an updated and helpful local search listing, and taking advantage of increased screen time to run remarketing ad campaigns. These are the things that will heavily influence a potential resident's search.